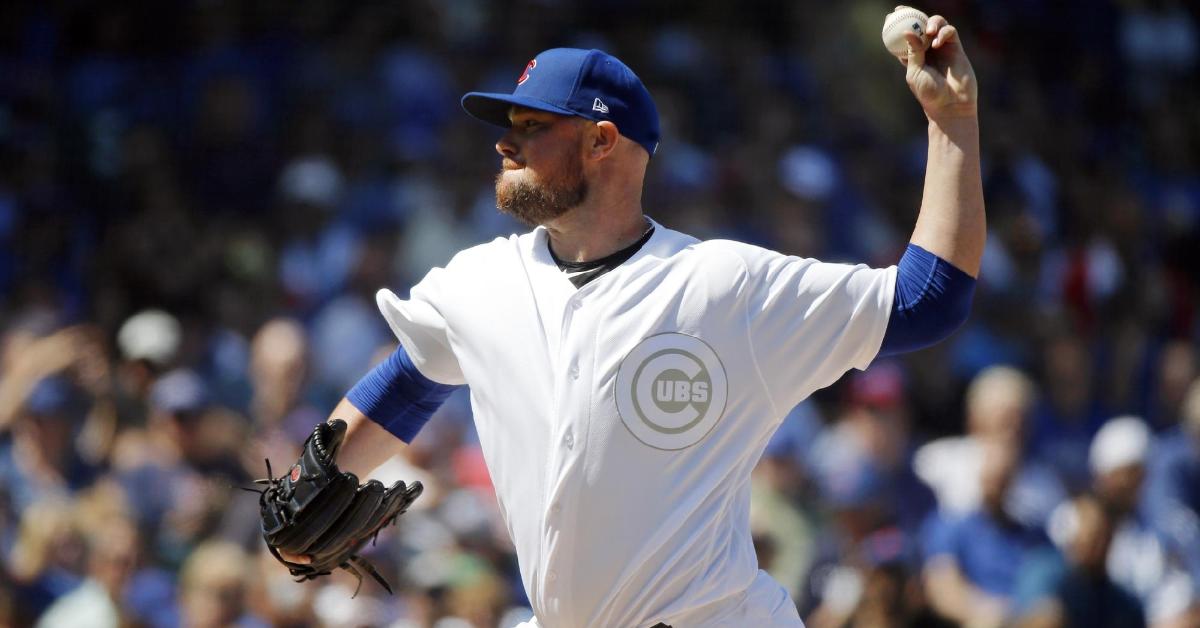 | | |
| --- | --- |
| Cubs News and Notes: Four-man rotation, Morrow and Cubs, HOF Ballots, Hot Stove, more | |
---
| | | |
| --- | --- | --- |
| Tuesday, November 19, 2019, 8:24 AM | | |
CUBS NEWS AND NOTES
Four-man rotation: I stumbled upon an article yesterday that raised the question about whether or not the Cubs might consider using a four-man rotation; my answer – no way.
You already have age invested in Jon Lester, and Jose Quintana and Yu Darvish are no spring chickens either. Kyle Hendricks is about the only youthful arm in the current rotation, and even he had injury issues last year. By the time the All-Star break rolled around in 2019, the Cubs rotation was lagging badly enough as it was, and increasing the workload on a day less rest is a recipe for disaster.
Give the fifth spot to Tyler Chatwood, he's improved tremendously, and if not, then give it to Alec Mills, but do not expect to see a four-person rotation in Chicago. That's a playoff-style rotation, and if David Ross attempts to do this throughout the season, they'll never see October ball.
Brandon Morrow: Rumors continue to circulate that the Cubs and Morrow may be moving toward a reunion. Morrow was phenomenal when healthy, but after his elbow injury and a back issue – somehow suffered while putting on a pair of pants – Morrow hit baseball's version of workman's comp and resided there for a season-and-a-half.
Many thought that he'd make a great setup man for Craig Kimbrel (or an alternate closer if Kimbrel went down), but that theory never materialized last season. Even signing Morrow to a MiLB deal will be somewhat costly, and any contract would undoubtedly have staying healthy heavily incentivized, but I don't see it being worth the risk.
"When healthy, he can certainly be a big part of the solution. We appreciate his sentiments about if he's gonna sign a minor-league deal, he feels a responsibility that it should be here. That certainly seems like the type of thing that makes sense for both sides down the road." – Theo Epstein on Brandon Morrow
Tell us again why @faridyu isn't up for Comeback Player of the Year? pic.twitter.com/LWGWHN5eYG

— Cubs Talk (@NBCSCubs) November 18, 2019
Hoyer on the bullpen "That's a puzzle we're going to be putting together all winter," Jed Hoyer said. "We'll look at every possible angle to do it — minor-league free agency, major-league free agency, trades. We're going to be creative in how we put a bullpen together, but right now, there's a lot of flexibility. It's hard to picture that painting right now, but I think we'll be creative and try to put together a good bullpen."
Wick and Wieck: Hopefully, "The Wi(e)ck Brothers" as I like to call them, will be producing big for the Cubbies this coming season. Both are young, controllable, and best of all (from an owner's standpoint) cheap. With Chicago in another money crunch this winter – and it'll probably be that way for one or two more years – keeping and utilizing Brad Wieck and Rowan Wick makes sense.
Fun fact: Both Rowan Wick and Brad Wieck have thrown exactly 41.2 IP in the big leagues in their careers.

— Tony Andracki (@TonyAndracki23) November 18, 2019
HOF Ballots: The 2020 Hall of Fame ballots are out, which means this is another year that Sammy Sosa, Barry Bonds, Curt Schilling, and others will go unadmitted, due to the steroid scandal.
The official 2020 Hall of Fame ballot!

Who will get elected into Cooperstown? pic.twitter.com/nDl1yIRVR4

— Baseball Quotes (@BaseballQuotes1) November 18, 2019
For whatever reason, I can get over just about anyone of those guys cheating, except Sosa. I understand that baseball had hit a low point and that the Steroid Era was allegedly what the game needed – though I don't exactly buy into that. If you believe the majority of the pundits, steroid use was condoned because attendance and TV ratings were down. Yes, the home run races were exciting to watch (especially Sosa vs. McGwire), but what better way to draw a TV audience and fill the old ballpark, than to say, "Come see us play; we're all doping."
Not that I get a vote in the HOF balloting, but if Sosa and the others would just come out and admit what they did and why they might just get a pass from me (and presumably others). Ironic that another steroid user blew the whistle, but Jose Canseco had a book to sell and didn't minds selling out his friends in the process – even more ironic (or idiotic), is that Canseco's nickname is "The Chemist."
On a happier note, former Cub Alonso Soriano is on this year's ballot.
Alfonso Soriano is on the Hall of Fame ballot for 2020.

Does he get your vote: ?? or ??? pic.twitter.com/bLPO44Bjio

— Cubs Talk (@NBCSCubs) November 19, 2019
Cubs' Birthdays Shawn Camp (44), Tom Gordon (52), Ron Coomer (53), Jamie Moyer (57), Dan Briggs (67), Dave Henderson (67), Sterling Slaughter (78), and posthumously, Cal Koonce (79), Gene Mauch (94), Les Mann (127), and Frank Griffith (147).
And who couldn't send some birthday love to Big Papi?
Happy Birthday @davidortiz ! Much love my brother! pic.twitter.com/xNJVoBLudV

— RyanDempster (@Dempster46) November 18, 2019
Baseball Quotes: "The thing about baseball is that you can't fake it. You can have a lucky day, but you can't have a lucky career." -Fever Pitch
Its a game, and that's how I am going to treat it. You have to smile and have fun. -Ken Griffey Jr pic.twitter.com/RwquzG5EG5

— Baseball Quotes (@BaseballQuotes1) November 15, 2019
MLB and the Hot Stove
Francisco Lindor: Rumors about Lindor being traded to the Yankees were already building momentum, but Lindor was spotted yesterday, hanging out with Yankees 3B/SS Gio Urshela. Does it mean anything? Maybe, but then again, last winter, everyone made a huge issue out of Kris Bryant hanging out with Bryce Harper and Harper's dog, "Wrigley," and you saw how that turned out.
New posting: Shun Yamaguchi, 32-year-old RHP, will be posted by the Yomiuri Giants, Sports Nippon reports. He went 15-4 with a 2.91 ERA over 170 innings this year.
. @MLB news: This will be one of the busiest offseasons ever in the number of Japanese stars moving to North America. LF Yoshitomo Tsutsugo, 2B Ryosuke Kikuchi, and RHP Shun Yamaguchi have been (or will be) posted. CF Shogo Akiyama is an international free agent. @MLBNetwork

— Jon Morosi (@jonmorosi) November 18, 2019
Phillies: According to Jim Salisbury of NBC Sports Philadelphia, the Phis are reportedly "trying quietly" to negotiate an extension with catcher JT Realmuto. Details were minimal, but Salisbury says it may take until much later in the offseason before the two sides hammer out a deal.
Joey Cora has emerged as candidate for Mets bench coach. Has ties to Omar Minaya and Carlos

Beltran. Cora, Pirates 3B coach last year and interviewee for their managing job, is thought to be strong candidate for Mets. Other known candidates: Fredi Gonzalez, Jerry Narron.

— Jon Heyman (@JonHeyman) November 18, 2019
Padres: Reports out of San Diego are saying that although the Friars are trying to upgrade, pitcher Chris Paddack and prospect MacKenzie Gore are "virtually untouchable.
Twins: According to an MLB Trade Rumors article, Twins prospect Ryan Costello passed away over the weekend at just 23 years of age, the team announced Monday morning [Currently, indications point to natural causes.]. Costello had been in Auckland, New Zealand, and was slated to play third base for the Auckland Tuatara in the Australian Baseball League beginning this week.
"'The Minnesota Twins are deeply saddened to learn of the untimely passing of Ryan Costello yesterday in New Zealand," the team said in a press release this morning. "On behalf of the entire organization, the Twins send their most sincere condolences to Ryan's family, friends, coaches and teammates.'"
A GoFundMe has been arranged in Ryan's honor to help assist with funeral and memorial services. https://t.co/nP5dYnepMO https://t.co/VAoBybcj6g

— Ken Rosenthal (@Ken_Rosenthal) November 18, 2019

Tags: Chicago Sports Baseball
,
,
Jose Quintana
,
Yu Darvish
,
Kyle Hendricks
,
Tyler Chatwood
,
,
David Ross
,
Brandon Morrow
,
Rowan Wick
,
,
Theo Epstein