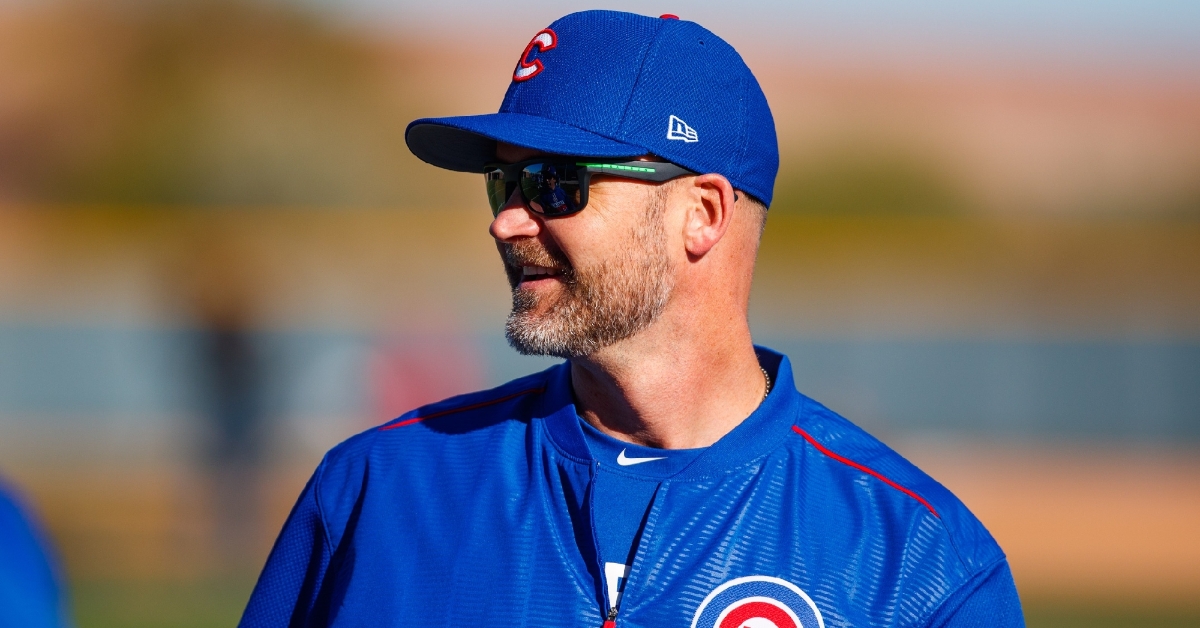 | | |
| --- | --- |
| Cubs News and Notes: Grandpa Rossy Day, Cubs Con, Gerrit Cole tidbit, MLB Hot Stove, more | |
---
| | | |
| --- | --- | --- |
| Monday, October 28, 2019, 6:46 PM | | |
CUBS NEWS AND NOTES
Ross announcement: Earlier today, Theo Epstein and Jed Hoyer announced (officially) that David Ross would be serving as the Cubs 55th manager.
For his part, Ross says accountability is a must, and he doesn't care who he annoys in the process; he just wants to win.
"I know what winning looks like." I also know what losing looks like, and I'm prepared to have those hard conversations. If I see something, I'll say something."
David Ross will be the first #Cubs manager to manage a former Cubs teammate since Lee Elia managed Fergie Jenkins in 1982-83 (they were teammates in 1968) pic.twitter.com/KiOJhG6SVa

— Christopher Kamka (@ckamka) October 24, 2019
Ross gets #3: I couldn't help but notice that Ross got his old number "3" back. Hmmm, wonder what Daniel Descalso is doing this winter? (Can you say "release"?) Major League etiquette says that a new, veteran team member gets first dibs on his previous number, but that generally applies to rookies. Descalso isn't some rook with six months of service time, and he's also an established vet. I still say Danny D has bigger things than a number to worry about, and we should know his fate soon.
"I want to stay true to who I am. These guys responded to me when I was here as a player. I don't think that will change as a manager."
Theo on (not) being a puppet master: I've heard it over a month now, "The Cubs just want Ross so that Theo can make him a puppet." Oh, but not so, grasshoppers, Rossy's gonna do it his way (Can I get a little Frank Sinatra playing in the background for this?)
Theo Epstein: "If you're a front office and you want a puppet, you don't hire David Ross."

??: https://t.co/YR6vl9PyoK pic.twitter.com/VRXvgytFea

— Cubs Talk (@NBCSCubs) October 28, 2019
Ross announcement: David Ross says he doesn't want to predetermine how he manages.
"I'm going to be a manager that wants to watch the game and see how it plays out...I think managers that go in with a preset notion can sometimes get in trouble."
Ross said one of his first texts this morning came from his long time battery mate & friend Jon Lester... "Enjoy your day Manager David." #Cubs

— Kelly Crull (@Kelly_Crull) October 28, 2019
For more on Ross' press conference, check out my earlier article, The dawn of a new era: David Ross speaks out.
Gerrit Cole: Don't get your hopes up too high about Cole becoming a Cub. According to teammate Josh Reddick, Cole will be heading west for his next assignment, and MLB insider Ken Rosenthal says that Joe Maddon and the Angels will likely be the recipients.
Just give Cole the contract. He deserves to be the highest-paid pitcher in history. https://t.co/kF8Z2dCCVw

— Ken Rosenthal (@Ken_Rosenthal) October 28, 2019
CubsCon: The Chicago Cubs have announced the dates for the 2020 CubsCon; clear your calendars for the weekend of January 17-19. Tickets for packages go on sale on November 1st.
Join us January 17-19 for #CubsCon!

Hotel packages, weekend passes and new fan experiences go on sale Friday, November 1: https://t.co/lP7WcyONoR pic.twitter.com/V1lXJwNgs5

— Chicago Cubs (@Cubs) October 28, 2019
Theo on Espada: "Joe Espada did a phenomenal job as well. Whoever lands him as a manager is going to be a very lucky organization, because he brings a lot to the table."
Cubs' Birthdays: Celebrating yesterday, were ex-Cubs Justin Hancock (29), Esmailin Caridad (36), Larry Cassian (54), Lenny Harris (55), and posthumously, Luis Márquez (94), George Hennessey (112), Percy Jones (120), Bill McCabe (127), and Ed McDonald (133).
World Series Schedule & Results
Astros lead the Series 3-2
Without spending hours on the research, I reached out to Ken Rosenthal with this question (still waiting on a reply):
@Ken_Rosenthal Assuming the Nats can sweep in Houston, has there ever been a World Series that has gone 7 games, with neither team winning a home game? I can't imagine this is very common.

— Ken Allison (@KenAllison18) October 28, 2019
GAME-1: Nationals -5; Astros -4 (W-Scherzer; L- Cole);
GAME-2: Nationals -12; Astros -3 (W-Strasburg; L- Verlander);
GAME-3: Astros-4; Nationals-1 (W-Greinke; L- Sanchez)
GAME-4: Astros-8; Nationals-1 (W-Urquidy; L- Corbin)
GAME-5: Astros-7; Nationals-1 (W-Cole; L- Ross)
Monday, Oct. 28 Travel day
Just about the time that the plane full of rejuvenated Astros took off for Houston, a similar plane carried a load Nationals' players, who'll undoubtedly be doing a lot of soul searching. Washington managed to steal the first two in Houston easily, but now they'll have to do it again if they want that ring.
The Washington Nationals played 27 innings of baseball at home during the first World Series here in 86 years. They scored three total runs -- one in Game 3, one in Game 4, one in Game 5.

— Jeff Passan (@JeffPassan) October 28, 2019
GAME-6: Tuesday, Oct. 29: WSH at HOU; 7 p.m., FOX (Strasburg vs. Verlander)
GAME-7: Wednesday, Oct. 30: WSH at HOU, (if necessary), 7 p.m., FOX (Pitchers TBD; Scherzer will pitch if healthy)
MLB and the Hot Stove
White Sox Despite a mutual interest, Sox first baseman, Jose Abreu is still scheduled to hit the free-agent market in just about a week from now.
Royals: Royals bench coach (and former Cubs' manager) Dale Sveum is not part of the field competing for Ned Yost's position in KC. Sveum has expressed a desire for a "different role" within the organization, and according to Jeffrey Flannagan of MLB.com, Sveum's new position is being ironed out.
Giants: Joe Espada will be heading out west for a second interview with the Giants. Many feel he is now the favorite to land the position.
D-Backs: Bryan Price (former Reds manager) has turned down Arizona's offer to make him the pitching coach. Price previously held that post with the D-Backs, but for whatever reason, didn't view this as a good fit. Price is also being considered for the pitching coach spot in Boston.
Pirates: In addition to firing manager Clint Hurdle and (now former) team president, Frank Coonelly, GM Neal Huntington has also now gotten the boot. Pittsburgh has hired Travis Williams to serve as the team's new president. The team will also pause their search for anew manager until the GM spot is filled.
Pirates owner Bob Nutting, not known for throwing money around, is now eating about $10M combined on Hurdle/Huntington contracts. Both had 2 years left. Hurdle made $3M plus, Huntington about $2M

— Jon Heyman (@JonHeyman) October 28, 2019
Twins: Minnesota has outrighted infielder Ronald Torreyes and outfielders Ian Miller and Ryan LaMarre.
Twins: Rather than accept a Triple-A assignment, the Angels have outrighted five players who've now accepted free agency. They are: 1B Justin Bour, RHP Nick Tropeano, RHP Luis Garcia, LHP Miguel Del Pozo and two-way player Kaleb Cowart,
Baseball Quotes: "It's not how big you are. What matters is how big you play." -Jose Altuve
I'd walk through hell in a gasoline suit to play baseball. -Pete Rose pic.twitter.com/pNRywudR1T

— Baseball Quotes (@BaseballQuotes1) October 24, 2019