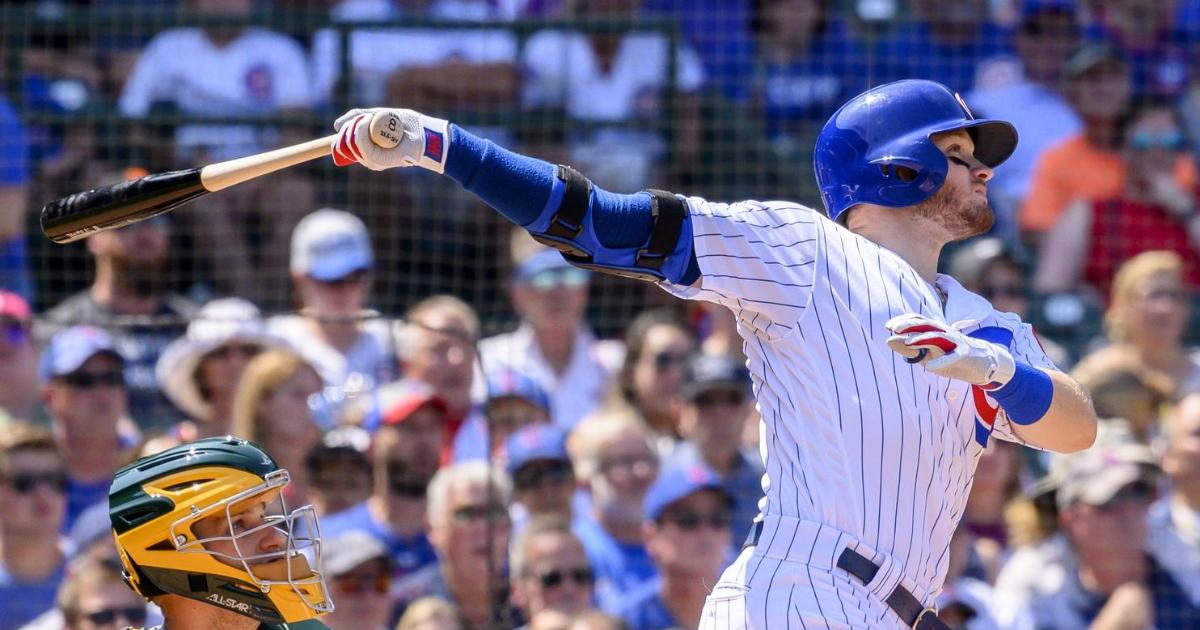 | | |
| --- | --- |
| Cubs News and Notes: Happ's blast, Corona strikes Cubs family, Ross' message, more | |
---
CUBS NEWS AND NOTES
Opening Day: Postponed.
With no baseball action today (or tomorrow, or the next day…), I thought I'd share Ian Happ's Opening Day blast in Miami from 2018.
The Cubs/Marlins opened the MLB season that year, playing the earliest game ever in baseball (March 29th). Happ took the first pitch that he saw from Marlins' righty Jose Urena and promptly deposited it over the right-field wall. The Cubs would score two more runs that inning, on their way to an 8-4 win to begin the season.
#OTD in 2018, @ihapp_1 started the season with a bang ??

...on the very first pitch. pic.twitter.com/RUboVlrMym

— Cubs Talk (@NBCSCubs) March 29, 2020
Rossy's message: Cubs' skipper David Ross also shared a message with the fans about COVID-19. Thanking the healthcare workers who continually put their own health and safety on the line, Ross said via a video,
"Hey, guys. David Ross here. I just want to take a minute and thank all the healthcare workers with their tireless efforts during this difficult time. We really do appreciate it. For the rest of us, let's listen to the experts and wash our hands, practice social distancing, and do our best to stay home as best we can."
A message from @D_Ross3. ?? pic.twitter.com/AsHhczB58d

— Chicago Cubs (@Cubs) March 27, 2020
Jim Edmonds: Former Cubs' outfielder Jim Edmonds (2008), has been hospitalized with COVID-19 symptoms. Edmonds said through social media, "Held off as long as I could. I thought I was tough enough to get through. This virus is no joke."
Jim Edmonds posted via his Instagram that he's admitted himself after contracting corona. Stay home "this virus is no joke." pic.twitter.com/FQ7MLM1pZA

— Starting 9 (@Starting9) March 28, 2020
Edmonds has been tested for the coronavirus but has not yet received his results.
Cubs employees: In addition to Edmonds, two Cubs employees were tested positive for COVID-19 from a training session at Wrigley Field this month according to the Chicago Sun-Times.
Kyle Schwarber: Schwarbs knows firsthand the sacrifices made by the first responders, as his father was one. So many of the Cubs' players are coming out with messages about the coronavirus, yet people still think this is nothing more than a bad case of the flu. Mistake.
?? from @kschwarb12.

Thank you @advocatehealth + all health care workers, first responders and those working at essential businesses. pic.twitter.com/JQtJMzNh54

— Chicago Cubs (@Cubs) March 29, 2020
Much like what Anthony Rizzo's foundation has done with feeding hospital workers, Kyle Schwarber's Neighborhood Heroes are also supporting the men and women who respond to your emergencies. Schwarbs donated pizza to Chicago's first responders on Friday.
Big thanks to @kschwarb12 & #CubsCharities for donating @HomeRunInn pizzas to Chicago's first responders! #NeighborhoodHeroes pic.twitter.com/SeOIpgtvAa

— Chicago Cubs (@Cubs) March 27, 2020
As a former paramedic, I can tell you that this is a very tough time for police, fire, and EMS. No matter how many citizens are sick or how contagious they may be, they have no choice but to go to work and come when you call. Let me tell you; people call 911 for some really stupid things.
Educate yourselves: A friend of mine posted this video on Facebook. Take the time to watch it and educate yourselves. Dr. Duc Vuong gives a great anatomy lesson while explaining exactly how this virus kills people. He breaks things down to layman's terms in a very humorous manner; however, he does use some strong language and analogies to accentuate his points. It starts slow but takes the time to watch it all the way through.
This is a fantastic video from an MD who explains how coronavirus kills you. Take the time to educate yourselves. It isn't media hype, it's from a doctor who knows what's up. (Warning, some strong language, but very humorous).https://t.co/gqbyzSKq2A

— Ken Allison (@KenAllison18) March 29, 2020
There are now over 139,000 cases in the US alone, with 2,438 people already dead. A friend of mine thought I was blowing this way out of proportion when it all began, but unfortunately, I knew he was underestimating it. I told him at the time that I thought the death toll here would reach 10,000; my estimate may be low. Please stay safe, this thing isn't going anywhere soon, and it's going to get a lot worse before it gets better.
Puppies: A few pics of Len Kasper's dog Stitch.
Current sitch... pic.twitter.com/fy74wgihHR

— Len Kasper (@LenKasper) March 29, 2020
Steven Souza Jr.: Souza posted a short clip of his dance moves challenging Mike Trout to show off his moves next.
You're up @MikeTrout pic.twitter.com/KLff3jmajV

— Steven Souza Jr. (@SouzaJr) March 28, 2020
Cubs' Birthdays: Celebrating this weekend, were Robel Garcia (27) and ex-Cubs Ryan Kalish (32), Julio Zuleta (45), Shawn Boskie (53), Domingo Ramos (62), Karl Pagel (65); and posthumously, Lon Warneke (111) and Bill Harbridge (165).
Happy birthday to Cy Young! The best pitcher in baseball history turns 153 today. pic.twitter.com/3LWyX4T9I2

— 12up (@12upSport) March 29, 2020
Baseball Quotes: "It's unbelievable how much you don't know about the game you've been playing your whole life." - Mickey Mantle
I never smile when I have a bat in my hands. That's when you've got to be serious. When I get out on the field, nothing's a joke to me. I don't feel like I should walk around with a smile on my face. -Hank Aaron pic.twitter.com/XxqvXbVozH

— Baseball Quotes (@BaseballQuotes1) March 25, 2020
Upgrade Your Account
Unlock premium boards and exclusive features (e.g. ad-free) by upgrading your account today.
Upgrade Now