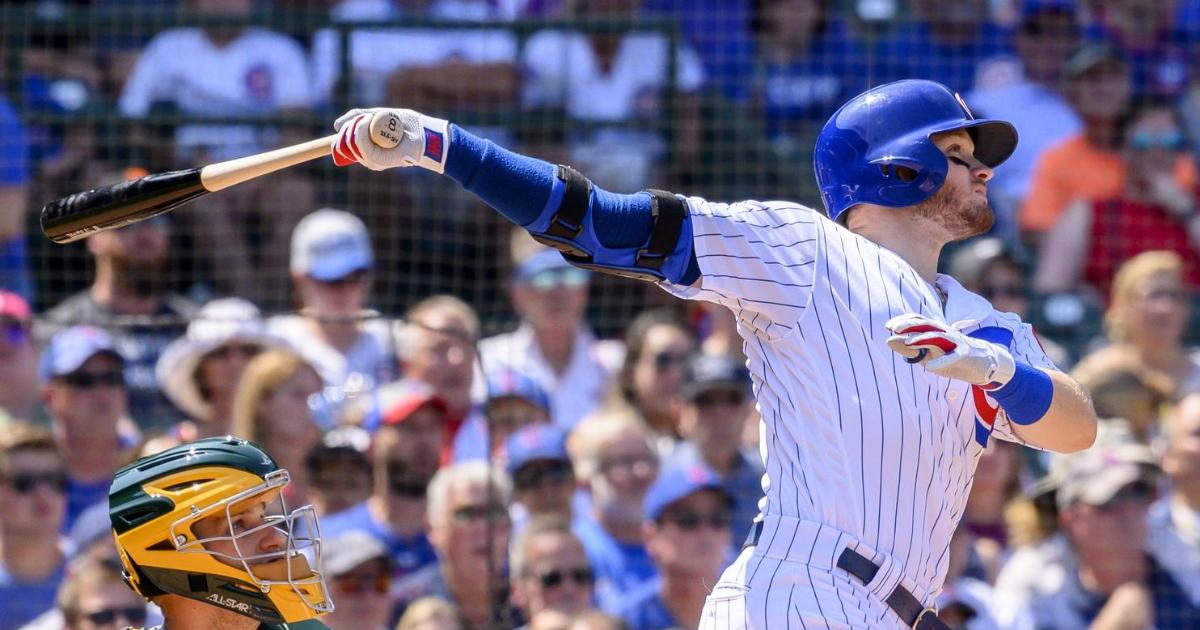 | | |
| --- | --- |
| Cubs News and Notes: Happ's show, David Ross among the best, Maddon on COVID-19, more | |
---
CUBS NEWS AND NOTES
No Baseball: Day 38. When will MLB return? Nobody knows for sure, but all signs continue to point to a restart of Spring Training later this month. One can only hope that with the shutdown this season, MLB and the MLBPA can somehow come to terms and avoid a potential strike after the current CBA ends in December of 2021.
Happ's Show: As we continue to wait for baseball to return, players from around MLB have engaged in a virtual season, using the 2020 version of MLB The Show. Their "regular season" has ended, and now they're in the thick of the playoffs.
PECOTA may not have projected the Cubs to do well this year, but Ian Happ is making sure that Chicago's North Siders fare well in the virtual action. In the next round, Ian will be squaring off again Joey Gallo (Rangers), with the winner of that series facing the winner of the Lucas Giolito (White Sox)/Bo Bichette (Blue Jays) series.
The playoff push!! #GoCubsGo https://t.co/P3ZmwtSrLh

— Ian Happ (@ihapp_1) May 2, 2020
Once that side of the bracket is complete, the winner advances to the World Series and will square off against whoever comes on top from the Blake Snell (Rays)/Jeff McNeil (Mets) series.
MLB The Show: I'm not much for video games, but good to see @ihapp_1
doing so well. Let's bring another title home to Chicago, Happer!

(Ya think Manfred will commission a trophy for this?) pic.twitter.com/rWPpnPoIM7

— Ken Allison (@KenAllison18) May 2, 2020
Happ vs. Gallo will air on ESPN2 on Saturday (May 2, 2020) at 3:00 PM Eastern.
Yes, this counts for nothing other than some (virtual) bragging rights, but it's impressive that these games are being televised, as MLB continues to scramble for entertainment material for fans. I've not yet watched one, but from what I have read, the banter back and forth between the players, alone, is worth the price of the (free) admission.
Ian Happ seems to have broken out of some sort of shell over the winter, letting his truly witty and humorous personality finally shine through. Between the virtual MLB season, his "The Compound" podcast, chatting it up with fans on social media, and videos he appears in for the Cubs (not to mention a very impressive spring training showing), he's quickly becoming quite the fan fave. He still rarely smiles, though.
The podcast was named for the home that Happ shares in Arizona with teammates Nico Hoerner, Dakota Mekkes, and Zack Short. The quartet has remained in Arizona through the quarantine.
Managers: I read an article on MLB Trade Rumors this morning about which current MLB managers had the best careers as players. Clocking in at #3, David Ross, who posted an fWAR of 22.4 over his 15-year career. Taking the number 1 and 2 spots respectively, are Don Mattingly (1982-995; 40.7 fWAR) and Dusty Baker (1968-1986; 37.9 fWAR).
As I scanned through the list, I noticed just how many of the 30-active MLB Managers had ties to the Cubs – 7 to be exact, or 23.3% of the active managers.
In no particular order: Dusty Baker (manager 2003-2006), David Ross (player 2015-2016, manager 2020 ), Davey Martinez (player 1986-1988, 2000; bench coach 2016), Joe Girardi (player 1989-1992, 2000-2003), Scott Servais (player 1995-1998), Rick Renteria (manager 2014), and Terry Francona (player 1986).
Maddon on coronavirus: As MLB continues to push to get started, two former Cubs managers are at high-risk due to age – Dusty Baker and Joe Maddon.
When Maddon was recently interviewed by Gordon Wittenmyer for NBC Sports Chicago, Maddon said he hadn't even thought about the risk until he was asked (by Wittenmyer). Maddon said he's been focusing on being healthy for the season, adding, "When I was in Arizona, I rode my bike for 40 consecutive days — four-zero. And I've been getting my rest, and I've been trying to stay proactive in front of everything also.
"I want to believe if I were to contract it, I'd be able to fight it off. That's the premise I'm working from. So, I don't necessarily worry about it. I have a faith that I'm doing the right things leading into it."
Also of concern for being high-risk are Anthony Rizzo and Jon Lester, who are both cancer survivors. Rizzo recently said that current bloodwork levels are good and that his liver and lungs are functioning as they should be. Lester has made no comments regarding his possible high-risk status. It hasn't been proven that cancer patients stand a better chance of contracting the COVID-19 virus, but medical research indicates that they could be.
Cubs' Birthdays: Celebrating yesterday, were ex-Cubs Rudy Meoli (69) and posthumously, Paul Carter (126).
Baseball Quotes: "Baseball is the only field of endeavor where a man can succeed three times out of ten and be considered a good performer." - Ted Williams
If I worry about what everybody is saying, there is going to be a lot on my mind. I don't want that. I want to have a clear head and just play baseball. -Miguel Cabrera pic.twitter.com/feF6cjlSYA

— Baseball Quotes (@BaseballQuotes1) March 25, 2020
MLB NEWS AND NOTES
Selling Bull: If you loved the movie Bull Durham (and who didn't?), you can now own the home of baseball groupie "Annie Savoy" (Susan Sarandon), from the movie.
You can now live in the house from 'Bull Durham' https://t.co/U6qN79hW9H via @MLB

— Ken Allison (@KenAllison18) May 2, 2020
The 4-bedroom, 3.5 bath home in Durham, North Carolina has now been listed for $1.15M. The seller is certainly playing the Bull card, as similar homes in Durham average about $450-$600k.
Upgrade Your Account
Unlock premium boards and exclusive features (e.g. ad-free) by upgrading your account today.
Upgrade Now