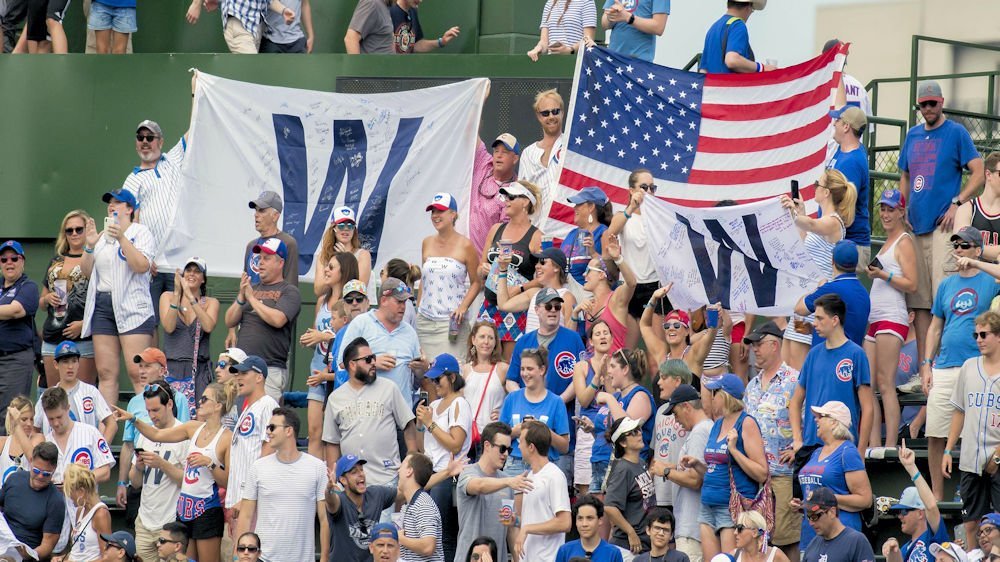 | | |
| --- | --- |
| Cubs News and Notes: Happy Veteran's Day, Castellanos rumor, Darvish as lefty, Hot Stove | |
---
| | | |
| --- | --- | --- |
| Monday, November 11, 2019, 6:10 PM | | |
First and foremost, Happy Veteran's Day to all who've served, as well as to the spouses and children of those currently serving. Your efforts and selflessness are what keep the country safe, and your sacrifices don't go unnoticed.
Whether stationed at home or abroad, these are the men and women charged with providing and maintaining our freedom, and at no time should they go a day without being remembered in your thoughts and prayers. May God keep all of you safe, and may He watch over those who've made the ultimate sacrifice.
Thank you for your service. We salute you. #VeteransDay pic.twitter.com/QOedtl1RVa

— Chicago Cubs (@Cubs) November 11, 2019
Is KB the one in three? While Patrick Mooney (The Athletic) opines in his subscription-based article about why it would be foolish to trade Kris Bryant, MLB's Jon Morosi says that KB has a one-in-three chance of leaving Chicago, stating that "per multiple baseball execs," either Bryant, Francisco Lindor or Mookie Betts will be dealt this winter.
At least one player among the Mookie Betts/Francisco Lindor/Kris Bryant group will be traded this offseason, in the opinion of multiple @MLB team execs I've checked with over the last 24 hours. @MLBNetwork

— Jon Morosi (@jonmorosi) November 11, 2019
Chicago, Boston, and Cleveland all face conundrums about whether or not to dump an all-star, but Theo probably has the toughest decision to make. I'm a little surprised that Morosi failed to mention the name, Wilson Contreras, with as much as Willy's name has been in the media over the weekend, but that may be because (in my humble opinion), that Willy isn't going anywhere.
Thank you to all of our Veterans who have protected this great country and our freedom! Can't say it enough ... THANK YOU! pic.twitter.com/ExMCG9IizQ

— Kyle Schwarber (@kschwarb12) November 11, 2019
There's more on Betts (below), and Lindor will soon become costly to Cleveland, but at costly as KB will become to the Cubs? Put aside Bryant's grievance against Chicago, then put aside the stout raises that he'll gain in his final two arbitrations. Now, what do you have? A quality third baseman who's gaining free agency for a team that he'll not likely re-sign with; a former MVP and All-Star who's fought knee and shoulder issues for two seasons. A guy who can make the Cubs exponentially better, but has failed to do so in critical times, despite beginning 2019 in a manner that was supposed to "resurrect his career" (their words, not mine).
Castellanos rumor: The first rumors about Nicholas Castellanos has surfaced and the Miami Marlins are said to be looking. Miami could use a guy like Castellanos, then again, so could 29 other teams. Sit up and take notice, Theo – you need to keep this guy.
The Cubs newest lefty: Darvish? I stumbled upon this while scrolling through Twitter and couldn't believe my eyes. It wasn't that surprising to see Javier Baez taking left-handed at-bats – after all, he's a lefty for every other aspect in life – but Yu Darvish blazing fastballs from the left side?
Wow! #BestNineAlways https://t.co/8COLjdouBj

— David Kaplan (@thekapman) November 11, 2019
Point of interest: With the GM meetings underway in Scottsdale, rumors are already starting to filter in. Detroit says lefty Matthew Boyd will be on the trade table this winter, but they're asking for "an impact position player who's ready or close to ready." Boyd's 3.5 WAR is impressive, and even though his 4.56 ERA is a little questionable, who can dispute his strikeout rate, which stands at 238 for 185.1 IP (1.28 K/inning).
The Cubs certainly need a lefty starter, that is, if they don't choose to use Tyler Chatwood or Alec Mills to fill the void left by Cole Hamels, but who might they offer?
MLB Awards Week: NBC Sports Chicago asks, "Which Chicago rookie had the best debut?" If you vote anyone but Nico Hoerner, you may need to pick another sport to follow.
Cease: 5 IP, 3 ER, 6 K, and the W

Hoerner: 3-5, 4 RBI

— NBC Sports Chicago (@NBCSChicago) November 11, 2019
Zack Wheeler: Should the Cubs want to replace Hamels with an established righty, Zack Wheeler is getting ready to reject the Mets' qualifying offer. The biggest problem is that Wheeler's a free agent, which is something that may not be in Theo's vocabulary this winter. The Padres and White Sox (among others) are known to be in.
The tax bill: For those who want Tom Ricketts to allow Theo to spend, spend, spend, bear this in mind: Reports say that the Cubs ran up a tab in 2019 that came in just shy of the $240M. They are not a repeat luxury level team and therefore pay the base rate of 20% for the first $20M and 32% for anything up to the next $20M in salary over the threshold — net cost: $8.5MM.
Further proof the Cubs will be lean this winter in terms of free-agent signings. You can't avoid the taxman.
Cubs' Birthdays Celebrating today were former Cubs Scott May (58) and posthumously, Walter "Rabbit" Maranville (128) and Bert Abbey (150).
Baseball Quotes: "In baseball, my theory is to strive for consistency, not to worry about the numbers. If you dwell on statistics you get shortsighted, if you aim for consistency, the numbers will be there at the end." -Tom Seaver
Major League is a classic! ??

pic.twitter.com/iHfj3XJs95

— Baseball Quotes (@BaseballQuotes1) November 9, 2019
MLB and the Hot Stove
NL Central Hot Stove:
Brewers: After suffering a broken kneecap with just weeks to play in 2019, Christian Yelich is reportedly set to begin running this week and expect to be back to full form for the winter workouts. Whether or not you like the Brewers, this is good news; Yelich is a guy who's good for the sport.
From the rest of MLB:
Dodgers: Not a lot has been said about the Dodgers since their offseason began, but according to Buster Olney (ESPN), Los Angeles will be looking for some pitching help and right-handed power.
Red Sox: Much has been made out of the possibility of a trade involving Mookie Betts, but according to Tom Keegan of the Boston Herald, making Betts a lifer in Boston should be the Red Sox #1 priority.
Dealing Mookie Betts is a crazy idea, especially considering that no trade partner will part with anything close to equal value knowing that Betts has one year left before opening himself up to a bidding war sure to make him among the top five highest-paid players in baseball.
Keegan's reasoning is sound, but the R-Sox have backed themselves into the same corner that the Cubs and others, by purchasing aging players that break down. Not that the Cubs can afford Betts, especially considering his impending free-agent status. Still, it would also appear that Boston can hardly afford to keep him if they want any chance at recovering from their hangover season.
White Sox: Remember last year when the White Sox had their fans salivating over the prospect of signing Bryce Harper, Manny Machado or both? Yeah, well they're at it again. This time around, they're being tied to Anthony Rendon, Gerrit Cole, and Stephen Strasburg. Watch – they'll be 30 games out this year, as well.
Blue Jays: Ryan Tepera has cleared waivers and has elected free agency.
Rest in peace: While I opened this column by acknowledging and remembering the men and women who serve our country, I wanted to close it by remembering the 29 men who lost their lives on November 10, 1975, when the Edmund Fitzgerald was lost in a winter storm on Lake Superior. When launched on June 7, 1958, she was the largest ship on North America's Great Lakes, and she remains the largest to have sunk there.
For those interested in the Titanic, do yourselves a favor and read about the Fitzgerald. Thought to be as indestructible as the Titanic, she and her crew vanished in the blink of an eye.