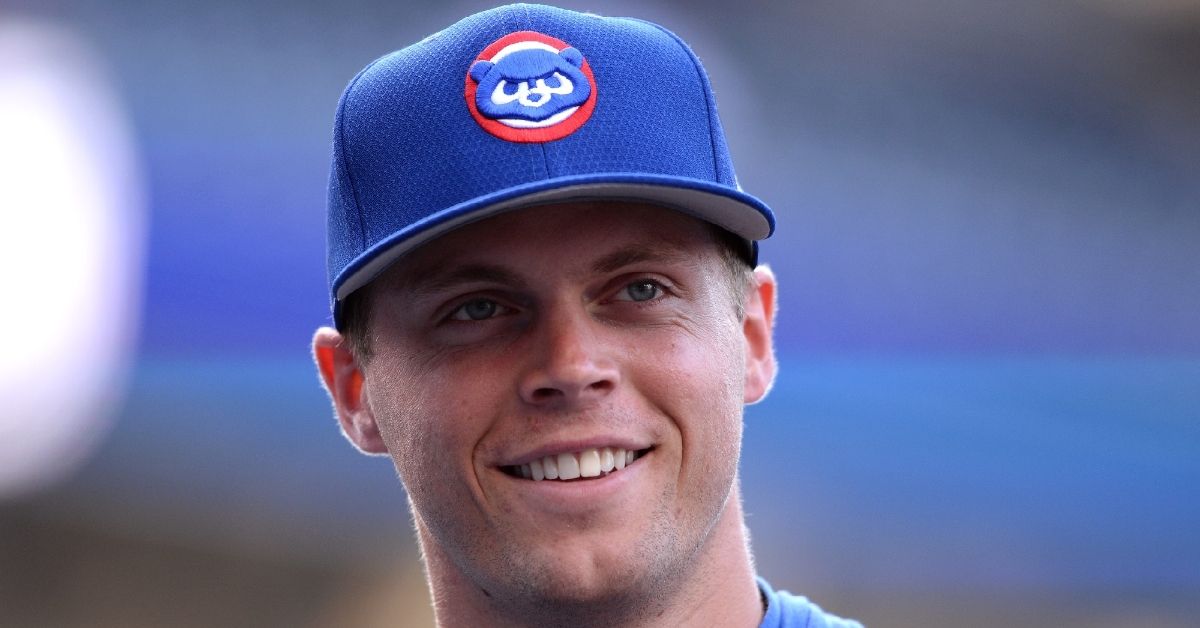 | | |
| --- | --- |
| Cubs News and Notes: Hoerner top-10, Cubs add lefty, Bryant-Castellanos markets, Hot Stove | |
---
CUBS NEWS AND NOTES
Next Game: Next Game: 31 days – Saturday, February 22, 2020: Athletics vs Cubs (Sloan Park)
Opening Day: 65 days – Thursday, March 26, 2020: Cubs vs. Brewers (Miller Park)
Congrats, Nico: Cubs middle infielder Nico Hoerner is about to be named one of MLB Pipeline's top-10 shortstops. I suppose you still have to consider Hoerner a "prospect," but I think his days in the minors are going to be very limited. From the start, this kid has shown nothing but promise, while carrying an outstanding attitude into the clubhouse and onto the field. Congratulations.
Welp, in about 3-4 hours, Nico Hoerner will be getting some pub and praise on a @MLBPipeline top 10 SS list. He will become the fourth Cub prospect in the past week to make a top 10 list at their site. pic.twitter.com/ZCJlUON7Q1

— Todd ???? (@CubsCentral08) January 22, 2020
Cubs add southpaw: The Cubs have taken a flier on yet another rehabbing pitcher, this time with a 32-year-old southpaw named Rex Brothers. Brothers does carry a career WAR of 4.6 but failed to pitch in the majors during 2018 and 2019 after posting a horrific 7.23 ERA in 2017.
According to MLB Trade Rumors, "As for the flame-throwing Brothers, he spent the '19 campaign turning in typically high-K, high-walk outings for the Yankees' top affiliate. In 45 2/3 innings at Triple-A, the former Rockies and Braves hurler struck out 81 opposing hitters but also doled out 36 free passes. He ended the year with a 4.93 ERA. Once a fixture in the Colorado bullpen, Brothers has seen his big-league opportunities dwindle in more recent seasons."
I'm not sure what Theo Epstein seems to expect out of this deal, but the signing pales in comparison to the deal yesterday that brought Travis Lakins to the Cubs.
Nicholas Castellanos: Joining the Cubs, Rangers and others who are bidding for Nick and the golden bat, the Reds are also now reportedly in on Nicholas Castellanos. I still think that the longer this drags on, the more likely the Cubs are to re-sign him, as even after reportedly having "a good meeting" with Texas, Castellanos remains unsigned. Just one thing holding this up…
Kris Bryant before the Grievance vs Kris Bryant after the Grievance. #Cubs pic.twitter.com/aakuVZbov5

— Cubs Zone ™? (@CubsZone) January 23, 2020
There's no way the Cubs will re-sign Castellanos if they can't trade Kris Bryant, and they can't do that until a decision has been reached on the grievance. MLB has investigated a huge cheating scandal, rendered a decision, and punished the offenders; Congress has impeached the President of the United States, and yet we still don't have an answer on what is now a 1,715-day-old grievance relating to service time. Something isn't right with this whole picture.
Yes... but that grievance won't be ruled on until 2029. https://t.co/NQxbfs9Wor

— Brad Robinson (@bradrobinson8) January 23, 2020
Chicago Cubs ask: What do you get when you ask the same set of questions to Ian Happ, Anthony Rizzo, Nico Hoerner, David Bote, Jason Heyward, Kyle Hendricks, and Albert Almora Jr.? A mess. The questions were funny; the answers, funnier.
It's unanimous.@ARizzo44 is voted most likely to ... pic.twitter.com/eUzlk7Xw0p

— Chicago Cubs (@Cubs) January 22, 2020
Pedro Strop: Just a few days ago, the Cubs were in on re-signing Pedro Strop, but don't start putting your caps on crooked just yet. According to MLB insider Hector Gomez, Chicago is now out of the race.
SOURCE: The race to sign RHP Pedro Strop is down to two teams - the #Marlins and the #Rangers.@z101digital @ZDeportes

— Héctor Gómez (@hgomez27) January 23, 2020
The worst of both worlds: Commissioner Rob Manfred issued a statement yesterday, stating that the electronic strike zone would be used in Spring Training games this year; the umpires committee validated the statement, but added some clarity. The electronic zone will only be used for nine of the Grapefruit League games (Florida), but it will be used behind the scenes so that MLB can try to refine the system. Meanwhile, regular umpires will be calling the balls and strikes.
"Reports that MLB will use 'robo-umps' to call balls and strikes in spring training games this year are completely inaccurate. ... Our understanding is that a camera-based tracking system will be running in the background during some spring training games for technology development and training purposes. But any game in which a Major League Baseball umpire is working will have a human calling balls and strikes." -Statement issued by the Umpires Committee
I'm excited to announce that I'll be joining the Chicago Cubs as a minor league development coach. I'm fired up to be a part of this club and I can't wait to get started learning and growing from a great organization! #Cubs pic.twitter.com/m7cidZfxIq

— Thomas Boucher (@thomasboucher19) January 22, 2020
Cubs' Birthdays: Celebrating yesterday were ex-Cubs Jimmy Anderson (44), Brian Dayett (63), and posthumously, Jophery Brown (75) and Jack Littrell (91).
Baseball Quotes: "The best thing about baseball is there's no homework." -Dan Quisenberry
Rodney McCray once ran FULL SPEED THROUGH A WALL TO MAKE A CATCH! pic.twitter.com/fShhiwa9Z5

— Baseball Quotes (@BaseballQuotes1) January 14, 2020
MLB and the Hot Stove
NL Central News:
Brewers: The Brewers have signed RHP (reliever) Mike Morin to a minor league deal (invite included).
From the Rest of MLB:
Angels: The Angels have added again. This time, they've signed a pair of former MLB righties to MiLB deal. Jacob Barnes and Jake Thompson will both receive invites to Spring Training.
Mets: NY has signed Rene Rivera (Catcher) to a minor league deal. If he makes the team out of Spring Training, he'll earn a $1M salary with another $300k in possible incentives.
The Mets have also named Luis Rojas as Carlos Beltran's successor. (Wait… can you be a successor to a guy who never managed a game?)
Mets To Name Luis Rojas Manager https://t.co/hOUjRIq7p8 pic.twitter.com/nVjPSdDm6n

— MLB Trade Rumors (@mlbtraderumors) January 22, 2020
Royals: KC will be re-signing outfielder Alex Gordon. This is a one-year deal worth $4M. KC has since designated RHP Heath Fillmyer to make room for Gordon.
Phillies: The Phils have signed veteran infielder Neil Walker to a minor league deal (includes an invite).
Yankees: The Yanks have signed a minor-league pact with lefty Luis Avalon.
White Sox: RHP Dylan Covey has rejected his outright assignment to Triple-A and will now enter free agency.
Tigers: The Tigers have signed a minor league deal with lefty Hector Santiago (invite to Spring Training).
Upgrade Your Account
Unlock premium boards and exclusive features (e.g. ad-free) by upgrading your account today.
Upgrade Now