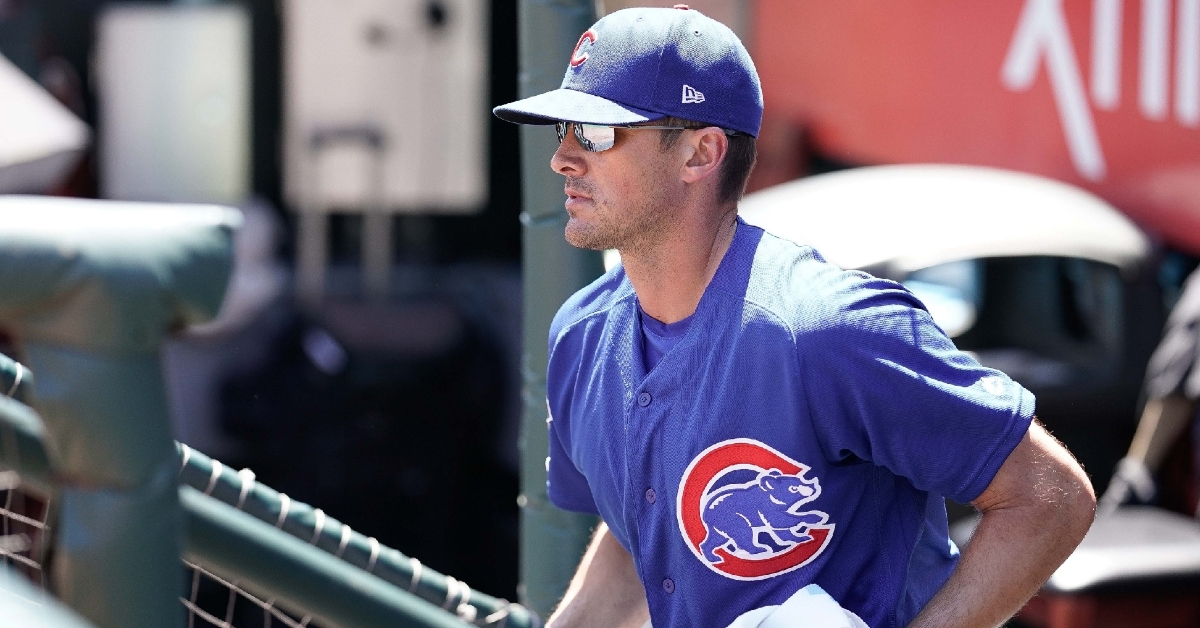 | | |
| --- | --- |
| Cubs News and Notes: Hottovy's COVID case, Cubs DH, Wrigley Rooftops, Virtual fans, more | |
---
CUBS NEWS AND NOTES
Baseball's return: Day 2 Just about the time I thought the Cubs got through Day 1 of Spring Training 2.0 unscathed, news broke of Tommy Hottovy's recent COVID-19 infection (more on that later).
While no schedules of workouts, preseason games, or "regular season" action have been released, I've learned that players are immediately undergoing testing when they arrive at camp and that some teams (including the Cubs) have scheduled their first team workouts for Friday.
This season is going to continue to endure its ups and downs, likely with more setbacks than steps forward. With a little luck, official games will be played, though I know that players are viewing all of this with cautious optimism.
Look who's back at Wrigley ?? pic.twitter.com/IgkJXOL9zl

— Cubs Talk (@NBCSCubs) July 1, 2020
Tommy Hottovy: Unbeknownst to Cubs fans and the media until yesterday, pitching coach Tommy Hottovy was among those who've experienced the wrath of the coronavirus. He's healed, but according to Hottovy, it was quite the battle.
Hottovy told 670 the Score, "My journey through this virus was not like ones you hear of younger people who are asymptomatic or only have it for a few days. I got crushed. I did have to go to the hospital for a little bit of time to get checked and do all the breathing treatments."
Hottovy endured a fever of 100+ degrees for nearly a week, one of the surefire signs that you've been infected. Following the fever's onset, things got even worse.
Tommy Hottovy got really emotional when talking to Chicago media via Zoom. Today was the first time he'd talked publicly about his positive COVID test. He shared some tough stories, including being unable to play with his kids and having to isolate from them for 30 days.

— Sahadev Sharma (@sahadevsharma) July 1, 2020
Cubs' DH: Unless we see the Cubs as visitors in an interleague game, I'll never get used to hearing, "Now batting for the Cubs, the designated hitter…" With the goofy season, the universal DH probably in 2020 isn't the worst thing, though it'll never seem normal to me.
David Ross is confident that he has guys who can adequately fill that role, as he told reporters during a Zoom meeting on Monday.
"We certainly have some depth in that area. Kyle (Schwarber) and (Steven) Souza, Vic (Caratini), or Willson (Contreras) are guys I imagine in that dynamic. In this short little sprint, it's about balancing the rest with the guys giving us the best at-bats. We will have to read at-bats as we go. You won't have a huge sample size of who is ready to go and squaring the ball up.
"We do have a lot of options the way our roster is set up now. I have actually had this conversation with Schwarber, and I think we are on the same page. He is ready to do whatever I ask him to do. He is comfortable with the DH spot. I told him he would not be strictly a DH."
Despite his power, Ross seems to think that Schwarbs may be better suited as the every day left fielder, and I whole-heartedly agree with that.
Schwarber's fielding has improved over the last couple of seasons. He's slimmed down this year, allowing for faster closing speeds, and no one has ever questioned his shotgun arm.
I'm a little surprised to see Willson Contreras' name on that list, as you'd think Willy would only DH on his rest days from behind the plate. Victor Caratini is emerging as both a reliable catcher and his catching skills are improving. The Cubs are also carrying both veteran catcher Josh Phegley, as well as 27-year-old backstop, PJ Higgins.
I'm hoping that Chicago can come to terms with Contreras on an extension, but I'm suspicious as to why the team would carry four catchers, and why you'd insert your primary backstop at the DH spot. Contreras was among the names mentioned in the rumor mill this past winter, but I can't see them trading him right now when he doesn't earn free agency until after 2022.
Even if the Cubs were wanting to shed more payroll with the trade deadline coming up, Contreras is only absorbing $4.5M this year, hardly enough to give the Cubs more buying power by trading him.
Fans to see Cubs: The Cubs may be the only team in MLB to actually have fans see live games this season. No, they won't be allowed inside the Friendly Confines, but they will be able to purchase Wrigley Rooftop seats high above the stadium and across the street.
On a technicality, the rooftop seats are controlled by the city and not governed by the Cubs or MLB, which qualifies them to be open. Social distancing measures will be taken, but for those fortunate few, they will be attending live Cubs games this season.
Virtual fans: OK, this is just weird. Several teams, including the Oakland Athletics, will also be allowing faces in the seats at their home games. No, not people, just faces. For a price, fans can have their faces plastered to cardboard cutouts, which will then be placed in the seats at the stadiums of participating teams.
According to an article in USA Today, "The cardboard cutouts for A's games range in price from $49 to $129. Each purchase through the team website includes two tickets to the A's first home exhibition game during the 2021 season. Proceeds from the sales go to charity.
The $129 level is a Foul Ball Zone cutout. If one of those cutouts gets hit with a foul ball, the A's will send a ball to the fan on the cutout."
Let's see… $129 for a picture of me in the stands and a chance at a foul ball…. Hmm, I'll pass. Though depending on how many fans buy into this nonsense, it could give revenue for the teams a (very little) shot in the arm. I know! Maybe we could have cardboard ushers, vendors, and security guys as well. Maybe lean a few "fans" over their seats like they're falling-down drunk (something for the White Sox to consider doing). If the A's are getting blown away, maybe have real ushers turn 2,00 of the cutouts toward the exits, as if the fans are filing out to beat the virtual traffic. If you're going to do this, then let's go all the way, Oakland!
The Oakland @Athletics are offering a chance for fans to buy cardboard cutouts of themselves to put inside the stadium.

If a ball hits their cutout in the foul ball zone, they'll send the baseball to that fan! ?? pic.twitter.com/lqOQkZ9Ry7

— NBC Sports (@NBCSports) July 1, 2020
Cubs' Birthdays: Celebrating yesterday was Cubs' pitcher, Colin Rea (30) and ex-Cubs Mike Montgomery (31), (31), Frank Baumann (87); and posthumously, Dick Drott (84), Hersh Freeman (92), Fred Holmes (142), and John Clarkson (159).
Baseball Quotes: "Baseball, it is said, is only a game. True. And the Grand Canyon is only a hole in Arizona." - Journalist & Autor, George Will
A sore arm is like a headache or a toothache. It can make you feel bad, but if you just forget about it and do what you have to do, it will go away. If you really like to pitch and you want to pitch, that's what you'll do. -Warren Spahn pic.twitter.com/51TI7Hz1i7

— Baseball Quotes (@BaseballQuotes1) April 17, 2020