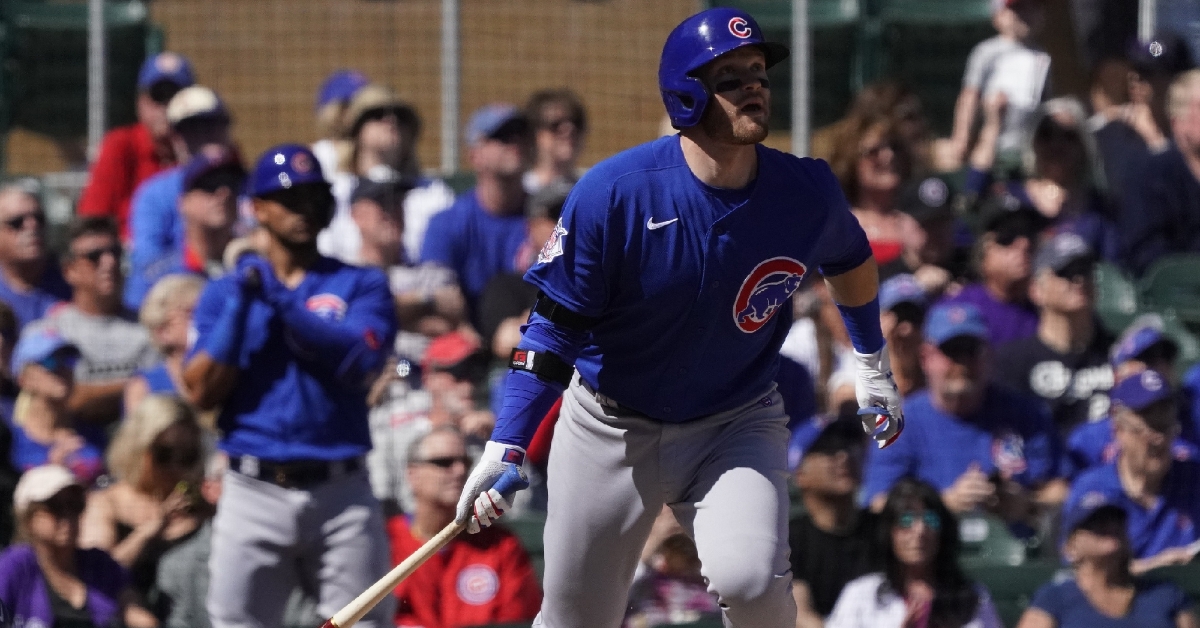 | | |
| --- | --- |
| Cubs News and Notes: Ian Happ on MLB's plans, Jackie Robinson Day, The Last Dance, more | |
---
| | | |
| --- | --- | --- |
| Thursday, April 16, 2020, 7:44 AM | | |
CUBS NEWS AND NOTES
No Baseball: Day 22.
Happ on contingency plans: Speaking to Dan Bernstein of 670 The Score, Ian Happ spoke about how he like MLB's aggressive contingency plans. Happ is one of the few players who's stayed in Arizona during the quarantine.
"Right now, they're just exhausting every possible option," Happ said. "You have to have all these plans in place. You have to think through them from a logistics standpoint, from a time standpoint. And then once we as a union and a league find out more about CDC recommendations, about where we're heading as a country from a gathering standpoint, I think then some decisions can be made.
"If we're not brainstorming now, if we're not trying to figure out every possible solution, then once the time comes, we'll be behind. I think they're doing the right things in trying to figure out every possible way to play baseball games this year. I know all the players are just hoping we'll find a way to get them in somehow."
Happ is keeping the right attitude during this period of lunacy.
"It's just about staying positive," he said. "There's light at the end of the tunnel. We're going to play baseball games at some point, and that's really what we're looking forward to. What's keeping us going is knowing at some point, we're going to put that uniform back on and we're going to get to play for the fans. That's how positive you have to be."
I have got to commend Happ on being a tremendous cheerleader during the pandemic. One of my harshest criticisms about him has always been that he never seemed to show any sort of personality. It's like this pandemic has made him crawl out of a shell, as lately, he's always doing or saying something to get a positive reaction out others.
A year ago, I swore he was going to be a flash in the pan, but he seems to have really grown, both inside and outside of the realm of baseball. Keep it up, your future is looking brighter, Kid.
Jackie Robinson Day: Yesterday would have been the day that the league celebrated Jackie Robinson Day, with all players on every team wearing Robinson's iconic #42. On April 15, 1947, Robinson became the first African American to take the field as part of a Major League Baseball team in the modern era, playing first base for the Brooklyn Dodgers. That day marked the end of segregation in the majors, which had seen black players only allowed to play in the Negro Leagues.
I'm not concerned with you liking or disliking me. All I ask is that you respect me as a human being-Jackie Robinson pic.twitter.com/7iR0m6F4Us

— Baseball Quotes (@BaseballQuotes1) April 15, 2020
Robinson's run in the majors lasted 10 seasons. During that time, he took the Rookie of the Year honors in 1947, was an All-Star for six-straight years from 1949-1954 and won the National League MVP Award in 1949, becoming the first black player ever bestowed with the honor. Jackie would end up seeing action in six different World Series, helping the Dodgers to secure a World Series title in 1955.
If you haven't seen the movie "42", take the time and watch it. The things that Jackie Robinson tolerated and persevered through are mind numbing. Hatred, death threats and threats to his family were common, yet Robinson refused to use violence. Jackie knew that if he were to lose his cool, that it may cost him his spot on the team. I'll give him credit, couldn't have done it, I'd have snapped.
Maybe tomorrow we'll all wear 42, that way they won't tell us apart. -42
pic.twitter.com/H5IjOyfyur

— Baseball Quotes (@BaseballQuotes1) April 15, 2020
Also tied to Robinson's number 42, was that he was drafted in 1942, and assigned to a segregated Army Cavalry unit in Fort Riley, Kansas. Robinson would wind up a commissioned officer in 1943, serving as a Second Lieutenant. He would eventually join the 761st "Back Panthers" Tank Battalion. After refusing to sit in the back of what was supposed to be an unsegregated army bus, Robinson was court marshalled. He'd eventually be transferred to a unit where he oversaw army athletics until the time that he was honorably discharged in 1944.
"As great as Jackie Robinson was as a baseball player... he was even greater off the field." @nlbmprez | #JackieRobinsonDay | #Jackie42 pic.twitter.com/jQ5yskEf9h

— MLB Network Radio on SiriusXM (@MLBNetworkRadio) April 15, 2020
For all that Robinson endured and did to further civil rights and equality, boneheads still exist.
On Sunday, in what was a sad and ironic twist of fate, Kyle Larson, driver of the #42 NASCAR for Chip Ganassi Racing, dropped an "N-bomb" while racing in a virtual race that was being broadcast. Larson has now been fired from CGR and indefinitely suspended from NASCAR, who has a zero-tolerance policy for the use of racial slurs. Before NASCAR suspended its season as the result of the pandemic, Larson was 7th in points standings (44 drivers), and would likely have made NASCAR's playoffs.
For what it's worth, Larson offered the following apology:
April 13, 2020
Thanks for all you did for the sport, Jackie. Your sacrifices changed a sport for the better. Rest in peace.
Today and every day we are grateful for Jackie Robinson's leadership in the movement for equality. #Jackie42

Join us and all of @MLB in celebrating Jackie's legacy: https://t.co/1kiwOqfxja pic.twitter.com/nQo7KyM9rf

— Chicago Cubs (@Cubs) April 15, 2020
Jackie was, and always will be, larger than life. #Jackie42 pic.twitter.com/ExOl4x5X1c

— MLB (@MLB) April 15, 2020
The Last Dance: As long as I broke ranks talking about NASCAR, I may as well get this in there too. If you were a fan of the Chicago Bulls dynasty in the 90s, don't forget to set your DVR to record "The Last Dance," a 10-part documentary from ESPN on the team that made Chicago a perpetually winning city.
In the 1990-91 season, twins Horace Grant of the @chicagobulls and Harvey Grant of the Bullets sat down with @NBATVAhmad to talk about their unique relationship as brothers in the NBA.

The Last Dance premieres on ESPN on Sunday, April 19th at 9:00 PM ET. pic.twitter.com/p62Jqwob9a

— NBA History (@NBAHistory) April 14, 2020
The theme for the 1997-98 @chicagobulls season set by Phil Jackson... The Last Dance.#TheLastDance premieres Sunday (4/19) at 9:00 PM ET on ESPN! pic.twitter.com/JBWTRf7BaK

— NBA (@NBA) April 14, 2020
Scott Pippen on the Last Dance:
Loved hearing @ScottiePippen talk about The Last Dance documentary on the Chicago Bulls, and what it felt like during filming: pic.twitter.com/WYEpOgacHO

— Rachel Nichols (@Rachel__Nichols) April 2, 2020
Baseball Quotes: "Baseball is like a poker game. Nobody wants to quit when he's losing; nobody wants you to quit when you're ahead." - Jackie Robinson
A life is not important except in the impact it has on other lives. -Jackie Robinson pic.twitter.com/ofVxmPaU2G

— Baseball Quotes (@BaseballQuotes1) April 15, 2020