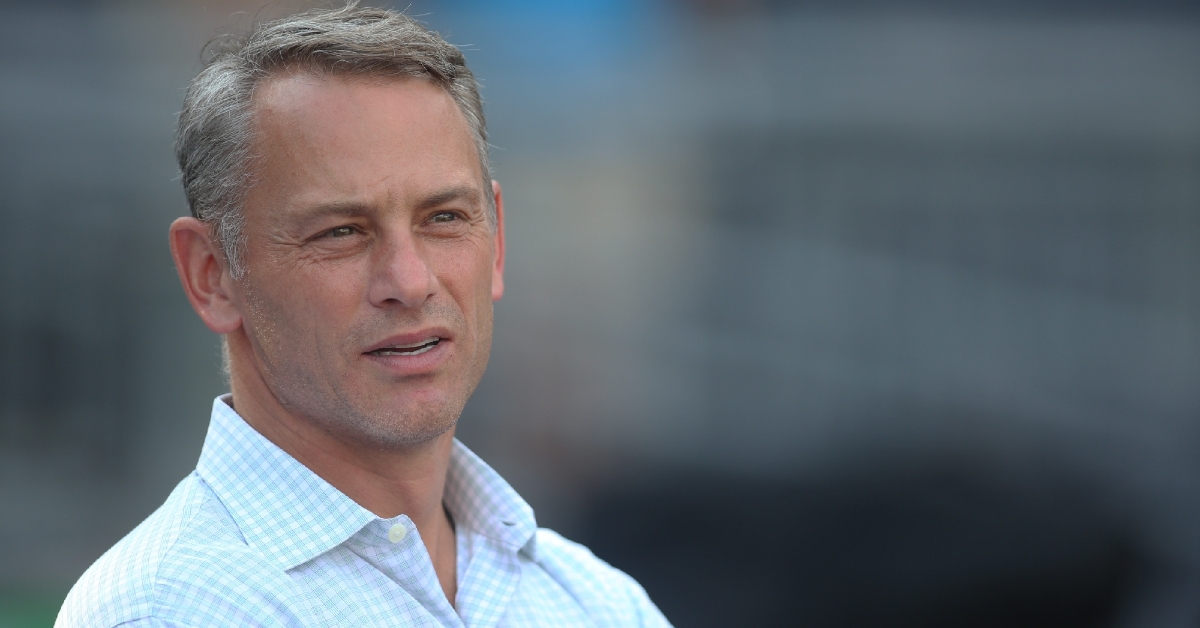 | | |
| --- | --- |
| Cubs News and Notes: Jed Hoyer's approach, Cubs Scrimmage highlights, COVID-19 bottleneck | |
---
CUBS NEWS AND NOTES
Hoyer's approach: Wondering why the Cubs are only carrying 50 men on what could be a 60-man roster? Simple: Flexibility. Rather than lock themselves into a set roster, Chicago is leaving itself room to roll with the changes.
According to an article in MLB Trade Rumors, the Cubs chose to open the season with just 50 guys so that they could add pieces as necessary during the 60-game dash for the playoffs. Cubs' GM Jed Hoyer also added that the Cubs could ultimately be adding more prospects to the roster for the sake of player development.
Hoyer: Priority right now is depth for the MLB roster, but could revisit adding other prospects to South Bend site for development later on.

— Jordan Bastian (@MLBastian) June 29, 2020
As the article points out, leaving room open to add prospects may also be useful for another reason – the want, need, and desire to have trade pieces available as the August 31st trade deadline is already down to just eight weeks from today. Are the Cubs looking to deal? Hoyer says the team isn't sure yet – I'm not so sure that his statement is as transparent as it seems.
Hoyer, on Aug. 31 Trade Deadline: "I think it's way too early to tell. I just don't think we know what this is going to be like." Doesn't have a feel if there will be a lot of movement or not.

— Jordan Bastian (@MLBastian) June 29, 2020
When it comes to trades this August, what choice do they have? Not being willing to trade isn't the same as failing to complete trades. The rotation is aging, the bullpen's in shambles and time is working against being able to extend even Javier Baez, much less the rest of the coveted Cubs' core. I wholeheartedly believe that the Cubs will be shopping players, the question is, will they get what they want for who their willing to give up.
As the Cubs complete this season, Tyler Chatwood, (potentially) Anthony Rizzo (potentially) Jon Lester, Jose Quintana, Kris Bryant, Jason Kipnis, and Daniel Winkler will all be free agents. At the same time, the end of the 2020 season also signifies the beginning of the walk-year for Javier Baez, Kris Bryant, Kyle Schwarber, and both Lester and Rizzo – assuming they're still with the Cubs at that point. That's an awful lot of names that represent the more prominent faces of the Cubs.
Hoyer went on to address the Cubs' latest need – that of a bona fide designated hitter. Jed says plans have been discussed to rotate Stephen Souza, Schwarber, Willson Contreras, and Victor Caratini through that spot. Of that bunch, Caratini would be the most logical choice, base on his ability to make consistent contact, while also delivering blistering exit velocities and power.
If the Cubs fail to advance in their efforts to reach an extension deal, Willson Contreras, at some point during the next year or so, his name may very well re-enter the rumor mill about being a trade piece. If Contreras gets dealt, I have little doubt that Caratini would become their go-to catcher. If the Cubs even sense the possibility of dealing Contreras, you can rest assured that Caratini will never see a full-time DH role, as the team will want to keep his skills sharp from behind the plate.
Hoyer: "There's a lot of different ways" for the Cubs to handle the DH role.

Ross: "I think we've got so much depth in that area, whether it's Kyle and Souza or Vic and Willson." In short sprint, it's about balancing rest, guys giving best at-bats.

— Jordan Bastian (@MLBastian) June 29, 2020
Cubs Scrimmage: In case you missed it, Marquee Sports Network had posted video of the Cubs first scrimmage game, which took place Saturday.
Both the Professor - Kyle Hendricks – and Yu Darvish looked good. In fact, Darvish makes Ian Happ look downright sill during one at-bat. No Jon Lester, though, further solidifying my speculation that Darvish and Hendo will be the Cubs 1-2 starters this season.
Some of the guys got a few good hacks in against the Cubs answer to both fire and finesse (aka Darvish and Hendricks), with even Daniel Descalso managing to punch one into shallow right.
Highlights from yesterday's @Cubs intersquad game.

More: https://t.co/BLH6mzkVze pic.twitter.com/pWJ3deNqH7

— Marquee Sports Network (@WatchMarquee) July 5, 2020
The Cubs scrimmaged again yesterday, with the highlights including Javy Baez stroking a double down the right-field line Tyler Chatwood pitching).
Earlier in the game, Javy laced an RBI double down the right-field line.@D_Ross3 in the background encouraging @kschwarb12 to score from first! pic.twitter.com/vuENSBwfzG

— Marquee Sports Network (@WatchMarquee) July 5, 2020
Schwarbs also got to Chatty, crushing a two-run triple.
.@kschwarb12 with a two-run triple! pic.twitter.com/SUjiqDZV6Y

— Marquee Sports Network (@WatchMarquee) July 5, 2020
Before the scrimmage, Willson Contreras put a souvenir onto Waveland Avenue for some lucky fan.
Willson onto Waveland! pic.twitter.com/UGw1j3XLD3

— Marquee Sports Network (@WatchMarquee) July 5, 2020
COVID-19 bottleneck: It's great to see MLB taking such a proactive approach to player safety, testing players no less than three times per week. Despite their use of caution, new issues have arisen within the testing process – a bottleneck of backlogged and delayed testing and results. Players are getting tested in Oakland, but when the test swabs end up sitting somewhere in San Francisco for – only God knows how long - it does little good for anyone.
A's already at competitive disadvantage because of testing snafu. Here's Alex with the details… https://t.co/BGD0FQGmGr

— Ken Rosenthal (@Ken_Rosenthal) July 6, 2020
Angels had own issue with testing today. Per sources, testers did not show. Players did saliva tests on their own; unclear if/how tests were shipped to lab in Utah. But Monday workout was pushed back from 9 am PT to noon, seemingly to give lab more time to determine results. https://t.co/BGD0FQGmGr

— Ken Rosenthal (@Ken_Rosenthal) July 6, 2020
Ken Rosenthal went on to clarify his tweet about Joe Maddon's Angels, tweeting, "Clarification on Angels, per source: Workout delayed Monday to make sure testers are present. Two other, unidentified teams had the same issue on Sunday - testers failing to show."
Knock on wood, but the Cubs have not experienced any such issues, at least not yet, but MLB is administering an awful lot of tests in 30 different major cities, so it's bound to happen at some point.
L-Screens: While MLB is striving for safety first with COVID testing, some teams aren't exercising safety in other areas. During a Yankees practice this weekend, Japanese superstar Masahiro Tanaka took a line drive to the head, as Giancarlo Stanton blasted a ball during batting practice that went right back to the mound. Stanton can hit a ball as hard as anyone, so this was no soft liner.
Unbelievably, fans on social media almost immediately began blasting into Stanton, calling this accident "his fault." How in the hell can he control where that ball is going? Nope, not Stanton's fault, this was 100% on the Yankees skipper (Aaron Boone), as Tanaka should've been pitching from behind an L-screen.
As practice began earlier last week, the Cubs were using L-screens for batting practice sessions, but obviously, those come down for scrimmages. In Tanaka's case, that was solely a batting practice session and not a scrimmage, as is indicated by everyone wearing the same color jersey.
Fortunately, Tanaka is fine, though it was rather intense at Yankee Stadium for several minutes following the incident.
I appreciate all the support. I feel it a bit right now, but I'm all good. Going to try to get back on the mound ASAP! Thanks again for all the encouraging words!

— ????/MASAHIRO TANAKA (@t_masahiro18) July 5, 2020
Cubs' Birthdays: Bo Porter (48), Tim Worrell (53), Rich "Goose" Gossage (69), Gary Matthews (70), Dave Lemonds (72), and posthumously, Alex "Buck" Freeman (124), Ward Miller (136), and Pat Wright (152).
Baseball Quotes: "People always come up and ask me if the Cubs are going to win in their lifetime, and I always give them the same answer: "How long are you planning on living?" – Former Cubs pitcher and announcer, Steve Stone
Consistency is something you can always improve on. You can always be more consistent with your mental approach. -Greg Maddux pic.twitter.com/2zrnG0cUFy

— Baseball Quotes (@BaseballQuotes1) April 9, 2020
MLB NEWS AND NOTES
Brewers: Ryan Braun appeared on the local news here in Wisconsin last night. He had been on the fence about playing this season but has now said he thinks he'll likely be suiting up (oh, joy). He acknowledged that his career is winding down (steroids will do that to you) and that he wants to finish his career in Milwaukee.
Meanwhile, Christian Yelich says that he hopes the fans can be back in the seats before the season is over, saying about the only good thing with empty stadiums is that TV viewers will hear the crack of the bat and the pop of a ball hitting a glove much louder on TV now.
Braves: COVID-19 has struck the Braves, and it struck big. The first baseman, Freddie Freeman has tested positive.
#Braves' Freddie Freeman, Will Smith, Touki Toussaint and Pete Kozma tested positive for COVID-19. Freeman has a fever, Brian Snitker said it's "going to be a while" before they get him in camp. Smith and Toussaint are asymptomatic. Kozma is on satellite roster, also has symptoms

— David O'Brien (@DOBrienATL) July 4, 2020
White Sox: The Sox have announced that they also have positive COVID-19 tests from within their camp. Two players tested positive this weekend, but the names have not yet been released.
Upgrade Your Account
Unlock premium boards and exclusive features (e.g. ad-free) by upgrading your account today.
Upgrade Now

Tags: Chicago Sports Baseball
,
Tyler Chatwood
,
Anthony Rizzo
,
Jon Lester
,
Jose Quintana
,
Kris Bryant
,
Daniel Winkler
,
Kyle Schwarber
,
Willson Contreras
,
Victor Caratini
,
Kyle Hendricks
,
Yu Darvish
,
Ian Happ
,
Daniel Descalso
,
Javy Baez
,
Joe Maddon