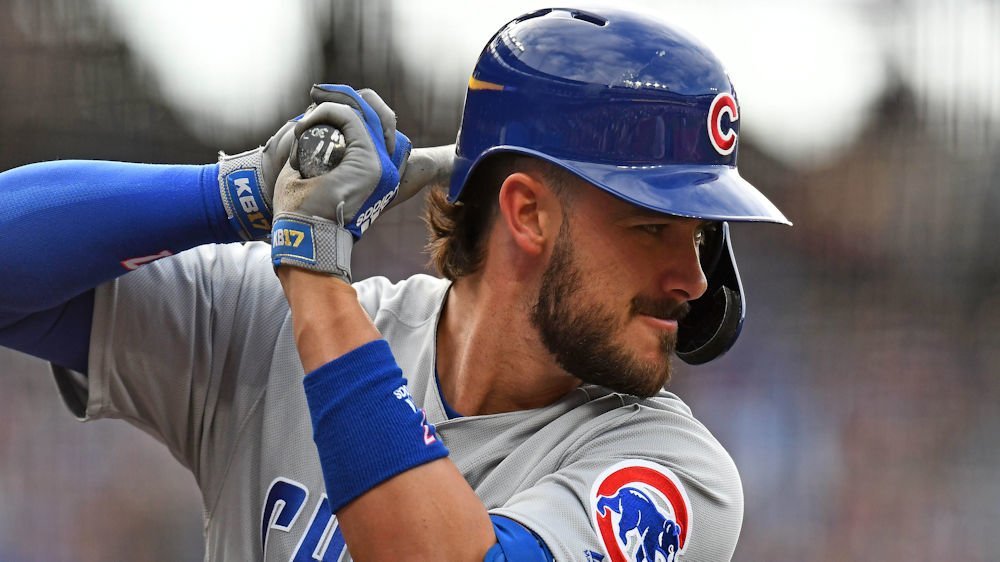 | | |
| --- | --- |
| Cubs News and Notes: Kris Bryant on Astros' cheating, Nico Hoerner, MLB labor pains, more | |
---
CUBS NEWS AND NOTES
Next Game: Next Game: 13 days – Saturday, February 22, 2020: Athletics vs Cubs (Sloan Park).
Opening Day: 46 days – Thursday, March 26, 2020: Cubs vs. Brewers (Miller Park).
KB on cheating: Kris Bryant spoke with the media in Las Vegas about all kinds of things, including his childhood baseball experiences, his child-to-be, and the Astros'/Red Sox' sign-stealing scandal.
"It's unfortunate. "I've talked to a lot of people here and I think it's worse than steroids," Bryant said. "Steriods you still have to hit the ball but when you know it is coming, it takes what is good about this game out of the equation. There is no strategy involved when you know its coming. It's made a lot of people mad around this sport me included. It's certainly going to be a tough year for them wherever they go."
"I think it's worse than steroids." - Kris Bryant on the Astros sign stealing scandal, one of the many topics he was asked about at @thelvballpark Thursday. Full interview with the Cubs third baseman and #LasVegas native here: https://t.co/GKKX0cCAKO @News3LV pic.twitter.com/kDcwJ5cB7m

— Amber Dixon (@AmberNews3LV) February 7, 2020
Trade Embargo? The biggest news from the past few days has been Mookie Betts being traded. The even bigger news is that now the trade may not go through. Boston is hedging due to medical records concerning pitcher Brusdar Graterol and has now put the three-team deal (Red Sox/Dodgers/Twins) on hold. In the meantime, this may slow down Kris Bryant trade talks, as teams may now regroup for a shot at Betts if the Dodgers and Boston can't get a deal done.
Look for my commentary later today with more about how this deal is going to affect the Cubs and what could possibly come out of it for Chicago.
Give it to Hoerner: The Cubs continue to look at potential second baseman for 2020, including Hernan Perez, Scooter Gennett, and others who were with the team last year. Including prospect-gone-wild, Nico Hoerner. Last year, the Cubs struggled for offensive production from their second baseman – a total of eight players who combined for a .220/.301/.383 (.684 OPS) slash line. Meanwhile, in Hoerner's 20-game stretch with Chicago, he produced a .282/.305/.436 slash line with a .741 OPS.
The Cubs concern is that Hoerner never even made it to Iowa, but there are exceptions to every rule. He has the confidence, the ability, and a major league skillset. He's young, controllable through at least 2025, and has the perfect attitude.
Nico starts at second base on Opening Day. Yay or nay?

More: https://t.co/a3gvYDxiM8 pic.twitter.com/xFU2djDU4l

— Cubs Talk (@NBCSCubs) February 9, 2020
Rather than to waste time and endure lost production from guys like Daniel Descalso, why not just give Hoerner a chance? The kid has a ton of minor league options, so if it doesn't work out, you send him to Iowa, with nothing lost. He can't possibly do any worse than what the Cubs had last year. If Hoerner does work out, that frees up Ian Happ to handle the center field duties, while being able to move left or right, should Jason Heyward, Kyle Schwarber, or Steven Souza Jr. fail to produce.
Hopefully, Nico comes out healthy and swinging in Mesa. This kid deserves to start making his major league run this year.
Strike looming? Ken Rosenthal writes that between Mookie Betts delayed trade and Joc Pederson's lost arbitration hearing, friction continues to grow between the players, the MLBPA and the league.
According to Tony Clark, the MLBPA's union head, "The proposed trades between the Dodgers, Red Sox, Twins and Angels need to be resolved without further delay," Clark said. "The events of this last week have unfairly put several players' lives in a state of limbo. The unethical leaking of medical information, as well as the perversion of the salary arbitration process, serve as continued reminders that too often players are treated as commodities by those running the game."
Adding additional fuel to an already smoldering fire will be the decision on Kris Bryant's service time agreement. There's no doubt that KB got screwed in the arbitrator's decision, but he need not be mad at the Cubs, as their actions were within the (unfriendly) confines of the rules. While the decision did nothing for expediting Bryant's free agency status, it will undoubtedly serve as a sticking point for the next collective bargaining agreement, which will take place after the 2021 season. Ironically, that will also be when Bryant now earns free agency.
Ernie Banks was on the National League All-Star Game roster ???? times, a Cubs record ??

That includes three seasons in which he made multiple appearances on the roster ('59, '60, & '62).
#February22 | #WatchMarquee pic.twitter.com/wldRue6sTr

— Marquee Sports Network (@WatchMarquee) February 8, 2020
Cubs' Birthdays: Celebrating yesterday, were ex-Cubs Félix Pie (35) and Steve Dillard (69). Also celebrating yesterday was former Cubs' skipper, Joe Maddon.
Never permit the pressure to exceed the pleasure of playing this game. -Joe Maddon pic.twitter.com/p7H0zpFjUM

— Baseball Quotes (@BaseballQuotes1) February 6, 2020
Baseball Quotes: "Let me tell you something kid; Everybody gets one chance to do something great. Most people never take the chance, either because they're too scared, or they don't recognize it when it spits on their shoes.' -The Sandlot
I had only one superstition. I made sure to touch all the bases when I hit a home run. -Babe Ruth

pic.twitter.com/rH4qEZ9Fhb

— Baseball Quotes (@BaseballQuotes1) January 28, 2020
MLB News and Notes:
White Sox: The White Sox have a deal in place with Cuban RHP Norge Vera for $1.5 million for the 2020 signing class, beginning on July 2nd.
Rays: Tampa has signed LHP Sean Gilmartin to a minor league deal.
Upgrade Your Account
Unlock premium boards and exclusive features (e.g. ad-free) by upgrading your account today.
Upgrade Now