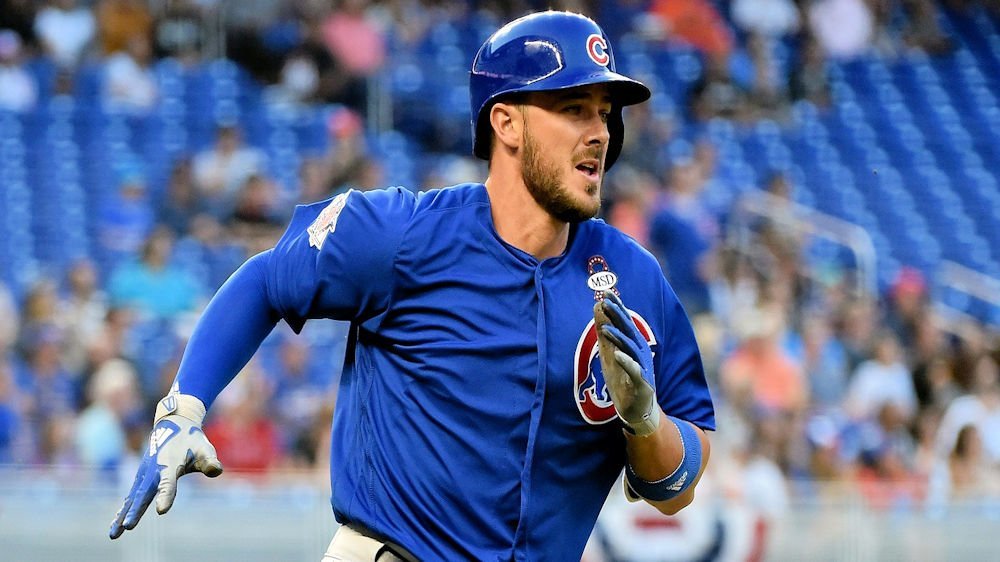 | | |
| --- | --- |
| Cubs News and Notes: Kris Bryant's trade market, Shogo Akiyama, Hot Stove, more | |
---
| | | |
| --- | --- | --- |
| Monday, December 30, 2019, 6:07 PM | | |
CUBS NEWS AND NOTES
With Christmas gone by and Hanukkah ending today, hopefully, there'll be lights on at 1060 W. Addison to start the week. With any bit of luck, Theo Epstein will view New Year's Day as more of a deadline than a holiday, as he has just 55 days from now until the first Spring Training game.
Third base watch: Let's face it, the Cubs' offseason is currently hinging on Kris Bryant's grievance. They desperately need to shed payroll, and if KB can't be dealt, Theo is going to look to trade someone else if the opportunity to secure desired players presents itself. Hopefully, we won't see Willson Contreras or Anthony Rizzo go, but that's possible if the Cubs can't get an answer on the grievance, according to an MLB Trade Rumors article.
How NL Teams Have Addressed Their Weakest Positions Of 2019 https://t.co/TELnFfZ2M1 pic.twitter.com/oYpYCfwjrw

— MLB Trade Rumors (@mlbtraderumors) December 30, 2019
Atlanta looked to be the likely landing spot for Kris Bryant, but Theo was reportedly asking them for a good chunk of their farm system in return. I think there's still a chance that he lands there, but a report from Jon Morosi has now indicated otherwise. Morosi says that a reunion with Josh Donaldson is the team's priority, followed by a desire to trade with the Rockies for Nolan Arenado.
#Braves more focused on a Donaldson reunion than looking at a blockbuster trade for #Rockies star third basemanhttps://t.co/upmygbMi3P pic.twitter.com/qBhfmlcosP

— MLB Trade Rumors (@mlbtraderumors) December 29, 2019
A recent article by MLB Trade Rumors says that the Red Sox were interested in a reunion with Travis Shaw before he signed his one=year $4M deal with Toronto. Theo still has deep ties with Boston, and a Bryant for Betts swap would suit both team's needs, but such a scenario raises a ton of questions. Would the Cubs dare assume Betts and his salary ($27.7M) during his walk year? How much more would each team have to include to make the swap feasible? Could the Cubs even afford to ship out enough players to cover the difference?
If the arbitrator would ever get around to rendering a decision on Bryant's grievance, it would certainly help matters, no matter who Theo may deal with. If Bryant wins and gains free agency in 2021, then a swap wouldn't make much sense, as KB is expected to earn about $18.5M this year via arbitration On the other hand if Bryant loses – as most expect he will – Theo may have the upper hand in a swap for Betts, as the Red Sox would have KB for two full years.
Adding Betts to Chicago's roster would be powerful, covering the CF crisis while adding a leadoff man and an on-base threat. Bryant and Betts share a similar career slash line, but when you consider Bryant's 34 stolen bases in five years versus Betts' 126 steals in six years, the difference becomes apparent on the basepaths.
Steve Cishek: KB may never get dealt to the Red Sox, but according to Pete Gammons of The Athletic, Cishek would like to sign with Boston. Cishek is a native of Cape Cod, so that'd definitely be closer to home than Chicago is.
MLB Trade Rumors forecasts that Cishek will sign somewhere for two years at a total of $10M, but to date, Minnesota is the only team known to have checked in.
Many Cubs' players heading to instructs next month will have their first experience with new director of hitting, Justin Stone. I went to Elite Baseball Training, went through a similar process, took some swings in the cage and Stone broke down the data https://t.co/UvqKufcXyR

— Sahadev Sharma (@sahadevsharma) December 29, 2019
Shogo Akiyama: The Reds signed him to a three-year deal on Monday.
We here at Cut4 are proud to present our pick for the best home runs of the decade.

We promise you, you'll love it. pic.twitter.com/0PiCWkDTF4

— Cut4 (@Cut4) December 29, 2019
Cubs' Birthdays: Celebrating Sunday was the Cubs' Commander in Chief – Theo Epstein, who turned 46. Also celebrating were ex-Cubs Kevin Hart (37), Ken Rudolph (73), and John Upham (78).
Happy birthday, Theo! pic.twitter.com/BvdOp5ftAW

— Chicago Cubs (@Cubs) December 29, 2019
Baseball Quotes: "Bob Gibson is the luckiest pitcher ever. He always pitches when the other team doesn't score any runs." -Tim McCarver
Satchel Paige, Movement.

Fairly certain this wasn't a regulation baseball, but still... ?? pic.twitter.com/hzxi8dr4jv

— Rob Friedman (@PitchingNinja) December 21, 2019
MLB and the Hot Stove
With 83 ballots revealed/~20.1% of the vote known:

Jeter - 100%
Walker - 86.7%
Schilling - 86.7%
BB/RC - 77.1%
--
Vizquel - 49.4%
Rolen - 44.6%
Sheffield - 39.8%
Helton 38.6%
Manny - 37.3%
Wagner - 30.1%
Kent - 28.9%
Andruw - 27.7%
Sosa - 19.3%
Tracker: https://t.co/bp1RXBnrHI

— Ryan Thibodaux (@NotMrTibbs) December 29, 2019
Dodgers: The Dodgers have released RHP JT Chargois. After spending his rookie year in Minnesota, Chargois was a waiver claim by Los Angeles in 2018, but failed to perform, posting a 6.33 ERA (21.1 innings pitched). Chargois is certainly not somebody the Cubs should have interest in, but he does have potential. Over his abbreviated three-year career (total 76.2 IP), Chargois has managed an average of 10 strikeouts per nine innings, with only 2.1 walks and 0.9 home runs per nine.
Tigers: Detroit is engaging in trade talks with Tigers' starter (LHP), Matthew Boyd. As of last night, no deal was close, although the Angels have offered specific names in return, including OF prospect Brandon Marsh.
Indians: Cleveland has signed 2B Cesar Hernandez to a one-year deal. In turn, the club has designated catcher Eric Haase for assignment.
Orioles: Baltimore has signed RHP Kohl Stewart to a major league deal; RHP Marcos Diplan was designated for assignment.