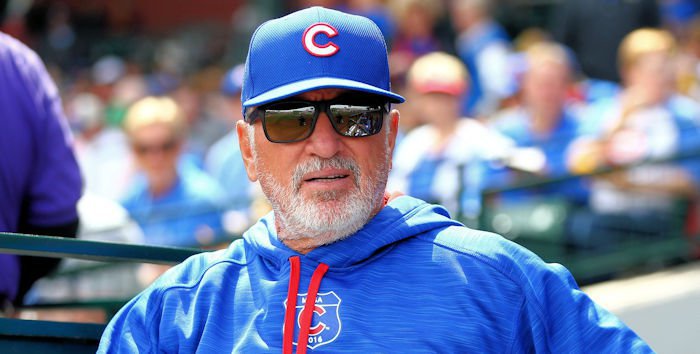 | | |
| --- | --- |
| Cubs News and Notes: Maddon is an Angel, Girardi takes the next step, MLB Playoffs, more | |
---
MLB Postseason
NLCS: SWEPT. The Nationals managed to complete their sweep over the Cardinals last night, by a final of 7-4. Patrick Corbin held the Cards scoreless until the fourth after his offense put the team up 7-0 in the bottom of the first. The Cards looked to be mounting a comeback, as they scored three more in the fifth, but St. Louis failed to capitalize on several threats later in the game, causing their demise. Time to migrate south Red Birds, your services are no longer needed for the next five months.
Thanks to the sweep, the Nats will have a little extra time to prepare for their first trip to the World Series, as they wait for Houston and New York to decide the ALCS. I never thought anyone would get past Los Angeles in the National League and even then, I wasn't sure the Dodgers could beat the Astros in the World Series, but I'm honestly starting to think the Nats may have the momentum (and of course the skill) to give Houston a good fight.
ALCS: The Astros took a 2-1 series lead over the Yanks yesterday afternoon, beating New York by a final of 4-1. Cole pitched another gem, putting together a seven-inning shutout on four hits and five walks while grabbing a handful of strikeouts (5) along the way. Houston built an early 2-0 lead with homers in the first (Altuve) and second (Reddick). For a little insurance, the 'Stros would take on another pair of runs in the seventh, but this game was had already been decided after Reddick's jack in the second.
Game-4 was scheduled for tonight at 7:08 PM Central (FS1). However, it was postponed due to rain. The game will be made up tomorrow at 7:08 PM Central (FS1); Zack Greinke vs. Masahiro Tanaka.
CUBS NEWS AND NOTES
Maddon's new job: I figured Joe would wind up as the new manager of the Angels and I didn't think it would talk very long to find out. Earlier this afternoon, the Halos' brass made the official announcement.
"We are thrilled that Joe is coming back home and bringing an exciting brand of baseball to our fans," general manager Billy Eppler said. "Every stop he has made throughout his managerial career, he has built a culture that is focused on winning while also allowing his players to thrive. We believe Joe will be a great asset for our club and look forward to him leading the team to another World Series championship."
For his part, Joe Maddon says, "I could not be more excited to come back home and manage this great organization. I'd like to thank Arte Moreno and [others] for giving me the opportunity to add another chapter to my Angels career. I was lucky enough to be a part of the first Angels team to win a World Series title, and I look forward to the opportunity to bring Angel fans their second championship."
Maddon deal with #LAAngels is for about $4M per year. Uncertain if he's still highest paid manager in majors. Francona, Melvin, Hinch also believed up in that territory.

— Jon Heyman (@JonHeyman) October 16, 2019
You make the call on this one: Maddon also said of rejoining the Angels, "The biggest thing is, for me, [is managing] where you're wanted." Now maybe it's just me, but that does sort of sound like a bit of a passive-aggressive jab at Chicago.
I'm happy for Joe, he's a good manager and, by all accounts, a super nice guy. I am, however, curious about when the Angels may have (accidentally, of course) started talking to Joe. Joe never seemed to care about his fate this season (and sometimes, some of his choices on the field seemed to support that). Let's also not forget that the day after Joe got let go, the Angels fired Ausmus. There were also no reports of Joe having interviews with any other clubs (at least that I recall). All seems a little fishy, but who knows? Joe wasn't the best guy for the Cubs anymore, so let him be happy with a club who thinks he is the right guy.
Good luck, Joe (and please try to remember that Tommy La Stella isn't just a bench guy).
"???????????????? ?????? ?????? ?????? ?????????? ?????????? ???????? ???? ??????."

Joe Maddon returns to the organization that he spent 3 decades coaching in, now as the manager. pic.twitter.com/1fBufkzZqw

— Cubs Talk (@NBCSCubs) October 16, 2019
Theo being sued: First it was Yu Darvish's neighbor suing Yu over a fence, "which obstructed their view of Lake Michigan," and now Theo Epstein is the defendant in a lawsuit of his dog's urination habits. Theo's being sued for his dog allegedly peeing all over a rental home in Arizona that the Epstein's rented for part of spring training (get this…) in 2015. Now, I'm not sure how (if there were damages) it could take four years to file suit. Did the plaintiff just now notice the stains on the floors and carpet? I have some pretty thick glasses, but even if I didn't see it, I'd damn sure know if our dog peed on the floor within an hour due to this unique sense that God gave us called smell.
Theo and his family moved out of the home after an exterminator found 45 bark scorpions on the property. "Bark" scorpions? Maybe they're the ones who peed? From what I've read, Theo didn't own some "Cujo" sized dog. This was a little yippee, 10-pound rescue.
Joe Girardi: In preparation for his new MLB manager's job (wherever that may be), Joe Girardi stepped down as the manager for the US Baseball team earlier today.
Joe Girardi steps down as @USABaseball manager for upcoming @WBSC Premier12 (@Tokyo2020 qualifier) in order to pursue @MLB "managerial opportunities," per federation news release. Scott Brosius, USA Baseball's senior player development director, is taking over.

October 16, 2019
Cubs' Birthdays: Celebrating yesterday were ex-Cubs Kurt Seibert (64), Rodney Scott (66), and posthumously, Milo Allison (129).
Baseball Quotes: "When you go to home plate with a lot of confidence, you feel that you can hit any pitch." -Adrian Beltre
You gotta have fun. Regardless of how you look at it, we're playing a game. -Derek Jeter pic.twitter.com/LQMKmAn6s3

— Baseball Quotes (@BaseballQuotes1) October 15, 2019
MLB and the HOT STOVE
Reds: Cincinnati has claimed LHP Josh Smith off waivers from the Marlins, and in turn, has designated catcher, Juan Graterol, for assignment.
Payoff baseballs: Players insisted that the baseballs were different this season, stating they've changed again (flying further yet) in October. MLB says that isn't the case, citing "cooler weather" for some of the monstrous dingers hit.
Padres: A new name has popped up in the Padres search for a manager, with them now showing interest in Nationals third base coach, Bob Henley.