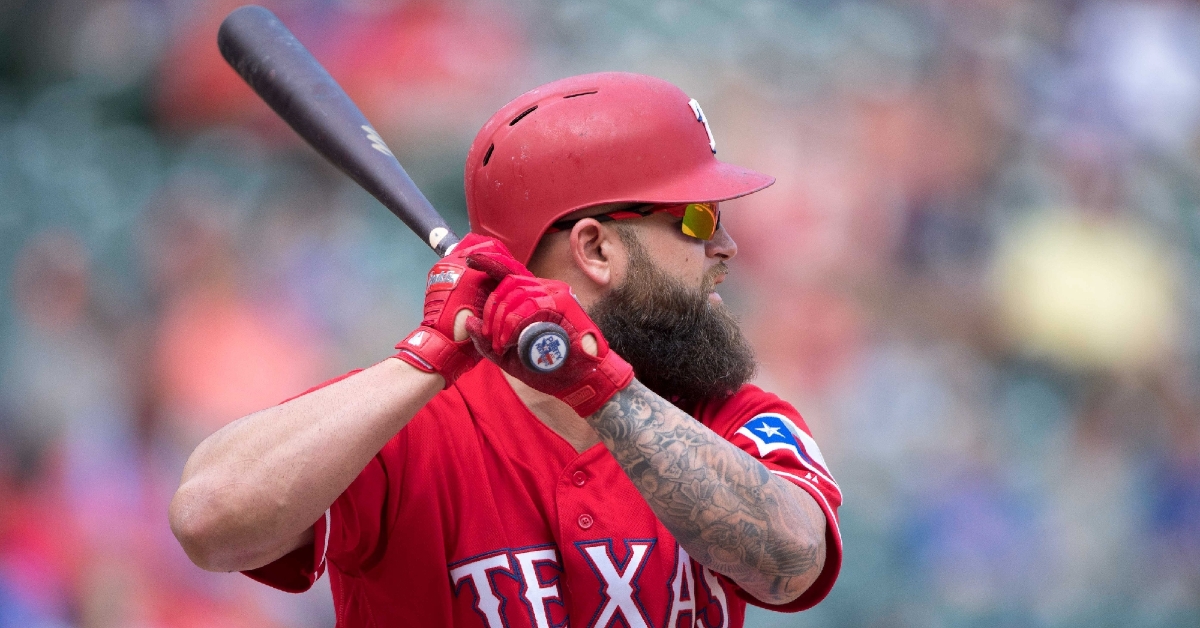 | | |
| --- | --- |
| Cubs News and Notes: Mike Napoli, Castellanos watch, Apologies to Yu, Hot Stove, more | |
---
| | | |
| --- | --- | --- |
| Friday, November 15, 2019, 7:18 AM | | |
CUBS NEWS AND NOTES
QA coach on deck: As the Cubs look to finalize David Ross' coaching staff, the Cubs have reportedly hired their next quality assurance coach: Mike Napoli. He played with David Ross on the 2013 title-winning Red Sox ballclub.
"This is the end of my playing career, but the beginning of the next chapter in my professional life – one window closes, and another one opens. I look forward to exploring opportunities in the baseball world as I plan to continue giving back to the game that has given me so much." -Mike Napoli
Napoli was a .246 hitter with 267 home runs over 12 seasons with the Angels, Rangers, Red Sox, and Indians. At only age 38, Napoli would be third youngest among the Cubs' coaching staff, behind Tommy Hottovy and Will Venable.
Nick Castellanos: As the Cubs and what seems to be the rest of MLB keeps an eye on Nicholas Castellanos (and Marcell Ozuna), MLB Trade Rumors is reporting that the pair should be the only two outfielders to net $20M total or better contracts this winter, with Castellanos expected to sign for somewhere in the vicinity of four years/$58M and Ozuna clocking in at $45M over three years.
This is doable for the Cubs, so long as Theo bargains for the right trades. The question is, how high may the bidding war go, should enough teams become seriously interested? Don't expect any hometown discount from Boras, but at least Castellanos says that he'd like to stay in Chicago.
A Castellanos-Cubs reunion? Don't get your hopes up, Cubs fans https://t.co/5YpQ7TreNM

— Sahadev Sharma (@sahadevsharma) November 15, 2019
Boras, Bryant, and BS'ing: I'll say it: I don't really trust Scott Boras, but in his latest round of posturing, he dispels rumors that Kris Bryant wouldn't re-sign with the Cubs once his current contract expires.
While I do believe that Bryant will do his best and remain professional while playing with Rizzo and the boys, I'm not buying for a minute that KB will ever re-sign. I think the operative word here is "willing;" yes, KB is "willing to re-sign, but only if the Cubs want to pay him the astronomical amount that free agency will net him, and they never will.
With all this Astros sign-stealing fallout, it's probably good that the Cubs didn't hire Joe Espada. They don't need to be linked to that mess.

— Dave Wischnowsky (@wischlist) November 14, 2019
Yu earns more apologies: For those who missed it, Yu Darvish got rocked by the Astros in the 2017 World Series, something that fans whined about when he was signed in Chicago. Now with allegations of sign-stealing by the Astros in 2017, many are beginning to realize that they may have to eat crow, as Darvish may not have been tipping pitches after all.
Yu Darvish vindication sznhttps://t.co/jI5BRb9hIz

— Cubs Talk (@NBCSCubs) November 14, 2019
Time's ticking: With the GM meetings now in the books, winter starts charging for the next big landmark – the non-tender trade deadline (December 20th). It's a lot more cost-effective to deal unwanted players rather than to non-tender them and let them walk away with nothing in return.
If there's one name at the top of the Cubs' non-tender list, it has to be Addison Russell. The Cubs are unlikely to want to re-sign him, so with a little luck, Theo can orchestrate a deal, which will include the beleaguered shortstop.
New J-hey defensive highlights:
Enjoy!
Cubs' Birthdays Celebrating yesterday were former Cubs Xavier Nady (41), Ken Bottenfield (51), Willie Hernández (65), and posthumously, Jim Brewer (82).
Baseball Quotes: "The way a team plays as a whole determines its success. You may have the greatest bunch of individual stars in the world, but if they don't play together, the club won't be worth a dime." -Babe Ruth
I hated pitching because there was no action there. The outfield is more exciting. -Bo Jackson

pic.twitter.com/bOLj55dVyY

— Baseball Quotes (@BaseballQuotes1) November 12, 2019
MLB and the Hot Stove
NL Central Hot Stove:
Pirates: Reports say Ben Cherington has now become Pittsburgh's frontrunner to fill their open GM slot.
Reds: Cincinnati is looking for offense this winter and says that they'll be investigating reaching out to players who received (and refused) qualifying offers from other teams.
From the rest of MLB:
Blue Jays: Toronto is reportedly showing a keen interest in Yasmani Grandal, as they also work to continue upgrading their pitching staff.
Ken Giles Last winter, righty Ken Giles' name was one that popped up as a possibility for the Cubs, but nothing ever materialized. Now that Giles is on the trading block again, the Cubs have shown no reported interest – at least outwardly, thus far. Giles made just 53 appearances for Toronto this year, posting a 1.87 ERA over 53 innings of work.
Twins: Jake Odorizzi accepted the Twins $17.8M offer, hoping that a one-year deal will launch him into a better free-agent market next season.
Braves: Will Smith ended up signing a three-year/$39M deal with Atlanta.
Hyun-Jon Ryu: Ryu is reportedly looking for a three- or four-year deal, after accepting the qualifying offer from the Dodgers last winter. No word on his expected signing amount, but it isn't going to be cheap.
Cy Young: Congratulations to the Mets' Jacob deGrom, who's now won his second Cy Young Award in a row.