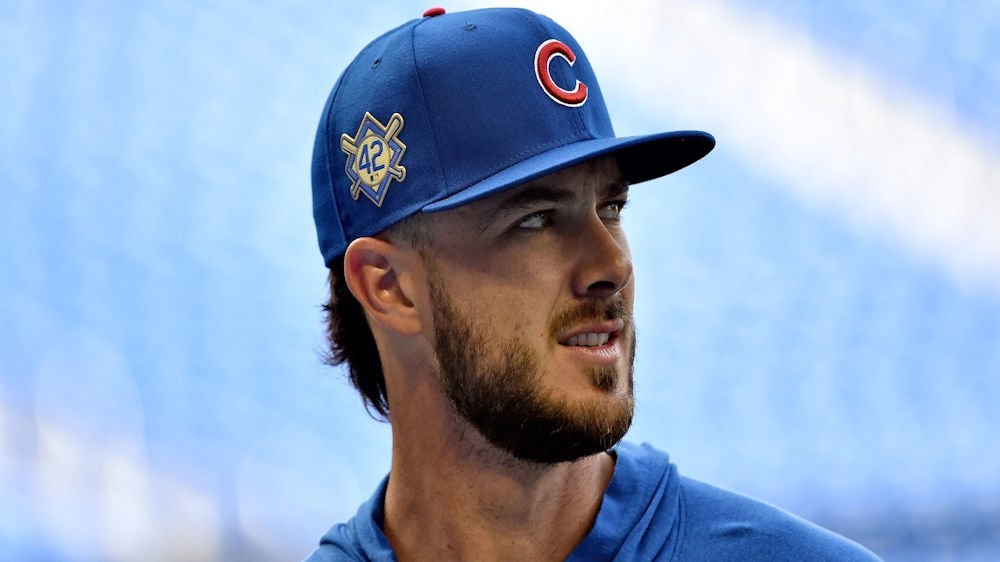 | | |
| --- | --- |
| Cubs News and Notes: Nats win again, Kris Bryant's grievance, MLB Hot Stove, more | |
---
World Series Schedule & Results
GAME-1: Nationals-5; Astros-4. Nationals lead series 1-0. (W-Scherzer; L- Cole)
GAME-2: This one started with an offensive bang from both sides in the first. In the top half, it was Anthony Rendon's two-run double that put the Nats up, and then in the bottom half, it was Alex Bregman for the Stars with a no-doubter to left which tied it.
Strasburg and Verlander would battle through six, keeping the game tied at 2-2, but in the seventh, Kurt Suzuki put Verlander's 100th pitch of the night over the left-centerfield wall to give the Nationals a 3-2 lead. Verlander would be replaced, but Washington was able to get to Presley as well, tallying another five runs before the seventh-inning stretch.
Eaton and Taylor would homer in the eighth and ninth, helping to bring the Nat's offensive effort to 12 runs for the night. In the bottom of the ninth, former Cub, Martin Maldonado would homer off of Javy Guerra to start a mini-rally, but there was no way the Astros were overcoming this deficit. Washington takes a 2-0 Series lead with a 12-2 win.
I never thought they'd get past the Astros, but now I can't help but wonder if a sweep by the Nats is imminent.
Thursday, Oct. 24: Travel day
GAME-3: Friday, Oct. 25: HOU at WSH Game-3, 8 p.m., FOX. Washington TBD vs. Zack Greinke.
GAME-4: Saturday, Oct. 26: HOU at WSH Game-4, 8 p.m., FOX
GAME-5: Sunday, Oct. 27: HOU at WSH Game-5 (if necessary), 8 p.m., FOX
Monday, Oct. 28 Travel day (if necessary)
GAME-6: Tuesday, Oct. 29: WSH at HOU Game-6 (if necessary), 8 p.m., FOX
GAME-7: Wednesday, Oct. 30: WSH at HOU Game-7 (if necessary), 8 p.m., FOX
CUBS NEWS AND NOTES
Ross it is! Like it or not, David Ross will be officially named as the next manager of the Chicago Cubs. MLB has allowed for announcements on off days during the World Series, and today would be one of those days. Welcome back to the dugout, Rossy!
Confirmed: David Ross will be #Cubs' next manager, and other candidates have been informed of decision https://t.co/jwgSBVFbnO via @SunTimes

— Steve Greenberg (@SLGreenberg) October 23, 2019
By the end of 2016 season, Ross was the 6th oldest active player in the National League. As of now, Ross will be the 3rd youngest active manager in MLB, behind Rocco Baldelli (38) and Kevin Cash (41). -ESPN Stats & Info
.@D_Ross3 will become the 4th #Cubs manager who also played for a Cubs World Series Championship team. pic.twitter.com/6PcG81Mvlk

— Cubs Talk (@NBCSCubs) October 23, 2019
Bryant's grievance: Remember when I wrote in my Maybe Next Year series that among the reasons to trade Kris Bryant this year, was that he had an axe to grind with Chicago over his service time being toyed with and that he would become problematic? Well… here ya go.
"Here's another Cubs scoop. Cubs/MLB will be dealing with Kris Bryant's grievance this week from 2015 over service time + Cubs decision to delay his MLB debut until he fell one day short of being a free agent after the 2020 season. Could have MLB altering implications if he wins." - David Kaplan
This ruling could have significant meaning for the Cubs and throughout baseball if Kris Bryant wins this case. It will be interesting to see how it all shakes out.
Mark DeRosa: While former Cub Mark DeRosa was once thought to be a candidate for Joe Maddon's old job, and he never seemed to materialize as an option for Chicago. According to MLB's Jon Heyman, DeRosa was thought by many to be the bombshell candidate allegedly in the running for the Mets' manager spot, but alas, Heyman says it isn't DeRosa.
Lotta people texting that they hope Mets bombshell candidate is Mark DeRosa. He'd be a great option I think — smart, passionate, hard working, relatable. But alas, it is not him. #MysteryManager

— Jon Heyman (@JonHeyman) October 23, 2019
Loretta has choices: It has now been revealed that Cubs' bench coach Mark Loretta has been interviewed for the manager's spot in San Diego.
SB Cubs say thanks: After winning it all this year, a handful of South Bend Cubs wanted to say, "Thank you."
?? ?? ??
Thank you fans!#MidwestLeague #Champions pic.twitter.com/bLoKLDqzdP

— South Bend Cubs (@SBCubs) October 23, 2019
Cubs' Birthdays: Celebrating yesterday were ex-Cubs Felix Doubrant (32), John Lackey (41), Solly Drake (89), and posthumously, Mike Sullivan (153).
Baseball Quotes: "People always ask me if I wish I were bigger. I tell them no. I always wanted to be a miniature badass." -Dustin Pedroia
I don't need to go out there and trick guys, and I don't need to go out there and be perfect. I've just got to attack the strike zone, let my stuff work and get much better results that way. -Stephen Strasburg pic.twitter.com/qVbUG5RgDH

— Baseball Quotes (@BaseballQuotes1) October 22, 2019
MLB and the HOT STOVE
Mets: NY has scratched a couple of names off of their list for the open manager's spot. Padres' first base coach Skip Schumaker won't be invited back for a second interview, nor will D'Backs' Director of Player Development, Mike Bell.
Joe Girardi, Eduardo Perez, Carlos Beltran, Mets quality control coach Luis Rojas, Nationals first base coach Tim Bogar and Twins bench coach Derek Shelton are all in line for second-round interviews shortly, although Girardi is expected to be named as the Phillies' new manager on Thursday.
Royals: According to reports, it looks like former Cards' manager (and now Royals' special advisor) Mike Matheny is the odds-on favorite to land the managing job in KC.
Phillies: The Phillies have hired former Yankees executive, Brian Barber, as their new Director of Amateur Scouting. After retiring from baseball, Barber moved into scouting and has spent the better part of the last two decades with the Yanks, doing just that.
Pirates: Pittsburgh has fired President, Frank Connelly.
Pirates, Team President Frank Coonelly Part Ways https://t.co/DuSKg6aTCx pic.twitter.com/1P4eGGtRKj

— MLB Trade Rumors (@mlbtraderumors) October 23, 2019