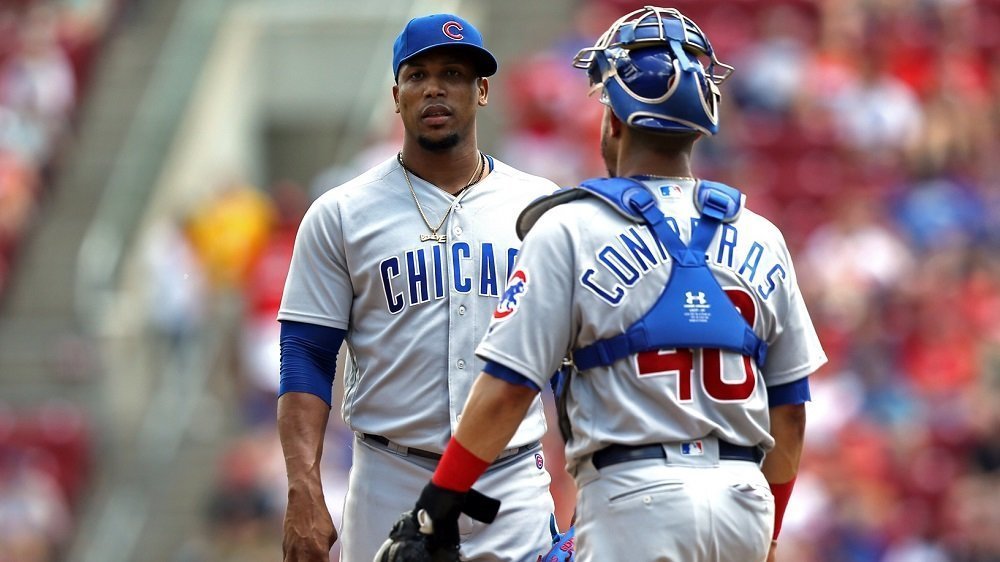 | | |
| --- | --- |
| Cubs News and Notes: Pedro Strop says goodbye, Arenado to Cubs odds, luxury tax, more | |
---
| | | |
| --- | --- | --- |
| Friday, January 31, 2020, 7:49 AM | | |
CUBS NEWS AND NOTES
Next Game: Next Game: 23 days – Saturday, February 22, 2020: Athletics vs Cubs (Sloan Park)
Opening Day: 57 days – Thursday, March 26, 2020: Cubs vs Brewers (Miller Park)
Arenado odds: According to BetOnline, the odds of where Nolan Arenado will land are as follows: Yankees: 3:1; Braves 4:1; Cubs 5:1.
I've maintained that I couldn't see this happening with the Cubs' money-crunch, but then I stumbled upon an article by NBC Sports Chicago yesterday, claiming that Cubs' ownership never issued a mandate to Theo Epstein about staying under the luxury tax threshold.
David Kaplan said, "Sources confirmed no such mandate from ownership exists. While the Cubs would like to reset under the luxury tax threshold for strategic reasons, ownership is well aware of the financial challenges they are currently dealing with in player payroll. Ownership is also prepared to navigate another year in the luxury tax if the club remains in the playoff picture in 2020."
Ricketts said himself that there was no money available, but to put it in context, he was speaking about signing free agents. Unless they trade Kris Bryant, the Cubs will most certainly be over again this year, although marginally. This should clarify the questions that many ask about how the Cubs could even think of affording to take on Arenado's remaining $227M salary.
The Reds strike again: The other day it was Nicholas Castellanos and today Cincinnati grabbed up Pedro Strop. This is a one-year/$1.825M deal.
With bonuses Strop can make up to $3.5M. Thanks for the memories, Pedro. Best of luck.
Pedro says goodbye to Chicago. He'll always be a champion #Cubs #HatsToTheLeft pic.twitter.com/Qrul9FD7DY

— Crawly's Cubs Kingdom (@crawlyscubs) January 31, 2020
Milwaukee announces David Phelps signing..so former Cubs relievers from last season:

Phelps/Brewers, Strop/Reds, Kintzler/Marlins, Cishek/W-Sox, Edwards Jr/Mariners.

Quite the bullpen makeover

— Jesse Rogers (@ESPNChiCubs) January 30, 2020
Venable stays: After interviewing for manager spots in Houston and San Francisco, Cubs' base coach Will Venable won't seek an interview in Boston and says he'll remain with the Cubs this year.
Cubs on top? I'm as passionate about the Cubs as any of you, but I find this a little hard to digest. According to actionnetwork.com, "The NL Central also has a handful of teams that could win the division, with the Cubs and Cardinals tied at +190 apiece. The Cubbies have been on a downward spiral ever since winning the World Series, with last year's absence from the postseason being the low point."
Feel the hate: While I'm not sure how scientific the research is, someone took the time to map out which states hate which MLB teams the most. Interesting that the Cubs are hated in Iowa, but if there's any real research behind this, I'd assume it's because so much borders Missouri and Minnesota, where Iowans have alternate choices of the Cards, Royals and Twins. Well, look at the bright side – at least you're not Yankees fans.
Most hated MLB teams by state (based on geotagged Twitter data). ???? pic.twitter.com/kyVbGb54w2

— #TodayInSports (@TodayInSports3) January 30, 2020
Welcome, Travis: New Cubs' minor league hitting coach Travis Fitta seems to be looking forward to his new gig. Per Fitta's LinkedIn account, he previously held positions as Director of Hitting Development at Ohio University and Director of Hitting at Next Level Academy and the Texas Pitching Institute. Fitta also says that he's "a data driven hitting coach specializing in pairing data and technology along with traditional player development techniques." Can someone please set up a lunch date between him and Daniel Descalso?
I can't even begin to explain the overall excitement I'm feeling seeing this. All those long nights working, learning and researching. Packing my entire life into a car and moving state to state just to keep grinding. I am truly happy. Thank you @Cubs, Thank you @elite_baseball. pic.twitter.com/dDH6kRva9E

— Travis Fitta (@TravisFitta) January 31, 2020
Obituary trolls Ricketts: This is hilarious. The obituary of a 95-year old lady who passed away on January 19th, left quite the request.
This obituary is so hilarious. This woman who was a die hard Cubs fan passes away on January 19th at the age of 95. Check out what she wanted in her obit. Attn. #ChicagoCubs #TakeThat #BlessYouJoanneDeVrieze pic.twitter.com/yNjZAHbp1d

— David Kaplan (@thekapman) January 30, 2020
Cubs' Birthdays: Celebrating yesterday, were ex-Cubs Matt Alexander (73), Davey Johnson (77),
Baseball Quotes: "I get a kick out of watching a team defense me. A player moves two steps in one direction, and I hit it two steps the other way. It goes right by his glove and I laugh." -Rod Carew
WE'VE GOT A WILD BRAWL IN THE VENEZUELAN WINTER LEAGUE! pic.twitter.com/qoSGpqxeTP

— Baseball Quotes (@BaseballQuotes1) January 9, 2020
MLB News and Notes:
Pirates: As the Pirates look to replace CF Starling Marte, their focus has shifted to free agent stragglers Kevin Pillar, Billy Hamilton and Cameron Maybin among others.
Mookie Betts: Trade talk between the Red Sox and Dodgers for a deal involving Mookie Betts is heating up. Trade talks also include starter (RHP) David Price.
Rangers: Texas has signed right-hander Derek law to a minor league deal.