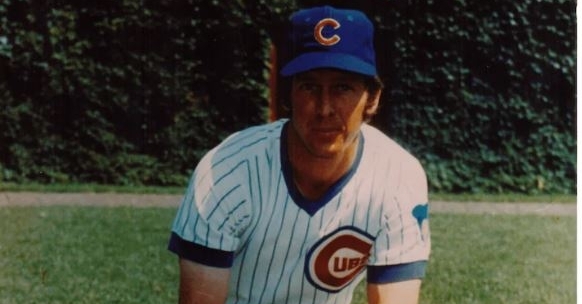 | | |
| --- | --- |
| Cubs News and Notes: RIP Glenn Beckert, Staying positive, Trade deadline, more | |
---
| | | |
| --- | --- | --- |
| Monday, April 13, 2020, 9:13 AM | | |
CUBS NEWS AND NOTES
No Baseball: Day 19.
RIP, Glenn Beckert: The Cubs lost a legend yesterday, as the death of Glenn Beckert was announced. Beckert passed away in Florida; he was 79. No cause of death has been released.
The Cubs released a statement yesterday, which in part read, "Glenn Beckert was a wonderful person who also happened to be an excellent ballplayer. He was a mainstay at second base for the Cubs for nine seasons from 1965-73, earning a spot on four All-Star teams and a reputation for one of the toughest at-bats in the league, as evidenced by his low strikeout rate. Glenn more than held his own playing alongside future Hall of Famers and won a Gold Glove for defensive excellence at second base in 1968."
During his time with Chicago (1965-1973), Beckert earned four All-Star bids (1969-1972) and won a Gold Glove Award in 1968.
The Chicago Cubs are saddened to learn of the death of former infielder Glenn Beckert.


Beckert was a gold glove winner and four-time All-Star in his nine seasons with the Cubs. pic.twitter.com/rh9JiEpQod

— Chicago Cubs (@Cubs) April 12, 2020
Many of you are probably too young to have ever seen him play, but Glenn Beckert was very much a part of my early childhood Cub heroes. By the time I was five (1971 season), I'd already started to know the big names on the Cubs.
In '71, Beckert was surrounded in the infield by the names Ernie Banks, Jim Hickman, Don Kessinger, Ron Santo, and Randy Hundley. The outfield that year had Joe Pepitone, Johnny Callison, and Billy Williams, among others. Some of the pitchers included Milt Pappas, Ken Holtzman, and a guy you may have heard of, named Fergie Jenkins. The Cubs didn't have a great year in '71 but did manage to finish 3rd with a record of 83-79.
We lost a great one today, Glenn Beckert. Glenn was My friend, my @Cubs teammate, and the best man at my wedding. He will be greatly missed. My thoughts and prayers are with the Beckert family. pic.twitter.com/JYgadyLPK8

— Fergie Jenkins (@fergieajenkins) April 12, 2020
During my time in Little League, I played mostly second base. I can remember pretending to be Beckert during our practices, when the neighbors and I played catch, and when I played in sandlot games. I was too young to remember faces, but boy, I sure knew the names.
On Aug. 19, 1969, Glenn Beckert gloved the final grounder -- off the bat of Hank Aaron -- to help complete the final out of Ken Holtzman's zero-strikeout, no-hitter vs. the Braves at Wrigley Field.

Box: https://t.co/8bUguga07F

Last out: https://t.co/YKd95xtw1i

— Jordan Bastian (@MLBastian) April 12, 2020
After his retirement, Beckert wound up living in Florida, where he helped with Joe Maddon's Adopt-A-Legend Program.
My condolences to the Beckert Family....Glenn was a part of my Adopt-a-Legend Program with the Rays in Port Charlotte....so proud of his minimal strikeouts..we spoke about that often...an all time Cub great ....a Gentleman and friend... https://t.co/f1gsPWrxqo

— Joe Maddon (@MaddHalos) April 12, 2020
RIP, Glenn. Thank you for not only your years of service with the Cubs but for helping to make my childhood baseball experience so memorable. You'll be missed.
Stay positive: As coronavirus continues to pose a threat, keep in mind that MLB continues to stay in contact with the federal government and CDC as they look for their window to begin the spring training phase of the season again.
As of 6:00 AM Central time this morning, overall cases in the US dropped for a third straight day, with the number of deaths also declining. For six consecutive days, the number of new cases has remained relatively the same, which shows that this thing is starting to slow down some. The numbers in the US are still high daily, but nothing compared to what they were two weeks ago.
Baseball will be back. It may look different for a while, as teams will undoubtedly play a shorter season with bigger rosters and perhaps shortened (7 inning) games. It'll probably be nearly impossible to visit the old ballpark this year, but hey, look at all you can do with the money you'll save. The stands will be empty, but the games will be televised.
Stay positive, healthy, and safe.
MORNING POSITIVITY
"Don't give up. Don't ever give up."
Jimmy Valvano pic.twitter.com/dxWOarwXCR

— South Bend Cubs (@SBCubs) April 13, 2020
Draft/Trade Deadline: A couple of weeks back, MLB reported that it was planning to hold the June Amateur Draft as scheduled. Due to the virus, rules for scouting have changed, including no face-to-face contact with prospects. This got me wondering: Will MLB also maintain the July 31st trade deadline?
If so, you have to wonder what Theo Epstein may do this summer. His mandate was to trade from the core unless the Cubs had "a legitimate World Series contender" this year. Obviously, that's hard to know when the guys can't even play.
Kris Bryant topped the list of potential trade targets this winter. KB had a less than stellar – though interrupted and brief – spring training, which saw him slash .240/.310/.400 with a 1.286 OPS. The sample size is extremely small (29 plate appearances).
PECOTA's prediction had the Cubs winning 85 games, which generally isn't considered enough to be a World Series contender. In MLB's synopsis, they state, "The Cubs are slated to sneak into the postseason with the second NL Wild Card spot, with a 51.5% projection of reaching October."
The idea of trading Bryant probably isn't a choice, but it may be a lack of options. The Cubs have failed to reach extension deals with Javy Baez, Willson Contreras, Anthony Rizzo, and Kyle Schwarber. None of those will fetch the free-agent money that Bryant will get, but then again, none of them but Bryant are represented by Scott Boras.
After losing his grievance, Bryant only has this season (whatever becomes of it) and next, before he's allowed to walk away as a free agent. Many figured that he may be traded by this July, to increase his trade value for the potential suitor. If the Cubs wait until next winter to deal him, KB will then be a straight rental.
Most of the Cubs' core reaches free agency in 2022. Whether or not Bryant remains the intended trade target, the parameters for optimal trade value remain the same. Trade by this July or lose value dealing players as rentals.
The abbreviated season won't make it fair for any player who gets traded, as there's no way to gauge what they may have done given a full season. It is what it is though, coronavirus or not, life – and baseball – goes on.
Cubs' Birthdays: Celebrating yesterday, were ex-Cubs Brad Brach (34), Justin Ruggiano (38), and posthumously, Woodie Fryman (80), Walt Moryn (94), Berlyn "Trader" Horne (122), and Charlie Pick (132).
Baseball Quotes: "I never blame myself when I'm not hitting. I just blame the bat, and if it keeps up, I change bats." - Yogi Berra
Pedro Guerrero wasn't happy with David Cone throwing at him, so in retaliation, he threw his bat at him! ???? pic.twitter.com/tB9XfNaxww

— Baseball Quotes (@BaseballQuotes1) April 9, 2020
MLB NEWS AND NOTES
Condolences: In addition to the death of Glenn Beckert, the Tigers announced the death of one of their own legends. Former Detroit Tigers 1B/RF Al Kaline passed away at the age of 85 on April 6. Kaline played 22 seasons (1953-1974) with the Tigers. According to his obituary, he "died peacefully at home."
Baseball legend Al Kaline's family just snuck his obituary into the paper like he was a regular guy.

Because he was.https://t.co/JwDOqcpYI8

— 12up (@12upSport) April 12, 2020
Congrats: After thirteen seasons, infielder Mark Reynolds (Diamondbacks) announced his retirement yesterday.