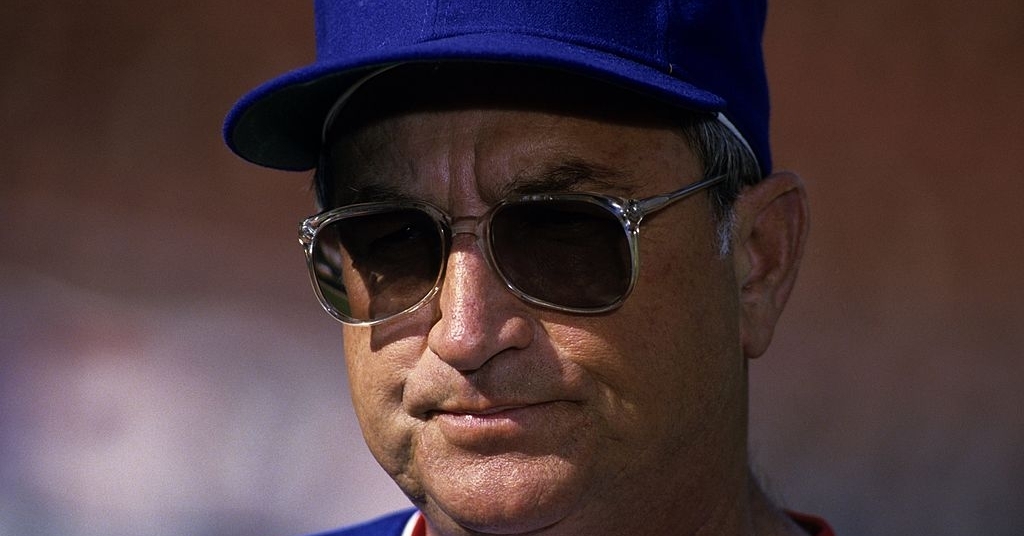 | | |
| --- | --- |
| Cubs News and Notes: RIP Jim Frey, MLB's contigency plans, Greg Maddux, more | |
---
| | | |
| --- | --- | --- |
| Wednesday, April 15, 2020, 8:14 AM | | |
CUBS NEWS AND NOTES
Baseball Held Hostage: Day 19.
Jim Frey passes away: Professional sports have sure suffered more than their fair share of legends passing away in the last couple of weeks. In addition to the Cubs losing former All-Star second baseman Glenn Beckert on Easter Sunday, it was reported yesterday that former Cubs' manager (1984-1985) Jim Frey also passed away. Frey was 88.
In addition to leading the Royals to a World Series win during his inaugural year as a manager in 1980, Frey led the Cubs to an NL East Division Championship in 1984. MLB named Frey Manager of the Year in 1984. Frey also became the Cubs general manager, and was a pivotal piece of the Cubs infrastructure, helping them to earn another NL East Division title in 1989. That year, Frey was awarded the title of Executive of the Year. He retired following the 1992 season.
Former MLB manager and Hall of Famer, Joe Torre, spoke of Frey, referring to him as a "class act."
Hall of Famer Joe Torre remembers former @Royals and @Cubs manager Jim Frey, who passed away at the age of 88: pic.twitter.com/aZ7sxAOIZp

— MLB Communications (@MLB_PR) April 14, 2020
For more on Frey, click here to read the Cubs' Rress Release.
MLB contingency plans: According to a subscription-based article in The Athletic, written by Ken Rosenthal, MLB now has three contingency plans.
MLB and the MLBPA last met on April 6th to discuss the possibilities of getting a season in place (when safe), but league officials are not ready to commit to one idea until the country's timeline for how to emerge from the COVID-19 pandemic becomes clearer. Rosenthal cautions that the delay in talks should not be confused with progress not being made. As I wrote the other day, all parties involved continue to speak with medical experts about a potential window.
The plan that MLB chooses to institute will depend on several things. Included in considerations, are COVID-19 hot zones, summer weather conditions at the proposed venues, and whether or not long-distance travel between stadiums is advisable.
The first plan sounds an awful lot like the scenario that I wrote about the other day before any of this was even made public.
It was no secret that MLB was considering playing all games in Arizona, but I suggested that they'd need to secure motels, test all MLB related personnel, TV personnel, then test motel staff and security, as everyone would need to be quarantined at privately rented motels. I also suggested waiting on testing family members of the players, so as not to delay or compromise the "safe zone." Finally, I suggested limiting travel only to and from the motels and ballparks. BINGO, that's precisely what MLB is suggesting.
Rosenthal says the Arizona plan is drawing support from federal officials and might be the only way for baseball to return in 2020.
"Different plans require different levels of restriction for players, different economics associated with it, different start dates." – Unnamed MLB official
The second plan would include using cities with domed stadiums or retractable roof parks in "certain MLB regional hubs," with the cities Phoenix, Miami, Tampa Bay, Dallas-Fort Worth, and Houston used as an example. The plan would include dividing the teams up between the five cities, then having them engage in what was described as "round-robin style" play until relocating to the next cities.
That plan would require a lot more travel – something that isn't exactly recommended at this point - but it would open MLB in larger TV markets, even if games are played in empty stadiums. Less travel than a regular-season would include, but far more than the Arizona plan, which would only require busing players to and from venues.
"We have engaged in contingency planning. We've thought about how we might be able to return in various scenarios. But the key is the improvement in the public health situation." - MLB Commissioner, Rob Manfred
The final plan is the Grapefruit League/Cactus League format. In that scenario, each of the 30 teams would use their own spring training facilities to play teams only in their spring training schedules.
The biggest problem with that is the summer temperatures in both Arizona and Florida. Phoenix temperatures quite frequently hit 110 degrees in July and August, while Florida temps range in the upper 80s to mid-90s. I lived in Florida for a long time, and I can tell you, it's not the heat that'll kill you there, it's the humidity.
Florida has a lot more issues than Arizona does. Baseball season takes place at the same time hurricane season does. Unlike Arizona, Florida's spring training camps are spread all over the state, covering both coasts as well as central to southern cities on the west coast of the state. Perhaps more important than anything else, Florida's population is about three times that of Arizona's, and currently has about 6x as many active cases of the virus.
Whatever it takes, let's just get people healthy again and get baseball back – no matter what format they use.
Cubs' Birthdays: Celebrating yesterday, were ex-Cubs Kyle Farnsworth 44, Marty Keough (86), and posthumously, Ben Tincup (127). Oh, and lest we forget this guy – Greg Maddux turned 54 yesterday.
I'm sure, at this point, Greg wouldn't mind a little laugh at his expense. As soon as I saw the video above, I couldn't help but notice how much Maddux reminded me of the biggest goof ever on TV – well, maybe the second biggest buffoon if you count Peewee Herman. Tell me if you don't see the resemblance between Maddux and Jim Varney, who played "Ernest P. Worrell."
Holy mackerel, I never realized how much he looks like "Ernest" from the old TV commercials. pic.twitter.com/YFNtnwpqPg

— Ken Allison (@KenAllison18) April 14, 2020
Baseball Quotes: "Little League baseball is a very good thing because it keeps the parents off the streets." - Yogi Berra
If you can get an out on one pitch, take it. Let the strikeouts come on the outstanding pitches. Winning is the big thing. If you throw a lot of pitches, before you know it, your arm is gone. -Dwight Gooden pic.twitter.com/RABybHvBye

— Baseball Quotes (@BaseballQuotes1) April 12, 2020