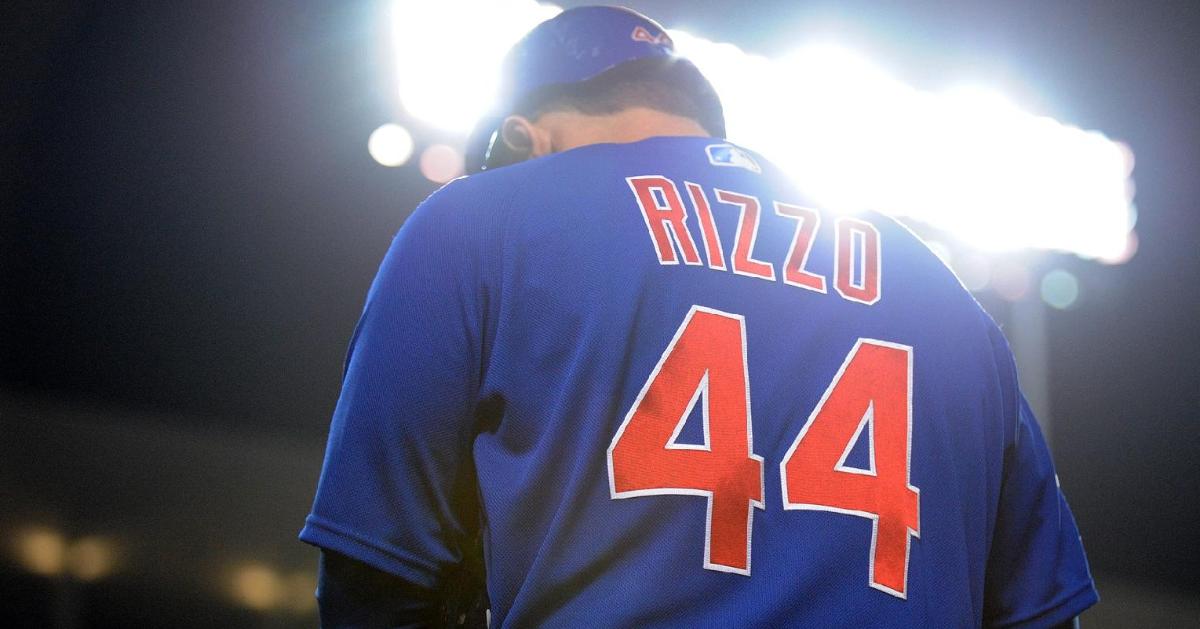 | | |
| --- | --- |
| Cubs News and Notes: Rizzo wins Gold Glove, Alec Mills, Reliever market, Hot Stove, more | |
---
CUBS NEWS AND NOTES
Rizzo and his Gold Glove stay in Chicago: In what most would consider being a no-brainer move, the Cubs have picked up Anthony Rizzo's $16.5M option for 2020. All the buzz is about how the Cubs need to iron out a nice extension for Rizz (and they should), but I think that's going to wait until next year (his final year). Right now, the Cubs need to prioritize locking down Javier Baez to a long-term deal and focus on retooling and rebuilding with Javy as one of the cornerstones.
Rizz also won the Gold Glove Award for first base in the National League yesterday.
Make it THREE Gold Gloves for Anthony Rizzo ?? pic.twitter.com/Jf3EFhaOlF

— Cubs Talk (@NBCSCubs) November 4, 2019
Apparently, Yu Darvish wants to be the co-winner of the Gold Glove (I love his sense of humor more and more every day):
You know how many times I had to run to cover first base for him to win the gold glove?
I'm 60 feet away from first base, but him? He's only 10 feet away.

But congratulations! #cubs #everybodyin #Joking https://t.co/9NLzKUYESz

— ???????(Yu Darvish) (@faridyu) November 4, 2019
He also told me If I buy Louis Vuitton backpack for him I don't need to run firstbase anymore.

— ???????(Yu Darvish) (@faridyu) November 4, 2019
Mills the #5 starter? I took a peek at the Cubs depth chart this morning, just to see if Cole Hamel's name still appeared. Nope. Instead, Alec Mills is now being shown as the Cubs' #5 starter, with Tyler Chatwood nowhere to be found in terms of the rotation.
I can't see the Cubs dealing Chatty due to his contract amount, but that may not be a bad thing, as his improvements from last year could (should) put him in line for the rotation spot. I think the Cubs should keep Mills in the pen, use him as a spot starter when necessary, and let Chatwood do what the Cubs hired him to do – start ballgames.
Former teammates on David Ross: Jon Greenberg of The Athletic wrote a sensational article yesterday (subscription only), which was full of quotes and anecdotes from David Ross' former teammates in Boston Atlanta and other stops along Ross' way. The following quotes from Greenberg's piece were offered up by Eric O'Flaherty, who was Rossy's teammate in Atlanta.
"He could be as prickly as they come," the former Braves reliever said in a phone conversation. "He can be an asshole when he needs to be. I kind of saw people making those comments that he'd be too buddy-buddy with the players. I'm like, 'Man, you have no clue who this guy is.''"
"I'd never be wondering who's going to call me out when I showed up to the field late," he said. "It was how is Rossy going to make me pay? Is he going to go the humiliation aspect, make everybody laugh at me? Is he going to humiliate me with some joke about it? He's quick-witted, and he hits those spots that make the whole clubhouse laugh. Or is he just going to get up in my ass? Is he going to be Angry Rossy and blow me up and make me think I'm never going to do that again?"
Why do people love David Ross? I talked to ex-teammates from L.A. to Boston about the new Cubs manager. Some great anecdotes in here: https://t.co/lOST4geyL5

— jon greenberg (@jon_greenberg) November 3, 2019
Kintzler/Cishek stock rising: With the announcement that Aroldis Chapman will stay in the Yankees bullpen, Brandon Kintzler and Steve Cishek's stock appears to be on the rise. According to ESPN's Jeff Passan, due to a shortage of quality, free-agent relievers, the pair of now possibly former Cub relievers are among the top nine free-agent relievers available this winter.
I know firsthand that Kintzler wants to remain a Cub, though Chapman's extension may make it harder for Theo to re-sign him. I predicted that Cishek would be leaving Chicago this winter, but he'd most likely come at a much lower price than Kintzler, possibly making him more attractive to Theo from a financial standpoint.
With Aroldis Chapman staying in New York, the already-thin relief market this winter gets even more shallow. The top relievers now:

- Will Smith
- Will Harris
- Daniel Hudson
- Dellin Betances
- Drew Pomeranz
- Chris Martin
- Joe Smith
- Steve Cishek
- Brandon Kintzler

— Jeff Passan (@JeffPassan) November 3, 2019
Epstein needs to consider the shortage of pitchers, lock Kintzler down, let Cishek walk, and then focus on dealing players to replace Cishek and others. The Cubs are already down one reliever for sure (Derek Holland), and several more will follow.
Colin Rea: While it's uncertain as to whether or not Rea will pitch in Chicago this year, the Cubs need to select his contract to protect themselves from losing him to free agency. Rea showed promise in Iowa, and it would be a shame to let him walk. The team has room on the 40-man, and Rea has minor league options.
One depth decision Cubs have to make by end of day Monday is whether to add RHP Colin Rea (14-4, 3.95 ERA, 120 K, 60 BB, 148 IP with AAA Iowa in '19) to the 40-man roster.

Rea has Minor League options, so adding him makes sense for Cubs. Otherwise, he'll become a free-agent.

— Jordan Bastian (@MLBastian) November 3, 2019
Summer break: I miss two things at this point: Summer and baseball.
Sunshine has been in short supply lately - great to see some over Wrigley today. pic.twitter.com/cjAEPeFqW4

— Wrigley Aerials (@WrigleyAerials) November 3, 2019
Cubs' Birthdays Celebrating yesterday were former Cubs Jonathan Herrera (35), Danny Young (48), Ken Holtzman (74), and posthumously, Fred Richards (92), Bob Fisher (133), Ed Lennox (136), and Jim McCormick (163).
Baseball Quotes: "Sports should be about kids and their passion, not about parents and their goals." -Mike Matheny
I'm not satisfied. I'm never satisfied. You have to keep grinding and keep working hard to succeed. -Adam Jones pic.twitter.com/CbEBLiqWrv

— Baseball Quotes (@BaseballQuotes1) November 1, 2019
MLB and the Hot Stove
Gold Glove Awards Congrats to all 18 of this year's Gold Glove Award winners.
Golden hour.

Presenting the finest defenders of 2019. pic.twitter.com/Fgv44KzGtk

— MLB (@MLB) November 4, 2019
NL Central Hot Stove:
Brewers: The Brewers were able to extend Mike Moustakas last year, and they're hoping to get lucky again. Moustakas has a much better chance this year of finding work elsewhere (due to s shortage of quality 2B/3B free agents, so the Brewers will have their work cut out for them. I wouldn't mind seeing Moose in blue pinstripes… just sayin'.
In other Brewers' news, Lorenzo Cain is also the recipient of a Gold Glove; Congrats, Lorenzo.
From the rest of MLB:
Twins: Three big names have appeared on Minnesota's radar as targets for this year's hot stove: Madison Bumgarner, Hyun-Jin Ryu, and Zack Wheeler. While the Twins will never lock down all three, securing either Wheeler or Ryu will undoubtedly reinforce a rotation that has been gutted due to free agency.
Dodgers: Los Angeles has declined their $13M team option on infielder Jedd Gyorko and will instead pay him the $1M buyout.
Phillies: Former Cub Jake Arrieta will stay with the Phillies, as he declined his opt-out clause yesterday.
Yankees: Reports say that Aroldis Chapman was looking for a two-year deal, but instead, took the one-year agreement (and a slight raise) just before the deadline.
Nationals: Just a couple of days after Stephen Strasburg opted out of his remaining four years and $100M of guaranteed money with the Nats, the two sides are working to hammer out a deal to keep Strasburg in Washington. Rumors say that the team is more than willing to up the ante.
Nats want to keep Strasburg and word is they are willing to give him a nice annual raise from $25M per year. The question could be the years but it's believed the sides are going to work on it right away. Strasburg side's comps: teammate Scherzer (210M, 7 yrs) Greinke (206.5M, 6)

— Jon Heyman (@JonHeyman) November 3, 2019
Mad Max: No writeup needed; Max is a maniac.
Max Scherzer celebrates with Nats fans at a local bar ?? pic.twitter.com/otj0OQnUY7

— Baseball Quotes (@BaseballQuotes1) November 3, 2019
Padres: They say that if you're going to dream, then dream big, and that's exactly what San Diego is doing; add their name to the list of teams interested in Stephen Strasburg.
Mets: NY is hoping to bring Chili Davis back as their hitting coach for 2020.
Mets are hoping to bring Chili Davis back as hitting coach. Did terrific job with Alonso, McNeil, Davis, etc. this year. Mets deal is up but he's being paid by Cubs 1 more year.

— Jon Heyman (@JonHeyman) November 3, 2019
White Sox: Hard to believe, but Yolmer Sanchez's Gold Glove Award was the first one of those the Sox have seen since 1998.

Tags: Chicago Sports Baseball
,
Anthony Rizzo
,
,
Yu Darvish
,
,
Tyler Chatwood
,
David Ross
,
Aroldis Chapman
,
Brandon Kintzler
,
Steve Cishek
,
Joe Smith
,
Colin Rea
,
Jake Arrieta
,
Chili Davis