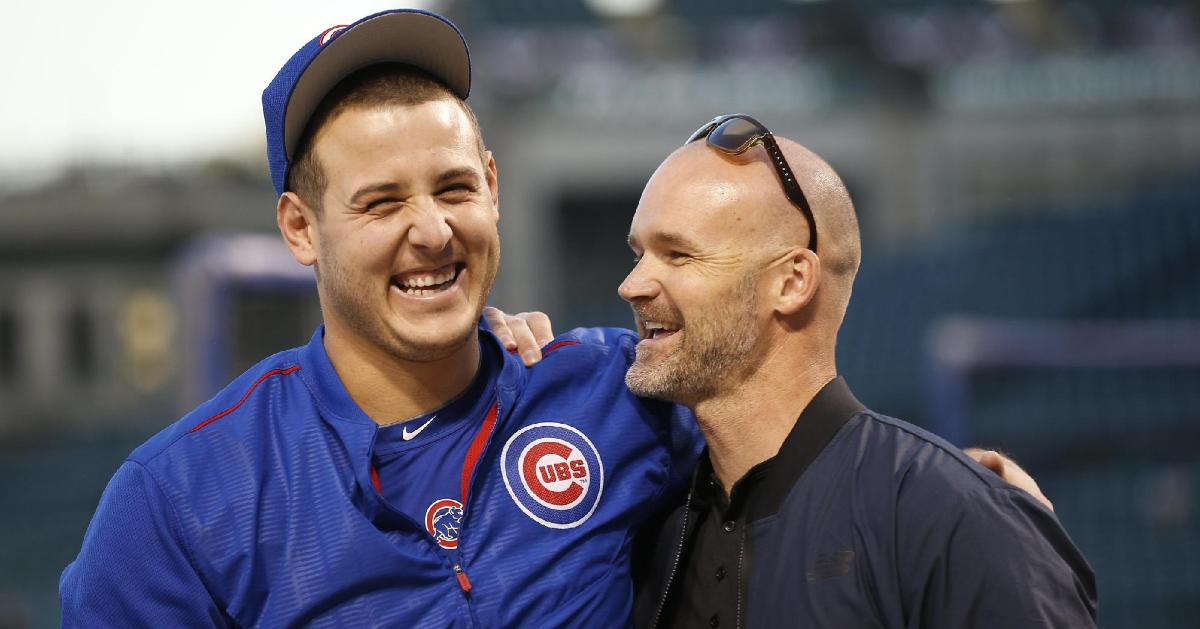 | | |
| --- | --- |
| Cubs News and Notes: Ross and Rizzo speak, Bryant rumors, Beltran fired, Hot Stove | |
---
| | | |
| --- | --- | --- |
| Friday, January 17, 2020, 8:13 AM | | |
CUBS NEWS AND NOTES
Next Game: Next Game: 36 days – Saturday, February 22, 2020: Athletics vs Cubs (Sloan Park)
Opening Day: 69 days – Thursday, March 26, 2020: Cubs vs. Brewers (Miller Park)
David Ross: While I'm feeling 100% sure that the Cubs will move KB if they find the right deal, David Ross disagrees.
"Any manager would advocate for time with KB," he said. "I'm excited. As things stand right now, coming into camp, KB's on the roster. I expect him to be there. I think the fans should expect him to be there. It's an exciting time to be a Cubs manager because there's a lot of talent. There's no ceiling for this team. I really think this team can win the World Series. That's the way I'm looking at things."
David Ross says "I think fans should expect" Bryant to be with Cubs Opening Day. pic.twitter.com/KKvh8dBoB8

— Jordan Bastian (@MLBastian) January 16, 2020
Ross says that he's excited that the roster hasn't changed much, and that he's looking forward to managing the group of guys on the current roster. I'd like to see some minor changes, but I'd agree with Ross; this team can win.
Ross on lack of moves: pic.twitter.com/9IPKW9KUVl

— Mark Gonzales (@MDGonzales) January 16, 2020
"If you're looking for a negative mindset, it's not going to be me." -David Ross
Who has two thumbs, is a recently hired manager, and doesn't have to step down because he's not a filthy cheater...

THIS GUY pic.twitter.com/AJjdtsf8Hs

— Corey Freedman (@CFCubsRelated) January 16, 2020
Rizz: When asked about not being extended by the Cubs, Anthony Rizzo said, "It would be naive of me to think I might not play the rest of my career as a Cub," but he did express a desire to remain in Chicago.
Anthony Rizzo said he'll keep his reaction to not getting an extension this off season 'in-house.' Called the business end of baseball as 'cut throat' as ever. An example: "We're talking about trading the MVP of the league a couple years ago."

— Jesse Rogers (@ESPNChiCubs) January 16, 2020
.
Rizzo says that you can rest easy, the Cubs haven't been involved at all in the cheating scandal.
In regards to sign-stealing issues in MLB, Rizzo said Cubs have followed the rules. "It's 100 percent safe to say that.
That's for sure, on the record."

— Mark Gonzales (@MDGonzales) January 16, 2020
Third base watch: According to Jon Heyman, a decision on Kris Bryant's grievance "is expected by the end of the month, possibly next week. ( Finally! )
I predicted that the Cubs would have their answer by January 22, to give teams a full month before Spring Training games, to decide whether or not they want to move on Bryant.
The pool of interested parties for KB may have gotten a little shallower yesterday, as the Braves signed Adeiny Hechavarria to a one-year/$1M deal. Hechavarria played second, short and third for Atlanta last year, but it's unclear if the Braves will rely solely on him at third.
"I have talked to him a couple of times in the offseason. He is excited that he and his wife Jess are having a baby. I think he is in a good place. He knows too that it's a rumor until a trade happens. He is the MVP of the league a couple of years ago. We know we want him on our side, that is for sure." Anthony Rizzo on Kris Bryant.
Community service: Several members of the Cubs were on hand yesterday to help package equipment for 50+ Chicago youth programs and schools.
Cubs players on hand this morning to help pack equipment for 50+ Chicago youth programs and schools. pic.twitter.com/8g0IgZtDK9

— Jordan Bastian (@MLBastian) January 16, 2020
Steve Cishek: Cishek says he knew the White Sox were looking to do something big this year. The former Cubs' sidewinder says that within five minutes of the end of the 2019 World Series, his manager received a call from the South Siders.
You're not perfect. You're going to make mistakes. You're going to fall short of your own expectations at times. You'll have moments you fail in things you are "supposed" to be able to do. It's part of being human. Forgive yourself, forgive others, learn the lesson and move on.

— Willson Contreras (@WContreras40) January 16, 2020
Cubs' Birthdays: Celebrating yesterday were ex-Cubs Moe Morhardt (83) and posthumously, Bob Ramazzotti (103), Jay "Dizzy" Dean (110), and Jim Murray (132).
#OTD in 2017, the #Cubs flew the W from the White House.

WATCH ??: https://t.co/IvagYaXsIk pic.twitter.com/n1R9oQ85YK

— Cubs Talk (@NBCSCubs) January 16, 2020
Baseball Quotes: "I foul off borderline pitches intentionally. I try to get the pitcher to make a mistake." -Ichiro Suzuki
How many of you are old enough to remember "The Mad Hungarian"?
Al Hrabosky: the biggest savage to ever throw a baseball! pic.twitter.com/uFa1gdvDwl

— Baseball Quotes (@BaseballQuotes1) January 14, 2020
MLB and the Hot Stove
Cheating scandal: The sign-stealing scandal has now claimed another career, as Carlos Beltran has stepped down from his new job as the Mets manager. Rob Manfred's report deeply implicated Beltran as a participant in the scandal, causing Beltran to approach the Mets to submit his resignation.
BREAKING: Carlos Beltran is stepping down as manager of the New York Mets pic.twitter.com/Tptqa501gn

— Baseball Quotes (@BaseballQuotes1) January 16, 2020
Both Beltran and Alex Cora still face punishment by MLB.
Pitchers and catchers start reporting to spring training in 27 days. The Houston Astros, Boston Red Sox and New York Mets don't have managers. The size, scope and fallout of this scandal is staggering.

— Jeff Passan (@JeffPassan) January 16, 2020
I'm quite confident this quote was given before the start of MLB's investigation into sign stealing, but Beltran is apparently a man of his word.
My goal is to win. It doesn't matter how I do. I want to do well, but I just want the team to win. -Carlos Beltran pic.twitter.com/gu7F3VYNFI

— Baseball Quotes (@BaseballQuotes1) January 16, 2020
Too soon?
Astros: As their managerial search continues, the Astros interviewed Buck Showalter on Wednesday.
Buck Showalter, who interviewed with #Astros yesterday, has managed teams in crisis before. Was a #Yankees coach in 1990-'91 and then their manager from '92 to '95 - a period that overlapped with the suspension of NYY owner George Steinbrenner from July 30, 1990 to March 1, 1993.

— Ken Rosenthal (@Ken_Rosenthal) January 16, 2020
The team has also avoided arbitration with George Springer, signing him to a one-year/$21M deal.
Bruce Bochy does not plan to pursue any of the current managerial openings, according to a source. His name surfaced on the #Astros' list of managerial candidates reported yesterday by @MarkBermanFox26.

— Ken Rosenthal (@Ken_Rosenthal) January 16, 2020
Olympic Baseball: According to Jon Morosi, the Dominican Republic is expected to ask permission to add Rays' shortstop Wander Franco and Braves' outfielder Cristian Pache to join their roster.
Drew Smyly: The Giants have signed former Cubs' pitcher Drew Smyly to a one-year deal. Smyly will get $4M in guaranteed money, with a ton more available in incentives.
D-Backs: Arizona has claimed infielder Pat Valaika off waivers from Baltimore.
White Sox: Chicago has signed RHP Bryan Mitchell to a minor league deal.
Giants: The Giants have completed their coaching staff with the hire of Alyssa Nakken. She will be the first woman ever to coach in MLB.
Mets: Veteran MLB outfielder Carlos Gomez says that once his time is up in the Dominican Winter League, he plans to retire.