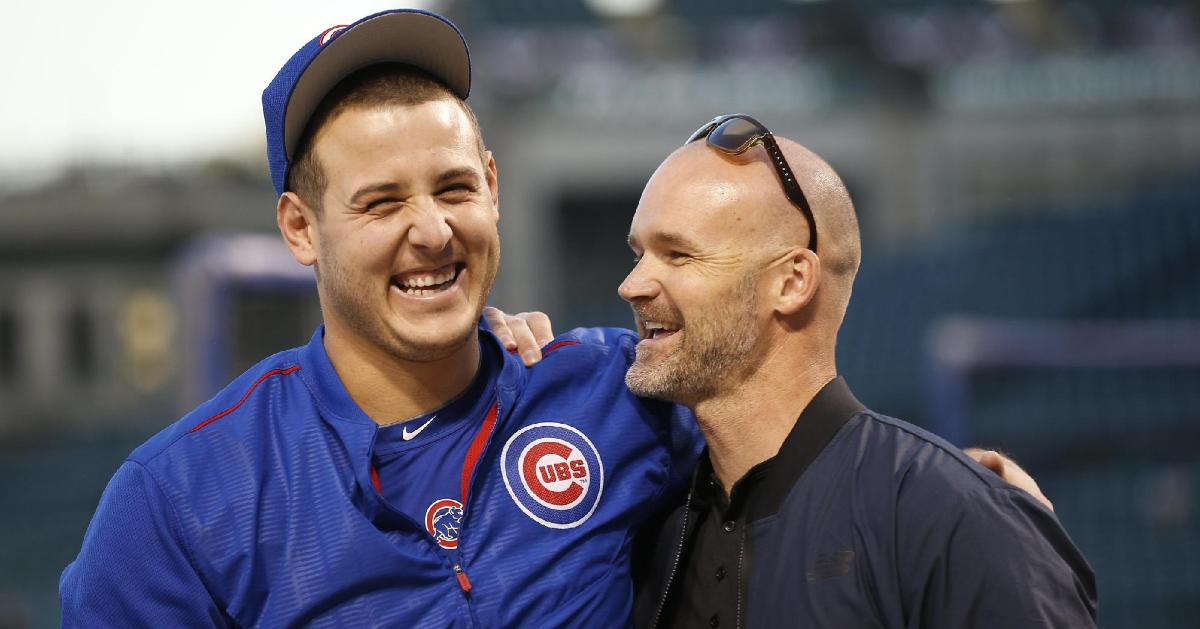 | | |
| --- | --- |
| Cubs News and Notes: Rossy presser, Esapa's Cub comments, World Series, Hot Stove, more | |
---
| | | |
| --- | --- | --- |
| Monday, October 28, 2019, 8:19 AM | | |
CUBS NEWS AND NOTES
Ross announcement: Today's the day that the Cubs will officially announce David Ross as the new manager, which will occur during a press conference scheduled at 11:00 AM Central.
Check back to CubsHQ and we will have all the comments and video for today's event.
The #Cubs introduce @D_Ross3 as the new manager TOMORROW on @NBCSChicago!

TUNE IN at 11 AM or STREAM IT on the #MyTeams App at https://t.co/DQUv6jC3UM pic.twitter.com/XdJSujQKnq

— Cubs Talk (@NBCSCubs) October 27, 2019
"Ross is the Boss!"

Before his introductory press conference tomorrow as #Cubs Manager, we look back to @D_Ross3's 100th career HR. ?? pic.twitter.com/HFIKBpxAlv

— Cubs Talk (@NBCSCubs) October 27, 2019
Joe Espada: After being passed up for the Cubs' manager's spot, Joe Espada offered this: "I go in there, and I present myself, and I provide a vision, my goals, and I show them my style and my personality and why I think I'm the right guy for the job," "And I made a strong case for myself [with the Cubs], and that's all you could ask for."
Espada is still in the running for the job in San Francisco.
What do you expect in 2020? The Chicago Cubs will be traveling several new paths at once this coming season, most notably with a new manager and a new TV deal. Now that Joe Maddon's ship has sailed, the bar seems to have been lowered by a lot of fans, as they aren't expecting much from David Ross. On some levels, this may be a good thing, while on other levels, it may be foolish.
Maddon's departure wasn't the flare that signified distress in the Cubs' camp, and Theo Epstein indeed plans on winning another championship before his contract expires in two years. To expect David Ross to take this team all the way in 2020 may not be realistic, but it wasn't exactly realistic to assume they'd win in 2016 either – at least not before the season got underway. They certainly had what it took, but who realistically expected that kind of return – after just one season from Maddon – with a lingering 108-year drought?
I genuinely believe Ross is going to surprise a lot of people and that the Cubs Marquee Network (at least in part) will be used as a vehicle to bring fans closer to the Ross era as it begins to unfold.
Cubs' Birthdays: Celebrating yesterday, were ex-Cubs Mike Lum (74) and posthumously, Ralph Kiner (97), Del Rice (97), John "Shad" Barry (141), Chick Pedroes (150), and John "Egyptian" Healy (153).
World Series Schedule & Results
Series tied 2-2
GAME-1: Nationals -5; Astros -4 (W-Scherzer; L- Cole);
GAME-2: Nationals -12; Astros -3 (W-Strasburg; L- Verlander);
GAME-3: Astros-4; Nationals-1 (W-Greinke; L- Sanchez)
GAME-4: Astros-8; Nationals-1 (W-Urquidy; L- Corbin)
GAME-5: HOU at WSH (W-Cole; L- Ross)
If Washington wasn't in enough trouble over losing Kurt Suzuki to a hip injury, Mad Max was scratched last night due to spasm activity in his traps and neck. Scherzer became a late scratch, replaced by Joe Ross.
Martinez says Ross should be able to go 75 pitches, and Hudson, Doolittle can both go more than an inning. Strasburg on short rest not a consideration, don't want to mess with his health since it's as good as it's ever been, Nats want him on full (actually extra) rest for Gm 6. https://t.co/E2abCbiRCN

— Dan Shulman (@DShulman_ESPN) October 27, 2019
Anthony Rendon did add a little comic relief (aka sarcasm – ask a stupid question, get a silly answer).
Anthony Rendon diving into the analytics on how to get base hits ???? pic.twitter.com/NKmFiNennr

— Baseball Quotes (@BaseballQuotes1) October 27, 2019
Suddenly the landscape of the 2020 World Series has changed. Three nights ago, it looked as though the Astros could be swept; now, it's the Nationals who suddenly face elimination. Yordan Alvarez would help the Astros' put this one out of reach early with a two-run blast in the second; the Astros would add insurance with Correa's two-run shot in the fourth.
Juan Soto would break up the shutout in the bottom of the seventh with a solo shot off of Cole (his second homer off of Cole in the Series), but the Astros would answer back with a run in the eighth when Gurriel singled with a man on third.
George Springer's two-run blast in the ninth would put this one out of reach for good. Final score: Astros-7; Nationals-1. The Astros now lead the series 3-2.
This was a tough loss for the Nats, but none will suffer the loss worse than Max Scherzer, who will never forget this loss if the Nats can't regroup and win the final two games in Houston.
Monday, Oct. 28 Travel day
GAME-6: Tuesday, Oct. 29: WSH at HOU; 8 p.m., FOX
GAME-7: Wednesday, Oct. 30: WSH at HOU, (if necessary), 8 p.m., FOX
MLB and the Hot Stove
Angels: The Halos are wasting no time in getting Joe Maddon's coaching staff together. Former Cubs' hitting coach, John Mallee has been added as an assistant hitting coach and former Mets manager, Mickey Callaway is now the pitching coach in Anaheim.
Pat Murphy, Brewers bench coach, was the Mets' mystery "bombshell" candidate. Like the others he's had 2 interviews. Still in play: Bogar, Perez, Beltran, Rojas, Shelton, Murphy. @Ken_Rosenthal and @ByRobertMurray on it. There's expected to be a 3rd round but not a certainty.

— Jon Heyman (@JonHeyman) October 27, 2019
Astros: As the Brandon Taubman fallout continues, the Astros issued a written apology to Sports Illustrated's Stephanie Apstein.
Astros owner Jim Crane sent me a letter on Saturday retracting the team's original statement about my story. "We were wrong."https://t.co/arvGceF4To pic.twitter.com/bw2TZI3fh2

— Stephanie Apstein (@stephapstein) October 27, 2019
Royals: As the Rangers look to rebound for 2020, they've suffered a significant setback: Shin-Soo Choo underwent debridement surgery on an elbow last week. The Rangers figured to try to deal 38-year-old Choo and his remaining $21M salary (good luck with that), but if it wasn't going to be tough enough, it'll be even harder now.
Giants: As SF narrows their search for a new manager, the team has informed third base coach, Ron Wotus, that he's no longer in the running.
Baseball Quotes: "Just never give up... To the kids in the minor leagues, just continue to believe, be your best, you never know. Many people said I was never going to make it to the big leagues!" -Robinson Chirinos
It helps if the hitter thinks you're a little crazy. -Nolan Ryan pic.twitter.com/XZLyTPY7Fw

— Baseball Quotes (@BaseballQuotes1) October 24, 2019