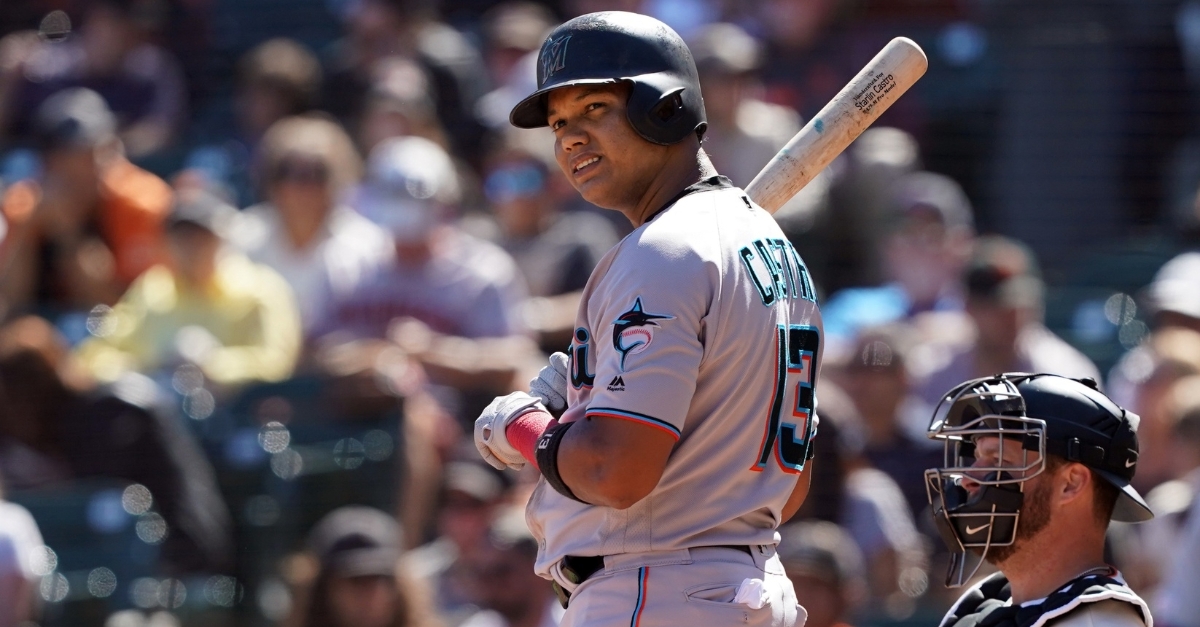 | | |
| --- | --- |
| Cubs News and Notes: Starlin Castro, Third base watch, Remaining free agents, Hot Stove | |
---
CUBS NEWS AND NOTES
Next Game: Next Game: 49 days – Saturday, February 22, 2020: Athletics vs Cubs (Sloan Park)
Opening Day: 82 days – Thursday, March 26, 2020: Cubs vs. Brewers (Miller Park)
Starlin Castro: Former Cub Starlin Castro is now a member of the Washington Nationals. Castro signed yesterday, raking a two-year deal worth $12M. According to Ken Rosenthal, signing Castro marks the start of "Plan B" for the Nationals, as they prepare for the possibility that Donaldson may sign somewhere else.
Most career hits, players born in the:
1990s: Starlin Castro, 1,617
1980s: Albert Pujols, 3,202
1970s: Derek Jeter, 3,465
1960s: Cal Ripken, 3,184
1950s: Paul Molitor, 3,319
1940s: Pete Rose, 4,256
1930s: Henry Aaron, 3,771
1920s: Stan Musial, 3,630

— Christopher Kamka (@ckamka) January 3, 2020
The plan is for Castro to play second base in Washington, making 22-year-old second base prospect Carter Kieboom slightly more available for trade. Signing Castro has not taken the Nats out of the running for Donaldson, but they're preparing just in case.
Free-agent infielder Starlin Castro in agreement with #Nationals, pending physical, sources tell The Athletic. Move would not take them out of Donaldson sweepstakes. Plan is for Castro to play second base.

— Ken Rosenthal (@Ken_Rosenthal) January 3, 2020
Third base watch: According to a report from MLB Trade Rumors, Donaldson is merely waiting for one of the clubs who've made offers to reach his number – around $110M for four years. Three (unnamed) clubs are known to be in the running, but the Braves, Twin, and Nationals likely make up the trio. The Rangers and Dodgers are also interested.
If Donaldson gets $110M at age 34, you can believe Kris Bryant is going to get into the $325+ million range, once he hits free agency. The Cubs cannot afford this – not even in a couple of years when massive payroll falls off the books – which is why I remain convinced that they'll deal him this winter. I'd hoped that they'd trade KB for a top-shelf star, but Theo looks to be content (and intent) on settling for prospects. Epstein recently said that his mission was to set up the next wave of Cubs – aka a new five-year window – and restocking the farm system is the way to begin doing it.
Going like hotcakes: As free agents go flying off the shelves, things remain quiet in Wrigleyville. MLB Trade Rumors has compiled a list of the ten best remaining free agents.
1. 3B Josh Donaldson (original prediction: three years, $75MM); 2. OF Nicholas Castellanos (original prediction: four years, $58MM); 3. OF Marcell Ozuna (original prediction: three years, $45MM); 4. Reliever (RHP) Daniel Hudson (original prediction: two years, $12MM); 5. Catcher Robinson Chirinos (original prediction: two years, $10MM); 6. Reliever (RHP) Craig Stammen (original prediction: two years, $10MM); 7. Reliever RHP Steve Cishek (original prediction: two years, $10MM); 8. OF Yasiel Puig (original prediction: one year, $8MM); 9. Starter LHP Alex Wood (original prediction: one year, $8MM); and 10. Utilityman Brock Holt (original prediction: two years, $8MM).
Who are the best free agents left? https://t.co/oRumjJ9KEi pic.twitter.com/FFxpfJlFi1

— MLB Trade Rumors (@mlbtraderumors) January 3, 2020
Not that the Cubs would want all of the above, but except for Donaldson, any of the 10 of these guys (especially Castellanos) should be affordable, but to date, nothing is shaking at 1060 W. Addison.
Willy for MVP? MLB Network Radio (SiriusXM) was talking with Cubs' hitting coach, Anthony Iapoce, about Willson Contreras.
You're here for January Willson Contreras hype.

Cubs Hitting Coach Anthony Iapoce:@WContreras40 | @Cubs | #Cubs pic.twitter.com/TNUadMSA4i

— MLB Network Radio on SiriusXM (@MLBNetworkRadio) January 3, 2020
Meanwhile, Willy was having some fun in the sun at Disneyworld.
Cubs fans ?? https://t.co/2JzTC2S4Ew

— Willson Contreras (@WContreras40) January 3, 2020
Nolan Arenado: Rumors have begun swirling about the possibility that the Cubs could trade for Rockies third baseman, Nolan Arenado. I say bull ****. The Cubs can barely afford the payroll that they currently have, and taking on Arenado's salary would almost certainly seal the fate of Nicholas Castellanos and others. Arenado is currently owed an average annual value of $37,142,857 over the next six years, totaling $222,857,142?. While this would be cheaper than what KB is expected to earn in free agency, there's just no way to afford him, unless they want to A. Go over the luxury tax for the next few years and B. say goodbye to key players like Willson Contreras, Javier Baez and others when they hit free agency. Ain't happening.
Cubs' Birthdays: Celebrating today is Cubs' third baseman Kris Bryant (28), with yesterday's birthday boys including ex-Cubs Michael Restovich (41), Archie Reynolds (74), Adrian Garrett (77), and posthumously, George Piktuzis (88), John Andre (97), Ed Sauer (101), Salvador "Chico" Hernández (104), Eugene "Pete" Turgeon (123), and John Flührer (126).
Happy 28th Birthday Kris Bryant#everybodyin pic.twitter.com/Tag5uLHaMy

— CubsHQ.com (@ChicagoCubsHQ) January 4, 2020
Baseball Quotes: "That's the remarkable thing about baseball. The game has a way of having you scratch your head one minute and drive you crazy, and then the next, you're entertained beyond your wildest hopes. That's why it's the best game." -Johnny Bench
I can see how Sandy Koufax won twenty-five games. What I don't understand is how he lost five. -Yogi Berra pic.twitter.com/IiakPwA4mW

— Baseball Quotes (@BaseballQuotes1) December 30, 2019
Denied! I usually only include two baseball quotes per article, but this was too good not to throw in as a bonus. Watch as Derek Jeter completely blows off Joe Buck before the 2014 All-Star Game. Priceless.
Derek Jeter did NOT want to deal with Joe Buck before the 2014 MLB All Star Game ???? pic.twitter.com/1UjxrXdCj1

— Baseball Quotes (@BaseballQuotes1) January 2, 2020
MLB and the Hot Stove
Giants: The Giants have signed righty Tyson Ross to a minor league deal.
Nationals: Washington has signed veteran reliever David Hernandez (MLB deal).
Trevor Bauer: When asked what one the thing he'd change about baseball was, Trevor Bauer says, "The announcers." Obviously, Bauer has never listened to Len Kasper or Jim Deshaies.
Casey Stern: "If there's one thing that you could change about the game, right now, it would be what?"

Trevor Bauer: "The announcers."

Trevor explains:@CaseyStern | @BauerOutage | @Reds | #Reds pic.twitter.com/7hLCNJqlOn

— MLB Network Radio on SiriusXM (@MLBNetworkRadio) January 3, 2020
Rockies: Colorado has signed infielder Chris Owings to a minor league deal worth $1M if he's added to the MLB roster.
Marlins: Miami has signed switch-pitcher Pat Venditte to a minor league deal (invite to Spring Training included).
Details On Yoenis Cespedes Injury https://t.co/fr0Lsw4sq3 pic.twitter.com/k7OJH0WN2E

— MLB Trade Rumors (@mlbtraderumors) January 4, 2020
Oscar Colas: Colas is a two-way player from Cuba who's defected to the U.S., hoping to land an MLB deal. According to Jeff Passan (ESPN), "The 21-year-old Colas is an outfielder/pitcher who most recently played with the Fukuoka SoftBank Hawks in Japan, where he slashed .300/.353/.511 with 12 home runs in 295 plate appearances in 2019. As a left-handed pitcher, Colas is capable of hitting 95 mph.
Don't expect Cubs to be a player.

They spent their bonus pool this cycle on a trio of names: Quintero, Made, Amaya.

And if Colas waits until July, Cubs are considered favorites to sign top amateur free agent Cristian Hernandez for the majority of their bonus pool allocation. https://t.co/CQmtmAbMx4

— Cubs Prospects - Bryan Smith (@cubprospects) January 3, 2020
Yankees: In 2019, it seemed that at any given time at least half of the Yanks roster was on the IL. Hoping to avoid another season of hurt, the Yanks have made "sweeping changes" to their training staff.