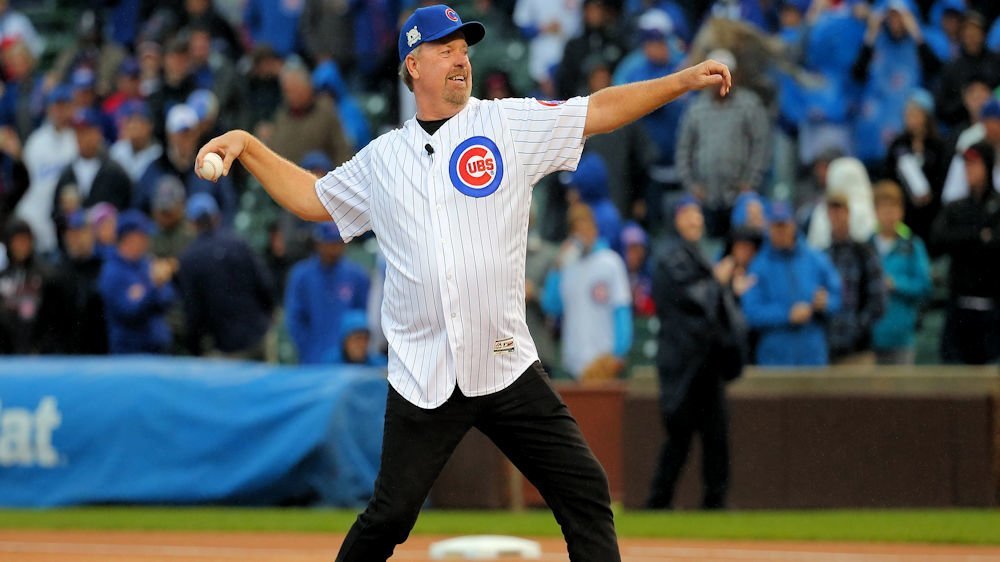 | | |
| --- | --- |
| Cubs News and Notes: Sutcliffe's offer, Wrigley Field helping with COVID-19, Dr. Fauci | |
---
| | | |
| --- | --- | --- |
| Friday, April 17, 2020, 9:20 AM | | |
CUBS NEWS AND NOTES
No Baseball: Day 23.
Rick Sutcliffe: According to NBC Sports Chicago, Rick Sutcliffe has pledged his ESPN salary to help facilitate the reopening of baseball.
"We need a live sporting event of some kind on TV, we need a pennant chase, we need a champion," said Sutcliffe. "I just think it's a great opportunity for baseball. Everybody take a step back, and whatever it is out there that needs to be done to make it happen — whether by an owner or a player — there's no arguing about this. This is important, as important as maybe anything in baseball."
Back in 1987, Sutcliffe offered up $100k of his own Cubs' salary to help persuade the Cubs to sign outfielder, Andre Dawson.
I'm not sure what the Red Baron makes at ESPN, but I doubt very seriously that the Cubs or MLB would take his salary; the gesture is what matters.
Wrigley Field: Like so many other sports venues, Wrigley Field has now been transformed into a COVID-19 relief center. Opened in coordination with the Lakeview Pantry, one of the concourses at Wrigley is serving as a food packing and distribution center.
I cannot imagine that they are shipping Chicago Style Dogs and Italian Beef out of there, but the food handed out will be appreciated, nonetheless. The breadlines in this country are getting outrageous. Last night, ABC World News showed absolute gridlock in Dallas. Cars lined up for blocks, jockeying for position in a food line that likely contains enough food for just 25% of them.
Despite a spike over the past couple of days, believe it or not, things are getting better. Overall, the numbers for the virus are down. There is now a plan to slowly – emphasis on slowly – start reopening the country. To do so, states must now move in phases, with each phase requiring a downward trend in cases. Some states will be able to reopen much more quickly than others… You will likely see Missoula, Montana back in shape, long before you'll see Manhattan doing anything. Cheyenne, not Chicago, Phoenix, not Philadelphia. But everywhere in time.
Phoenix will be key when it comes to baseball. MLB seems to be hovering more closely to their "Arizona Plan," than they are either of the other two plans that I wrote about on Saturday. The Arizona Plan requires nearly no travel for teams, as they'd compete in the ten spring training stadiums just outside of Phoenix.
One final note: If you still have questions, you can click here for information on the IRS' site for stimulus checks.
Ricketts : According to a subscription-based article by Patrick Mooney of The Athletic, Cubs' board member, Todd Ricketts, has been listed by the White House as part of an advisory group that helped devised the plan to reopen the country.
Also, from Mooney's article, an excerpt from an email that the Cubs sent to season ticket holders this year, which read in part:
"Like you, we are awaiting more clarity on when we can begin playing baseball. It's hard to be patient as we all want to get back to the game we love as soon as possible. Given the uncertainty, we are planning for various timelines and operating scenarios. We are continuing to work in close coordination with MLB and will communicate scheduling decisions and resulting ticketing policies as they are authorized by MLB. Once we receive more definitive information, please know we will act quickly and with the best interest of our associates, players, and fans top of mind."
Even if it means nothing more than trying to stay positive and optimistic, the Cubs' website schedule shows games as being "postponed" and not "canceled."
MORNING POSITIVITY
Be positive.
Have faith.
We got this.#ThinkPositive pic.twitter.com/5DwtQYsN7A

— South Bend Cubs (@SBCubs) April 17, 2020
Dr. Fauci wants baseball: Also wanting the return of baseball is the nation's leading expert on infectious diseases, Dr. Anthony Fauci. Fauci, a devout fan of the game, still thinks we will see baseball make an appearance in 2020.
During an interview with multiple media sources, Fauci said, "I think this is going to be implemented by the initiation and the initiative of the people who own these clubs. If you could get on television, Major League Baseball, to start July 4," he said. "Let's say, nobody comes to the stadium. You just, you do it. I mean, people say, `Well, you can't play without spectators.' Well, I think you'd probably get enough buy-in from people who are dying to see a baseball game. Particularly me.
"I'm living in Washington. We have the World Champion Washington Nationals. You know, I want to see them play again."
Fauci continued, "I guess I'm maybe more hopeful than most people," he said of his optimism for a 2020 season. "Once we get the OK that the players will be safe, the equipment guys, the trainers — it's not just people staying apart on the field — but once we make that happen, don't let a salary or a contract get in the way.
"I think it's a great opportunity for any sport to show again how much the fans mean to them by doing anything you can just to put some live event on TV."
Cubs' Birthdays: Celebrating yesterday, were ex-Cubs Antonio Alfonseca (48), Frank Fernández (77), Ed Winceniak (91); and posthumously, Ernest "Babe" Phelps (112) and Tommy Sewell (114).
Also, happy birthday to Cubs' centerfielder, Albert "Tico" Almora, who turned 26.
Happy Birthday, @albertalmora ?? pic.twitter.com/T0lOpvOjHf

— Cubs Talk (@NBCSCubs) April 16, 2020
Baseball Quotes: "You could be a kid for as long as you want when you play baseball." - Cal Ripken, Jr.
A lot of guys like to ice up their arm. Still, other fellas think that heat is the way to go. But I, have discovered the secret, Henry...hot ice! I heat up...the ice cubes! It's the best of both worlds! -Rookie of the Year pic.twitter.com/GX6uG8ZU1t

— Baseball Quotes (@BaseballQuotes1) April 14, 2020