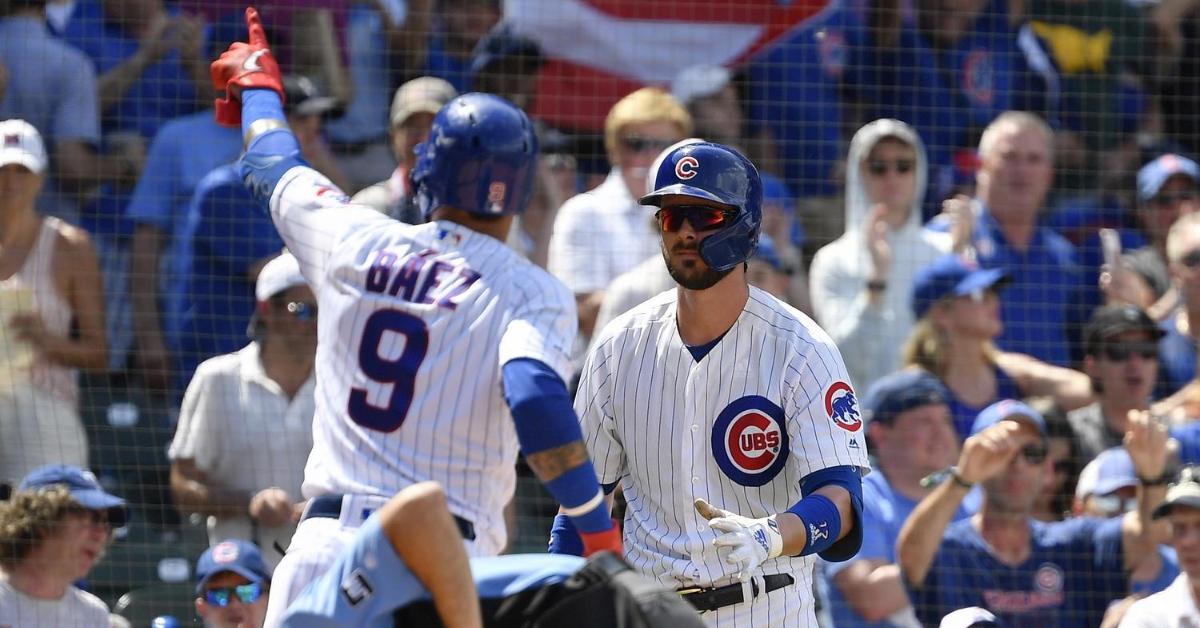 | | |
| --- | --- |
| Cubs News and Notes: Wild playoffs, Cubs salary projections, Joe Girardi, Hot stove, more | |
---
| | | |
| --- | --- | --- |
| Thursday, October 10, 2019, 12:10 PM | | |
MLB Postseason
Shock and awe seem to be the theme of this October. I'm no Jimmy the Greek, but there's absolutely no way I saw this coming. I know two things at this point: (1) People who bet on the underdogs are thrilled, and (2) there's some awfully mad bookies out there.
NLDS
To start, the Washington Nationals outscored the Dodgers in Los Angeles by better than 2:1 on Wednesday, sending Los Angeles home for the winter, while the Nats take their 7-3 win and advance to the NLCS with a 3-2 series win. And to think- Bryce Harper is sitting home watching all of this on TV. #Stunned
I just woke up and saw @Nationals score. Total shock. Congratulations @RyanBrownWJOX. Which jersey should I get? pic.twitter.com/nIrIa0qCfn

— Neal McCready (@NealMcCready) October 10, 2019
St. Louis took Atlanta out of the postseason on Wednesday, blowing them out by a final of 13-1 in Game-5 of that NLDS Series. The Cards also won their NLDS on the road. #NoWay
Rather than the Dodgers/Braves NLCS that most people thought they'd be seeing, the Cards and Washington will now be squaring off for a ticket to the Big Dance.
ALDS
While the Yankees await the decision on who'll they'll be facing in the ALCS, the Rays will play in Houston this evening, with that game starting at 6:05 PM Central (FS1). If Tyler Glasnow beats Gerrit Cole tonight, I'll be stunned, but not half as stunned as the sportsbook owners will be.
At this point, I'd certainly hope that Washington takes out the Cards, though I still think that the Astros will be wearing new rings in 3 weeks.
CUBS NEWS AND NOTES
Projected arbitration figures: Here we go, the projected arbitration figures are out with MLBTradeRumors.com, and seven Cubs are entitled.
Kris Bryant ($18.5M); Javier Baez ($9.3M); Kyle Schwarber ($8M); Addison Russell ($5.1M); Willson Contreras ($4.5M); Albert Almora Jr. ($1.8M) and Kyle Ryan ($1.1M).
Girardi interview: Joe Girardi completed his interview with the Cubs yesterday. According to Gordon Wittenmyer of the Chicago SunTimes, Girardi's interview with the Cubs lasted eight hours. Girardi had the day available, as the Astros/Rays series had an off day, which allowed him to fly to Chicago without missing his broadcasting gig.
When asked how he felt the interview went, Girardi replied, "I was happy." Girardi declined to answer whether he preferred to manage the Cubs or Mets, citing that he was unable to talk due to time constraints with his flight out.
Joe Girardi finishes an eight-hour interview process with Cubs Wednesday. David Ross on deck for Thursday.
Source says Astros bench coach Joe Espada and Yankees special asst Carlos Beltran also on Cubs candidate list. pic.twitter.com/OICQbEzwkq

— Gordon Wittenmyer (@GDubCub) October 10, 2019
Kendall Graveman: After spending the year in Iowa recovering from Tommy John, the Cubs must now choose whether or not to exercise their $3M option on Kendall Graveman. The Cubs saw promise throughout Graveman's rehab this year, but the question remains as to whether that $3M may be better spent elsewhere. Graveman is a starter, and the Cubs should have a void in the rotation, but Tyler Chatwood has waited patiently in the wings for a year now after resurrecting himself.
Cubs Face Decision On Kendall Graveman https://t.co/89PQbBYCZO pic.twitter.com/3oVm4VQ1XN

— MLB Trade Rumors (@mlbtraderumors) October 9, 2019
Poll: Doug Glanville asked Cubs' fans who they'd trade if one of the three must go: Kris Bryant, Javier Baez, Willson Contreras. You already know my answer, but it would appear that I'm not alone.
Ok @Cubs fans, Part 2. You are forced to trade one player out of this group. Who do you trade? #Cubs

— Doug Glanville (@dougglanville) October 9, 2019
Maddon's Post: Even though Joe Maddon is no longer a fixture in Chicago, NBC Sports Chicago says that the restaurant isn't going anywhere (I didn't figure it would). The restaurant gave the following statement: "It's business as usual, and the restaurant and bar will continue to be all that Joe and Chef Tony Mantuano envisioned."
Ken Ravizza: Former Cubs' mental skills coach, Ken Ravizza, passed away back in July of 2018, after suffering a heart attack; yet people are still talking about him. Rockies' coach, Jerry Weinstein, shared this: "Players think they can reach perfection. Ken Ravizza had a practical test for that mindset. It was called the "porcelain test." He told the player to go home & fill up his bathtub with four inches of water &, while barefoot, step into the tub. If they hit porcelain, they were not expected to be perfect."
Quit clamoring for Mookie: A handful of Cubs' fans swear that Willson Contreras is packing for Boston, while Mookie Betts is going to come learn to enjoy eating Chicago-style pizza. There's nothing at all wrong with Betts (other than the concept of trading Willy for him), but the Cubs cannot afford him. Figure out a way to trade off Jason Heyward's albatross, and then we'll talk.
Cubs' Birthdays: Celebrating yesterday were David Phelps (33), Derek Holland (33), and ex-Cubs Félix Fermín (56), Jim Qualls (73), Joe Pepitone (79); and posthumously, Dave Rowe (165).
Baseball Quotes: "Remember these two things: play hard and have fun. -Tony Gwynn
Hitting slumps are like sleeping in a soft bed. Easy to get into and hard to get out of. -Johnny Bench pic.twitter.com/xbch2puajq

— Baseball Quotes (@BaseballQuotes1) October 9, 2019
MLB and the HOT STOVE
Twins: Minnesota has announced that they will be picking up Nelson Cruz's $12M option for 2020.
Mets: The Mets have announced that they will first conduct phone interviews for manager candidates before interviewing in person. They want NL experience and New York Experience (making Girardi a prime target), however, they are concerned about "relatability."
Pirates: According to Jon Heyman, "Two names most often linked to Pirates job are ex-Rangers manager Jeff Banister and Twins hitting coach Derek Shelton. However, they are said to seem "wide open" in their approach.
Pittsburgh is also looking for a trade partner for center fielder, Starling Marte.
Angels: John Farrell and Buck Showalter's names have popped up for the manager's spot in Los Angeles, but I still think that you'll see big Joe named as their skipper in the next week to 10 days.

Tags: Chicago Sports Baseball
,
,
,
Kyle Schwarber
,
Addison Russell
,
Willson Contreras
,
Albert Almora Jr
,
Kyle Ryan
,
Kendall Graveman
,
Tyler Chatwood
,
Jason Heyward
,
Joe Maddon