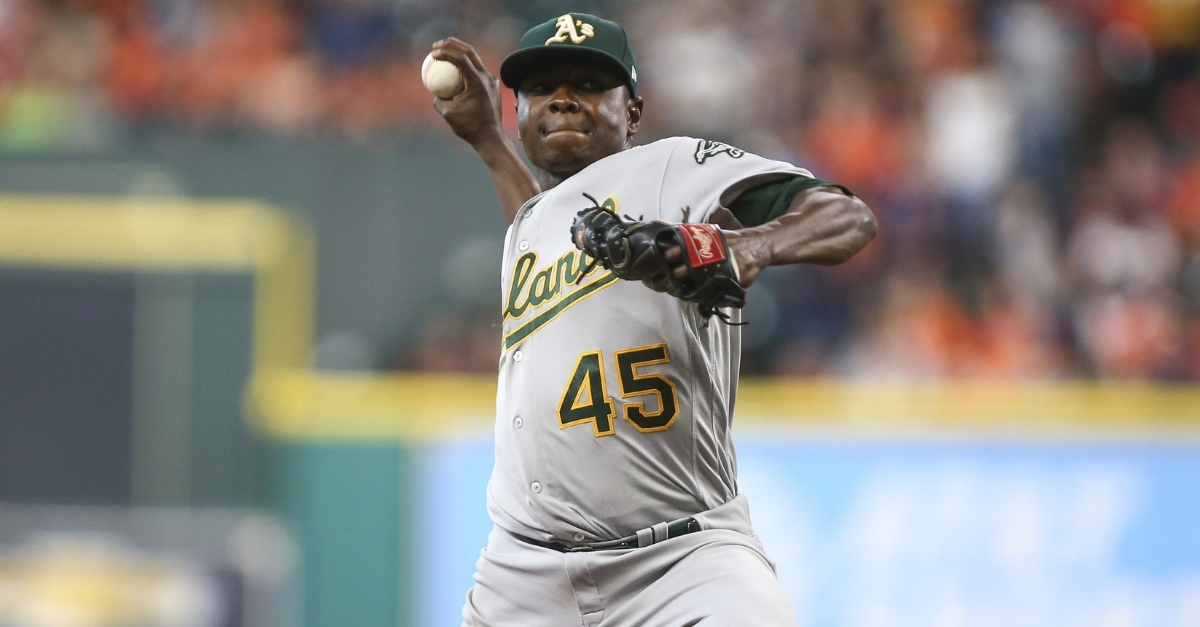 | | |
| --- | --- |
| Cubs Odds and Ends: Cubs trade for righty, Offseason budget, Marquee Network, more | |
---
| | | |
| --- | --- | --- |
| Sunday, November 24, 2019, 8:21 AM | | |
Cubs trade for right-hander
The Cubs have made their first off-season acquisition this winter, but before you get your hopes up, its not someone named Cole, Wheeler, or Strasburg, but rather a 27-year-old from the Oakland A's, named Jharel Cotton. The Athletics had designated Cotton for assignment last week.
Cotton sat out all of 2018 after undergoing Tommy John surgery but returned to the minors in 2019 (Triple-A Las Vegas), where he posted a 3.24 ERA (3 ER over 8.1 innings) during his final six outings. For the entirety of 2019, Cotton posted an 0-2 record with a 7.72 ERA in 14 appearances (one start).
Cotton has one Minor League option remaining, which makes this acquisition even better from the Cubs' perspective. Low risk, high reward and can retain the depth if he's not in OD plans. Most realistic path to MLB roster is as a reliever, but Cubs could build him up in spring.

— Jordan Bastian (@MLBastian) November 23, 2019
As always, I'll hope for the best for this kid, but when I read that the A's gave him the boot last week, I wasn't overly impressed with what I'd read about him, and I certainly hope this is not the "chosen one" to serve as the Cubs' fifth starter. In career 29 starts with Oakland (2016-2017), Cotton posted an 11-10 record with a 4.95 ERA. While his minor league record is reasonably impressive (30-28, 3.85 ERA over 496 IP), it hasn't seemed to transfer into anything dazzling in the majors.
So, what's the deal with Jharel Cotton? Tim Stebbins (NBC Sports Chicago) feels that Cotton's a "low-risk, high reward" move for the Cubs and Jordan Bastian (MLB.com) calls Cotton "a reclamation project with plenty of upside;" so what am I missing here?
Cotton is arbitration-eligible this year, but he's controllable through the 2022 season, so I suppose there's an upside there, but one-year, post-Tommy John and he's still not back to his old form should be disconcerting to anyone. Often times, it seems that pitchers who wind up in the Cubs' system figure out a way to turn it around (Jesse Chavez, for example), but it certainly can't change everyone.
Let's get fiscally responsible, Theo
I knew going into this winter that blockbuster, free-agent signings weren't going to be occurring, and while I do still expect big-name trades to take place, I'm still not holding out hope for more than one upper-echelon name to come to Chicago. Even with the possibility of Kris Bryant and Willson Contreras being dealt, I wouldn't look for more than one, maybe two, bigger names, with a handful of promising prospects making up the difference.
In the interim, Theo Epstein has got to make the most out of what little cash he may have to work with, and in my opinion, signing Cotton seems somewhat risky, no matter how cheap the cost. There seems to be this weird trend in Theo's M.O., where he signs a recovering Tommy John player every year; last year, it was Kendall Graveman, the year before it was Drew Smyly, and now it's Jharel Cotton. Neither Smyly nor Graveman was kept beyond their one-year deal, which makes me wonder why the Cubs are forking out so much money (a little over a $1.2M between Smyly and Graveman) to have guys convalesce in Des Moines, Iowa.
Lmao why do the #Cubs keep taking flyers on recovering Tommy John guys. https://t.co/u3ABsXK7qb

— Anthony Pasquale (@Ant_Pasquale3) November 23, 2019
Drew Smyly wound up being traded to the Rangers for a player to be named later, though I'm not even sure that PTBNL was ever officially named – if so, it certainly wasn't any one big. Kendall Graveman's option wasn't picked up, so he walked away for nothing in return, with no real reason ever given for his release, though I speculate that he wasn't progressing as expected.
When I wrote my end of the year series, I calculated that the Cubs would only have somewhere in the neighborhood of $15M to work with this winter, and that was if they traded KB, while re-signing Castellanos at almost $20M a year (AAV). I had counted on Graveman staying, which would have cost Theo another $3M, so figure they'd have about $18M to work with. Javier Baez's extension is going to require some big bucks, but with a little luck, Javy and Theo will settle on a less-now, more later approach, allowing Theo a little more shopping power.
Part of the problem may be that the Cubs haven't defined their objective for this winter – at least externally. They won't tank, and I don't think we're heading for a complete overhaul, but they'll definitely retool. Theo wants to win – that much is evident – and his back is against the wall as well, as his contract expires at the same time that many of the Cubs' core will gain free agency (after 2021). Building another winner is essential if Theo is going to stay with the Cubs, and he now has two years to do it.
Cubs' Marquee Sports Network
While the Cubs' new Marquee Network has found a couple of platforms (Mediacom and DirecTV), I'm a little concerned that there aren't more outlets for the network. Living in SW Missouri, I don't get Mediacom, and because this is a family-oriented website, I'm not allowed to tell you what I told DirecTV some years back.
My hope would be that they'll allow the network to be carried on streaming devices such as Roku, Firestick and the like, and I have read that there's talk about Marquee being carried on YouTube TV (which would suit me fine, as that's how I stream TV these days). However, it does concern me that with just a few months left until the network's launch, there's still so much ambiguity – even to some Chicagoans – as to how they'll be able to view the games.
Even if MLB TV were to carry the network, they tend to cut out the pre and post-game shows and interviews, so I'm certain that all of the extra programmings that the Cubs are planning would never get aired. Obviously, from my standpoint, being able to watch the games is imperative. Still, I also look forward to seeing the ancillary programming that is supposed to be offered, as the network's stated objective is to be able to allow the fans to get a very "inside look" at the players and their lives off the field, as well as on it.
The Cubs tend to do things right, and I'm sure this will not be an exception to that rule, I just hope they can iron out the bugs with providers before things start happening next season.