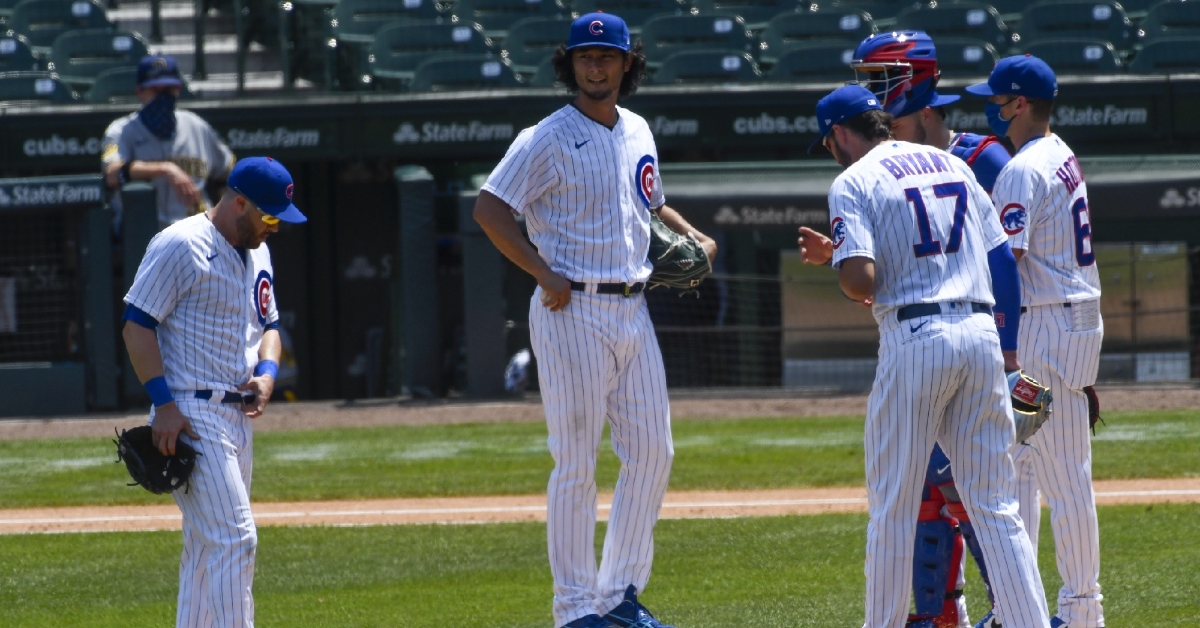 | | |
| --- | --- |
| Cubs Odds and Ends: Darvish exposes Cubs' weakness, KB at leadoff, Trade deadline, more | |
---
| | | |
| --- | --- | --- |
| Sunday, July 26, 2020, 9:25 AM | | |
Yu Darvish inadvertently exposes Cubs' weakness
Yu Darvish made his 2020 debut yesterday, and he struggled some. No big deal, as I have faith that he'll rebound, but he inadvertently exposed the Cubs' Achille's heel: the bullpen.
Since last November (actually, long before that), I have been worried that the Cubs weren't going to do much of anything to replace an already fractured and undependable bullpen. Losing Brandon Kintzler hurt something fierce, and Jeremy Jeffress was about as close as they came to replacing Kintzler with anyone of quality.
Darvish grinded for just four innings, averaging about 20 pitches per frame. Once Darvish was pulled, the parade of relievers began. Duane Underwood Jr. hurled the fifth, allowing one earned run on one hit. Brad Wieck handled the sixth, giving up a pair of earned runs on a hit and a walk. Then it was James Norwood's turn. He allowed another couple of runs, courtesy of three hits. Finally, Rex Brothers and Dillon Maples combined for the eighth and ninth innings, which were scoreless.
The damage was done, though. What had been a 3-1 games (in favor of Milwaukee) when Yu was pulled, turned into an 8-3 rout.
The Cubs' fielding also had its share of follies, Marinate in this for a while…
Don't see that everyday...

The Cubs had the @Brewers caught in a pickle, but they escaped! pic.twitter.com/KFRA7VnKpe

— FOX Sports: MLB (@MLBONFOX) July 25, 2020
Back to the pen… Nobody knows how Craig Kimbrel is going to look this year, as they can't seem to get him in the game. Nobody complained about Kyle Hendricks' complete-game shutout on Friday, but being blown out by five runs yesterday left no reason for David Ross to call on Dirty Craig.
Usually, at this point, people tell me to relax, "It's only one game." Nope, not this year, every game is crucial, despite MLB's idea to expand the playoff field to include just about every team in baseball.
This isn't on David Ross. It's on Tom Ricketts. Understandably, he's upside down in certain contracts (think Jason Heyward) and has closed his checkbook. Theo Epstein has made a couple… Okay, there are several questionable signings, but let's not cut off our nose to spite our face, Tom.
Get Bryant out of the leadoff spot
As the Cubs searched for that true leadoff man this winter, Kris Bryant stepped up and volunteered. For some reason, Rossy liked that idea, so here we are – Bryzzo batting 1-2.
Rizzo's only batting .200 (1 for 5), but he's already belted a monstrous homer – from one knee, nonetheless – and he's drawn three walks, while already being beaned once. KB? Not so much.
.@ARizzo44 OUT. pic.twitter.com/89WTyx3Vnb

— Chicago Cubs (@Cubs) July 25, 2020
In two regular-season games, Bryant is now 0 for 9 (.000), with no walks and no HBP. He has now fanned three times, making his strikeout rate 33.3%. When you factor in the three exhibition games form last week, Bryant went 1 for 6 (no walks), making him 1 for 15 (.067) since play resumed.
I've been making a case for Happ to leadoff. In two games, he's gone just 1 for 6 (.167) and has a home run and two RBI, not to mention a walk. In preseason action, Happ led off during the Cubs/Twins game on July 22nd, going 1 for 1 with two walks, while scoring once. Isn't this more of what a leadoff man should be doing?
Cheers to @ihapp_1!@BinnysBev pic.twitter.com/zgGE1FDsFu

— Chicago Cubs (@Cubs) July 24, 2020
I've been on board with everything that Ross has done since taking over, but I cannot – and will not – ever agree with the decision to use Bryant in the leadoff spot. His strikeout rate is just under 28%, and his walk rate is just under 12%.
Use Happ, use Rizzo, or for that matter use either Victor Caratini or Wilson Contreras, but get Bryant out of that spot.
Trade Deadline Approaching
We're only two (or in some cases, three) games into the season, so it's almost unfathomable that the trade deadline is just 36 days away.
The Cubs will undoubtedly be doing some swapping in the next month, and I'd bet my boat on that. They cannot compete with the bullpen they have; they cannot possibly hope to retain even 50% of the core, nor can they seem to get anywhere in extension talks with several of their younger players.
Nobody wants to see the core broken up, but when you have a contract like Jason Heyward's weighing things down, the Cubs seem to have little choice but to deal from the deck. Will they forego stars like Kris Bryant or Willson Contreras? Or will they deal from the prospect/rookie level, such as players like Nico Hoerner or PJ Higgins?
My guess is that a household name or two will be dealt. Hoerner is controllable for years to come, as are Caratini and Bote – who's already signed an extension. PJ Higgins shows promise, as does Ian Miller.
Like it or not, the Cubs are about to endure another rebuild, and the future will be designed out of the next wave of controllable players. Once the salaries of Jon Lester and Jason Heyward fall off, the team will have some wiggle room, but there's still a couple of years to go until they're totally free of those salary burdens. Not that Lester is terrible – far from it – but that's $21M for a guy who's now going to be the No. 4 starter.
Stay tuned; the next month is going to get very interesting…

Tags: Chicago Sports Baseball
,
Yu Darvish
,
Brandon Kintzler
,
Jeremy Jeffress
,
Duane Underwood
,
Brad Wieck
,
James Norwood
,
Rex Brothers
,
Dillon Maples
,
Craig Kimbrel
,
Kyle Hendricks
,
David Ross
,
Jason Heyward
,
Kris Bryant
,
Victor Caratini
,
Willson Contreras
,
,
Ian Miller
,
Jon Lester
,
Theo Epstein