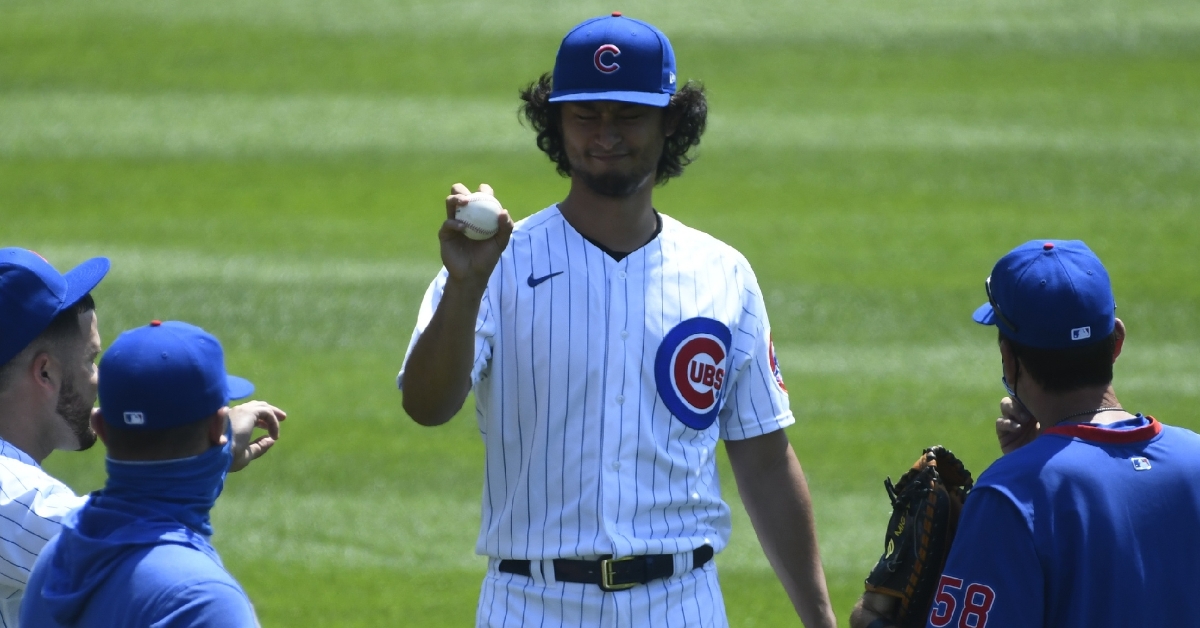 | | |
| --- | --- |
| Cubs Report Card 2020: Darvish, Hendricks, Lester, other starters | |
---
We are finally entering the pitching side of things in our season report card series. Today we will focus on starting pitchers.
The Cubs starting staff certainly carried them most of the season, but they couldn't get the run support needed to advance in the postseason. This will undoubtedly be a position to watch this offseason as they will have two if not three arms are coming off the books for free agency.
Without further introduction, here are the grades for the season.
Yu Darvish A+: There shouldn't be any doubt that Darvish not only emerged as the Cubs ace but emerged as one of the best starters in all the national league. He was the favorite to win the CY young most of the season until cooling off down the stretch.
He still finished the season 8-3 with a 2.01 ERA, so he will be in the conversation.
Darvish is under contract for three more seasons at 21 million per year average. I want the Cubs to hold on to him for a few more years as he can undoubtedly anchor this staff. Depending on what changes Theo Epstein has in mind, Darvish could also be traded to bring back a significant haul that could help this franchise's future.
These are the finalists for the Players Choice Awards NL Outstanding Pitcher!

MLB Players voted & the top three vote recipients are Trevor Bauer (@BauerOutage), Jacob deGrom (@JdeGrom19) & Yu Darvish (@faridyu)

These three were lights out in 2020! pic.twitter.com/mocxQlRuob

— MLBPA (@MLB_PLAYERS) October 14, 2020
Kyle Hendricks B+: For the most part, Hendricks continued to be Hendricks, but it wasn't without hiccups. He entered the season as the teams No.1 and certainly pitched like through his first three starts. Then, his next five starts were a struggle as some minor mechanical mishaps saw him struggle immensely. Once he got those mechanics ironed out, he got back to being a front-line starter.
Hendricks is not an ace, but he is a solid front of the rotation arm you can count on. He is as close to Greg Maddux as you can get, and the Cubs got him on the hook for three more seasons for a reasonable price. He is undoubtedly someone they can rely on even if he moves from the front of the rotation to the middle depending on free agent moves.
Kyle Hendricks, Ridiculous 88mph Two Seamer Movement. ?? pic.twitter.com/dJ59njDJ30

— Rob Friedman (@PitchingNinja) September 30, 2020
Tyler Chatwood C-: I feel for Chatwood this season, especially when you consider it a contract year. He won the final starting spot out of spring training and was very impressive across his first three outings of the season. Then, something happened, and he was never able to recover.
A rough start in Kansas City was coupled with a back injury, and Chatwood spent time on the IL. Once returning, Chatwood had another horrendous outing in Detroit as his ERA rose from 0.84 to 5.11 in three starts. His final start against the Reds was another strong outing, but he left the game with forearm pain and missed the season's final month. Whenever you hear forearm pain, you think Tommy John and Chatwood's time with the Cubs came to a rough end.
Tyler Chatwood set the tone this weekend! ??@pepsi pic.twitter.com/ejneoMhDKX

— Chicago Cubs (@Cubs) August 3, 2020
Jon Lester C-: Age is starting to catch up with the bulldog as he had a rough season. That comes as a bit of a surprise when you look at the start, he got off to his first four outings. The one start against the White Sox where he got lit up appeared to be the beginning of a rough go around as Lester had several starts where he struggled to get through five innings.
Knowing that the playoffs were right around the corner, Lester buckled down the final two weeks of the season before another rough start against the Southsiders. Hopefully, that won't be his last start with the Cubs, but with a 25-million-dollar option on the table, I highly doubt he comes back. There is a possibility that they can bring him back cheaper but would both sides agree to that.
3 years ago today. Jon Lester Forever. #Cubs pic.twitter.com/uqtWBpIGRz

— OBVIOUS SHIRTS® (@obvious_shirts) October 12, 2020
Alec Mills B: If it weren't for Jose Quintana and his injury, Mills would have been in pen. Well, he used Quintana's injury as an opportunity and did a formidable job in the rotation. Mills is your classic back of rotation starter who consistently gets through five innings. Similar in style to Hendricks, Mills prided his success on soft contact and did that quite often.
When he could change his speeds successfully, Mills was tough to hit. However, when he couldn't locate, it was like batting practice. Of all the starts during the season, Mills provided the best moment when he no-hit the Brewers in the team's final meeting of 2020. That is a start he will never forget, and now the Cubs have a cheap starter option for next season.
27 outs. 0 hits. Alec Mills tossed the second no-no of 2020.

(MLB x @budweiserusa) pic.twitter.com/5lTq3eWKcF

— MLB (@MLB) September 14, 2020
Adbert Alzolay A-: It has been a long time since the Cubs were able to develop significant pitching talent, but maybe that is about to change. Alzolay was the Cubs top pitching prospect for years up until recently when Brailyn Marquez took over that spot. Alzolay is the most MLB ready arm in the minors and has had mixed results during a couple of brief stints in the majors.
However, following his call back up from South Bend in September, something clicked, and if the Cubs get the Alzolay they had the last two months, he will be an essential arm next season. Alzolay developed a new slider and took full advantage of that. Instead of being a two or three-pitch arm, he now is a four-pitch pitcher with a slider that made hitters look silly. He should be a No. 4 or 5 next season, and I am curious to see how he does.
Adbert Alzolay, Filthy 82mph Breaking Ball...and pitching with emotion. ???? pic.twitter.com/MH0TaviVzq

— Rob Friedman (@PitchingNinja) September 27, 2020
Tyson Miller D+: Last season, Miller put his name on the map in terms of rising Cubs arms. This season, Miller got his first taste in the majors, starting one game and pitching one in relief. Known for great control across the minors, Miller struggled with command in his lone start as nerves played a factor. He is a year away if you ask me, but with a minor league season next year, he should be ready to contribute by the end of 2021.
How it started: How it's going: pic.twitter.com/uvQsCmLHzP

— Tyson Miller (@Tyson_Miller07) October 8, 2020
Colin Rea D-: If you're basing his season out of the pen, Rea would get a solid B as he pitched very well in relief. However, if you look at his two starts, he gets an F as he couldn't do much right. Last year's PCL pitcher of the year, Rea, was hoping to make the team out of camp but narrowly missed out on a bullpen spot.
It didn't take long for him to get called up and immediately was a valuable arm in the pen. His velocity was not only several MPH above his average, but he was overpowering hitters in relief. Given a pair of starts this season, Rea didn't have the same success as his relief appearances as he couldn't put hitters away. Look for his name to be swirling around all offseason as he is another swing option to consider.
Last time Colin Rea appeared in MLB, way back in 2016, he threw his cutter 14.7% of the time, with an average spin rate of 2035 rpm.

Last night he doubled the cutter usage, and it was spinning (according to Statcast) at 2647 rpm. pic.twitter.com/tI5YXEh6Hj

— Cubs Prospects - Bryan Smith (@cubprospects) August 6, 2020
Jose Quintana C: Another pitcher pitched on a contract season, Quintana had a year to forget. Hoping for a strong season out of the rotation's back, Quintana had surgery to repair his finger after a freak dishwashing incident forced him to have surgery. That happened right before summer camp, and Quintana was immediately put behind the eight ball.
It took over half the season for Quintana to get called up to the majors, and David Ross felt it would be best to start him off in the pen pitching out of relief. For the most part, he piggybacked Chatwood and through six solid innings before injuring his oblique. Quintana worked hard to get back and was called up to start against the White Sox in the season's final game.
Although he didn't last long or throw many innings, Quintana did a decent job getting outs this season. He will be a free agent this offseason and depending on the financial side of things, and the Cubs may try to bring him back on a one-year deal to help rebuild the rotation.
???????? ????, ????????

In a trade that will change the Chicago baseball landscape for years to come the White Sox trade Jose Quintana to the Cubs for Eloy Jimenez and Dylan Cease. pic.twitter.com/TWLXiEWqwk

— This Day in Chicago Sports (@ChiSportsDay) July 13, 2020
Upgrade Your Account
Unlock premium boards and exclusive features (e.g. ad-free) by upgrading your account today.
Upgrade Now