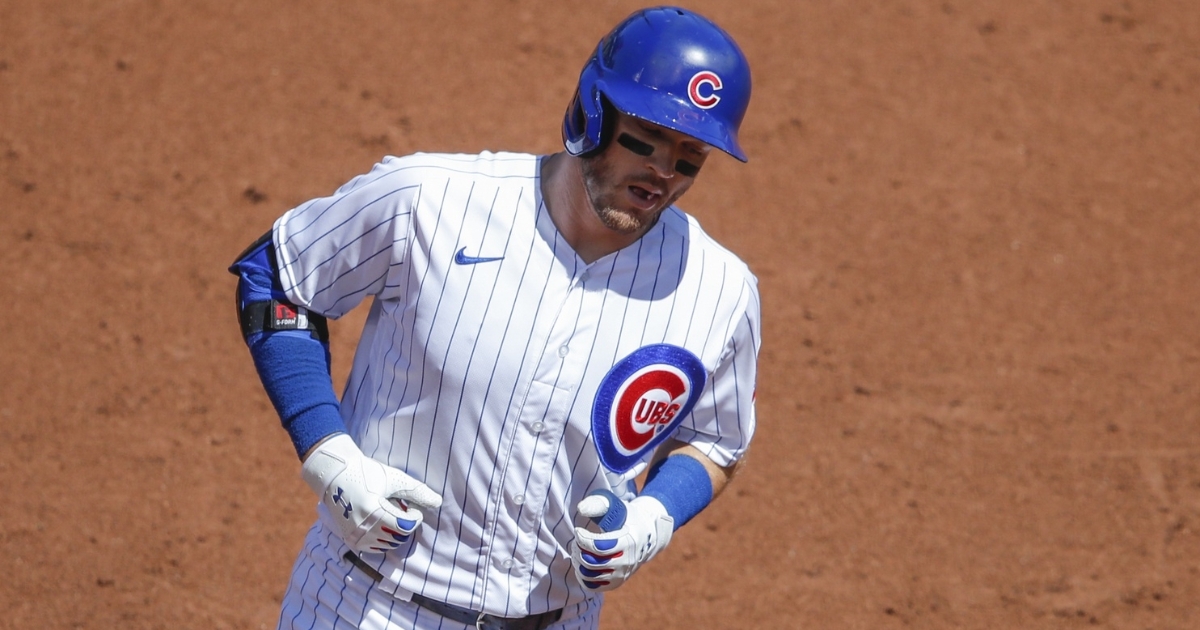 | | |
| --- | --- |
| Cubs Report Card 2020: Ian Happ, other centerfielders | |
---
| | | |
| --- | --- | --- |
| Monday, October 19, 2020, 5:43 PM | | |
Perhaps the best thing that could have happened to the Cubs during this shortened season would be that it gave them a chance to find a long-term solution in center field. With both Albert Almora and Ian Happ expected to battle it out for playing time, it was Happ that not only took the starting job but ran with it as he is now the long-term answer in Center Field.
That leaves Almora in a complicated situation as his time with Chicago may be coming to an end sooner rather than later. I will not give up on Almora quite yet because he could move back to Center Field if the Cubs make some trades, and Happ goes to left. For now, the Cubs must answer some question marks regarding those players. Here are the Grades I would hand out this season.
Ian Happ: Ever since being selected in the first round of the 2015 draft, Ian Happ has been a polarizing piece for the Cubs. Not only is he a switch hitter with power, but he came into the league as a second baseman and has now transformed himself into a utility player. Although his primary position is center field, Happ still brings a ton of value as he can play all over.
Across his minor league career, Happ has been a very consistent hitter who sits has a total of .265 average with 49 homers and 185 RBIs. One surprising aspect of his game is his speed in which he has logged 37 career steals and caught just nine times. His MLB journey has been filled with ups and downs, but if 2020 was any indication, Happ might be on the verge of stardom.
After hitting 24 homers as a rookie in 2017 with a .253 average, Happ saw his average plummet to .233 in 2018 while only hitting 15 homers. Things continued to worsen in 2019, where a terrible spring sent him to Iowa for three months, where he needed to learn to rediscover his game. That trip appeared to be the best thing possible for Happ as he returned to the bigs in July of that same year and hit .264 with 11 homers in 58 games. That included a .325 average across the final three weeks of the season.
Looking to build on his 2019 campaign, Happ was on a mission this season and became one of the Cubs best hitters. Yes, his average fell to .258 after sitting in the .280 range most of the year, but he became the Cubs leadoff hitter they have been missing while delivering a team-high 12 homers and second in RBIs with 28.
If this is the Happ, we can expect from here on out, the Cubs have a steal.
IAN HAPP SEE YA LATER pic.twitter.com/BGHjaK2TgK

— Jared Carrabis (@Jared_Carrabis) September 30, 2020
Season Grade A-: Whatever adjustments Happ made last season proved to be pivotal as he looks like a completely different player. We all knew about his power potential, but his overall approach and eye at the plate has turned him into a big-time threat. I am not saying he is the Cubs long-term answer at the leadoff spot, but in the short term, Happ appears to be ready to take on that job, and that will be a massive win for the Cubs.
Albert Almora Jr.: Of all the players on the Cubs roster, Almora is the most frustrating one. Taken in the first round back in 2012 (Theo's first pick), he was supposed to be the future centerfielder. As a high schooler, Almora was known for his great bat to ball skills and had leadoff potential all over him. Across 418 minor league games, Almora posted a .288 average, so his hitting skills were on full display.
However, minor league hitting doesn't always transfer to the majors, and that is what Almora and the Cubs are finding out now. Through five seasons, Almora still holds a 271 average, but that is very deceiving. A big part of that is because he hit .277, .298, and .286 across his first three seasons playing primarily against lefties. Almora has always been able to hit lefties, but his inability to hit righties has cost him playing time.
Given he has gold glove potential, the Cubs have given him every chance to be their everyday guy, including last season, when he got off to a great start only to have his season mentally affected. After hitting a fan with a foul ball in Houston, Almora hit just .182 the final three months of the season to finish the year at .236. Along with that, his defense progressively got worse to the point where he became a liability.
Things went from bad to worse this season as Almora posted just a .168 average before being optioned to South Bend. Almora's fall is both frustrated and puzzling, but it gives us the harsh reminder that not all top picks pan out.
Glovely weather we're having, @albertalmora. pic.twitter.com/fREj0dASvH

— Chicago Cubs (@Cubs) August 17, 2020
Season Grade F: Almora was a fan favorite for a while, but he needs a scenery change. Platooning will not help his growth as a player, and with Happ emerging, it looks like Almora is the odd man out. That sucks because his glove is the ultimate equalizer, but if you can't hit, you're not holding any value. A change of scenery may be what he needs to get back on track. Hopefully, the foul ball incident isn't something that hampers him long term because I would love to see him succeed.
Billy Hamilton: One player the Cubs hated facing, but loved having was Billy Hamilton. The speedy outfielder was never the best hitter in the world, but his speed made him a must-have for anyone. Hamilton had his moments where he hit, which he showed in the final game of the season this year, but for the most part, he is a defensive replacement and or pinch-runner who can wreak havoc on the bases.
Without looking it up, we're going to say this is the first time @BillyHamilton has homered and stolen home in the same game. pic.twitter.com/znoBgAngNm

— Chicago Cubs (@Cubs) September 27, 2020
Season Grade C: Hamilton didn't get much time or action with the Cubs, but he was someone they desperately need to keep. Chicago is a team not known for speed, so having a guy like Hamilton is a must. Not only is he a cheap outfield option to give you depth, but his ability to change the game on the bases is a nightmare for opposing teams. This is one player the Cubs should be calling this offseason to try and retain, especially if Almora and or Kyle Schwarber are dealt.