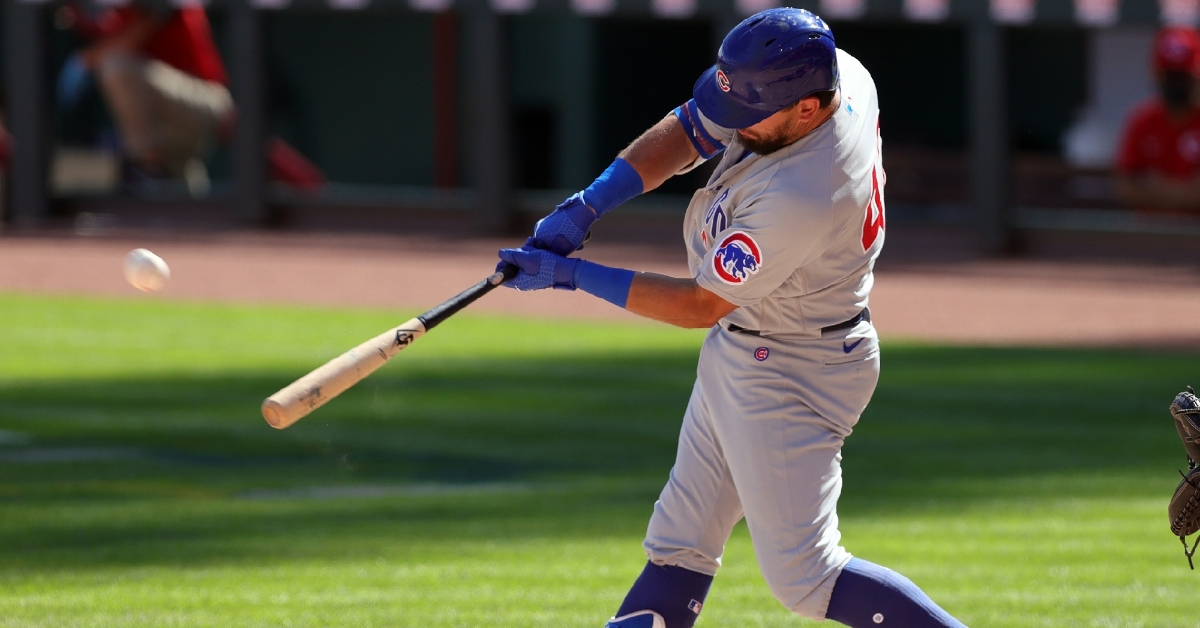 | | |
| --- | --- |
| Cubs Report Card 2020: Kyle Schwarber, other left fielders | |
---
| | | |
| --- | --- | --- |
| Monday, October 12, 2020, 11:06 AM | | |
Our season report card next installment shifts to the outfield as we focus on left field today. Many of the Cubs players struggled this season, but surprisingly the outfield was not one of those areas. That couldn't be said about the whole outfield as left-field proved to be an issue this season.
Coming into the 2020 season, this was one position on the team that the team expected to count on going forward. Given the second half of what fans saw from an individual player and you can see why. After witnessing what happened this season, a change could be on the horizon at this position, so it will be curious to see what Theo and company feel at this point.
Here are the season grades for the left fielders.
Kyle Schwarber: Schwarbs has been an interesting piece ever since the Cubs drafted him in 2014. He is a left-handed slugger who has the potential to be a 40 plus homer player. The problem has always been consistency as Schwarber has yet to put a full season together.
Say what you want about his defense, but Schwarber has vastly improved in that area. He also possesses a cannon for an arm, and teams realize how strong and accurate his arm can be. However, Schwarber will not get paid off what he does in the field, but instead what he does with the bat. After this season, there are more questions than answers.
Part of Epstein's rebuilding process with the Cubs was drafting MLB ready bats. Schwarber was the most MLB ready bat in his class and demonstrated that right away. In just 158 career minor league games, Schwarber hit the cover off the ball posting .334 average with 38 homers and 111 RBIs. He also had 96 walks to 141 strikeouts, so the Cubs saw the potential he had.
#OTD in 2015, Kyle Schwarber sent a ball into the Allegheny River off Gerrit Cole. pic.twitter.com/ewyYtnxGFJ

— Andy Martínez (@amartinez_11) October 7, 2020
Unfortunately, that success hasn't translated to the majors, where he is just a 230 hitter and has yet to hit above 250 at any point in his career. After hitting 246 as a rookie, Schwarber missed all of 2016 with a torn ACL before hitting .211 in 2017 and .238 in 2018. He did manage to hit 56 homers those two seasons, so the power numbers were there. After a dismal start to 2019, something clicked after the all-star break, and Schwarber became one of the best hitters in the National League.
Not only did he hit 38 homers to go with 92 RBIs, but his .250-batting average was also a career-high. That was anchored by a .282 post-all-star mark, including a .313 average in September. Whatever Schwarber did made him a better hitter, and the Cubs hoped he turned the corner. Apparently, not as 2020 was a season to forget. Not only did he plummet to just a .188 average, but his 11 homers and 24 RBI's are not that telling as he went over a month without a homer. Those are all concerning numbers in the future as the Cubs need to find a solution fast.
Kyle Schwarber loves being Jon Lester's left fielder ?? pic.twitter.com/nFoqC1Nw8h

— Marquee Sports Network (@WatchMarquee) September 30, 2020
Season Grade F: Schwarber not only lost his power this season but posted the worst batting average on the team. That is a big problem when you're counting on him to hit for power. Many people wanted him dealt last season, but even more, people want him dealt now. Of all the names on this roster, Schwarber seems like one of the more obvious candidates to trade.
Realistically, they won't net a big-time prospect, but teams could also bank on his potential, and that alone makes a deal interesting.
Cameron Maybin: The Cubs were active at the trade deadline, and one of the players they acquired was Cameron Maybin from Detroit in exchange for Zach Short. I have always been a fan of Maybin, so when this deal was finalized, it seemed like an excellent fit for Chicago. Maybin has bounced around a lot in his career, but he has been a solid player everywhere he has gone for the most part.
Across 14 seasons, Maybin has managed to hit .256 for his career, with 72 homers and 186 stolen bases. Yes, he isn't going to be a start, but he is what you call a gamer who does everything asked of him. Along with his ability to play multiple positions, Maybin was also brought in to hit left-handers where his career average is around .285 against lefties.
Across his 18 games with the Cubs, Maybin showed some value hitting .250 across those games with zero homers and five RBIs. A small sample size, yes, but Maybin knew his role coming in, and the Cubs took full advantage of that and may have gotten more out of him than even they expected.
Last night, @CameronMaybin made his @Cubs debut.

You may know Maybin as a player.

This is who he is as a person. ??? pic.twitter.com/5lFN02OTI4

— Infield Chatter (@InfieldChatter) September 2, 2020
Season Grade B-: Maybin had only a small sample size, but he did everything the Cubs asked of him and more. He is the type of player that you want to have on your roster, and I wouldn't be surprised at all to see the Cubs bring him back next season. Maybin is the perfect fourth outfielder to have who can fill in for anyone in the outfield.
Ian Miller: Coming into the 2020 season, no player on the Cubs roster arguably had a better spring than Ian Miller. Signed as a minor league free agent, the left-handed speedster had an enormous spring, and everyone thought he did enough to crack the big-league roster. David Ross and the Cubs had other ideas, and Miller appeared in just one game with the Cubs and was used as a pinch-runner.
"He's an exciting player."

Ian Miller's red-hot spring has placed him on the #Cubs radar. https://t.co/mcjwrD6aSE pic.twitter.com/4ig8O2Rzqy

— Marquee Sports Network (@WatchMarquee) March 11, 2020
Season Grade N/A: When you play one game, there is no way you can get a grade, which is unfortunate for him. I thought Miller got the short end of the stick and deserved a shot this season. Although he has limited Big League experience, Miller has shown the ability to hit in the minors posting a .274-career average. However, hitting and power are not what he is known for as he has hit just 18 homers, but his speed is his greatest asset.
Miller posted five seasons of 30 plus steals in the minors, including three of 43 or more. For his career, Miller has logged 243 career steals while only being caught 51 times. That is a great percentage. Miller is someone the Cubs could benefit from having as he gives them the speed factor they lack. Hopefully, the two sides can reach a deal next season.