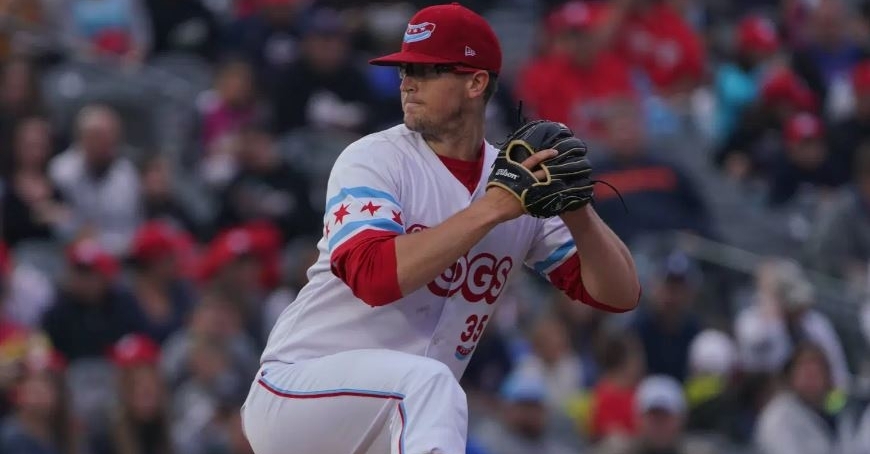 | | |
| --- | --- |
| Cubs adding hard-throwing lefty to minor league deal | |
---
| | | |
| --- | --- | --- |
| Friday, November 20, 2020, 5:02 PM | | |
The Cubs have long been longing for controllable pitching, but it appears that help will be on the way soon enough. Chicago has also been looking for hard-throwing arms that they can add to what is generally not a high-velocity pitching staff. With more and more guys throwing 95 plus in the Cubs bullpen, Chicago is taking future measures by adding some big-time heat to the minor league pull pen.
Make that six minor league signings this week as the Cubs are bringing in flame-throwing southpaw D.J. Snelton on a minor league deal. There is a lot to like about this signing, including a hometown tie that we will get to in a second. First off, Snelton is a massive human with a huge pitching frame.
That gives him the potential to hit triple digits, which is something the Cubs haven't had since Aroldis Chapman.
Add that he is a lefty, and the Cubs could have both Brailyn Marquez and Snelton as triple-digit southpaws throwing pitches on the North Side. Another thing that makes this signing interesting is the personal connection that Snelton has to the Cubs and the city of Chicago. Snelton grew up a Cubs fan and always dreamed about one day pitching for them. He also was part of the Chicago Dogs of the Independent league before working out with the Rays last year. To say, the city of Chicago is a huge part of his life is an understatement.
At 6-7 235 pounds, Snelton will be an intimidating fixture coming out of the pen from the left side. What I like most about this signing is not only does he have MLB experience, but he has really turned up the heat lately. When Snelton first began pitching in baseball, he was generally sitting in the 91-92 range and was learning how to get people out. Now, Snelton has drastically matured as a pitcher and consistently hits 97-99 with 100+ MPH potential. That is something the Cubs need and haven't had in a while.
DJ Snelten has gone from low 9's to high 9's. He has completely rebuilt his lower half. He sat 97-99 today.

DJ has MLB experience.

6'7, 235lbs@FlatgroundApp @PitchingNinja @DJSnelten pic.twitter.com/LFOIQnneKC

— Nick Sanzeri (@SanzeriBaseball) December 4, 2019
After being a ninth-round selection by the San Francisco Giants in 2013, Snelton rose rapidly through their system and was quickly becoming an arm to watch. After dominating the lower levels through AA, his production began to take a hit, especially when he reached AAA. It took him five years to reach the majors, where he got his first taste with the Giants in 2018. Unfortunately for him, the results were not there, and he was forced out of baseball and in the independent league by 2019.
Snelton is the classic case of a fast-rising prospect that couldn't put it together when it mattered most. Some pitches find ways to figure it out before it is too late, but Snelton couldn't be one of them as he was forced out of baseball. Refusing to give up on his dream, Snelton has put in a ton of work the past two seasons, and the results show helping him earn another chance with the Cubs.
After climbing through the Giants system as a finesse pitcher, Snelton has remade himself into a power arm. Not only has he turned himself into a power arm, but an arm that may be able to touch 100 MPH, so that alone is worth enough to take a chance on him. Whether or not he can harness the command remains to be seen, but after not having too many pitchers like this, the Cubs are starting to load up on high-velocity type arms as he joins the likes of Marquez and Luke Little as hard-throwing lefties.
Another thing that I find exciting with this pickup is the role Snelton will play. Ideally, you would think he is ticketed to be a reliever as that is what he spent his entire career with the Giants doing. Cubs fans would love the idea of having a hard-throwing southpaw in the pen, but Snelton was working as a starter while pitching for the Dogs.
I still think he is more of a reliever over a starter, but given that he did start in Independent ball, there is always the possibility that he could turn into one long term. Snelton is a great option to have stashed away, most likely in Iowa. The Cubs will get a firsthand look at what he can do not only this spring but once Minor League seasons pick up again.
Snelton has the potential to be one of those under the radar steals that the Cubs have been quietly getting good at recently. Rowan Wick, Jason Adam, Kyle Ryan, and Ryan Tepera were all under the radar pickups that helped change the Cubs pen. Maybe Snelton can be one of those players if he can prove he is the real deal once again.