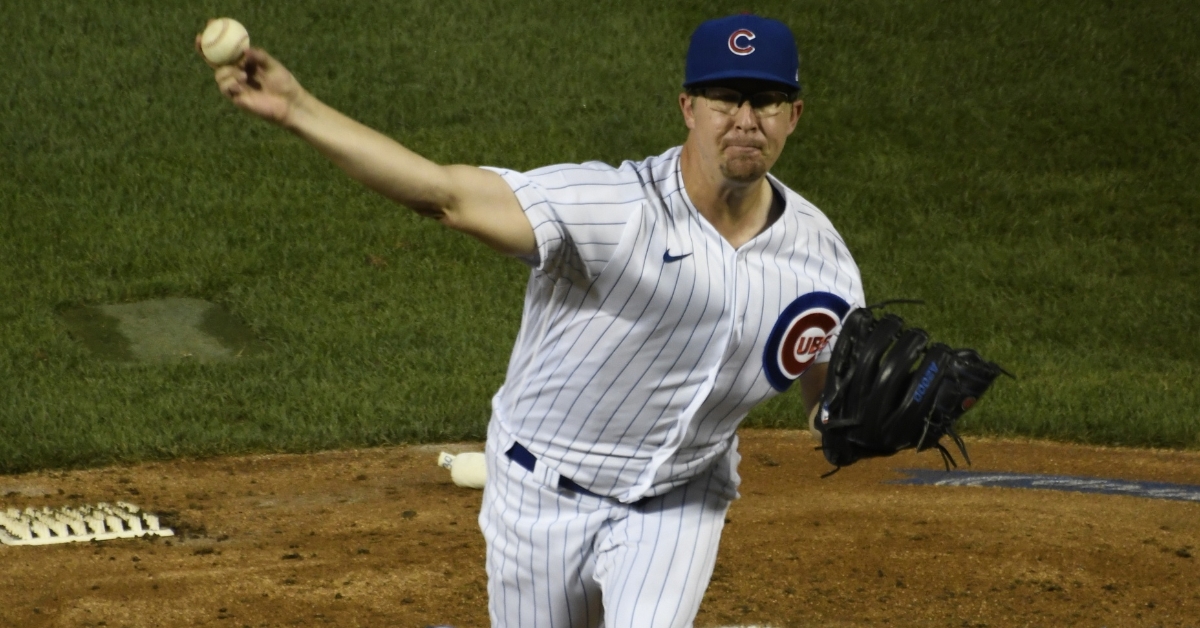 | | |
| --- | --- |
| Cubs come up short to Brewers as Christian Yelich hits pivotal dinger | |
---
| | | |
| --- | --- | --- |
| Friday, August 14, 2020, 11:50 PM | | |
CHICAGO — A costly three-run home run by star Milwaukee Brewers (8-10) slugger Christian Yelich and the Chicago Cubs (13-4) failing to take advantage of bases-loaded opportunities at the plate contributed to the Brew Crew defeating the North Siders on Friday. In the second installment of the four-game affair at Wrigley Field, Chicago came up short in a 4-3 nail biter.
Starting pitcher Tyler Chatwood was scratched due to pregame back tightness, and Alec Mills filled in admirably. However, Yelich's blast off Mills made the ultimate difference, as the Cubs squandered a 3-1 lead and never led again after Yelich went yard in the top of the sixth.
---
Inning-by-Inning Breakdown:
---
T1: Mills needed just 12 pitches to tab three straight outs, including two Ks. Leadoff man Eric Sogard struck out on three pitches.
Score: Brewers 0, Cubs 0
---
B1: Brandon Woodruff started on the mound for the Brewers. He sat the Cubs down in order his first time out.
Score: Brewers 0, Cubs 0
---
T2: Mills went 1-2-3 again his next time out.
Score: Brewers 0, Cubs 0
---
B2: The Cubs were unable to reach base in the second.
Score: Brewers 0, Cubs 0
---
T3: Milwaukee grounded out in three straight at-bats. The first groundout of the inning saw shortstop Javier Baez field a grounder hit by Manny Pina on the outfield grass and fire a spectacular throw across the infield for the putout.
Score: Brewers 0, Cubs 0
Deep. pic.twitter.com/dvO0vgdyHr

— Chicago Cubs (@Cubs) August 15, 2020
---
B3: Woodruff struck out two as part of a scoreless third.
Score: Brewers 0, Cubs 0
---
T4: The pitching duel continued, as Mills struck out the side in the fourth.
Score: Brewers 0, Cubs 0
---
B4: The first baserunner of the game reached due to an error. Anthony Rizzo's hard-hit grounder was misplayed at first base by Justin Smoak. Chicago failed to convert the error into any runs, though. With two outs and Baez on first, Kyle Schwarber lined a well-hit ball to right field, but Ben Gamel robbed him of a hit with an impressive leaping grab.
Score: Brewers 0, Cubs 0
BEN.
GAMEL.#ThisIsMyCrew pic.twitter.com/xuG2ge1WrB

— FOX Sports Wisconsin (@fswisconsin) August 15, 2020
---
T5: Milwaukee finally reached base when Avisail Garcia drew a leadoff walk. Smoak then singled, putting runners on the corners. Ben Gamel grounded into a 4-6-3 double play that enabled Garcia to cross the plate. A couple of singles followed before a fielder's choice resulted in the third out.
Score: Brewers 1, Cubs 0
---
B5: The Cubs wasted little time in erasing their deficit. Jason Heyward recorded a one-out single and hustled to third on a base knock by David Bote that followed. Jason Kipnis then produced one of the best at-bats of the Cubs' season, fighting off multiple pitches after falling down 0-2 before finally hitting a bloop single on the ninth pitch. Kipnis' hard-fought plate appearance, which culminated in Heyward scoring on the base hit to center, featured six foul balls, including five in a row. Next, Nico Hoerner walked to load the bases, and Ian Happ, who served as the Cubs' leadoff hitter with Kris Bryant out of the lineup, then took four pitches in a row after facing an 0-2 count. Happ's gritty walk forced home the go-ahead run. Anthony Rizzo slapped an RBI single to right that forced Woodruff out of the game, marking a rather rapid unraveling of what had all of the makings of a quality start. Reliever Freddy Peralta came in clutch for the Brew Crew by striking out consecutive batters with the bases loaded to usher in the sixth frame.
Score: Brewers 1, Cubs 3
.@TheJK_Kid gets the @Cubs on the board!

Cubs 3, Brewers 1 - Top 6 pic.twitter.com/Y44pNedMDz

— Marquee Sports Network (@WatchMarquee) August 15, 2020
---
T6: Much like Woodruff, Mills suffered an abrupt end to his otherwise solid outing. Following a leadoff single by Eric Sogard, Mills hit Keston Hiura and offered up a breaking ball that Yelich sent 412 feet into the seats. Yelich's go-ahead three-run blast to right came on the first pitch of the at-bat. Mills collected himself after that and registered three consecutive outs, but he did not retake the mound in the seventh.
Score: Brewers 4, Cubs 3
Back on top. #ThisIsMyCrew pic.twitter.com/KfNfyNdR21

— Milwaukee Brewers (@Brewers) August 15, 2020
---
B6: Heyward came up with a one-out double, but Peralta was able to work through the sixth without giving up any runs.
Score: Brewers 4, Cubs 3
---
T7: Ryan Tepera pitched the seventh for the North Siders. The Brewers went three up, three down.
Score: Brewers 4, Cubs 3
---
B7: Peralta and Devin Williams combined to toss a scoreless seventh.
Score: Brewers 4, Cubs 3
---
T8: Tepera outed the first two batters before Kyle Ryan relieved him with Yelich up to bat. Ryan fell down 3-0 but threw three strikes in a row to get out of the inning.
Score: Brewers 4, Cubs 3
---
B8: A dramatic bottom half of the eighth ended with a deflating strikeout for the Cubs. After fanning Baez, Williams gave up a double to Schwarber that could have been caught by Gamel. In a twist of fate, Gamel, who robbed Schwarber of a potential double earlier in the game, gifted Schwarber a double when the ball hit off the heel of his glove. Gamel was not charged with an error, however. Willson Contreras struck out in the final at-bat of Williams' outing. Fireballer Josh Hader entered at that point and walked Steven Souza Jr.. On a full count, Hader hit Bote on the foot with a pitch that got away from him. Cubs manager David Ross then made the interesting decision to have backup catcher Josh Phegley, who has yet to get a hit this season, pinch hit for Kipnis, and Phegley struck out swinging, leaving three runners stranded.
Score: Brewers 4, Cubs 3
---
T9: Craig Kimbrel was brought in to pitch the ninth, and he was able to keep it a one-run game. Despite going around on a pitch that hit him during the course of his plate appearance, Smoak was able to draw a walk with one out. Gamel proceeded to hit a liner to Hoerner that nearly resulted in Smoak getting doubled off. Pina struck out after that to bring forth the bottom of the ninth.
Score: Brewers 4, Cubs 3
---
B9: Hader held the Cubs off and earned the save. Hoerner hit a line drive to left that was caught for the first out. Happ then struck out, and Rizzo drew a two-out walk. Baez stepped into the batter's box as the potential go-ahead run, but he struck out looking on a full count. Nine Cubs were left stranded on the base in the loss.
Final Score: Brewers 4, Cubs 3
CALLED STRIKE 3! #ThisIsMyCrew pic.twitter.com/OKKPtAuXdC

— Milwaukee Brewers (@Brewers) August 15, 2020
---
Up Next: Due to the threat of inclement weather tomorrow evening, the third game of this series has changed from a nighttime start to a mid-afternoon start. The Saturday, Aug. 15, contest will begin at 2:20 p.m. CDT on what will hopefully be a sunny afternoon at the Friendly Confines. Adrian Houser (1-1, 2.65) is slated to start on the bump for the Brewers, and, because of Mills having to start in place of Chatwood, the Cubs' starting pitcher is up in the air.

Tags: Chicago Sports Baseball
,
Tyler Chatwood
,
Alec Mills
,
Javy Baez
,
Anthony Rizzo
,
Kyle Schwarber
,
Jason Heyward
,
David Bote
,
,
Ian Happ
,
Kris Bryant
,
Ryan Tepera
,
Kyle Ryan
,
Willson Contreras
,
David Ross
,
Joshua Phegley
,
Craig Kimbrel
,
Steve Souza Jr.