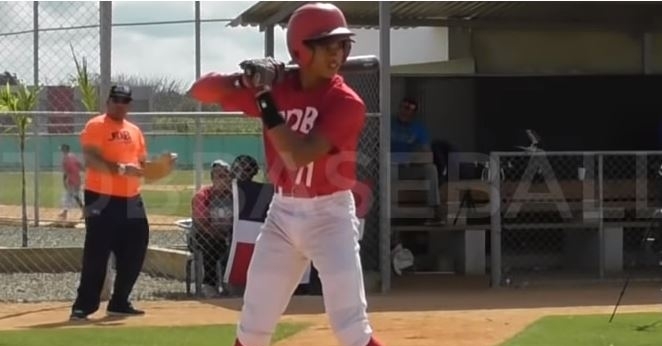 | | |
| --- | --- |
| Cubs expected to sign No. 1 overall prospect in International FA | |
---
Ever since Theo has taken over calling the shots for the Cubs, they have been huge players in the international free-agent market. From Jorge Soler to Eloy Jimenez, Willson Contreras, and even Miguel Amaya, things have worked out on that front well over the years.
This year should be no exception as once again, as the Cubs are expected to be big players in the international free-agent market. They are expected to set the tone by signing two of the highest-rated prospects with the potential to land even the top-rated prospect in the process. While the rules have changed regarding International signees in recent seasons, two things remain to be the steppingstones as to why most deals get done.
Most of the time, when a team reaches a deal with a player, it was agreed on long before they could officially sign. Whether a handshake or a phone call, teams know who they want and will do what they can to get some commitment to the players before making the pick.
Going back to the first point, most of those commitments and handshakes happen way in advance, meaning the Cubs could have already shaken hands with who they plan to sign when the International signing period for 2020-21 begins.
If the Cubs have indeed talked to and have shaken the hands of two prospects, then they certainly are getting the cream of the crop in terms of the international players this season. The first of the two, we are going to dive into is 16-year-old SS Cristian Hernandez from the Dominican Republic. Yes, you heard me right. He is 16 but built like a Mack truck.
As of today, Hernandez is already 6-1 and weighs around 165 pounds. His body will only continue to fill out as he develops into a complete player. Not only does he have great size for a 16-year-old, but he has big-time power, a fast bat, and an already advanced swing mechanic from the right side of the plate.
Hernandez is also projected to have plus speed with the ability to stick at shortstop long term. Although rankings are not finalized at this point, he is viewed by many to be the top international prospect in this year's crop. Yes, rankings will change from now until the day he signs, but all these numbers sound great to me.
The biggest challenge with signing him is his age, as he will not even be 17 when he signs. That means he will need extra time in the minors to develop, but that is a price most teams would take given his talent. Look at some of the international signings of the past for the Cubs in Jimenez, Gleyber Torres, and Contreras. All of them signed at a young age and needed a little extra time to develop only to turn into what they did.
While many of you may not have a clue who Hernandez is at this point, news about the Cubs being interested in him is certainly not new. It was already reported back in August about the Cubs in connection to him, and now it seems more and more likely that they are the front runners to nab him.
The other player the Cubs are expected to sign in the IFA pool is catcher Moises Ballesteros from Venezuela. Ballesteros has a stout body that is strong for his age. That helps him produce extremely hard contact from the left side to go with his strong arm behind the plate.
This comes as no surprise to me, given how much the Cubs have targeted catchers in the IFA over the years. Contreras (09), Amaya (15), Brayan Altuve (19), Ronnier Quintero (19) were previous catchers signed out of the IFA pool with Ballesteros, most likely the fifth one coming aboard. Going back to last season when the Cubs signed Quintero, he was the highest-ranked catcher in the IFA pool and signed for a 3-million-dollar bonus.
Since then, Quintero has climbed the ranks in the Cubs system and is currently ranked No. 13 among the team's overall prospects. Altuve may not have the expectations that Quintero has in place, but he still signed for a decent 1-million-dollar bonus. Between those two, the Cubs spend four of their six million IFA dollars on catchers last year and appear to be targeting another one this year.
Just like Hernandez, Ballesteros is exceptionally young at 15, which means he will need more than a lot of seasoning over the next surplus of seasons. When you're a catcher, you tend to need even more seasoning than position players, but it is nice to see the Cubs maximize their roster with IFA talent regardless of position.
Obviously, with the IFA period still months away, it is not quite clear as to what it would take for the Cubs to get one if not both players. If we look at year's past, the Cubs will most likely spend the bulk of their available funds to bring these players in. Hernandez, by himself, will sign for quite a haul, but should the Cubs land both prized possessions, then look for them to be the clear front runners in terms of the most successful IFA period among MLB teams.