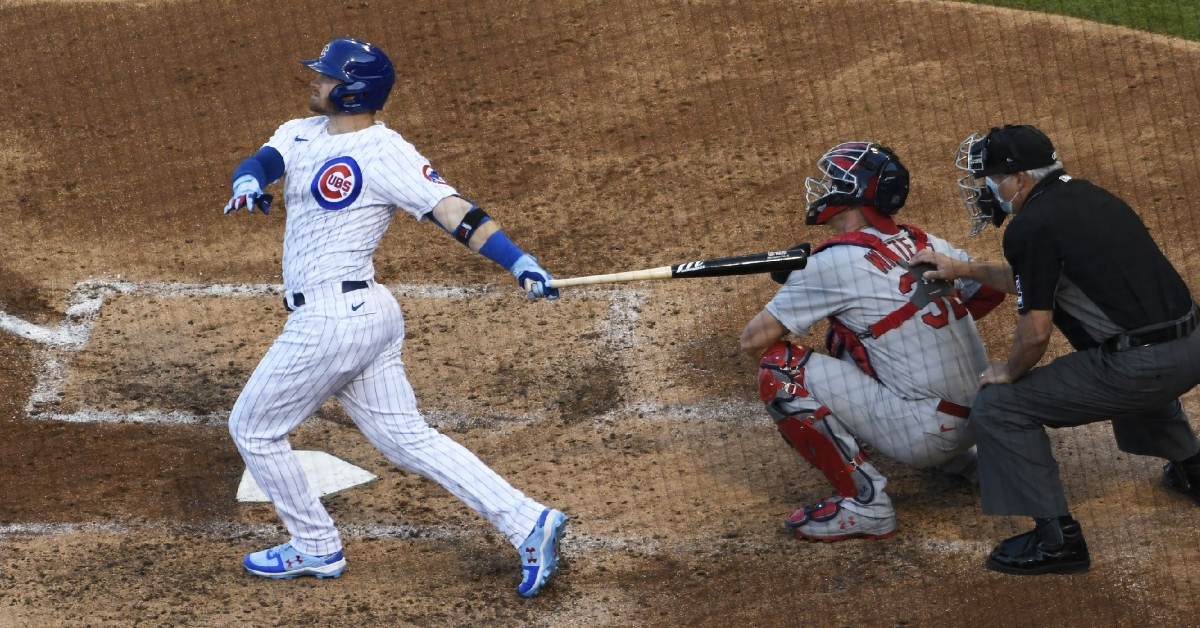 | | |
| --- | --- |
| Cubs fall to Cardinals in seven-inning opener of doubleheader | |
---
CHICAGO — In the opening installment of Monday's doubleheader at Wrigley Field, the Chicago Cubs (13-7) lost 3-1 to the St. Louis Cardinals (5-4). The first of five games in three days at the Friendly Confines marked the first meeting of the season between the two National League Central rivals, as their recent series that was slated to take place at Busch Stadium in St. Louis was postponed due to a COVID-19 outbreak within the St. Louis organization.
Per 2020 MLB rules, all doubleheader games will be seven innings in length, and Monday's shortened contest flew by, lasting just over two hours. Starting pitcher Kyle Hendricks toed the rubber for the Cubs and fared well until the final frame. The North Siders' only run of the contest came via a solo home run. Chicago has now lost four games in a row.
---
Inning-by-Inning Breakdown:
---
T1: Hendricks prevented the Redbirds from hitting the ball out of the infield in a scoreless first.
Score: Cardinals 0, Cubs 0
---
B1: Pitcher Kwang-Hyun Kim made his first start for the Cardinals and got himself into a jam out of the gate. Following a one-out walk of Anthony Rizzo, Kim gave up a double to Javy Baez, who snapped an 0-for-17 stretch. St. Louis then opted to intentionally walk Willson Contreras to set up a potential double play, and Kim escaped the sticky situation by striking out Ian Happ and forcing David Bote to ground out.
Score: Cardinals 0, Cubs 0
---
T2: A strikeout and a pair of groundouts made up a nine-pitch top half of the second.
Score: Cardinals 0, Cubs 0
---
B2: Kim breezed through the bottom of the second, sitting the Cubs down in order. Josh Phegley made his first start as a Cub, replacing Steven Souza Jr., who was a late scratch, as the designated hitter. Phegley grounded out in the second.
Score: Cardinals 0, Cubs 0
---
T3: After center fielder Albert Almora Jr. made a great catch to prevent Brad Miller from notching a leadoff hit, former Cub Dexter Fowler took Hendricks deep. The 386-footer to right broke the scoreless tie.
Score: Cardinals 1, Cubs 0
An old friend at the Friendly Confines! pic.twitter.com/X2FGFLCSUv

— St. Louis Cardinals (@Cardinals) August 17, 2020
---
B3: Kris Bryant hit a base knock, and Rizzo then drew his second walk of the game. Baez grounded into a 5-4-3 double play after that, and Contreras lined right to first baseman Paul Goldschmidt to end the inning.
Score: Cardinals 1, Cubs 0
---
T4: Almora topped his earlier catch with a phenomenal web gem to begin the fourth frame. He laid out and made a diving catch to rob Tommy Edman of a leadoff hit and was able to hang on after colliding with the ground. Almora then tracked down a deep fly ball hit by Goldschmidt and made that catch, too.
Score: Cardinals 1, Cubs 0
Glovely weather we're having, @albertalmora. pic.twitter.com/fREj0dASvH

— Chicago Cubs (@Cubs) August 17, 2020
---
B4: Happ put the Cubs on the scoreboard with a leadoff jack. With his fourth tater of the season, Happ drove a Kim fastball 373 feet out to left, tying the contest at one run apiece. Kim was removed after forcing the next two batters to ground out, and reliever John Gant finished the inning off by striking Almora out.
Score: Cardinals 1, Cubs 1
Yup!@BinnysBev pic.twitter.com/J4IAD5SPaE

— Chicago Cubs (@Cubs) August 17, 2020
---
T5: Baez committed a rare fielding error at shortstop that enabled Miller to reach base with two outs, but Fowler flied out in the ensuing at-bat.
Score: Cardinals 1, Cubs 1
---
B5: Gant went 1-2-3 through the sixth, striking out two and forcing a groundout.
Score: Cardinals 1, Cubs 1
---
T6: Hendricks plowed through the sixth, keeping the Cardinals off the bases. Kolten Wong lined out to Rizzo at first for the second out.
Score: Cardinals 1, Cubs 1
---
B6: Reliever Giovanny Gallegos outed three straight batters in the bottom of the sixth. Baez struck out on three pitches for the first out.
Score: Cardinals 1, Cubs 1
---
T7: Goldschmidt led off with a double to left-center. Tyler O'Neill then drew a walk, and Matt Carpenter singled to load the bases with no outs. Dylan Carlson hit a grounder to Baez after that, and "Javy" went home with it for the force out at the plate. Rowan Wick relieved Hendricks at that point and gave up a two-run double to Miller. Almora attempted to make a leaping catch of Miller's two-bagger but could not quite reach the baseball. Carlson was gunned down at the plate by Bryant when attempting to make it a three-run double. Fowler flied out to Almora in the next at-bat, ushering in the bottom of the seventh.
Score: Cardinals 3, Cubs 1
M??LLER pic.twitter.com/7x0cO45BGg

— St. Louis Cardinals (@Cardinals) August 17, 2020
---
B7: Andrew Miller pitched the seventh and finished the Cubs off. Kyle Schwarber pinch hit for Bote and struck out swinging, and Phegley and Almora hit back-to-back groundouts in an uneventful final half-inning.
Gallegos earned the winning decision to become 1-0, and Hendricks was handed the losing decision to move to 3-2. Miller earned his second save of the season.
Final Score: Cardinals 3, Cubs 1
---
Statistical Breakdown:
Chicago Cubs: Batting: 1 R, 3 H, 1 2B, 1 HR, 1 RBI, 1 GIDP, 0-4 RISP, 4 LOB; Fielding: 1 E, 1 Assist; Pitching: 4 H, 3 R, 3 ER, 1 BB, 5 K, 1 HR, 0 HBP, 0 IBB, 0 WP
St. Louis Cardinals: Batting: 3 R, 4 H, 2 2B, 1 HR, 3 RBI, 2-4 RISP, 2 LOB; Fielding: 0 E, 1 DP; Pitching: 3 H, 1 R, 1 ER, 3 BB, 7 K, 1 HR, 0 HBP, 1 IBB, 0 WP
---
Studs of the Game:
Chicago Cubs: Ian Happ (RF): 1-3, 1 R, 1 RBI, 0 BB, 2 K, 1 HR, 0-1 RISP
St. Louis Cardinals: Brad Miller (3B): 1-3, 0 R, 2 RBI, 0 BB, 0 K, 1 2B, 1-1 RISP, 1 defensive assisted DP
---
Duds of the Game:
Chicago Cubs: Josh Phegley (DH): 0-3, 0 R, 0 RBI, 0 BB, 0 K
St. Louis Cardinals: Daniel Carlson (CF-RF): 0-3, 0 R, 0 RBI, 0 BB, 1 K, 0-1 RISP
---
Up Next: The nightcap of the doubleheader will begin at approximately 7 p.m. CDT under clear, warm conditions in Chi-Town. Righty Tyson Miller (0-0, 0.00) will start on the hill for the Cubs in his MLB debut and face off against righty Alex Reyes (0-0, 0.00) of the Cardinals, who is making his first big-league start since 2018. Since the game will technically constitute a makeup game from the aforementioned postponed series, the Cubs will serve as the de facto road team. As a result, the North Siders bat in the top half of each inning at their home ballpark for the first time overall since 1908 and first time versus the Cardinals since 1898.
---
Highlights:

Tags: Chicago Sports Baseball
,
Kyle Hendricks
,
Anthony Rizzo
,
Javy Baez
,
Willson Contreras
,
Ian Happ
,
David Bote
,
Joshua Phegley
,
Albert Almora
,
Dexter Fowler
,
Kris Bryant
,
Rowan Wick
,
Kyle Schwarber
,
Steve Souza Jr.