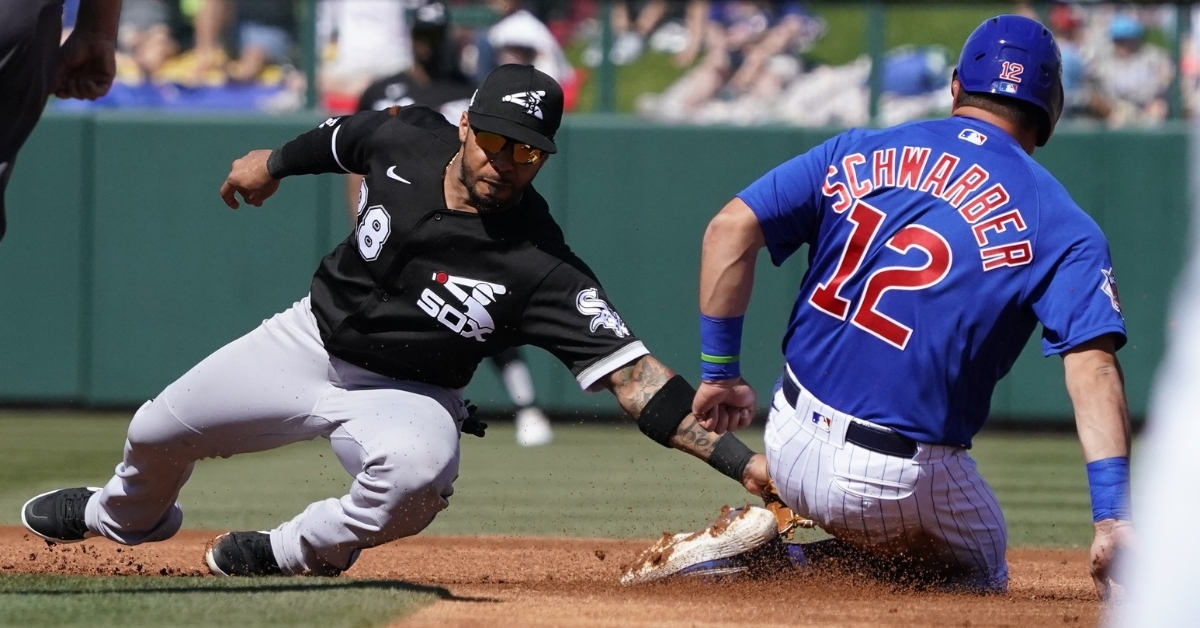 | | |
| --- | --- |
| Cubs lose to rival White Sox | |
---
The Cubs (5-8-1) have had a rough go of it for the last week, suffering several bullpen meltdowns, which have resulted in losses. This afternoon they hosted the White Sox (7-5). LHP Jon Lester got the start for Chicago, while RHP Lucas Giolito took the mound for the White Sox.
The Cubs lineup consisted of Nico Hoerner (2B), Kyle Schwarber (LF), Willson Contreras (DH), Jason Heyward (RF), Victor Caratini (C), Albert Almora Jr. (CF), Davis Bote (3B), Daniel Descalso (1B), Hernan Perez (SS).
T-1 Lester gave up back-to-back singles, but righted the ship, fanning the next three.
B-1 Hoerner GO-6, Schwarbs HBP, Contreras (K), Schwarber steals second (bad call – he was out), J-Hey flies out to center. Game tied 0-0.
T-2 Lester: BB, double to right-center (run scores), K, K, infield single, GO-5 – great defensive play by Bote. Sox lead 1-0.
David Bote robs Tim Anderson with a diving stop at third. pic.twitter.com/ImrLVIGhDp

— Pinwheels and Ivy Podcast (@PinwheelsIvyPod) March 6, 2020
B-2 Former Cubs Steve Cishek on the mound: Caratini GO-4, Almora (K), Bote BB, Descalso (K).
T-3 Lester: FO-7, K, BB. Lester replaced (62 pitches) by LHP Ryan Lawlor. Single, BB, FO-7. Sox still up 1-0.
.@JLester34 struck out 6 over 2.2 innings today.

Will he be the Opening Day starter? https://t.co/FmHRW3Qch7 pic.twitter.com/W9qUfD9Jin

— Marquee Sports Network (@WatchMarquee) March 6, 2020
Lester after his start Friday pic.twitter.com/AGXD5nmI7K

— Gordon Wittenmyer (@GDubCub) March 6, 2020
B-3 Perez BB, Hoerner GO-6 (Perez advances), Schwarber BB, Contreras LO-8, Heyward (K). Cubs still without a hit.
T-4 RHP Dan Winkler: Single, stolen base, K, Homer (Abreu), BB, FO-7, K. Sox lead 4-0.
B-4 Cubs finally get a hit as Caratini singles to center. He'd then get second base on a balk. Almora hit a hard, line drive to third (caught),
then Caratini got doubled off of second. Bote reaches on a fielding error by Anderson. Descalso GO-2.
T-5 RHP Adbert Alzolay: GO-1, single, HR, FO-7, FO-8. Cubs trail 6-0.
B-5 Perez GO-6, Hoerner HBP, Schwarber singles to the right, Contreras grounds into a 5-4-3 double play.
T-6 Alzolay: Pop out to second, BB, infield single, K, line-out to center. Cubs trail 6-zip.
SUBS: Robel Garcia (2B), Mark Zagunis (LF), Alfonso Rivas (1B), Zack Short (SS).
B-6 J-Hey singles to the left, Caratini walks (Ian Miller pinch-runs), Almora (K), Bote singles to the left (J-Hey scores, Miller to third; Trent Giambrone pinch-runs for Bote). Rivas doubles down the RF line (Miller scores, Giambrone to third). Short lines out to the left, Garcia grounds out to second. Cubs trail 6-2.
Bigger than baseball ?? pic.twitter.com/cZQL0bMfXg

— Marquee Sports Network (@WatchMarquee) March 6, 2020
SUBS: Miller (VF), PJ Higgins (C), Giambrone (3B), Noe Cuevas (DH).
T-7 LHP Rex Brothers: FO-9, double, GO-5, K. Sox still lead 6-2.
B-7 Zagunis HBP, Joseph (K), Noel Cuevas grounds into a 6-4-3 double play.
T-8 Rex Brothers strikes out the side. Cubs trail 6-2.
B-8 Miller uses his speed and bunts his way on. He then steals second and subsequently takes third on an errant throw. That makes Miller's seventh stolen base this spring.
Ian Miller showing off his speed, bunt single. Get hyped! pic.twitter.com/64hkz37YcL

— Aldo Soto (@AldoSoto21) March 6, 2020
Higgins fans, Giambrone walks, Rivas fans, then a wild pitch scores Miller. Short fans to end the inning. Sox lead 6-3.
T-9 RHP Craig Brooks: K, BB, K, single, line-out to center.
B-9 Garcia FO-5, Donnie Dewees (LF) fans, Joseph out.
Final Score White Sox-6; Cubs-3
Cubs Offense 6 for 32 (.188), 2 for 13 (.154) with RISP.
Next Game: Tomorrow – split-squad: 2:05 PM: Cubs at Indians from Goodyear Ballpark; 3:05 PM: Reds @ Cubs from Las Vegas Ballpark, Las Vegas, Nevada.
Much better showing for Big Jon than the last one. pic.twitter.com/1xRDQ7yJnV

— Cubs Talk (@NBCSCubs) March 6, 2020

Tags: Chicago Sports Baseball
,
Jon Lester
,
,
Kyle Schwarber
,
Willson Contreras
,
Jason Heyward
,
Victor Caratini
,
Albert Almora
,
Daniel Descalso
,
Hernan Perez
,
Steve Cishek
,
Ryan Lawlor
,
Adbert Alzolay
,
Robel Garcia
,
Mark Zagunis
,
Alfonso Rivas
,
Ian Miller
,
Trent Giambrone
,
Rex Brothers
,
Noel Cuevas
,
Craig Brooks