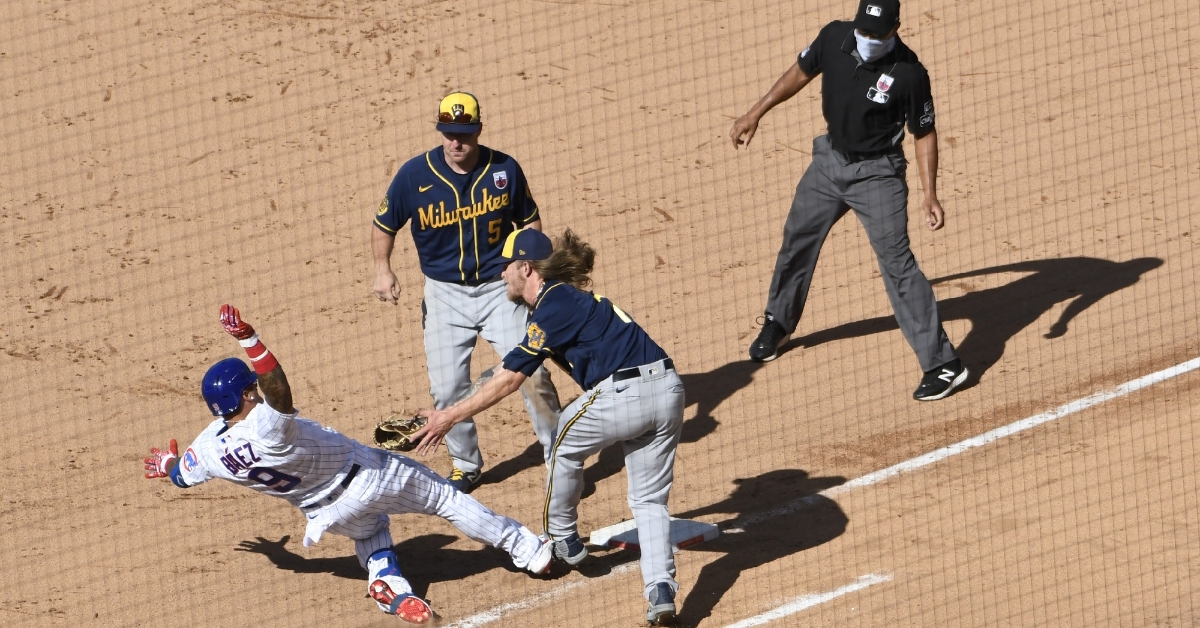 | | |
| --- | --- |
| Cubs lose yet another one-run game to Brewers, drop their first series of season | |
---
| | | |
| --- | --- | --- |
| Sunday, August 16, 2020, 6:01 PM | | |
CHICAGO — Dropping their first series of the season, the Chicago Cubs (13-6) suffered their third straight loss in Sunday's series finale versus the Milwaukee Brewers (10-10). The Brewers took three of four from the Cubs in the four-game affair at Wrigley Field, and all three of their wins were one-run victories.
The Cubs blew an early 3-0 lead, with Chicago lefty Jon Lester suffering his first lackluster start of the summer. Interestingly, the bottom of the Brewers' batting order did most of the damage to Cubs pitching. Luis Urias and Orlando Arcia, who batted eighth and ninth, respectively, both went 3-for-4 and scored a combined five of the six runs amassed by the Brewers in their 6-5 triumph. Milwaukee also won 6-5 on Saturday. The North Siders were outhit 12-4 and struck out a whopping 16 times on Sunday.
---
Inning-by-Inning Breakdown:
---
T1: Lester was brilliant out of the gate, registering three outs in 11 pitches. Christian Yelich struck out looking for the third out.
Score: Brewers 0, Cubs 0
---
B1: Josh Lindblom started on the bump for the Brewers and was roughed up in the opening frame. Anthony Rizzo and Willson Contreras drew one-out walks, setting the stage for Kyle Schwarber to plate Rizzo with a base knock. Steven Souza Jr., who hit a homer into the left field corner on Saturday, plowed a double into the left field corner. It bounced off the ground and then caromed off the top of the wall. Contreras and Schwarber scored with ease on the two-bagger. Souza was left stranded, though.
Score: Brewers 0, Cubs 3
We're cookin'. pic.twitter.com/7Cb5PvjAXg

— Chicago Cubs (@Cubs) August 16, 2020
---
T2: His second time out, Lester went 1-2-3 on 10 pitches.
Score: Brewers 0, Cubs 3
---
B2: Lindblom was much more collected in the second inning, as he sat the Cubs down in order.
Score: Brewers 0, Cubs 3
---
T3: Urias tabbed a one-out single, and the fleet-footed Arcia followed that with an infield single on a dribbler. With two outs, Keston Hiura smoked a cutter from Lester 419 feet out to center field. The three-run dinger knotted the score at three runs apiece, marking the third straight game that the Cubs squandered a three-run lead against the Brew Crew.
Score: Brewers 3, Cubs 3
Lest you forget: The man can hit.@KestDaddy I #ThisIsMyCrew pic.twitter.com/At6cOeavYq

— Milwaukee Brewers (@Brewers) August 16, 2020
---
B3: A leadoff walk of Rizzo did not pay off for the Cubbies.
Score: Brewers 3, Cubs 3
---
T4: Lester breezed through the fourth, tallying three outs on a mere eight pitches.
Score: Brewers 3, Cubs 3
---
B4: Ian Happ reached base via a leadoff single but went on to get thrown out while attempting to steal second.
Score: Brewers 3, Cubs 3
---
T5: Urias hustled around the bases for a leadoff triple after drilling a pitch to deep right. Arcia then swung at the first pitch and lofted it 393 feet into the left field seats for a go-ahead jack. Hiura singled soon afterward, but Contreras showed off his cannon from behind the plate when gunning him down on a steal attempt. Yelich doubled with two outs but did not score in the fifth.
Score: Brewers 5, Cubs 3
Orlando > Chicago.#ThisIsMyCrew pic.twitter.com/qq2PMEVBE0

— Milwaukee Brewers (@Brewers) August 16, 2020
---
B5: Lindblom dominated the fifth, striking the side out swinging.
Score: Brewers 5, Cubs 3
---
T6: In his final inning of work, Lester gave up a two-out single to Manny Pina but prevented the Brewers from adding to their lead.
Score: Brewers 5, Cubs 3
---
B6: Command issues for Lindblom led to his departure in the sixth. Contreras was hit by a pitch to begin the half-inning, and Schwarber walked after that. Eric Yardley relieved Lindblom and struck Souza out before beaning Happ. David Bote struck out swinging, but Jason Kipnis came through with a base hit that bounded past the mound and through the infield. Kipnis' single up the middle scored Contreras and Schwarber, tying the game. Nico Hoerner ended the inning by grounding out.
Score: Brewers 5, Cubs 5
.@TheJK_Kid ties it up with a two-out knock in the 6th! pic.twitter.com/6nEsO8KhjC

— Chicago Cubs (@Cubs) August 16, 2020
---
T7: With the second leadoff three-bagger of the afternoon for the Brewers, Arcia motored to third on a drive to deep center. Perennial Cub killer Ryan Braun scored Arcia with a subsequent single. Jason Adam, who was added to the Cubs' active roster earlier in the day, pitched the seventh for the North Siders. Unfortunately for Adam, he was handed the losing decision in his Cubs debut.
Score: Brewers 6, Cubs 5
That's a triple for #3.

Arcia has a single, triple and HR today for those of you scoring from home. #ThisIsMyCrew pic.twitter.com/7r9xHMxtkL

— Milwaukee Brewers (@Brewers) August 16, 2020
Ryan Braun at Wrigley. It's a tale as old as time. #ThisIsMyCrew pic.twitter.com/kp0CVgL4tV

— Milwaukee Brewers (@Brewers) August 16, 2020
---
B7: A fielding error committed by Milwaukee first baseman Jedd Gyorko allowed Rizzo to reach base with one out. However, Brewers reliever Devin Williams escaped the inning when the Brewers pulled off a "strike him, throw him out" ending to the frame. On a full count, Rizzo was sent and was outed at second after Contreras whiffed at strike three.
Score: Brewers 6, Cubs 5
---
T8: Craig Kimbrel produced his second solid pitching appearance in as many days, going three up, three down for the Cubs in the eighth.
Score: Brewers 6, Cubs 5
---
B8: Former Cubs reliever David Phelps mowed through Chicago's batting order in the eighth, striking out the side.
Score: Brewers 6, Cubs 5
---
T9: Urias stayed hot and led off the ninth with a single against Cubs reliever Casey Sadler. Sadler then forced Arcia to ground into a 4-6-3 double play, and Braun lined out to third, ushering in the bottom of the ninth.
Score: Brewers 6, Cubs 5
---
T9: Fireballer Josh Hader pitched the ninth for the Brewers and remained relatively flawless at the Friendly Confines. The star closer has never given up a run at Wrigley Field, and he received some favorable strike calls on Sunday to kelp keep that feat intact. Bote was caught looking on the ninth pitch of his leadoff plate appearance, but he was not pleased with home plate umpire Jordan Baker's strike-three call on a full count. Javier Baez, who did not start after going 0-for-14 in the previous three games of the series, pinch hit for Kipnis and nearly pulled off an infield single for the ages. After hitting a nubber onto the infield grass that Hader fielded, Baez juked Hader out in front of the bag and was initially called safe after sliding in feet-first. However, the Brewers challenged, and the call was overturned, as Hader did, in fact, apply the tag in time. Hader then fell down 3-0 against Hoerner but threw two strikes in a row that Hoerner watched go by. Similar to Bote, Hoerner was irked by a Baker strike call that loaded up the count. Hoerner then fouled off seven pitches in a row before finally lining out on the 13th pitch of the at-bat. Avisail Garcia hopped and snagged the line drive in shallow center field to end the game.
Final Score: Brewers 6, Cubs 5
Brewers challenge call that Javier Báez is safe at 1B in the 9th; call overturned, runner is out. Powered by @Mitel. pic.twitter.com/gO6PTp4Urm

— MLB Replays (@MLBReplays) August 16, 2020
Josh Hader wins the 13-pitch at-bat and the Crew wins the game!#ThisIsMyCrew pic.twitter.com/PRbgpL1wEF

— Milwaukee Brewers (@Brewers) August 16, 2020
---
Statistical Breakdown:
Chicago Cubs: Batting: 1 2B, 5 RBI, 2 2-Out RBI, 3-8 RISP, 4 LOB; Baserunning: 2 CS; Fielding: 1 DP; Pitching: 12 H, 6 R, 6 ER, 0 BB, 9 K, 2 HR, 0 HBP, 0 IBB, 0 WP
Milwaukee Brewers: Batting: 1 2B, 2 3B, 2 HR, 6 RBI, 3 2-Out RBI, 1 GIDP, 3-5 RISP, 4 LOB; Baserunning: 1 CS; Fielding: 1 E; Pitching: 4 H, 5 R, 5 ER, 4 BB, 16 K, 0 HR, 2 HBP, 0 IBB, 0 WP
---
Studs of the Game:
Chicago Cubs: Kyle Schwarber (LF): 1-3, 2 R, 1 RBI, 1 BB, 2 K, 1-1 RISP
Milwaukee Brewers: Orlando Arcia (SS): 3-4, 3 R, 2 RBI, 0 BB, 0 K, 1 3B, 1 HR, 1 GIDP, 1-1 RISP; Luis Urias (3B): 3-4, 2 R, 0 RBI, 0 BB, 0 K, 1 3B
---
Duds of the Game:
Chicago Cubs: Kris Bryant (DH): 0-4, 0 R, 0 RBI, 0 BB, 2 K
Milwaukee Brewers: Jedd Gyorko (1B): 0-4, 0 R, 0 RBI, 0 BB, 2 K, 0-1 RISP, 1 E
---
Up Next: After having their recent three-game series canceled due to a COVID-19 outbreak, the Cubs and the St. Louis Cardinals (4-4) will finally take the field against one another this season. The five-game set, which includes two doubleheaders to account for a portion of the canceled series, is slated to begin at Wrigley Field on Monday, Aug. 17. Monday is a doubleheader day, and game one is scheduled to begin at 4:15 p.m. CDT under warm, mostly sunny conditions. Right-hander Kyle Hendricks (3-1, 3.08) is slated to start for the Cubs and face off against Redbirds left-hander Kwang-Hyun Kim (0-0, 9.00).
---
Box Score:
Milwaukee Brewers at Chicago Cubs
Aug 16, 2020
1
2
3
4
5
6
7
8
9
R
H
E
Milwaukee (10-10)
0
0
3
0
2
0
1
0
0
6
12
1
Chicago (13-6)
3
0
0
0
0
2
0
0
0
5
4
0
W: Eric Yardley (1-0) L: Jason Adam (0-1) S: Josh Hader (5)
---
Highlights:

Tags: Chicago Sports Baseball
,
Jon Lester
,
Anthony Rizzo
,
Willson Contreras
,
Kyle Schwarber
,
Ian Happ
,
David Bote
,
,
Jason Adam
,
Craig Kimbrel
,
Casey Sadler
,
Javy Baez
,
Kyle Hendricks
,
Steve Souza Jr.