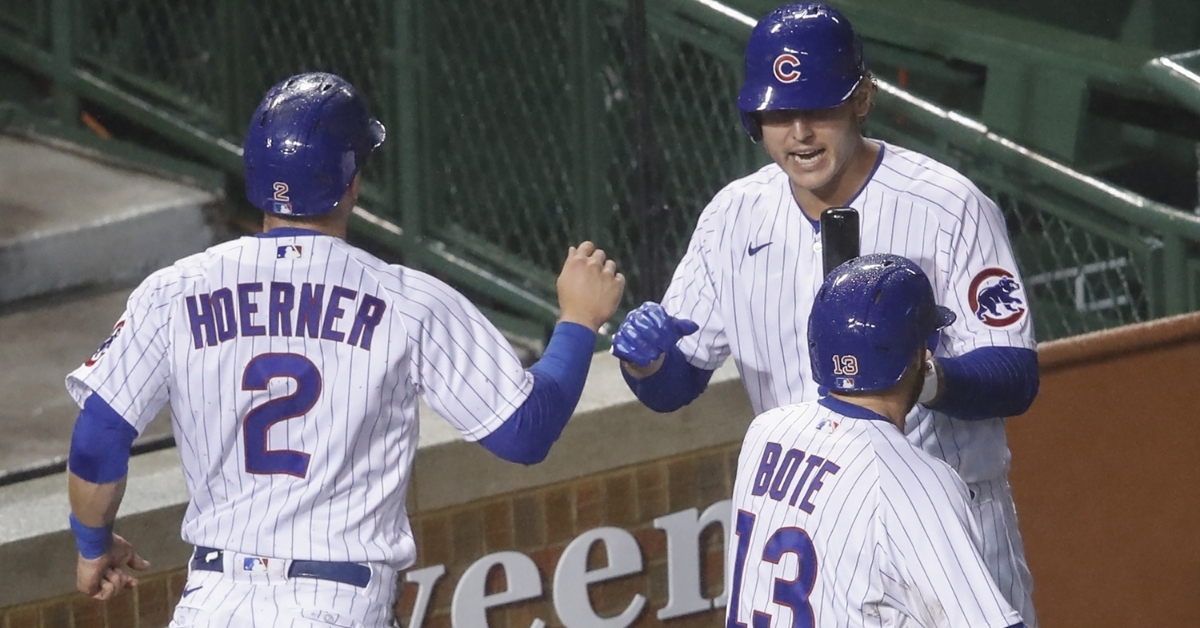 | | |
| --- | --- |
| Cubs outlast Reds in barn burner, win season series | |
---
| | | |
| --- | --- | --- |
| Friday, September 11, 2020, 2:50 AM | | |
CHICAGO — After 17 consecutive scoreless innings at the plate, the Chicago Cubs (26-19) came alive in the midst of a downpour, scoring five runs in the bottom of the fourth to take control of their final contest of the regular season versus the Cincinnati Reds (19-25). The North Siders, who were shut out in the previous matchup, won 8-5 on a rainy night at Wrigley Field, thereby winning the rubber match of the three-game set and taking 6-of-10 from the Reds in the season series.
Willson Contreras led the way for the Cubs with his first four-hit performance of the year. Going 4-for-4 with the bat, Contreras garnered a walk, scored twice and drove home an insurance run. Thursday's action was delayed an hour and 15 minutes due to rain, which picked up again in the early innings. An in-game delay never happened, but, nevertheless, the game managed to last over four hours. Overcoming a 3-0 deficit, Chicago chased Reds hurler Sonny Gray from the game in the midst of their fourth-inning scoring barrage and boasted a lead the rest of the way.
---
Inning-by-Inning Breakdown:
---
T1: Adbert Alzolay started on the bump after getting called up by the Cubs earlier in the day. He got into early trouble, as Joey Votto, playing on his 37th birthday, hit a leadoff single that was followed by an RBI triple off the bat of former Cub Nicholas Castellanos. Left fielder Cameron Maybin slipped and misplayed the three-bagger but was not charged with an error. Jesse Winker then plated Castellanos via a sacrifice fly. The half-inning eventually ended on a 3-6-3 double play.
Score: Reds 2, Cubs 0
#LateNightReds on the board early! pic.twitter.com/9P9wnqbvXF

— Cincinnati Reds (@Reds) September 11, 2020
---
B1: An Anthony Rizzo single was all that the Cubs' batting order mustered in their first inning against Gray.
Score: Reds 2, Cubs 0
---
T2: Shogo Akiyama drew a leadoff walk and stole second base before coming home on a Brian Goodwin double.
Score: Reds 3, Cubs 0
---
B2: Contreras tabbed his first hit on a leadoff base knock. He was thrown out at second on a unique fielder's choice, as Jason Heyward hit a blooper to left that Contreras did not want to risk getting doubled off on. Therefore, Contreras was gunned down via a force play at second in the nick of time. After that, Heyward was barely thrown out on a fielder's choice groundout by Maybin. Heyward was originally called safe, but the ruling was overturned due to a successful Reds challenge.
Score: Reds 3, Cubs 0
---
T3: Alzolay settled into a rhythm and worked a 1-2-3 third inning.
Score: Reds 3, Cubs 0
---
B3: Kris Bryant hit a two-out single that was followed by a walk of Rizzo. Javier Baez struck out looking to leave both of them stranded.
Score: Reds 3, Cubs 0
---
T4: Alzolay hit Moustakas with a pitch to begin the fourth frame. Akiyama then grounded into a fielder's choice that resulted in Moustakas being outed at second base. Akiyama was able to steal second, with Contreras making an errant throw that enabled Akiyama to also take third. With two outs, Alzolay was relieved by Kyle Ryan, who prevented Akiyama from scoring.
Score: Reds 3, Cubs 0
---
B4: With the rain coming down in droves, Gray walked Contreras to kick off the bottom of the fourth. Heyward's ensuing groundout moved Contreras to second. Maybin then hustled for an infield single that placed runners on the corners, and David Bote drew a walk to load the bases. Nico Hoerner proceeded to record arguably the most important hit of the contest with a double smacked into the gap between left and center. Two runs crossed the plate on Hoerner's two-bagger, and another two came around to score on an Ian Happ single. Happ slapped a worm burner to shallow right field and beat out a throw to first on what was scored as an infield single. Bote reached the dish with ease, and Hoerner used the throw to first as an opportunity to try his luck at scoring. Sliding in headfirst, Hoerner beat the tag and put the Cubs on top.
Michael Lorenzen relieved Gray at that point, and he began his outing by walking Bryant as the downpour continued. A wild pitch allowed both runners to advance, and Rizzo took advance by ushering Happ across with a chopper hit toward shortstop. Baez grounded out to wrap up the marathon inning. Interestingly, the rain began to let up during the Rizzo and Baez at-bats, as all five runs, three hits and three walks in the bottom of the fourth occurred while it was raining cats and dogs.
Score: Reds 3, Cubs 5
Hey @nico_hoerner, u up? pic.twitter.com/M9QdpkDDJi

— Chicago Cubs (@Cubs) September 11, 2020
The classic 2-run, infield single. pic.twitter.com/7RmoL3Bbfs

— Marquee Sports Network (@WatchMarquee) September 11, 2020
---
T5: Jose Garcia reached on a leadoff infield single. Soon afterward, Ryan Tepera came out of the bullpen with one away. With two away, Tepera's wild pitch moved Garcia to second. Winker walked to put two men on, but Eugenio Suarez struck out to leave both of them deserted on the basepaths.
Score: Reds 3, Cubs 5
---
B5: Contreras swatted a leadoff double to center field and made it to third on a Heyward groundout. With a triple hit into the left field corner, Maybin scored Contreras for his first RBI in a Cubs uniform. The throw from left field to third base grazed Maybin's chin while Maybin was sliding headfirst into the bag, but the speedster was not injured by it. Following a base on balls drawn by Bote, Hoerner garnered another RBI with a fielder's choice groundout that brought Maybin home. Lorenzen's appearance ended at that point, and his replacement, Tyler Thornburg, tabbed an inning-ending strikeout of Happ after Hoerner swiped second.
Score: Reds 3, Cubs 7
.@CameronMaybin is thinking three. pic.twitter.com/z9WLB9Fn5m

— Chicago Cubs (@Cubs) September 11, 2020
---
T6: Jason Adam was taken for a leadoff double off the bat of Freddy Galvis, who replaced Moustakas once he left the game not long after getting beaned. Next, Akiyama walked, but Adam collected himself and registered three straight strikeouts to put a bow on a scoreless sixth.
Score: Reds 3, Cubs 7
---
B6: In between a pair of strikeouts, Rizzo hit a one-out infield single. He scooted to third on a two-out base hit by Contreras. Heyward walked, thus filling up the bases, but, following a pitching change, Maybin struck out swinging.
Score: Reds 3, Cubs 7
---
T7: The Reds went down in order with Rowan Wick on the mound.
Score: Reds 3, Cubs 7
---
B7: Hoerner tallied an infield hit, and former Red Billy Hamilton pinch ran for him. Hamilton was subsequently caught stealing as part of a scoreless bottom half of the seventh.
Score: Reds 3, Cubs 7
Tyler Stephenson's first career runner caught stealing: Billy Hamilton. pic.twitter.com/id35NXASXN

— Cincinnati Reds (@Reds) September 11, 2020
---
T8: Dan Winkler pitched the top of the eighth and gave up two runs. Suarez notched his only hit of the series on a leadoff single. A controversial play then took place, as Baez was charged with an error after losing control of the ball while making an exchange from his glove to his hand. Galvis grounded to second on what could have easily been a routine 4-6-3 double play. However, the throw from Ildemaro Vargas, who replaced Hoerner at second base, to Baez at the bag was not secured. The Cubs challenged the call, but the ruling was upheld, meaning that the Reds boasted men on first and second with no outs.
Chicago caught a break in the next at-bat, with Akiyama getting tagged out while attempting to stretch a single into a double. Suarez scored on the base hit to left-center, but Akiyama was swiped after sliding off the bag after initially sliding in safely. Maybin was credited with an assist for his throw to the infield. Tyler Stephenson brought Galvis in to score with a single to center. Winkler composed himself, striking out Goodwin and forcing Garcia to line out to Baez at shortstop to end the inning.
Score: Reds 5, Cubs 7
---
B8: Reds reliever Nate Jones gave up an insurance run in the eighth. Bryant attained a leadoff single and hustled all the way around from first to score on a two-out double hit by Contreras to deep left-center.
Score: Reds 5, Cubs 8
It's a 4-for-4 night for @WContreras40! pic.twitter.com/0bpHJGLKsK

— Chicago Cubs (@Cubs) September 11, 2020
---
T9: Jeremy Jeffress did not appear to need the insurance run, though, as he completed a scoreless ninth in nine pitches. Castellanos beat out a throw for a one-out infield single, but Curt Casali grounded into a game-ending 6-4-3 double play on the very next pitch.
Ryan received his first winning decision of the season, making him 1-0, and Gray dropped to 5-3 with the losing decision. Tepera earned his third hold, and Jeffress picked up his seventh save. The Cubbies went 4-4 in their eight-game homestand and will be on the road for 10 of their last 15 games.
Final Score: Reds 5, Cubs 8
---
Statistical Breakdown:
Chicago Cubs: Batting: 8 R, 13 H, 3 2B, 1 3B, 8 RBI, 1 2-Out RBI, 4-12 RISP, 11 LOB; Baserunning: 1 SB, 1 CS; Fielding: 2 E, 2 DP, 1 Assist; Pitching: 9 H, 5 R, 4 ER, 4 BB, 9 K, 0 HR, 1 HBP, 0 IBB, 1 WP
Cincinnati Reds: Batting: 5 R, 9 H, 2 2B, 1 3B, 5 RBI, 1 SF, 2 GIDP, 3-11 RISP, 7 LOB; Baserunning: 2 SB; Fielding: 0 E, 1 Assist; Pitching: 13 H, 8 R, 8 ER, 7 BB, 11 K, 0 HR, 0 HBP, 1 IBB, 1 WP
---
Studs of the Game:
Chicago Cubs: Willson Contreras (C): 4-4, 2 R, 1 RBI, 1 BB, 0 K, 2 2B, 1 2-Out RBI, 1 E, 1 SB allowed
Cincinnati Reds: Shogo Akiyama (LF): 1-2, 1 R, 1 RBI, 2 BB, 0 K, 1-1 RISP, 2 SB, 1 Assist
---
Duds of the Game:
Chicago Cubs: Javier Baez (SS): 0-5, 0 R, 0 RBI, 0 BB, 3 K, 0-2 RISP, 1 E, 2 defensive assisted DP
Cincinnati Reds: Sonny Gray (SP): 3.1 IP, 6 H, 5 R, 5 ER, 3 BB, 4 K, 0 HR, 0 HBP, 0 IBB, 0 WP
---
Up Next: The Cubs will now set their sights on the team's final series of the regular season versus the rival Milwaukee Brewers (19-22). Cubs lefty Jon Lester (2-2, 5.80) and Brewers righty Brandon Woodruff (2-3, 3.91) will start on the mound in the Friday, Sept. 11, opener of the three-game set at Miller Park. On a mild, party cloudy night in Milwaukee, the game will get underway at 7:10 p.m. CDT.
---
Highlights:

Tags: Chicago Sports Baseball
,
Willson Contreras
,
Adbert Alzolay
,
Anthony Rizzo
,
Jason Heyward
,
Kris Bryant
,
Javy Baez
,
Kyle Ryan
,
David Bote
,
,
Ian Happ
,
Ryan Tepera
,
Jason Adam
,
Rowan Wick
,
Daniel Winkler
,
Jeremy Jeffress
,
Jon Lester