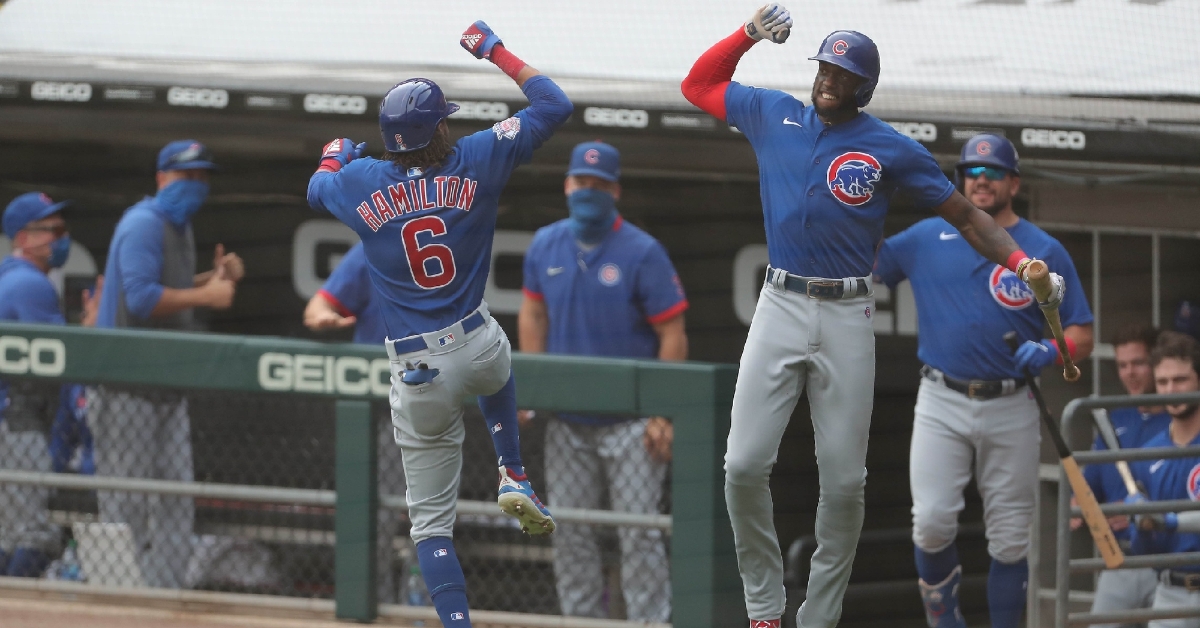 | | |
| --- | --- |
| Cubs outlast White Sox in finale, await Marlins in Wild Card Series | |
---
| | | |
| --- | --- | --- |
| Sunday, September 27, 2020, 7:39 PM | | |
CHICAGO — Closing out the regular season with their second 10-run performance in three days, the Chicago Cubs (34-26) defeated the Chicago White Sox (35-25) 10-8 at Guaranteed Rate Field, earning a 3-3 split in the six-game 2020 Crosstown Classic. The North Siders took 2-of-3 from the South Siders in the series at Guaranteed Rate Field after the White Sox took 2-of-3 from the Cubs in a series at Wrigley Field earlier in the season. The Cubbies led by as many as nine runs on Sunday afternoon, but a late surge by the White Sox resulted in a tight finish.
Entering Sunday's action, the White Sox needed to notch a victory in order to have any chance of winning the American League Central. However, the Cubs, who were already locked into the No. 3 seed in the National League and had no postseasons incentives attached to the regular season finale, outplayed their intercity rivals in every way prior to the bottom of the eighth inning. Center fielder Billy Hamilton made his first start as a Cub and shined in the leadoff spot. In addition to homering for the first since 2018, the speedy Hamilton stole home. The Cubs' Willson Contreras, Ian Happ, Jason Heyward and Anthony Rizzo were given the game off.
---
Inning-by-Inning Breakdown:
---
T1: Reynaldo Lopez started on the hill for the White Sox and worked a three up, three down first frame that included two strikeouts.
Score: Cubs 0, White Sox 0
---
B1: Cubs right-hander Adbert Alzolay made his third start of the season and struck out a pair in a 1-2-3 first inning.
Score: Cubs 0, White Sox 0
---
T2: Kris Bryant, who hit a grand slam in the previous contest, smacked a 446-foot leadoff bomb off Lopez. Victor Caratini singled a few at-bats later, and David Bote followed that with a two-run jack to left. Lopez then came completely unglued, walking three batters in a row before giving up a base knock to Cameron Maybin that plated two runners. Carlos Rodon relieved Lopez, and, on a play in which Grandal unsuccessfully attempted to throw out Maybin on a steal attempt, Hamilton stole home. Once Maybin slid in safely at second, a throw was made to the plate, and Hamilton avoided being tagged out by Grandal. Kyle Schwarber was hit by a pitch after that, but Rodon recovered and stopped the bleeding.
Score: Cubs 6, White Sox 0
KB, how you feelin'?@BinnysBev pic.twitter.com/avtROX4sRz

— Chicago Cubs (@Cubs) September 27, 2020
David Bote takes the team RBI lead with a blast! pic.twitter.com/s9Lu8N0TJi

— Chicago Cubs (@Cubs) September 27, 2020
Our opinion of @BillyHamilton stolen bases has ??????????????, okay? pic.twitter.com/nFglKdxLww

— Chicago Cubs (@Cubs) September 27, 2020
---
B2: The South Siders were unable to respond to the North Siders' six-run inning with a big inning of their own. Alzolay issued a walk and got taken for a single, but the scoreless half-inning ended when an Adam Engel line drive caromed off Alzolay's outstretched glove and headed right to Bote at second. Bote caught the liner in the air to end the inning.
Score: Cubs 6, White Sox 0
Just your routine 1-4 line drive putout. pic.twitter.com/svWYzqb2P2

— Marquee Sports Network (@WatchMarquee) September 27, 2020
---
T3: Two flyouts and one groundout made for an uneventful top of the third.
Score: Cubs 6, White Sox 0
---
B3: Alzolay tallied two strikeouts in the process of sitting the White Sox down in order.
Score: Cubs 6, White Sox 0
---
T4: For the first time in 760 days, Hamilton went yard. Driving a 405-footer out to left-center, Hamilton became the first Cub to homer and steal home in the same game since 1967. Jace Fry, who relieved Rodon at the start of the inning, gave up the dinger.
Score: Cubs 7, White Sox 0
Without looking it up, we're going to say this is the first time @BillyHamilton has homered and stolen home in the same game. pic.twitter.com/znoBgAngNm

— Chicago Cubs (@Cubs) September 27, 2020
Per @EliasSports, Billy Hamilton is the first #Cubs player to homer and steal home in the same game since Glenn Beckert on 04/11/1967

— Christopher Kamka (@ckamka) September 27, 2020
---
B4: Yasmani Grandal was walked to begin the bottom of the fourth, but Alzolay then drew a 6-4-3 double play that Jose Abreu grounded into. Making his first career start at first base on the afternoon, Jason Kipnis completed the double play.
Score: Cubs 7, White Sox 0
---
T5: The Cubs failed to reach base in the fifth.
Score: Cubs 7, White Sox 0
---
B5: With two outs, Engel took Alzolay deep on a solo shot to right. That proved to be the only legitimate blemish suffered by Alzolay, who finished his solid five-inning outing with a career-high eight strikeouts.
Score: Cubs 7, White Sox 1
Adam goes oppo for his 3rd of the season. pic.twitter.com/plOsiy5rzd

— Chicago White Sox (@whitesox) September 27, 2020
Sept. 22: @adbert29 fans a career-high 7 batters.

Sept. 27: Adbert fans a career-high 8 batters! pic.twitter.com/eQAWS3p5hd

— Chicago Cubs (@Cubs) September 27, 2020
---
T6: Fry walked Bote and was relieved after Kipnis grounded out. Jimmy Cordero then came into the game to pitch. Cordero was suspended for three games after intentionally beaning Contreras in the series opener, but he appealed the suspension, thus allowing him to take part in Sunday's matchup. The suspension does not apply to postseason games, so, regardless of the appeal outcome, Cordero will be eligible to pitch in the playoffs. Cordero outed Bote at third on a fielder's choice, and, for the third out, Nico Hoerner was caught stealing.
Score: Cubs 7, White Sox 1
---
B6: Jose Quintana relieved Alzolay and worked a scoreless sixth. He gave up a single and a walk with two away but then recorded an inning-ending punchout.
Score: Cubs 7, White Sox 1
---
T7: Hamilton led off with a single and made it all the way to third on a wild pitch by Cordero. He was credited with a steal of second on the play. Schwarber was walked, and Cordero then suffered a throwing error after fielding a ball hit by Bryant. Hamilton and Schwarber scored due to the error, and Bryant reached third. Bryant next came home on an RBI single from Javier Baez, who served as the Cubs' designated hitter. Gio Gonzalez relieved Cordero but, in a tough moment, was forced to exit early in his appearance after seeming to suffer a disconcerting injury to his throwing arm. Codi Heuer finished the inning on the mound.
Score: Cubs 10, White Sox 1
Nothing going right for the #WhiteSox. Gio Gonzalez leaves with an injury. pic.twitter.com/4Y9oxCuXIs

— Pinwheels and Ivy Podcast (@PinwheelsIvyPod) September 27, 2020
---
B7: Quintana gave up a single but prevented the White Sox from cutting into their sizable deficit.
Score: Cubs 10, White Sox 1
---
T8: Matt Foster pitched a scoreless top half of the eighth. Maybin drew a two-out base on balls but was left stranded.
Score: Cubs 10, White Sox 1
---
B8: Brailyn Marquez, the Cubs' top pitching prospect, made his big league debut after being called up earlier in the day. The hard-throwing lefty was roughed up and charged with five runs. Marquez walked the first two batters and threw a wild pitch that enabled Tim Anderson to score from third on a Grandal groundout. Abreu was fanned by Marquez in the next at-bat, but, following a walk of Edwin Encarnacion, Luis Robert smacked an RBI base knock that plated Yoan Moncada. Another wild pitch brought Encarnacion across, and a Nomar Mazara double scored Robert.
Duane Underwood Jr. relieved Marquez and wasted little time in throwing a wild pitch of his own. An infield single from Engel allowed Mazara to come home, and a base knock by Nick Madrigal followed. A second wild pitch by Underwood let Engel reach third, but Underwood was able to strike out Anderson to get out of the inning.
Score: Cubs 10, White Sox 6
The first career strikeout for Brailyn Marquez! pic.twitter.com/WtvcymlenC

— Chicago Cubs (@Cubs) September 27, 2020
---
T9: Foster walked Bryant to kick off the ninth. However, the Cubs did not add to their lead.
Score: Cubs 10, White Sox 6
---
B9: Underwood returned to the mound and gave up a leadoff single to Moncada. Grandal proceeded to power a two-run homer out to right. Underwood collected himself and struck out Abreu. After that, Encarnacion flied out, but a Robert base hit chased Underwood from the game. Andrew Chafin entered to pitch, and, with Mazara batting, Robert took both second and third due to fielder's indifference. Chafin benefited from two questionable strike calls, and he struck Mazara out looking to end the game and eliminate the White Sox from the American League Central title hunt.
Mazara and White Sox manager Rick Renteria, who returned after serving a one-game suspension on Saturday, argued with the home plate umpire after the final strike was called but to no avail. The White Sox, who tied for second place in their division, will be the No. 7 seed in the American League playoffs. After showing out against the South Siders, Alzolay earned his first winning decision of the season, making him 1-1. Lopez dropped to 1-3 via the loss, and Chafin registered his lone save of the year.
Final Score: Cubs 10, White Sox 8
September 27, 2020
Same pitch ?????????????? #NOMASmazara

The rally is "OVA" ?? pic.twitter.com/IfyTCzlFwL

— Guilty By Association (@guiltybyassoci3) September 28, 2020
Postseason baseball returns to Wrigley Field!

The #Cubs host the Marlins for a best-of-3 series beginning Wednesday! #FlyTheW pic.twitter.com/G14I2pSGrG

— Chicago Cubs (@Cubs) September 27, 2020
---
Statistical Breakdown:
Chicago Cubs: Batting: 10 R, 8 H, 3 HR, 8 RBI, 2-9 RISP, 6 LOB; Baserunning: 3 SB, 1 CS; Fielding: 0 E, 1 DP; Pitching: 11 H, 8 R, 8 ER, 6 BB, 14 K, 2 HR, 0 HBP, 0 IBB, 4 WP
Chicago White Sox: Batting: 8 R, 11 H, 1 2B, 2 HR, 7 RBI, 4 2-Out RBI, 1 GIDP, 3-10 RISP, 8 LOB; Fielding: 1 E, 1 CS; Pitching: 8 H, 10 R, 9 ER, 7 BB, 9 K, 3 HR, 1 HBP, 0 IBB, 1 WP
---
Studs of the Game:
Chicago Cubs: Billy Hamilton (CF): 2-4, 3 R, 1 RBI, 1 BB, 1 K, 1 HR, 2 SB; Adbert Alzolay (SP): 5.0 IP, 2 H, 1 R, 1 ER, 2 BB, 8 K, 1 HR, 0 HBP, 0 IBB, 0 WP; Victor Caratini (C): 2-5, 1 R, 0 RBI, 0 BB, 0 K
Chicago White Sox: Yasmani Grandal (C): 2-4, 1 R, 3 RBI, 1 BB, 1 K, 1 HR, 0-1 RISP, 3 SB allowed; Adam Engel (LF): 2-4, 1 R, 2 RBI, 0 BB, 0 K, 1 HR, 2 2-Out RBI, 1-2 RISP; Luis Robert (CF): 3-5, 1 R, 1 RBI, 0 BB, 1 K, 1 2-Out RBI, 1-1 RISP
---
Duds of the Game:
Chicago Cubs: Brailyn Marquez (RP): 0.2 IP, 2 H, 5 R, 5 ER, 3 BB, 1 K, 0 HR, 0 HBP, 0 IBB, 2 WP; Duane Underwood Jr. (RP): 1.0 IP, 5 H, 2 R, 2 ER, 0 BB, 2 K, 1 HR, 0 HBP, 0 IBB, 2 WP
Chicago White Sox: Reynaldo Lopez (SP): 1.1 IP, 4 H, 6 R, 6 ER, 3 BB, 3 K, 2 HR, 0 HBP, 0 IBB, 0 WP; Jimmy Cordero (RP): 1.0 IP, 2 H, 3 R, 2 ER, 1 BB, 1 K, 0 HR, 0 HBP, 0 IBB, 1 WP
---
Up Next: The Cubs will now set their sights on their first postseason appearance since 2018 and first playoff series since 2017, as the No. 6-seeded Miami Marlins (31-29) are headed to Chicago for a best-of-three National League Wild Card Series versus the North Siders. Interestingly, the last time the Marlins were in the postseason was 2003, when they defeated the Cubs in the NLCS best known for the Steve Bartman incident. The entire series will take place at Wrigley Field, beginning with Game 1 on Wednesday, Sept. 30. Wednesday's matchup, which will mark the first meeting of the season between the Cubs and the Marlins, is scheduled to begin at 1:08 p.m. CDT on what is expected to be a warm, partly cloudy and somewhat windy afternoon at the Friendly Confines.
---
Highlights:

Tags: Chicago Sports Baseball
,
Willson Contreras
,
Ian Happ
,
Jason Heyward
,
Anthony Rizzo
,
Adbert Alzolay
,
Kris Bryant
,
Victor Caratini
,
David Bote
,
Kyle Schwarber
,
,
Jose Quintana
,
Javy Baez
,
Brailyn Marquez
,
Duane Underwood