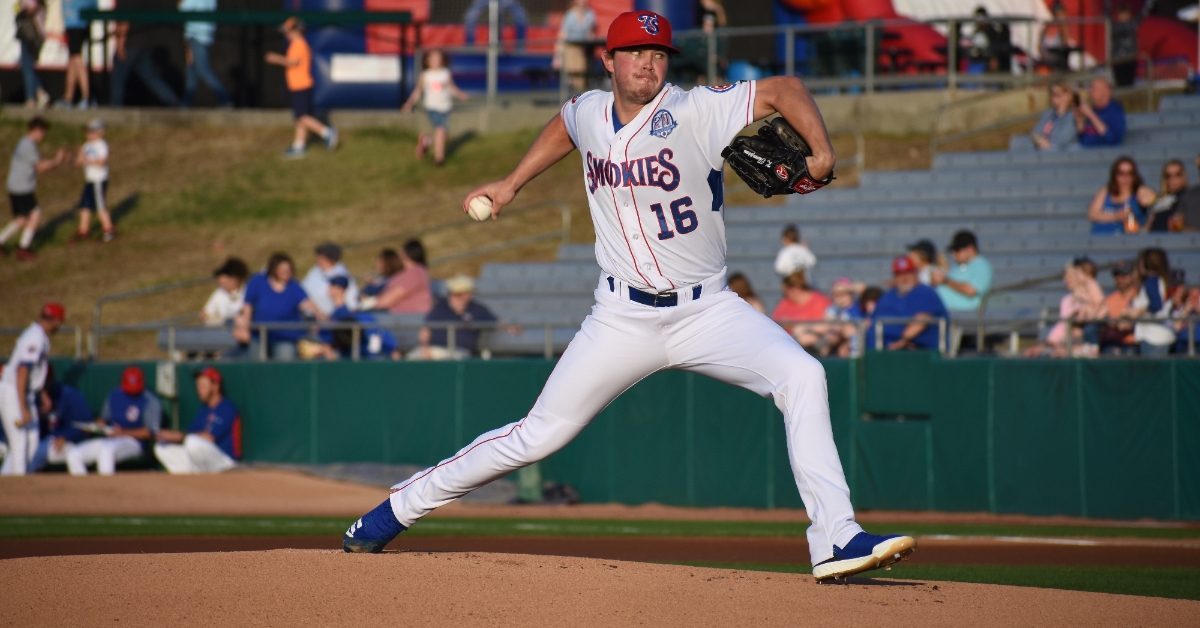 | | |
| --- | --- |
| Cubs pitching prospect coming into his own at AFL | |
---
In the same place the Cubs call home for six weeks during the spring and three months during the summer, another team calls this place home during the fall. That team is the Mesa Solar Sox as they participate in the Arizona Fall League. Made up of five MLB franchises, the Solar Sox are represented by the Cubs as one of those five teams as they have a fast-rising pitching prospect lighting up the AFL in 2019.
Prospect Keegan Thompson has been wearing the Solar Sox jersey with pride this fall but has looked more like a big-league talent instead of the prospect he is. In what will go down as his best outing of the fall, Thompson was brilliant against Peoria in his last outing, tossing five shutout innings of one-hit ball. That hit came in the fourth inning when Thompson allowed a leadoff triple, but he was able to work around that baserunner to preserve the shutout. Mesa went on to win that game 5-1.
After allowing one walk or more in his first five starts of the fall, Thompson stepped up his game against Peoria, by not allowing a single walk and pounding the strike zone. In total, 45 of his 54 pitches were strikes and it was one pitch that set the tone for his most recent outing.
"The changeup," Thompson said in an interview with Cubs.com. "I changed the grip and just threw it today instead of trying to make it do too much."
Thompson dealt with a season of injuries this season which limited to two starts with Rookie-level Arizona and one start with AA Tennessee. However, that start with Tennessee was just as promising as his fall league has been as he went five shutout innings in that outing as well. That success continued into the Fall league, where he opened up AZL play with a dazzling three-inning outing of no hits and five punchouts.
Following his stellar debut, Thompson hit a bit of a snag over his next four outings as he pitched to a dismal 8.78 ERA. Whether the newly found grip on his changeup truly made that much of a difference or not remains to be seen, but the problems he had over his previous four starts were nowhere to be found against Peoria in his most recent outing.
Thompson was asked what changed in this start as opposed to his previous outings and he responded with one of the simplest of answers. "Just locate and try to get some guys out and not give up the hits and runs that I have been giving up." Sometimes that is a lot easier said than done, but Thompson certainly proved that if you find the strike zone and force hitters to put the ball in play, you can get any hitter out no matter what pitch you throw.
Another Cubs prospect spotlight
Stepping away from Thompson for a minute, and the Cubs had another prospect lighting it up for Mesa as first baseman Jared Young continued his impressive fall season. After starting the fall league by going homerless in his first 35 at-bats, Young faced off against one of the game's best prospects in Astros pitcher Forest Whitley. Young was able to match the power Whitley throws by taking him deep to right-center for a solo shot. A great moment for Young against one of the games top prospects in the MLB.
Getting back to Thompson now, as he has plenty to build on for 2020. Despite making just that one start for Tennessee this season, Thompson outdueled one of the games bests in his final AFL start leaving Mesa with a ton of confidence. Working against the best is nothing new for Thompson who was a starter for Auburn for three seasons in which he posted a 2.46 ERA in 41 career starts. That potential continued to show up all fall long especially during that final start. How quickly he ascends the ranks only time will tell, but he's closing 2019 with a tantalizing vision of his potential.