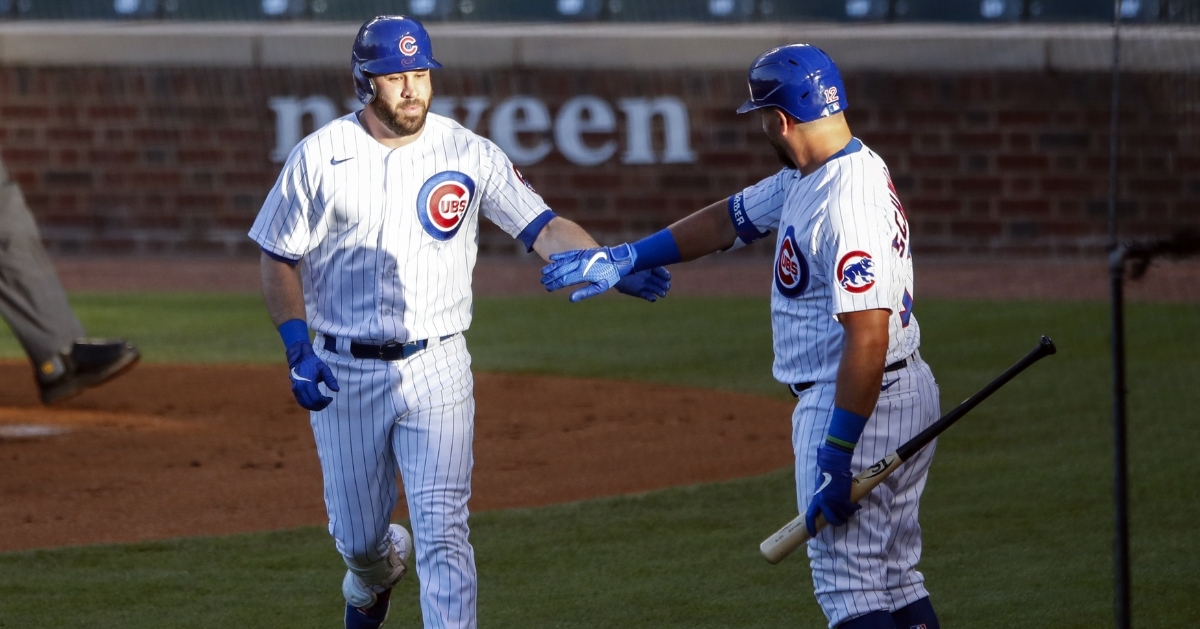 | | |
| --- | --- |
| Cubs return to action, drop exhibition to White Sox | |
---
| | | |
| --- | --- | --- |
| Sunday, July 19, 2020, 11:32 PM | | |
CHICAGO — Making their long-awaited, subdued return to the baseball diamond, the Chicago Cubs kicked off a three-game "Summer Camp" stint on Sunday night. The North Siders battled the South Siders at a relatively empty Wrigley Field, with the Chicago White Sox using a six-run fifth inning to win 7-3.
Due to COVID-19 restrictions, no fans were in attendance, which is going to be an unfortunate reality of most, if not all, of the 2020 slate. The first of back-to-back exhibitions between the Cubs and the White Sox saw a decent performance from Cubs starter Kyle Hendricks spoiled by a dismal outing from Jharel Cotton, a reliever signed by the Cubs in the offseason.
Conversely, Jason Kipnis made a positive splash in his summertime Cubs debut, with the veteran serving as the designated hitter and homering in his first at-bat. All big league games will feature a designated hitter batting for both teams this year, and Kipnis, a veteran who was recently added to the Cubs'40-man roster, made it well-known that he could see some plenty of at-bats out of that position when he went yard in the bottom of the first. The Cubs took a 2-0 lead two innings in, but the White Sox outscored the Cubs 7-1 the rest of the way.
The new guys are fitting in just fine. pic.twitter.com/b8UpMN2DiR

— Chicago White Sox (@whitesox) July 20, 2020
---
Inning-by-Inning Breakdown:
---
T1: Hendricks quickly worked through the lineup to kick off the exhibition, giving up just one baserunner.
Score: White Sox 0, Cubs 0
---
B1: In his first at-bat as a member of the Cubs' 40-man roster, Kipnis jacked a 426-foot bomb to straightaway center field. The solo shot put the North Siders up 1-0.
Score: White Sox 0, Cubs 1
Local kid!@TheJK_Kid pic.twitter.com/aybn5mXt6f

— Chicago Cubs (@Cubs) July 20, 2020
---
T2: Hendricks notched a strikeout and issued a walk in a scoreless inning.
Score: White Sox 0, Cubs 1
---
B2: White Sox starter Drew Anderson gave up his second run of the night. Cubs catcher Willson Contreras hustled for an infield single to lead it off, and right fielder Jason Heyward followed that up with a walk. A few plate appearances later, second baseman Nico Hoerner, playing in his first full season as a major leaguer, lined out for a sacrifice fly that plated Contreras.
Score: White Sox 0, Cubs 2
---
T3: Javier Baez coughed up a grounder at shortstop, but the White Sox, who tallied two baserunners, failed to score in the inning.
Score: White Sox 0, Cubs 2
---
B3: The Cubbies were shut down in order by Anderson, who was pulled in between innings.
Score: White Sox 0, Cubs 2
---
T4: Luis Robert of the White Sox attempted to steal second with two outs, but Contreras gunned him down from behind the plate. Baez applied a smooth tag to seal the deal.
Score: White Sox 0, Cubs 2
u live u learn pic.twitter.com/MrUqwlET37

— Chicago Cubs (@Cubs) July 20, 2020
---
B4: Ross Detwiler relieved Anderson, and the Cubs went three up, three down. Detwiler struck out the first two batters he faced.
Score: White Sox 0, Cubs 2
---
T5: White Sox outfielder Adam Engel smashed a solo dinger out to left, putting the South Siders on the board. Later, with runners on the corners, Hendricks headed for the dugout. Cotton entered with two outs and proceeded to struggle mightily, giving up four consecutive extra-base hits before finally ending the inning. A two-run double by Yasmani Grandal was followed by back-to-back one-run doubles off the bats of Edwin Encarnacion and Robert. Avisail Garcia capped off the barrage with an RBI triple, placing the White Sox ahead 6-2.
Score: White Sox 6, Cubs 2
---
B5: Detwiler continued to shine, notching three outs in four at-bats. Hoerner came up with a base knock.
Score: White Sox 6, Cubs 2
---
T6: Cotton fared much better his next time out, working a scoreless sixth. A two-out walk was all that the White Sox managed.
Score: White Sox 6, Cubs 2
---
B6: Jimmy Lambert pitched for the White Sox, and the Cubs were unable to reach base.
Score: White Sox 6, Cubs 2
---
T7: Rex Brothers pitched for the Cubs, and a wild pitch from Brothers enabled a run to score with two outs.
Score: White Sox 7, Cubs 2
---
B7: A two-out single from Victor Caratini was the lone highlight of the bottom half of the seventh.
Score: White Sox 7, Cubs 2
---
T8: Brothers and Dan Winkler, both newcomers to the Cubs' bullpen, combined to throw a scoreless eighth.
Score: White Sox 7, Cubs 2
---
B8: The Cubs drew three consecutive walks, and a nubber from David Bote scored a run with two outs. Following a pitching change, utility man Hernan Perez, another Cubs newbie, flied out to end the inning and leave the bases juiced.
Score: White Sox 7, Cubs 3
---
T9: Brad Wieck relieved Winkler after the first out and held the White Sox in check after giving up a walk.
Score: White Sox 7, Cubs 3
---
B9: Codi Heuer toed the rubber and finished off the Cubs in short order.
Final Score: White Sox 7, Cubs 3
---
Statistical Breakdown:
Chicago Cubs: Batting: 1 HR, 3 RBI, 1 2-Out RBI, 1 SF, 1-4 RISP, 6 LOB; Pitching: 12 H, 7 R, 7 ER, 3 BB, 7 K, 1 HR
Chicago White Sox: Batting: 3 2B, 1 3B, 1 HR, 6 RBI, 5 2-Out RBI, 4-9 RISP, 8 LOB; Baserunning: 1 CS; Pitching: 5 H, 3 R, 3 ER, 4 BB, 10 K, 1 HR
---
Studs of the Game:
Chicago Cubs: Jason Kipnis (DH): 1-3, 1 HR, 1 R, 1 RBI; Willson Contreras (C): 1-2, 1 R, 1 K, 1 CS (defensive)
Chicago White Sox: Luis Robert (CF): 2-3, 1 RBI; Jose Abreu (1B): 2-3
---
Duds of the Game:
Chicago Cubs: Jharel Cotton (RP): 1.1 IP, 4 H, 3 R, 3 ER, 1 BB, 1 K
Chicago White Sox: Carson Fulmer (RP): 0.2 IP, 1 H, 1 R, 1 ER, 3 BB, 2 K
---
Up Next: The "Windy City" rivals will battle again on Monday, July 20. The second exhibition of Summer Camp will shift to Guaranteed Rate Field on the South Side and is scheduled to begin at 7:10 p.m. CDT.
---
Box Score:
Chicago White Sox at Chicago Cubs
Jul 19, 2020
1
2
3
4
5
6
7
8
9
R
H
E
Chicago (AL)
0
0
0
0
6
0
1
0
0
7
12
0
Chicago (NL)
1
1
0
0
0
0
0
1
0
3
5
1
W: Ross Detwiler L: Kyle Hendricks S: Codi Heuer