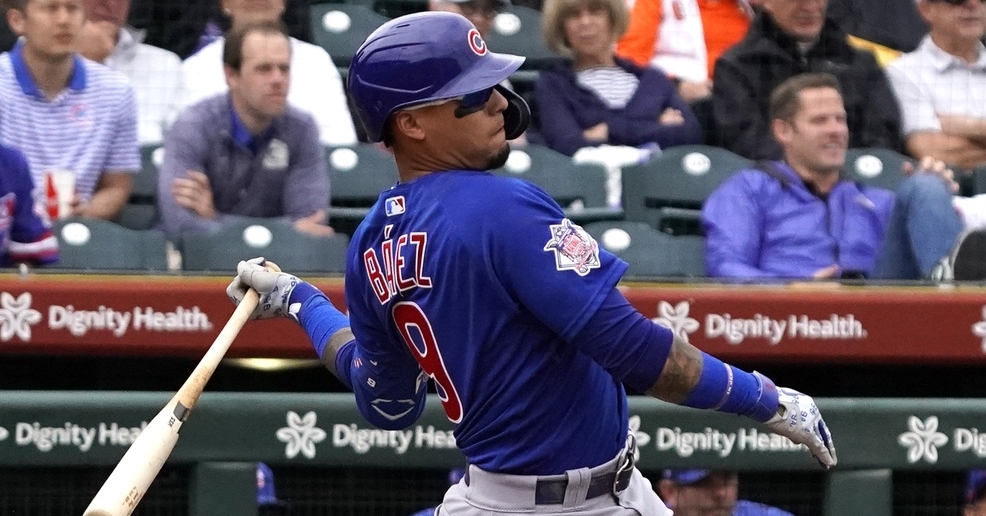 | | |
| --- | --- |
| Cubs score three runs in 7th to beat Padres | |
---
| | | |
| --- | --- | --- |
| Thursday, March 12, 2020, 8:38 AM | | |
The Cubs (7-12-1) demolished the Giants (8-9) on Tuesday by a final of 16-3. No matter what kind of stock you put in spring training games, it was refreshing to see a more standard lineup have a great all-around effort at the plate. Last night Chicago hosted the Padres (11-5).
As the preseason wears on David Ross seems to be homed in on both Josh Phegley and Ian Miller as possible suitors for the new and coveted 26th roster spot.
Yu Darvish got the start, squaring off against righty Cal Quantrill. The Cubs starting lineup consisted of Kris Bryant (3B), Anthony Rizzo (1B), Javy Baez (SS), Kyle Schwarber (LF), Wilson Contreras (C), Steven Souza Jr. (RF), Jason Kipnis (2B), Albert Almora Jr. (CF), Yu Darvish (P). Neither team utilized the designated hitter last night, which will become more commonplace as we move toward the regular season.
Darvish was initially placed on a 60-65 pitch count, but David Ross allowed him to throw a total of 70. Even with the extension, Yu would only get through the first three frames, pitching to two batters in the fourth without retiring a batter. Although he allowed no runs, he did struggle in the second, walking a total of three batters. Yu was showing signs of frustration with himself but settled in to get the job done. His breaking pitches showed good movement but were missing their marks. His fastballs were hitting the upper 90s, but they too were missing their intended targets.
Alec Mills relieved Darvish, hitting the first man he faced to load the bases with nobody out. Mills would give up a sac-fly scoring a run (charged to Darvish). With that inning in the books, Darvish's line would read 3.0 IP, 4-H, 1-R, 1-ER, 3-BB, 4-K. Padres lead 1-0.
Four strikeouts over 3+ innings for @faridyu. pic.twitter.com/BTui8wZWtf

— Marquee Sports Network (@WatchMarquee) March 12, 2020
Righty Casey Sadler worked a quick and seamless fifth, then pitch himself out of a jam in the sixth. With one away, he gave up a triple and then plunked France – ironically with the same pitch that Mills beaned him with. Sadler would get the double lay groundball that he needed to escape damage.
Craig Kimbrel worked a very solid seventh, issuing a walk, but having to contend with a second baserunner due to a catcher's interference call on Josh Phegley. Kimbrel fanned a pair, but Alfonso Rivas (subbing for Rizzo) would save the Cubs a run.
Wicked. pic.twitter.com/3flmc838aC

— Marquee Sports Network (@WatchMarquee) March 12, 2020
A softly hit ground ball to third wouldn't snag the runner at first, but a laser throw from Rivas to Phegley cut down the lead runner trying to score. Too bad the home plate umpire wasn't watching- the guy was safe by a mile. Cubs still trail 1-0.
In case you're wondering why I haven't mentioned the Cubs' offense, it's because there was none until the bottom of the seventh. No hits, not even a walk, and had it not been for Souza reaching on an error in the second, the Friars would have been looking at a perfect game. Of all people, Daniel Descalso (pinch-hitting in Rizzo's original spot) would ground one into the right to give the Cubs their first legitimate baserunner of the night.
Alfonso Rivas would walk, making it look like the Cubs might just come to life. Next, PJ Higgins' ground-rule double scored Descalso.
P.J. Higgins wants the 26th man spot too pic.twitter.com/rZs8Wq0s1J

— Aldo Soto (@AldoSoto21) March 12, 2020
Then, with two away, the Cubs got two more runs gifted to them when Padres LF Jawaun Harris muffed the easiest flyball he'd ever seen. In fairness to Harris, the grass was wet, but he was stationary when it appeared as though his left knee just decided to buckle. Either way, the Cubs were now up 3-1.
Righty Jeremy Jeffress handled the eighth. After giving up a leadoff double, the runner would take third on a groundball to the right side and subsequently score on a sac-fly.
Ryan Tepera would take of business in the ninth, leading the Cubs to a second-straight W.
Final Score Padres-2; Cubs-3
Cubs' Offense 2 for 29 (.069); 1 for 7 (.143) with RISP
Next Game: Tomorrow 3:05 PM: Dodgers at Cubs from Sloan Park.

Tags: Chicago Sports Baseball
,
David Ross
,
Ian Miller
,
Yu Darvish
,
Kris Bryant
,
Anthony Rizzo
,
Javy Baez
,
Kyle Schwarber
,
Albert Almora
,
Alec Mills
,
Casey Sadler
,
Craig Kimbrel
,
Alfonso Rivas
,
Daniel Descalso
,
Jeremy Jeffress