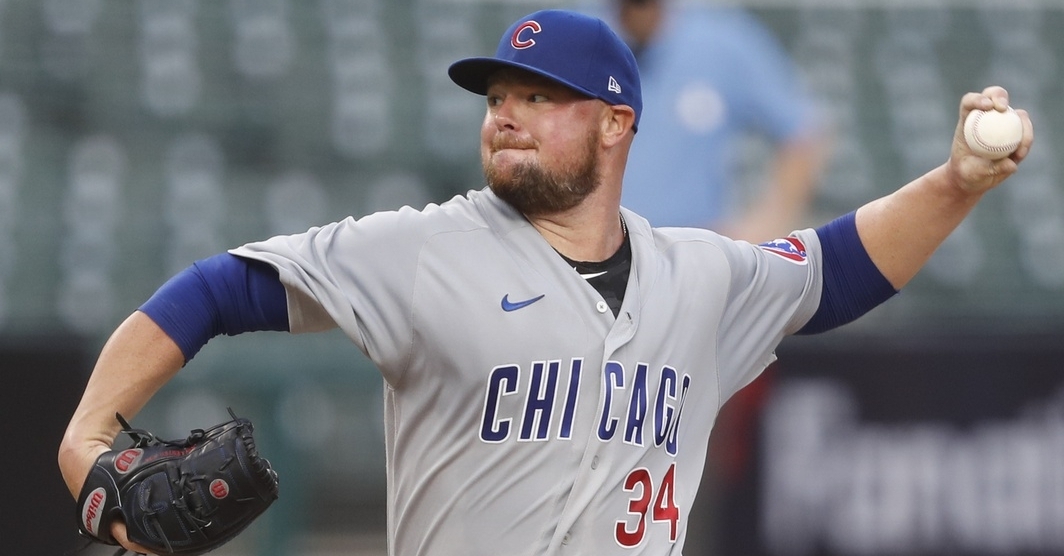 | | |
| --- | --- |
| Cubs should retire No. 34 number for Jon Lester and Kerry Wood | |
---
Jon Lester very well could have thrown his last pitch in a Cubs uniform. It has been frequently reported that Jon Lester's contract with Chicago is now up, and the Cubs could either pick up his 25 million dollar option for next season or buy him out for 10 million dollars.
It is possible that the Cubs bring Lester back, either on the option or buying him out and signing him cheap. However, it is just as possible, potentially even more likely, that Lester's career in Chicago might be coming to an end.
The last six years have been six of the most successful years any starting pitcher has ever had in Chicago.
Across the last half decade-plus for Lester, he was won 77 games and pitched to the tune of a 3.64 ERA. In addition to that, Lester has made two all-star games in Chicago and placed in the top ten in Cy Young voting twice and placing second once. Big Jon led the league in wins in 2018 and had the league's best winning percentage in 2016.
All of that goes without mentioning Lester's incredible performances in the postseason. Lester has been stellar, pitching nearly 70 innings in 10 starts, with an ERA of 3.64. On top of that, Lester has come out of the bullpen in game seven of the World Series to bridge the gap from Kyle Hendricks to Aroldis Chapman. And to add icing on the cake, the left-hander took home NLCS Co-MVP in 2016.
That all tacks on to Lester's resume from his time before pitching in Chicago. In his career, Lester sits just eight wins away from 200 in his career. He has made a total of five all-star games and pitched to a career ERA of 3.60.
In the postseason, those numbers are even better. Lester has nine career wins in the playoffs and a career postseason ERA of 2.51.
But the biggest impact Lester made in Chicago was him signing the contract originally. It has been well documented as the first domino to fall in the Cubs' transition from bad to good, and Lester was the spearhead of the positive part of the rebuild.
For that and more, I think the Cubs must consider retiring Jon Lester's number 34 on the foul poles at Wrigley Field.
The number 34 has carried a lot of weight in our city over time. When we think of that number in the mid-thirties, of course, the greatest Bear who ever lived, Walter Payton, comes to mind. But when you consider 34 from a Cubs perspective, Kerry Wood comes to mind. Wood is best remembered for his 20 strikeout performance in 1998, arguably the greatest outing by a pitcher in history.
Beyond that, Wood spent 12 years of his 14-year career in Chicago. In addition to that masterful performance, Wood was named Rookie of the Year in 1998 and was named to two all-star teams during his career as both a dynamic starting pitcher and electrifying closer. Wood led the league in strikeouts in 2003 and helped the Cubs get to the NLCS and almost World Series that year.
Since then, Wood has stayed involved in the organization as an ambassador and is very involved in the community with his family foundation, much like Lester.
So my proposal is to retire number 34 on both foul poles for Jon Lester and Kerry Wood. The two of those pitchers have done so much for this organization that I don't think any player could come in and wear number 34 and live up to either legacy the way these two hurlers have.
The Cubs have done this before. Both Greg Maddux and Ferguson Jenkins have the number 31 flying on opposing foul poles in the outfield, and I think it is time for them to have some company and some white pinstripe flags flying from phenomenal perspective pitchers for this organization.
For the playoff pedigree, he bought to Chicago to make winning the organization's first ring since 1908 possible. For the legacy he left on this organization to pave the way for Lester and Co. to win said title, Lester and Wood deserve some recognition.