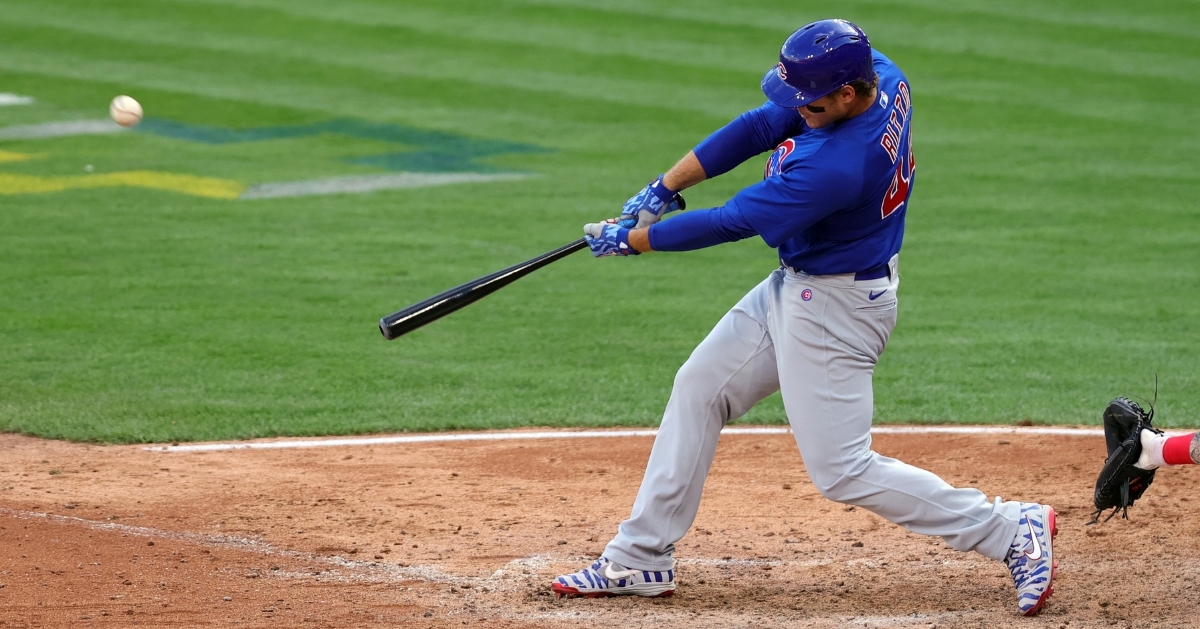 | | |
| --- | --- |
| Cubs shut out Reds as 'Big Rizz' goes yard twice | |
---
| | | |
| --- | --- | --- |
| Saturday, August 29, 2020, 7:18 PM | | |
CINCINNATI — A noteworthy pitching matchup between Chicago Cubs (19-13) ace Yu Darvish and Cincinnati Reds (14-18) ace Trevor Bauer took place in the opener of a day-night doubleheader at Great American Ball Park on Saturday. The seven-inning affair was highlighted by Cubs first baseman Anthony Rizzo's plate performance, though, as the veteran slugger powered out two solo shots off Bauer and helped the Cubs win 3-0.
Snapping a three-game losing streak, the Cubs shut the Reds out in the second installment of the four-game series. Darvish fanned eight in a scoreless six-inning appearance. Bauer gave up just four hits in 5 1/3 innings of work, but half of them were the aforementioned dingers by Rizzo.
Bad news when Yu's on.

?????? pic.twitter.com/l5nqervlvj

— Chicago Cubs (@Cubs) August 29, 2020
---
Inning-by-Inning Breakdown:
---
T1: Ian Happ led off the game with a hard-fought nine-pitch at-bat that ended in a groundout. The Cubs went down in order.
Score: Cubs 0, Reds 0
---
B1: Darvish worked a three up, three down first that included an inning-ending strikeout.
Score: Cubs 0, Reds 0
---
T2: Kyle Schwarber was walked to begin the second frame. A single hit by Willson Contreras advanced him to third. Schwarber then scored on a fielder's choice groundout from Jason Heyward that resulted in a force play at second. Following a Victor Caratini strikeout, Jason Kipnis, who played with Bauer as a member of the Cleveland Indians, came up a with a bloop single that landed on the left field line. Heyward made it to third, but Nico Hoerner flied out on the very next pitch to leave the two baserunners stranded.
Score: Cubs 1, Reds 0
---
B2: Mike Moustakas singled off Darvish with one out and took second when Caratini committed catcher's interference while Shogo Akiyama was batting. Darvish got out of the inning by drawing an ensuing popup.
Score: Cubs 1, Reds 0
The sound of 97 hitting the glove ?? pic.twitter.com/gnny6Rffc6

— Marquee Sports Network (@WatchMarquee) August 29, 2020
---
T3: Nearly kneeling, Rizzo crouched down in order to hit his first homer of the afternoon, a 367-footer to right. Rizzo fell down 0-2 and fouled off five pitches in the buildup to taking Bauer deep on the ninth pitch of the at-bat.
Score: Cubs 2, Reds 0
.@ARizzo44 wins the battle on the 9th pitch of the at-bat! #TeamRizzo@BinnysBev pic.twitter.com/6dvQI0mN8e

— Chicago Cubs (@Cubs) August 29, 2020
---
B3: Joey Votto tagged Darvish for a double, and Jesse Winker drew a walk. Darvish got Eugenio Suarez, who went 3-for-3 in the series opener, to strike out swinging and leave Votto and Winker stranded.
Score: Cubs 2, Reds 0
---
T4: Needing just 10 pitches to record three outs, Bauer produced an efficient fourth inning.
Score: Cubs 2, Reds 0
---
B4: Following a leadoff single by Moustakas, Freddy Galvis grounded into a double play. On the 0-1 pitch of Galvis' plate appearance, Darvish's glove fell off in the midst of the delivery. Galvis fouled the splitter into the dirt, perhaps distracted by the glove. The next at-bat saw Darvish commit an error while attempting to field a dribbler hit up the first baseline by Akiyama. Darvish was a little shaken up on the awkward play but continued to pitch. Mark Payton moved Akiyama to third with a base hit, but Tucker Barnhart then lined out to right.
Score: Cubs 2, Reds 0
Yu Darvish's newest pitch: The Glover. pic.twitter.com/Z0mPpXYmli

— Jordan Bastian (@MLBastian) August 29, 2020
---
T5: The Cubs failed to reach base in the top of the fifth. For the second out of the inning, Hoerner struck out swinging to end a nine-pitch plate appearance that included six fouls.
Score: Cubs 2, Reds 0
---
B5: Votto and Nicholas Castellanos hit back-to-back singles to start the bottom of the fifth. Darvish struck the next two batters out looking and walked Moustakas to load the bases. Galvis grounded out to third to usher in the sixth inning.
Score: Cubs 2, Reds 0
.@faridyu has a 1.47 ERA this season ?? pic.twitter.com/4v9u8YyTKd

— Marquee Sports Network (@WatchMarquee) August 29, 2020
---
T6: Sending a Bauer pitch into the right field bleachers for the second time on the day, Rizzo belted a leadoff jack that carried 422 feet, providing Rizzo with the 18th multi-homer performance of his career. After walking Schwarber with one out, Bauer was relieved by Jose De Leon, who struck out a pair to leave Schwarber deserted.
Score: Cubs 3, Reds 0
The 18th career multi-HR game for @ARizzo44! #TeamRizzo pic.twitter.com/XLd7ovgxjw

— Chicago Cubs (@Cubs) August 29, 2020
---
B6: A wacky double play helped Darvish out in the sixth. Akiyama tabbed a leadoff base knock before Payton grounded into a 3-6-3 double play. Payton tried to act as if the chopper hit off his foot, thereby making it foul, and did not leave the batter's box. However, it was ruled a fair ball, as it bounced off the dirt and was gloved by Rizzo in fair territory near first base. Rizzo stepped on first, and Akiyama was tagged out on the basepath.
Score: Cubs 3, Reds 0
---
T7: De Leon tallied three straight outs in an uneventful top half of the seventh.
Score: Cubs 3, Reds 0
---
B7: Jeremy Jeffress entered to pitch with a save on the line. He walked Castellanos with one away, and Winker then grounded into a fielder's choice that saw Castellanos outed via a force at second. With a defensive shift in play, Winker's grounder rolled underneath David Bote's glove near second base and traveled right to Hoerner, who flipped the ball to Javier Baez at second base. Thereafter, Suarez struck out swinging to end the game. Suarez finished 0-for-4 with four strikeouts, earning him the not-so-coveted golden sombrero.
With the win, Darvish improved to 6-1, while Bauer fell to 3-2 with the loss. Jeffress picked up his fourth save. Darvish will head into September as a leading candidate for the National League Cy Young Award.
Final Score: Cubs 3, Reds 0
---
Statistical Breakdown:
Chicago Cubs: Batting: 3 R, 4 H, 2 HR, 3 RBI, 0-2 RISP, 3 LOB; Fielding: 2 E, 2 DP; Pitching: 7 H, 0 R, 0 ER, 3 BB, 9 K, 0 HR, 0 HBP, 0 IBB, 0 WP
Cincinnati Reds: Batting: 0 R, 7 H, 1 2B, 2 GIDP, 0-7 RISP, 10 LOB; Fielding: 0 E; Pitching: 4 H, 3 R, 3 ER, 2 BB, 8 K, 2 HR, 0 HBP, 0 IBB, 0 WP
---
Studs of the Game:
Chicago Cubs: Anthony Rizzo (1B): 2-3, 2 R, 2 RBI, 0 BB, 0 K, 2 HR, 2 defensive assisted DP; Yu Darvish (SP): 6.0 IP, 7 H, 0 R, 0 ER, 2 BB, 8 K, 0 HR, 0 HBP, 0 IBB, 0 WP
Cincinnati Reds: Joey Votto (1B): 2-4, 0 R, 0 RBI, 0 BB, 0 K, 1 2B
---
Duds of the Game:
Chicago Cubs: Victor Caratini (C): 0-3, 0 R, 0 RBI, 0 BB, 2 K, 1 E
Cincinnati Reds: Eugenio Suarez (3B): 0-4, 0 R, 0 RBI, 0 BB, 4 K, 0-2 RISP
---
Up Next: Game two of the doubleheader is scheduled to begin at approximately 6:40 p.m. CDT on a clear evening in southern Ohio. Cubs right-hander Alec Mills (3-2, 4.55) and Reds right-hander Tejay Antone (0-1, 1.65) are penciled in as the starting pitchers.
---
Highlights:

Tags: Chicago Sports Baseball
,
Yu Darvish
,
Anthony Rizzo
,
Ian Happ
,
Kyle Schwarber
,
Willson Contreras
,
Jason Heyward
,
Victor Caratini
,
,
Jeremy Jeffress
,
Alec Mills
,
David Bote
,
Javy Baez