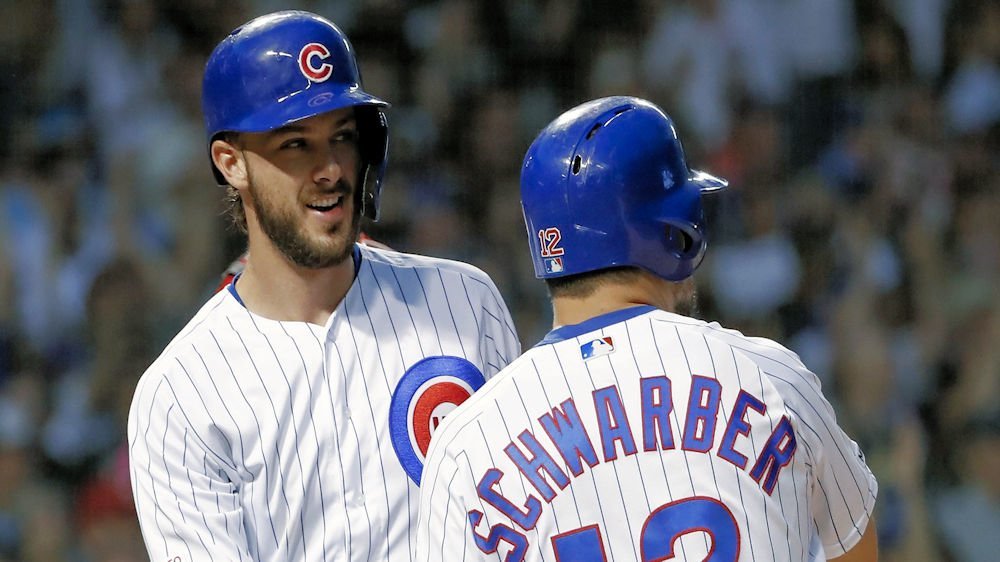 | | |
| --- | --- |
| Cubs trade rumors continue to float around | |
---
This offseason is sure to be one of the strangest in recent memory. With COVID continuing to cripple how teams run things, there is not a clear sense of what the free-agent signing period will look like this season.
As mentioned in previous columns, I anticipate many more qualifying offers to be accepted this year than in years past. Not knowing what a player will get on the open market will lead them to take the sure contract for one season. It would give them a financial security blanket, and teams would have to worry less about what they need going forward.
For the Cubs, qualifying offers will be the key this season as they have tons of players in the final year of arbitration. The numbers they agree to this season will undoubtedly affect how business is done next year, and that is what the Cubs need to focus on now.
This team does have some big-time holes to fill, and no one is going to argue that. The free-agent class has a ton of intriguing names, but the Cubs are probably one of those teams that won't be spending a ton. That means the help needs to come within or from the trade market. The Cubs have expressed their desire to do just that.
There continues to be three names that pop up in trade talks with Kyle Schwarber and Kris Bryant as the most likely.
Bryant has some potential suitors in both the Washington Nationals and Boston Red Sox, so keep an eye on those teams as we transition into the meat of the offseason.
While Bryant may have more landing spots currently on the table, what about Schwarber and his potential trade options. Saw what you want about his defense, but Schwarber has dramatically improved in left field and possesses one of the strongest and most accurate arms in the outfield. He has led the MLB in outfield assists since 2018 from the left-field spot. Still, most analysts see him as a long-term DH who was ticketed for the American League.
With the NL adopting what looks to be the DH again for 2021, Schwarber has a ton more options, but there is one team to watch this offseason. That team is the New York Yankees, who had expressed interest in him seasons before the Cubs were unwilling to let him go. Schwarber is coming off his worst season as a pro, which is hard to fathom when you look at the season, he put together in 2019. In that year, Schwarber set a career-high in homers, leading the team with 38, and finishing second with a career-high 92 RBI's. The potential to do that yearly is certainly there.
New York has expressed their desire in Schwarber for years now, and it is clear they have a vision of being a more left-handed offense. How can you not want to be a left-handed hitter in that park when right field is only 318 feet away from home plate with a 9-foot wall. Schwarber wouldn't have to get all a baseball, and he could hit 25-30 homers just at Yankee stadium across those 81 games.
Should the Cubs indeed be looking to move on from Schwarber, Miguel Andujar is a name to watch as Chicago may be looking for a rebound from him. Andujar was widely viewed as one of the top third basemen in the game until injuries slowed his development. He could be looked at as the future with a potential young pitcher in the mix to complete the deal.
Circling back to Andujar comes the question with Bryant as the Cubs would most likely be moving Bryant if Andujar was picked up. At worst, Bryant could move to left field, and Andujar could still come in, but that doesn't seem like an option.
Along with the Red Sox and Nationals, don't rule out the defending champion Los Angeles Dodgers, who are looking for Justin Turner's replacement.
The Dodgers have one of the best and deepest farm systems in baseball, so sending Bryant to the Dodgers would make a ton of sense, especially when you look at what the Cubs could package in return. Atlanta is the same way as they continue to remain interested in Bryant. Last year, the Braves and Cubs discussed a deal that would have sent Bryant to Atlanta in exchange for Austin Riley, Ian Anderson, and Ender Inciarte, but the sides couldn't agree. It will be interesting to see if similar talks pick up.
A name that was mentioned in trade talks last season could surprisingly find himself in talks again this winter. Willson Contreras has proven to be one of the best offensive catchers in the game even after a down season this year. With Victor Caratini on the roster and Miguel Amaya waiting in the wings, moving on from Contreras is more straightforward than people think. The Tampa Bay Rays appear to have legitimate interests to trade for him as they are looking for catching help.
At this point, moving on from Contreras would sting, but he would most likely net the most significant return of everyone, given he has more control. That would allow the Cubs to dive deep into the Rays plethora of power arms, both starters and relievers, and top infield talent. Both are things the Cubs will need sooner rather than later, so why not get a jump start.
Whatever happens from now until March will alter the team's future regarding what they do with their core players. Expect more rumors this offseason than any prior offseasons as things will undoubtedly be stressful.