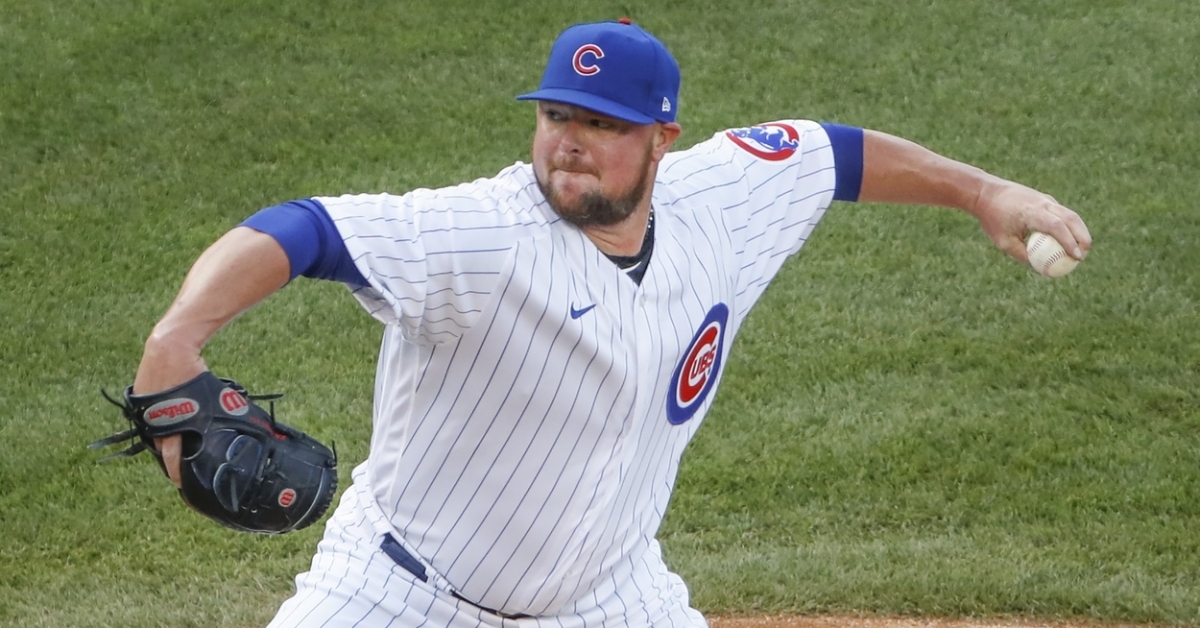 | | |
| --- | --- |
| Cubs vs. Reds: Series Preview, Prediction, Pitchers, More | |
---
| | | |
| --- | --- | --- |
| Monday, July 27, 2020, 3:38 PM | | |
As the Cubs get set for their second series of the season and first road series, we can't help but notice what is going on in the world of baseball. As many of you know, the Miami Marlins had an influx of COVID 19 positive tests over the weekend, and their home opener against Baltimore has been postponed. Along with that game, the Phillies Yankees game tonight will also be postponed as Philadelphia waits for their testing results.
Despite these rapid cases of COVID, baseball has no plans to pause or cancel the rest of the MLB season. At least not at this point, so the Cubs are planning on going about their business in prepping for the Cincinnati Reds. After taking the offseason by storm and asserting themselves into the conversation as a contender in the NL Central, Cincinnati took one on the chin this weekend, dropping two of three to the Tigers. Now they get a Cubs team whom they played well against last year as Chicago hits the road for the first time in 2020.
Monday: Jon Lester vs Wade Miley
It will be Big Jon's season debut tonight after an impressive final tune-up against the Twins last Wednesday. Lester is coming off another double-digit win season, but his results were not where you would expect as he enters the season as the No. 4 starter. In just under 16 innings against Cincy last season, Lester logged a respectable 4.02 ERA with seven walks and 20K. He must pitch carefully to both Nicholas Castellanos and Eugenio Suarez, who have killed him in the past.
Opposing him is another crafty lefty in Wade Miley. Now Miley is not the greatest lefty in the world, but he seems to dominate the Cubs for some reason. Chicago has historically had a tough time hitting hard throwers or pitchers that keep the pace of the game moving. Miley is one of those pitchers that keep hitters off-balance, which the Cubs don't like.
The one thing Chicago could have going for them in this matchup, however, is Kris Bryant. He hit extremely well at Great American Ballpark, much like Kyle Schwarber, but Bryant loves to hit Miley. That sounds like a win to me for someone who is not only our leadoff hitter now but someone who would like to get on track.
Tuesday: Alec Mills vs. Tyler Mahle
This was supposed to be Jose Quintana vs. Anthony DeSclafani, but both are injured to start the season, meaning this is a battle of the swingmen. For Mills, this is not only an audition for this season but an audition beyond this season that he deserves to be in the rotation. Mills has pitched to a 3.75 ERA in five career starts with the cubs, including a 2.79 ERA in nine games last season.
Mills proved his worth in September when he saw action in 16 innings, walking four and striking out 24 while posting a 1.16 ERA. In one career start against the Reds, Mills went six innings, allowing two runs while striking out eight. This will be his first start at Great American Ballpark.
Mahle opened the season in a similar role to Mills, where he was going to be looked at as a swingman. With DeSclafani battling a minor knee injury, Mahle will get the ball Tuesday, which could be a one-start situation. Not known as a hard thrower, Mahle has been clocked consistently in the 97-99 MPH range this summer and should be stretched out and ready to go. Last season he dominated the Cubs in one of his three starts but struggled to make it through five in his other two.
Look for Javy Baez and Schwarber to play huge roles in this game as both enter with a .400 career average against Mahle. Add in the overall success Schwarber has in his home state, and he could be on the verge of not only a big game but a big series. This is the type of game that could come down to the bullpen as I expect a high scoring affair.
Talk about a great pitching matchup on Wednesday, both Hendricks and Grey proved to be worth the opening day nod as both pitched outstanding in their teams wins. It was Hendricks going the distance striking out nine Brewers in a shut-out win while Gray matched him with nine punchouts of his own in six innings of one-run ball.
Hendricks did not have the best luck against Cincinnati last season as he posted a 5.16 ERA across four outings. Guys like Joey Votto, Jesse Winkler, Travis Jankowski, and Nick Senzel all have .300 or better averages against him as Hendricks needs to attack just like he did vs. Milwaukee.
For Gray, after several injury-riddled seasons, he bounced back for the Reds last season to not only establish himself as an all-star again but turned into a contract extension and the ace of the staff this season. In his season-opening win Friday, Gray found tons of success the first time through the order before keeping hitters off balance with his curveball slider combo the rest of the way. 2019 was an excellent year for Grey against the Cubs as he went 2-1 with an ERA under three in four starts as none of the Cubs hitters have seen the ball well off him.
Thursday YU Darvish vs Luis Castillo
The positive note from Darvish's last outing was that he was around the plate a lot and didn't walk a hitter. The downside his struggles at Wrigley field continued as a high pitch count forced out of the game in the fourth inning before being handed the loss. In 31 innings against the Reds last season, Darvish struggled, posting a 4.60 ERA, but his 45 punchouts were a positive sign.
Standing opposite of him was one of the biggest surprises last season in Luis Castillo. After being either a middle of the rotation arm for a few years, Castillo emerged as one of the most improved pitchers in the game, even establishing himself as the best arm for the Reds in 2019. That progress continued in his first start this season in which Castillo struck out not only 11 Tigers in six innings but got 24 swing and miss strikes both, which neared his career-high. His changeup and slider continue to be his best pitch, but his fastball did touch 99 frequently.
From an offensive standpoint, no know particularly hits the ball hard against Darvish, but when they do get a hit, it tends to do some damage in the form of home runs or extra bases. Both Votto and Suarez have one homer each against him, but it is Aristides Aquino with two homers in just five bats as the Cubs found out firsthand how dangerous he can be.
For the Cubs to succeed against Castillo, they will need to continue working counts and forcing him to throw more pitches if they want him out sooner rather than later. Both Jason Heyward and Schwarber have the most success against him, but it will come down to the top three in the order as Bryant, Anthony Rizzo and Baez have combined to hit just .208 against him in their career with no home runs and zero RBIs. If that trend continues, the Cubs will have a hard time scoring runs.
Injuries
Cubs: Brad Weick (10 day IL), Quintana (10-day IL), Daniel Descalso (45-day IL)
Reds Mike Moustakas (day-to-day under the weather), DeSclafani (day-day), Matt Davidson (10-day IL), Tucker Barnhardt (paternity leave), Senzel (day-day).
David Bell didn't have an update on Senzel or Moustakas on a zoom with reporters just now. Is stressing that no one who gets sick is at fault.

— Jesse Rogers (@JesseRogersESPN) July 27, 2020
The Cubs enter this series primarily healthy outside of what we already knew. On the other hand, the Reds have several players that are either sick and battling to stay healthy or have had players testing positive for COVID 19.
Not having Mike Moustakas in the lineup is a massive blow for Cincinnati, but a breath of fresh air for the Cubs as they don't have to worry about his bat crushing their pitching in this series. However, given what has happened with Miami, I am a bit more concerned with the health of this team moving forward as we could see the Cubs with their first positive test during this series.
Prediction: 2-2 series split
I have said all along that I expected a lot of ugly and inconsistent baseball early on. After seeing what I saw this weekend, I stand by that prediction, and with players testing positive, I expect the play to suffer also. We know the Reds have great pitching, and the Cubs hitting hasn't been good outside of Sunday.
However, the Cubs' pitching has been keeping them in games, which is a pleasant surprise. The key to the series will be the Cubs' top of the order starting to step up and how the Cubs handle Castellanos. Given how Castellanos played in Chicago, I am very wary of him playing with a chip on his shoulder, and that alone could carry the Reds offense. I look for the Cubs to take games two and three with Cincy grabbing one and four.

Tags: Chicago Sports Baseball
,
Jon Lester
,
Kris Bryant
,
Kyle Schwarber
,
Alec Mills
,
Jose Quintana
,
Javy Baez
,
Kyle Hendricks
,
Jason Heyward
,
Anthony Rizzo
,
Daniel Descalso