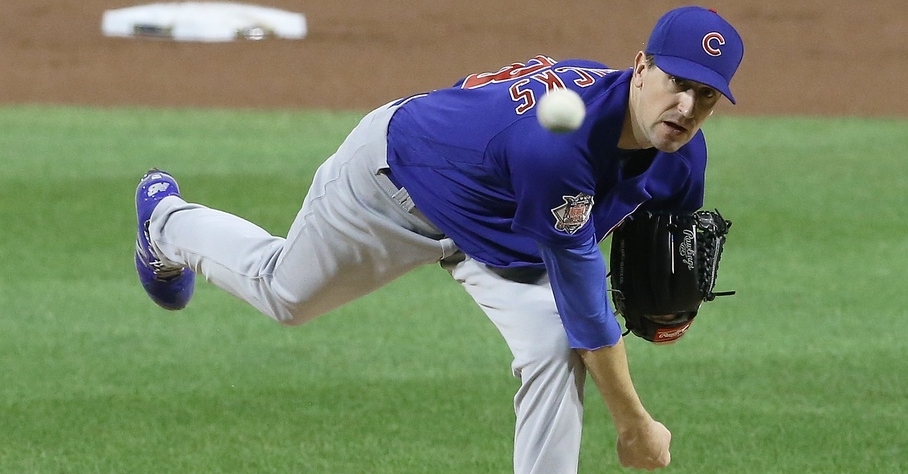 | | |
| --- | --- |
| Cubs waste quality start by Kyle Hendricks, fall to Pirates | |
---
| | | |
| --- | --- | --- |
| Wednesday, September 23, 2020, 10:58 PM | | |
PITTSBURGH — A pair of sinkers thrown over the plate in back-to-back at-bats marred an otherwise fantastic outing by Chicago Cubs (32-24) starter Kyle Hendricks on Wednesday. The sinkers resulted in the Pittsburgh Pirates (17-39) hitting consecutive home runs in their first two plate appearances of the contest at PNC Park.
Hendricks received practically no run support during his 7 2/3 innings pitched, with a first-inning homer by Anthony Rizzo marking the lone run scored by the Cubs on the evening. The North Siders were a woeful 0-for-7 with runners in scoring position, leaving nine men stranded on base, and suffered their second straight one-run loss at the hands of the Pirates. The Buccos took game three of the four-game set 2-1.
---
Inning-by-Inning Breakdown:
---
T1: Pirates starter Trevor Williams has been reeling as of late, and he quickly fell behind on Wednesday. With one out in the top of the first, Rizzo took Williams deep on an 0-2 count. Rizzo's 404-foot solo shot sailed out to right-center and served as the Cubs' lone scoring play. Interestingly, a Rizzo dinger was also the Cubs' sole scoring play in their loss to the Pirates on Tuesday.
Score: Cubs 1, Pirates 0
That's how you protect on 0-2. #TeamRizzo@BinnysBev pic.twitter.com/p6MrtFLl4f

— Chicago Cubs (@Cubs) September 23, 2020
---
B1: On a 1-2 count, Adam Frazier barreled a Hendricks sinker 409 feet out to right, and, on an 0-2 count, Ke'Bryan Hayes swatted a Hendricks sinker 429 feet out to center. The Pirates took a 2-1 lead via their first two plate appearances, and neither team scored again the rest of the way.
Score: Cubs 1, Pirates 2
The flight of Frazier!#LetsGoBucs pic.twitter.com/a5iXoh3YD0

— Pirates (@Pirates) September 23, 2020
Just Young Hayes doing Young Hayes type things.#LetsGoBucs pic.twitter.com/z27bYHVdk8

— Pirates (@Pirates) September 23, 2020
---
T2: Williams bounced back after giving up a long ball in the opening inning and worked a 1-2-3 second frame. He went on to pitch 5 2/3 innings and did not allow another run to score.
Score: Cubs 1, Pirates 2
---
B2: Hendricks gave up a two-out single, but nothing came of it.
Score: Cubs 1, Pirates 2
---
T3: David Bote drew a leadoff walk and advanced to second base on a groundout. He never made it beyond second, though. The aforementioned groundout was a comebacker off the bat of Happ that plunked Williams in the backside. Williams was able to recover and record the out at first.
Score: Cubs 1, Pirates 2
---
B3: Once again, a two-out single by the Bucs did not lead to any runs scoring.
Score: Cubs 1, Pirates 2
---
T4: Cameron Maybin doubled, and Jason Heyward walked. A fielder's choice placed runners on the corners with two outs, which led to Jason Kipnis striking out.
Score: Cubs 1, Pirates 2
---
B4: Hendricks outed the Pirates in order.
Score: Cubs 1, Pirates 2
---
T5: Williams answered Hendricks' three up, three down inning with one of his own.
Score: Cubs 1, Pirates 2
---
B5: The Pirates failed to reach base again in the fifth.
Score: Cubs 1, Pirates 2
---
T6: With two outs, Maybin hit his second double, resulting in Austin Davis relieving Williams. Davis walked Heyward, and Heyward and Maybin went on to steal second and third before Javier Baez flied out to leave them both stranded.
Score: Cubs 1, Pirates 2
---
B6: Colin Moran hit a one-out double that was followed by a walk of Gregory Polanco. Jose Osuna grounded into a 6-4-3 double play to end the inning.
Score: Cubs 1, Pirates 2
---
T7: Happ hustled for an infield single slapped down the third baseline, but Rizzo's ensuing infield lineout ushered in the seventh-inning stretch. Nik Turley tossed the scoreless inning.
Score: Cubs 1, Pirates 2
---
B7: Hendricks kept the Pirates off the bases in the bottom of the seventh.
Score: Cubs 1, Pirates 2
---
T8: With Chris Stratton on the bump, Kyle Schwarber drew a one-out walk, and Billy Hamilton pinch ran for him. Stratton made multiple throws over to first in an attempt at precluding Hamilton from stealing, but the speedster eventually swiped second. Stratton was successful, though, in getting Heyward to chase a high pitch with two strikes, resulting in an inning-ending strikeout.
Score: Cubs 1, Pirates 2
---
B8: Frazier singled off Hendricks with one out, and Hayes then hit a base knock that initially put runners on the corners. However, a Cubs challenge revealed that Frazier momentarily came off the bag, allowing Bote to be credited with a tagout. Heyward collected an assist on the play, as he fired to third after fielding Hayes' single in right. Craig Kimbrel relieved Hendricks and drew an inning-ending flyout.
Score: Cubs 1, Pirates 2
---
T9: Richard Rodriguez struck out Baez before giving up an infield hit to Kipnis. Rodriguez potentially prevented a routine putout from taking place by sticking his glove up in a failed attempt at snagging the chopper hit by Kipnis, as the ricochet off the glove caused the ball to carry into no man's land on the infield grass. Nico Hoerner pinch ran for Kipnis and motored into second base on a wild pitch that Bote whiffed at for his third strike. Following Bote's swinging strikeout, Happ suffered a swinging strikeout to end the game, with Rodriguez winning the nine-pitch battle versus Happ.
Hendricks was handed the loss, dropping him to 6-5, and Williams earned just his second win of the season, improving him to 2-8. Davis tallied his first hold, while Turley and Stratton received their second and fifth holds, respectively. As for Rodriguez, he attained his fourth save. The Cubs have four regular season contests remaining, and they currently stand 3 1/2 games atop the National League Central.
Final Score: Cubs 1, Pirates 2
---
Statistical Breakdown:
Chicago Cubs: Batting: 1 R, 5 H, 2 2B, 1 HR, 1 RBI, 0-7 RISP, 9 LOB; Baserunning: 3 2B; Fielding: 0 E, 1 DP, 1 Assist; Pitching: 7 H, 2 R, 2 ER, 1 BB, 3 K, 2 HR, 0 HBP, 0 IBB, 0 WP
Pittsburgh Pirates: Batting: 2 R, 7 H, 1 2B, 2 HR, 2 RBI, 1 GIDP, 0-1 RISP, 4 LOB; Fielding: 0 E; Pitching: 5 H, 1 R, 1 ER, 5 BB, 9 K, 1 HR, 0 HBP, 0 IBB, 1 WP
---
Studs of the Game:
Chicago Cubs: Kyle Hendricks (SP): 7.2 IP, 7 H, 2 R, 2 ER, 1 BB, 3 K, 2 HR, 0 HBP, 0 IBB, 0 WP; Cameron Maybin (LF): 2-4, 0 R, 0 RBI, 0 BB, 0 K, 2 2B, 1 SB
Pittsburgh Pirates: Ke'Bryan Hayes (3B): 2-4, 1 R, 1 RBI, 0 BB, 0 K, 1 HR; Adam Frazier (2B): 2-4, 1 R, 1 RBI, 0 BB, 0 K, 1 HR
---
Duds of the Game:
Chicago Cubs: Javier Baez (SS): 0-4, 0 R, 0 RBI, 0 BB, 2 K, 0-2 RISP, 1 defensive assisted DP
Pittsburgh Pirates: Jose Osuna (DH): 0-3, 0 R, 0 RBI, 0 BB, 0 K, 1 GIDP, 0-1 RISP
---
Up Next: The series finale on Thursday, Sept. 24, will also serve as the final meeting of the year between the Cubs and the Pirates. On a warm, cloudy afternoon in Pittsburgh, Cubs righty Alec Mills (5-4, 4.14) and Pirates righty Chad Kuhl (1-3, 5.03) will square off on the mound. The first pitch is scheduled for 12:35 p.m. CDT. Chicago needs to defeat Pittsburgh in order to garner a series split.
---
Highlights: