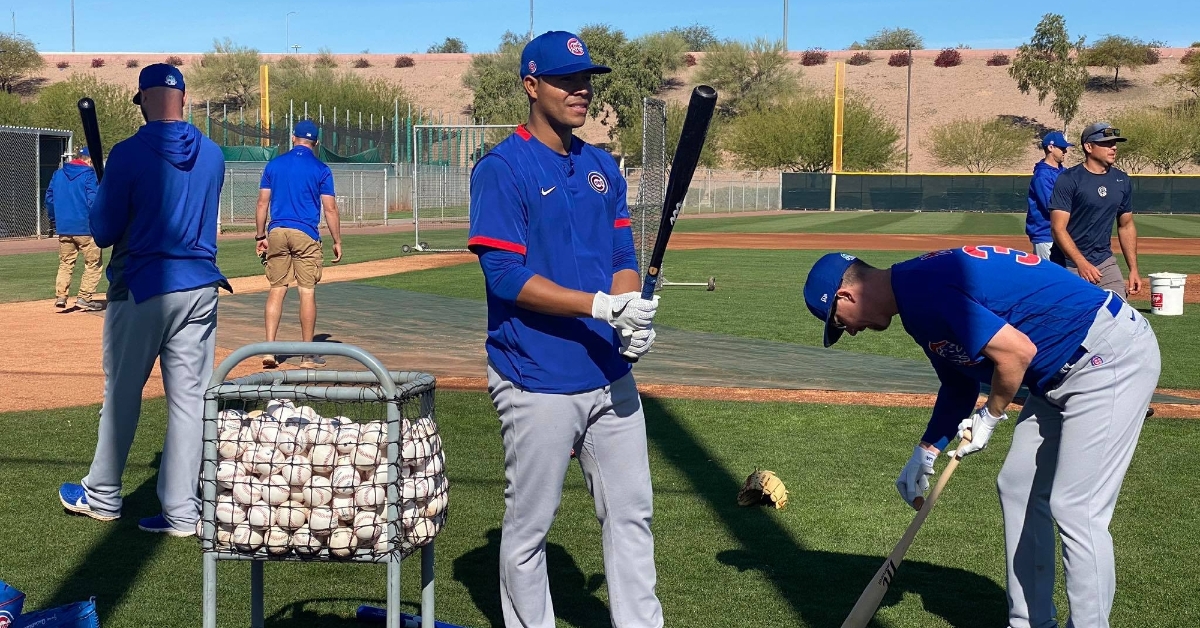 | | |
| --- | --- |
| CubsHQ Mailbag: MLB changes, Players on season, Pitching adjustments, Refunds, more | |
---
| | | |
| --- | --- | --- |
| Tuesday, April 7, 2020, 8:09 AM | | |
As baseball continues to be absent, the questions for the Mailbag get tougher and tougher to answer, as most require speculation. Right now, it's anybody's guess as to what's going to happen with baseball this season, but I think my answers to the following questions make at least some sense.
Jay Stanley asks: "What's the likelihood of there even being a baseball season? I feel there's less than a 25% chance we will see it this summer."
Cheer up, Buckaroo, I believe baseball will still make some sort of appearance this summer. The season will be shortened, perhaps as much by 50%. However, there are all sorts of contingency plans that would allow for a maximum number of games to be played, including one from Scott Boras that would allow for a full season and playoffs, literally lasting until Christmas (that may very well be the only thing Boras has ever said that I actually like).
MLB's gross revenue was $10.7 billion last year, which equates to a little over $4.4M for every game that isn't played. MLB has already lost roughly $43M since this shutdown occurred, and that doesn't account for lost preseason revenue. Everyone involved, from President Trump on down to the players, wants to see baseball and other sports return, and they won't wait a minute longer than they have to.
Although the format and scouting rules have been altered, MLB is going to hold its June Amateur Draft on time. Just a few weeks ago, there was speculation that the draft would be canceled, so it would seem that their mindset is to continue as much as possible with the sport. Granted, those who get drafted wouldn't affect baseball at all this year, but it somehow seems to shed a small ray of hope.
The league's last "unofficially official" targeted start date was set for Memorial Day weekend (May 23- May 25), which would still allow for almost a month for the coronavirus pandemic to fade. At that point, assuming they get ahead of this thing, a second spring training period could start.
I spoke to Blue Jays pitcher Anthony Bass the other day and pitched a hypothetical to him. I asked if he thought it would be feasible to seclude and quarantine players (and other essential personnel), assuring that each was virus-free. Following that period, begin a season utilizing spring training facilities in Arizona with empty stands. He thought the idea was feasible but cautioned that they'd need 3-4 weeks to physically prepare before play could resume.
I did some math. Assuming the entire season needed to be played in Arizona, a total of 2,430 games would need to be played in just ten stadiums. If each stadium hosted two games per day – either a doubleheader or two games played between four teams – the entire regular season could be played in just over 17 weeks. If the league could schedule stadiums to intermittently host games scheduled at 10:00 AM. 3:00 PM and 8:00 PM, the season could be played in about 3-1/2 months.
The possibilities are many, and I'm convinced they'll maximize the season. We just have to get this virus to quit wreaking havoc, but that day will come – hopefully sooner than later.
Chelle Daly asks: "Do the players have any say on when the season starts again? If they don't feel comfortable, can the MLBPA object? Can individuals object?"
Once the all-clear is sounded, I don't think you're going to see any objections from players. These guys are all chomping at the bit to play, not to mention that they're collectively losing billions in salaries while this postponement continues.
The federal government remains in constant contact with the commissioners and unions who represent our professional sports leagues. Although he may be overly optimistic, President Trump has hopes that the NFL's season can start on time. Opening Day for them is set for September 10, but camp begins in late July, and the first preseason game is scheduled for August 6.
Let me preface this by saying that I'm not privy to any talks between MLB and the union. I'd surmise that before any activity in baseball, the league and MLBPA will have discussions, at which time player objections (if any) would be considered. Just like with any labor union, shop stewards – or player representatives in this case – would have the opportunity to present the collective voice of those they represent.
I would have to think that any player who didn't report when ordered, would end up being blacklisted, as at that point it would be considered an unapproved leave.
Everyone – not just ballplayers – will be skeptical about starting to ease back into regular activity. With the number of illnesses and deaths that this virus has caused, I don't think anyone in charge is going to risk infecting more people, so the green light won't be given until they know it's safe.
Jeff Ellis asks: "This season will obviously be shortened. Depending on what the league works out, do you think this will affect the way teams handle their pitching staffs?"
Depending on how much time teams are given to hold a second version of spring training is going to dictate a lot. I can't see the league doing another full month of spring training, yet pitchers seem to think they'll need at least three weeks. That extra week could make a lot of difference if they practice for a full month, but that's going to cut into the season even more.
Once the season itself begins, I fully expect that you'll see expanded rosters. My gut tells me that they'll be expanded from 26 to probably 31 or 32, allowing for an extra bench player and four or five additional relievers.
I'd expect to see the starters go no more than three innings to start, though some may get more depending on how well they progress during training. Relievers are likely going to be asked to chew up a lot of innings for the first few weeks, which is bound to lead to injuries from overuse later in the summer.
For the Cubs, this may cause issues, as they've yet to define their bullpen. The majority of their signings this winter have had arm and elbow issues, and using them frequently is a recipe for disaster.
Bob Krause asks: "When will MLB allow teams to engage season ticket holders and general public ticket buyers regarding refunds? No one has received any communication, and apparently, MLB is holding the reigns. We are now fully into Week 2 of what would be the season with zero communication. We are talking 100's of millions of refunds league-wide. Fans could use this MLB Stimulus Money."
Again, I'm not privy to this information – especially since I'm not a season ticket holder. If I had to speculate, though, I'd assume it'll be a good while before teams reach out about refunds.
They're already planning for the maximum number of games they can fit in, which will likely include a lot of doubleheaders. Until they know how many games will be played, it's nearly impossible to issue refunds.
I wouldn't at all be surprised to see them issue refunds in increments. For example, if they see they'll lose 30 games of the season, a refund may be granted for those, then as more games are canceled for the season, additional refunds will be made.
The better question is, if games are played in neutral sites or spring training facilities, will season ticket holders get refunds? A fan who lives in Chicago can't be expected to attend games in Mesa or at a neutral stadium in Texas, but they do hold tickets good for admission.
I'm sure teams will issue refunds for all games not played, but the "when" may remain vague for quite some time. Hopefully, this virus and pandemic end, and you can see a good chunk of those games at Wrigley Field!
Thanks as always for the questions.