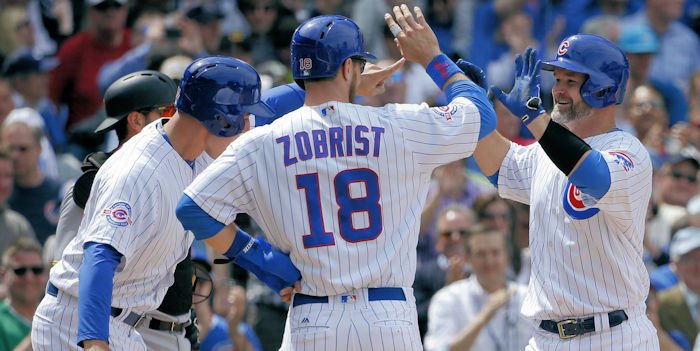 | | |
| --- | --- |
| CubsHQ Mailbag: Rookie Managers, Cubs' defense, Nicholas Castellanos, Cubs in 2020 | |
---
| | | |
| --- | --- | --- |
| Wednesday, October 23, 2019, 6:05 PM | | |
Thomas Pycz asks: "Are there any instances where a rookie manager has taken a team to the World Series? Not just having experience with a club, but an actual new manager?"
Yes sir, just last year, Alex Cora accomplished that feat with the Red Sox, but there's been a handful of others who've done it as well, though no others recently.
In 2001, rookie manager Bob Brenly took Arizona to the promised land, but before that, you'd have to go back to 1961 when Ralph Hauk did it for the Yankees. In 1946, Eddie Dyer took St. Louis all the way in his inaugural year, and before him, it was Bucky Harris with the Washington Senators.
So far as winning the World Series is concerned: Cora and the R-Sox beat Los Angeles in five games, while Brenly and the D-Backs beat the Yankees in Game-7. Houk and the Yanks beat the Reds in seven games (he and the Yankees also beat the Giants in five games during the 1962 World Series). Dyer and the Red Birds also beat Red Sox in seven games.
Bucky Harris and his Senators topped the New York Giants in seven games. Harris returned to the World Series in 1925 with Washington, but the Senators fell to the Pirates in seven games. Next, after joining the Yankees in 1947, Harris also took New York all the way in his first season there, topping the Brooklyn Dodgers in the seventh game.
Frank Corral asks: "The Cubs were close to last in the majors in defensive errors in 2019. Without Joe Maddon's constant lineup changes, will this improve the defense as players can get into a rhythm, knowing that they'll play most of the time?
Sometimes these questions make me realize things that hadn't really crossed my mind or caught my attention; this was absolutely one of those questions With his ever-changing lineups and batting orders, I've always contended that the offense is what suffered under Maddon's regime, but once I started researching stats for this question, I began to see a trend that I'd never noticed.
For the most part, the Cubs' defense over the last handful of years has been their strong-suit, with pitching and offense being – or at least appearing to be – their Achille's heel. It was hard to find much fault with the defense when you have Javier Baez sliding all over the place making grabs, Albert Almora Jr. scaling outfield walls and Jason Heyward (among others) turning in Gold Glove performances. Maybe it would be better to phrase it this way: With the Cubs offensive and pitching issues, it was easy to overlook any defensive deficiencies, but apparently, they were there and not just in 2019.
Note: All of the following batting order data excludes pitchers.
In 2015, Maddon used a total of 119 batting orders, with the team committing errors 111 errors (ranked 12th in the NL). In 2016, the number of batting orders jumped to 130, with the Cubs committing 101 errors (ranked 7th in the NL). In 2017, a total of 143 batting orders were used, with the number of errors stopping at 95, though this was only good enough to be ranked 10th among the fifteen National League teams.
Things climbed again in 2018, with the Cubs using 152 different batting orders, with the team committing a total of 104 errors, which ranked 11th in the National League. Finally, in 2019, Maddon penciled out a total of only 140 different batting orders, yet the error rate went up, with a total of 118 errors committed, good enough (or instead, bad enough) to rank 14th in the NL.
I would imagine that certain guys will still be platooned based on matchups, but how often that occurs will all depend on who the Cubs keep or scrap this winter. The new rule regarding a three-batter minimum may also have some effect on the defense, as managers will be less likely to want to make double-switches. In recent years' past, Maddon took full advantage of that rule, allowing him to move the pitcher's spot around in the batting order, but now managers will be less inclined to do so.
This is something that I will keep an eye on this coming season, as I'm curious to see whether more stability in the lineups will lead to better defense as well as offense. Let's hope so because if it doesn't, it means that the Cubs have some guys who probably shouldn't be playing there.
Jose Herrera asks: "Have you heard anything about the Cubs signing Nicholas Castellanos? Or do you think they're waiting for a manager position to get filled before making any kind of trades or moves??"
There's been nothing other than speculation about Castellanos so far, and the media-jury is split on whether or not the Cubs will re-sign him. Mookie Betts' name continues to surface as a possible trade target for the Cubs, and you can bet if they get Betts, Castellanos will be gone.
So far as the hiring of a manager is concerned, teams often like to have the manager's input. Still, the Cubs and other organizations are powerless to sign any free agents until about a week after the final game of the World Series concludes. They could sign Castellanos before that, as that would be an extension and not a free agent signing. However, the odds are, that Theo and company are still in the planning stages over what they can, can't, should and shouldn't do (both financially and tactically) in 2020.
Cindy Barry asks: "Are the Cubs going to make the World Series in 2020?"
Cindy, if I knew the answer to that, I'd be rich.
Realistically speaking, probably not in 2020. The Cubs will endure a lot of changes this winter, and with the addition of a new manager, there is going to be a bit of an adjustment period before the team finds cohesion again. Never say never, though.
It would appear that David Ross is about to become the Cubs' new manager on Thursday, and getting him in place will be the first step toward a successful 2020 campaign for Chicago.
"Highly placed source has confirmed to me David Ross is expected to be named Cubs manager this week. His agent has been discussing contractual terms with Theo Epstein. Deal is almost done." -David Kaplan
I'm not sure what caused the Cubs' road-woes this season, but that's a hurdle that the team is going to have to clear. If there's one thing that Cubs' fans should be able to look forward to in 2020, it's that it'll be hard for them to start the season as badly as they did in 2019.
Time is of the essence for Ross, though it's hard to tell what expectations Theo may put on his rookie manager. On the one hand, surpassing the Cubs' 84-78 record for 2019 would certainly constitute an improvement, but will that alone be enough, or does Theo want to see at least a wildcard berth in 2020? Unless Theo goes completely ballistic this winter, Chicago should still have plenty of talent, and a wildcard berth shouldn't be out of the question, but a lot of that will depend on what the Cubs and other NL teams do to shore up their rosters this winter.