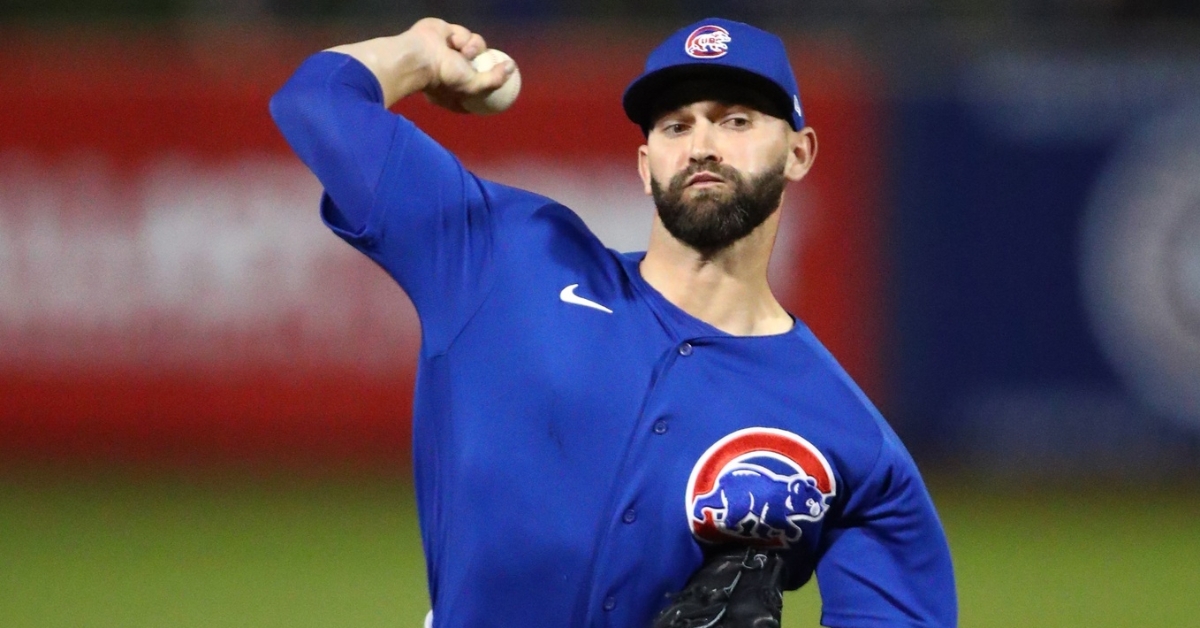 | | |
| --- | --- |
| CubsHQ Mailbag: Roster and lineup talk, Amended MLB schedule, Player insight, more | |
---
| | | |
| --- | --- | --- |
| Wednesday, March 18, 2020, 8:23 AM | | |
David Dam asks: "Who is going to be the spot starter this year ?
I don't even need to think about this one, David. Barring an injury, Alec Mills will be the Cubs' swingman this year.
Tyler Chatwood came out of the gate looking sharp, and he'll earn the fifth starter's spot, with the potential to move to the #4 spot if Jose Quintana continues to struggle. Through the abbreviated spring, he pitched to a 1.86 ERA over 9.2 innings (four starts).
Alec Mills has looked good. He's looked better than Chatwood (0.84 ERA over 10.2 IP), but he lacks the experience that Chatwood has. The Cubs are going to want an experienced starter, and while they were looking at Mills, I believe Chatwood's continued successful outings are going to make him a lock.
Adbert Alzolay was another name mentioned for the 35 and swingman slots, but I knew early on that his name would be crossed off the list. Alzolay has failed to thrive yet at the Major League level, and to be quite honest, he hasn't been overly impressive in Triple-A.
This is unfortunate, as the Cubs need homegrown talent, but he's just not been able to mature into the stud that the scouts thought he was going to be. He's already been optioned back to Triple-A., so we know that he's not the man to start the season in the rotation.
Jharel Cotton was another name that was being considered for the starter/swingman positions, but he too has failed to impress. Cotton was impressive with Oakland in 2016 (2.15 ERA over 29.1 IP), but he collapsed in 2017, putting up a 5.58 ERA over 129 innings of work. He underwent Tommy John surgery in 2018 but hasn't been able to return to form.
Mills has what it takes to work effectively out of the pen while possessing the stamina for spot starts and middle relief. You can take this one to your bookie – he'll be the swingman once we get baseball back.
Lisa Gengler asks: "When do you think the season will start and what do you think the schedule will look like?"
I'm hoping (praying) that they can start by Memorial Day weekend. This coronavirus outbreak is going to get worse before it gets better. As of 7:30 PM (Central) last night, the US had 1,776 new cases reported for the day, with the death toll up to 109 (23 yesterday). I think that you'll see more social distancing measures coming this week, as the government has now realized that we're behind the eight-ball on this.
Assuming they get back to business by the first of June, MLB will need at least two weeks to repeat spring training. From that point forward, I think you'll see a schedule of roughly 95-100 games. I'd have to believe they'll eliminate all interleague games (which answers Tim Studer's question), to focus on divisional and league races.
This is going to be a logistical nightmare, but I wouldn't be surprised to learn that MLB is already developing an algorithm for how games will be scheduled, depending on various dates of return.
I would think they'd have to schedule nearly half of those games between divisional opponents (the current schedule is 46.9% interdivisional), with the remainder being played against the other teams in the respective division. You may also see the All-Star break and game canceled.
Chelle Daly asks four questions: (She's always so inquisitive…) "What are the players doing to stay in shape? Are the players in good spirits What teams are paying their staff and park employees?"
Anthony Bass is the one player that I talk to with regularity. I know that right now, he is focused on getting his family back to their permanent home in Tennessee from the Blue Jays' training camp in Dunedin, Florida.
Anthony is never a guy who gets down in the dumps, but even he showed concerns about whether or not the teams would be paying their players for all of this off time. I also chatted with Cubs' MiLB hitting coach, Travis Fitta, the other day, and he seemed to be in good spirits. It seems that the minor leaguers are struggling, but I read yesterday afternoon that MLB will be paying its players a $1,100.00 a week stipend while they're off.
Yes because one day in 2016 means I or any other minor leaguer shouldn't get paid anymore and just live off of our signing bonuses from 2016. So if you got a bonus or promotion 4 years ago, you don't think you'd need to be getting paid during these times? https://t.co/C3tYZAqVRk

— Tyson Miller (@Tyson_Miller07) March 17, 2020
I guess Andrew McCutchen kind of got a joke in at my expense, so his spirits seem fine. Nice one, Cutch, I forgot you had a balcony on the beach…
Guess my balcony counts as being on the beach??????? https://t.co/O23kqVvKpH

— andrew mccutchen (@TheCUTCH22) March 15, 2020
So far as the park staff are concerned, MLB has donated $30M to help them out – one million from each team. It sounds like a lot, but when you consider the size of the payroll, the number employed and the length of time that they'll be off, it probably won't be much. Hey – something is better than nothing, though, right?
So far as staying in shape is concerned, the facilities are now closed to group workouts. I know that the Jays were informed to head home and prepare for a long break. Others have found ways to be creative…
Even with social distancing, these guys still got their work in! pic.twitter.com/FNTmAiEHdH

— Baseball Quotes (@BaseballQuotes1) March 17, 2020
Willy Garcia asks: "What will the Opening Day lineup look like?"
No hesitation here either. (This should meet up with some harsh resistance…) Ian Happ (CF), Kris Bryant (3B), Anthony Rizzo (1B), Javier Baez (SS), Kyle Schwarber (LF), Willson Contreras (C), Jason Heyward (RF), (2B), Yu Darvish (P).
As you probably noticed, I omitted a name for second base above. That's going to be a tough one, but I think you'll see that spot buried eight in the lineup. Jason Kipnis has been OK but not stellar, Nico Hoerner has been flat offensively. For some reason, Hernan Perez hadn't been cut yet, and Carlos Asuaje had already been optioned. Daniel Descalso may also get the nod. He's not hit for anywhere near average this spring, but he has consistently made solid contact. Nobody stands out.
You may also have noticed that I have Happ and not Bryant at leadoff. KB has not been overly impressive out of that spot (.240/.310/.400 in 29 plate appearances, 25 at-bats). On days when Bryant didn't play, Happ led off. He amassed an unbelievable slash line of .481/.500/.815 (1.315 OPS) in 30 plate appearances, 27 at-bats.
I may even try Happ at second, leaving one of the other outfielders to cover center. If Ian Miller makes that team, lookout.
Elizabeth Seitz asks: "What is Grandpa Rossy doing?"
I haven't heard much about David Ross lately, but I do know that he and his coaching staff have left Arizona for their permanent homes. I'd imagine his time will be spent combing through game data, trying to figure out his bullpen and the 26th man situation.
Thanks for all of the questions. They actually made me feel as though baseball was tangible again. Stay safe, all.

Tags: Chicago Sports Baseball
,
Alec Mills
,
Tyler Chatwood
,
Jose Quintana
,
Adbert Alzolay
,
Jharel Cotton
,
Tyson Miller
,
Ian Happ
,
Kris Bryant
,
Anthony Rizzo
,
Kyle Schwarber
,
Willson Contreras
,
Jason Heyward
,
Yu Darvish
,
Nico Hoerner
,
Hernan Perez
,
Carlos Asuaje
,
Daniel Descalso
,
Ian Miller
,
David Ross