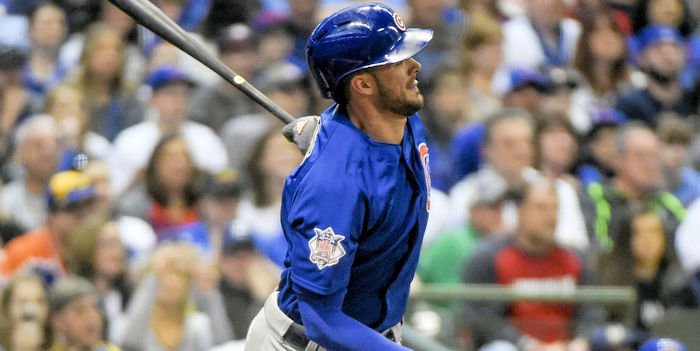 | | |
| --- | --- |
| Do Braves have enough for Kris Bryant deal? | |
---
| | | |
| --- | --- | --- |
| Friday, December 13, 2019, 8:11 AM | | |
Wednesday continued the trend of big splashes as this year's winter meetings have been met with a flurry of signings. With starting pitching stealing the headlines earlier this week, it was Anthony Rendon putting pen to paper Wednesday as he inked a seven-year 245-million-dollar deal to join Joe Maddon and the Angels.
With Rendon now off the market, all eyes turn to Josh Donaldson and his decision before any more puzzle pieces can be put in place. However, even with Donaldson the center of attention in the third base market, teams remain actively invested in the Cubs idea to trade Kris Bryant with Atlanta appearing to be the favorite right now.
Whenever you consider the market for a player as talented as Bryant, we must consider the perspective of the receiving team getting his services. Taking the Braves into account, a young and upcoming team on the rise who is about to lose their starting third basemen from a season ago, and you can see why they have a keen interest in bringing Bryant over. However, what are the Braves willing to give up for him knowing he only has two years of arbitration left and possibly one depending on how the grievance hearing goes.
At this point, I find it very hard to believe that the Braves would be willing to part with any high-level prospects unless they know for sure the Bryant situation. On the flip side, missing out on player of his abilities, especially should Donaldson jump ship somewhere else, could hurt the franchise just as much.
When you sit down and listen to reporters around the Winter Meetings, there is becoming a higher sense that Atlanta is willing to put something together in hopes of landing Bryant via trade. We have heard Marcell Ozuna's name linked to the Braves already, but no one is too sure how serious they are in terms of pursuing him. Even if they were able to sign Ozuna to a four-year deal, a trade for two years of Bryant makes more sense to me because of his versatility in the filed and is overall a better hitter and fielder than Ozuna himself.
According to Dave O'Brien, sources close to the Cubs sound like two pitching prospects from Atlanta could be enough to get a Bryant deal done assuming he loses his grievance hearing and has those two more years of arbitration remaining. If that is what it will take, then the Braves certainly match up better than anyone else if they are indeed ready to part with some of those arms.
Every owner and executive knows that you cannot hang onto all your prospects, and the Cubs found that out firsthand when they started dealing Torres, Jimenez, and others. The more top prospects an organization has, the better as they could use some of those prospects as trade capital instead of relying on free-agent spending to fill holes. Ideally, the Cubs would love to receive Ian Anderson or Cristian Pache in return. Still, the Braves will be very cautious regarding those two considering how they can build their franchise around them.
Pache and Anderson to be fair are at the cream of the crop when you talk about prospects, and both land in the top 15 in all of baseball, so I understand the hesitation to part ways with them. However, we are talking about one of the most impactful bats in the game right now, whom you could have in the middle of your lineup the next two years for a fraction of what he makes in free agency. Especially when Bryant is a position of need for Atlanta, it makes it hard to take any players off the table at this point.
Let's say those two guys are off-limits, well O'Brien then thinks Atlanta could offer two pitching arms and a bat to lure Bryant into Atlanta. Outfielder Drew Walters is also ranked in the top 20 in terms of overall prospects, while righty Kyle Wright is just on the outside looking in, so it isn't like the Braves don't have their fair share of big names.
With that under consideration, would a package for let's say Walters, Wright, and Bryse Wilson (another top100) pitcher fit what the Cubs want? Of course, it would, but I still think they would need at least one MLB bat as well to lock that deal up. With all three of them not expected to make an impact until 2021 and with no guarantees they succeed in the bigs, the Cubs would need, in my opinion, someone they can count on now.
In addition to those prospects, I would expect the Cubs to be very serious about prying lefty Max Fried or center fielder Ender Inciarte from Atlanta as the kicker to sweeten the deal. Fried is not only already a capable big-league starter, but he will immediately be anchoring the front of the rotation in 2021 and well beyond. That alone is a major issue going forward for Chicago.
That deal would not only soften the blow of losing Bryant but could help the Cubs longer term than what Bryant would by going to the Braves. That is why I wouldn't be shocked to see Atlanta throw in Inciarte as the MLB bat they would be willing to part ways with.
Not only do the Braves want to move Inciarte with Austin Riley, Nick Markakis and Ronald Acuna Jr. patrolling the outfield, but you could argue that Inciarte is exactly the bat they need that could help them at the top of the line for 2020 and beyond, while also filling the recent hole they have in center field.
Health has been a big issue for Inciarte, but when he is on the field, he does everything the Cubs are looking for and more. Not only does he bring you gold glove defense in center, but he is a great leadoff hitter with a high on-base percentage, above-average power, and speed all things Chicago needs going forward. With Bryant a need for Atlanta and Inciarte a need for Chicago, this deal makes a ton of sense, and it won't cost the Cubs a ton in salary.
I don't expect anything to get done at the winter meetings or even before Christmas, for that matter. However, I do expect deals to be made before spring, and the Cubs will remain very active on trade fronts regarding packages for certain players.