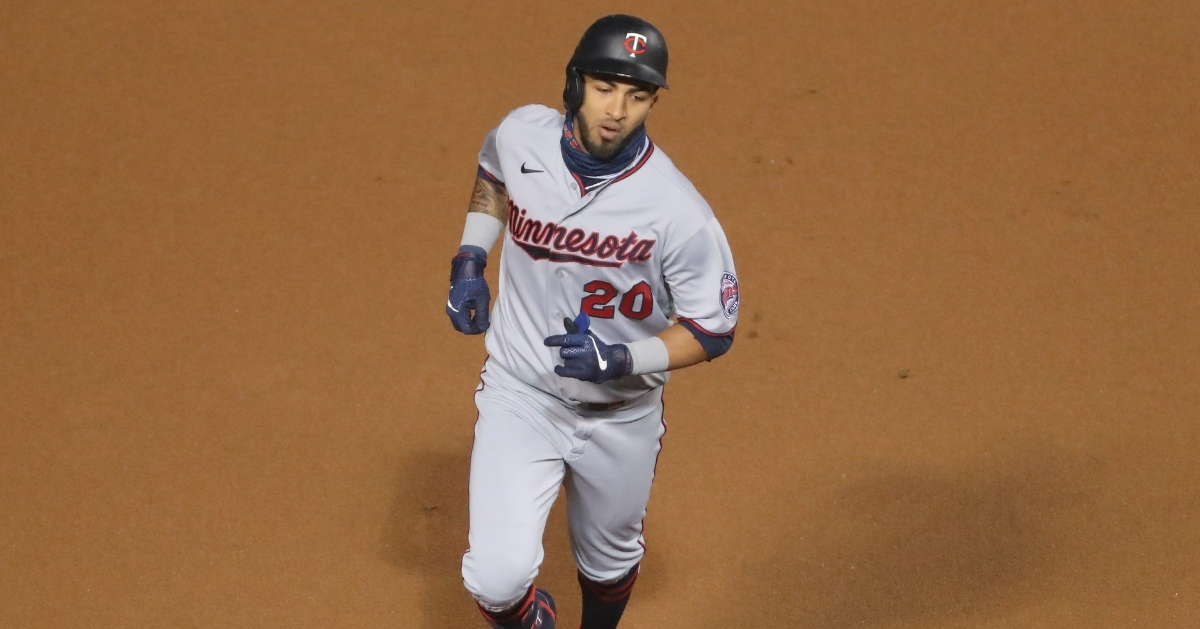 | | |
| --- | --- |
| Eddie Rosario could be an option for Cubs | |
---
One of the more surprising teams over the past two seasons has been the Minnesota Twins. After the year they had in 2019, 2020 shouldn't have come as a surprise as they have now won the AL Central two consecutive years and have made the postseason three of the last four.
A big reason for their success has been the ability to mash the baseball as they are the true definition of home run or bust. In 2019, they set the single-season team home run record, passing the New York Yankees who set the record a few days earlier. Despite their recent success and surge in the AL, the Twins are still trying to win a postseason series as now they have gone 13 years since their last postseason win.
With so many big bats in the Twins lineup, it comes as no surprise that some of those names are being non-tendered this offseason as Minnesota may want to rethink their home run or bust strategy. One of those names is Eddie Rosario, who has been placed on waivers making him free for the taking for teams interested. Obviously, he is not free and comes with a 9.6-million-dollar price tag.
There has been no secret that the Twins have been trying to move him, and that started last season. When no one seriously inquired about him during the year, Minnesota again wanted to trade him this offseason and, so far, has had no takers, or at least no one wanting to pay his near 10-million-dollar arbitration hit. That is allowing the Twins to non-tender him and place him on waivers for someone to claim him.
Regardless of why the Twins want to part ways with him, Rosario is a decent hitter and will make this Cubs lineup deeper with way more power. He will never be a high average type of hitter, but his .257 average was the lowest of his career this season after sitting in the .270-280 range his previous five seasons.
Rosario has also turned himself around from just a typical hitter who could get you a home run now and then to a legitimate power bat. Across his first two seasons in 2015 and 16, Rosario hit a total of 23 homers, with 13 coming in 2015. In 2017, Rosario surpassed his career total in one season, belting 27 bombs with 78 RBIs to go with a career-high .290 average.
The next season saw his home run decline to 24, but his 77 RBIs were right in line with his previous season, as was his .288-batting average. Rosario figured something out to where the power was starting to follow. In 2019, Rosario put together his most impressive season yet, where he cemented himself in the MVP conversation for most of the season.
Despite watching his average fall to .276, Rosario surpassed the 30-homer mark for the first time, hitting a career-high 32. He also recorded 91 runs scored to got with 109 RBIs and was a focal point to the middle of the Twins order. Looking for an encore type of season in 2020, Rosario never seemed to get into a rhythm, and the numbers were the lowest they had been since his rookie season.
Not only did his average plummet to .257, but his power, although still on pace for a 30-homer season, was less noticeable as he connected for 13 homers and 42 RBIs in 57 games. With those kinds of numbers for the third consecutive season, I am shocked to see the Twins moving on from him, and he could be a steal for the Cubs or anyone else.
Unlike most power hitters, Rosario is a different breed as he doesn't strike out nearly as much as you would think. After striking out almost 26% of the time as a rookie, he has brought that number down to just 14.6% the past two seasons. His walk rate, which generally was around 5%, increased significantly to a career-high 8.2% this past year, showing that Rosario not only sees the ball but is a patient hitter.
When you look at the comparison of Rosario, he falls in line with Kyle Schwarber. Both are lefty-hitting power bats who are defensively challenged, although Schwarber has been better in recent seasons. If Rosario isn't worth the 10 million he is asking, would Schwarber be worth the eight million he is asking?
That is certainly a question the Cubs will have to answer regarding Schwarber in the coming days. Still, if you look at Rosario's estimated value, it comes in around 12.9 million, so 10 million appears to be a bargain price for him. Even if that price point is lower than estimated, it doesn't seem like anyone will be willing to claim him right away.
If that is the case, the Cubs will be forced with a tough decision on whether to keep Schwarber. I, for one, would love to have Schwarber back this season and perhaps look to trade him if he has a strong campaign. However, if the Cubs feel Schwarber needs a change of scenery, the Cubs better have a power-hitting lefty in mind to replace him, and that guy could ultimately be Rosario.
Upgrade Your Account
Unlock premium boards and exclusive features (e.g. ad-free) by upgrading your account today.
Upgrade Now