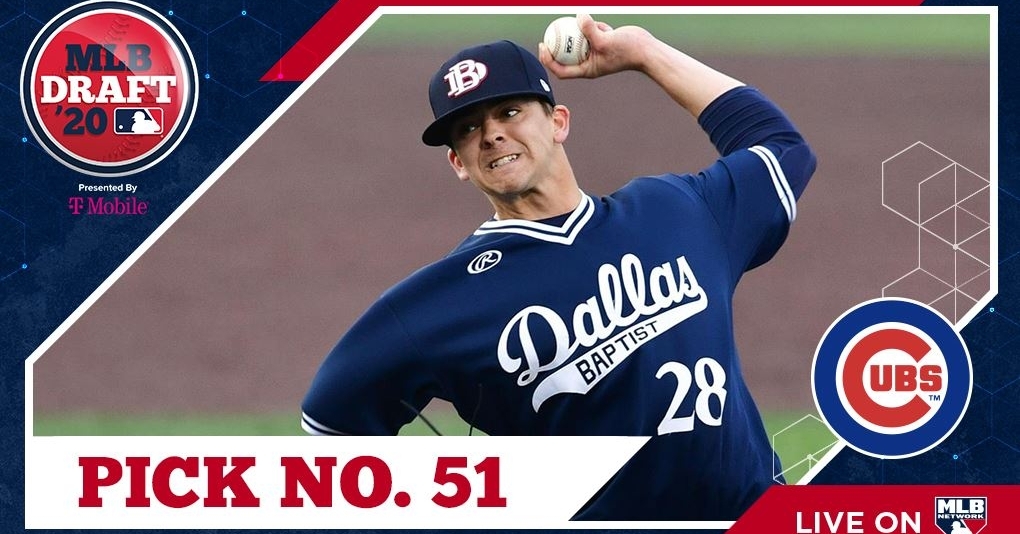 | | |
| --- | --- |
| Getting to know: Cubs Draft pick Burl Carraway | |
---
After going bat first in the first round once again, the Cubs' primary focus for the rest of the draft was going to be centered around pitching as they need as many young impactful arms as possible. Chicago had a reputation of playing it safe over the years in terms of making selections, but this year was different as the Cubs final went all-in on some plus velocity over finesse. With Brailyn Marquez as the lone pitcher in the system who can touch triple digits, Chicago now has three of them as a pair of fireballing lefties that were added last night.
The first of those lefties was second-round pick Burl Carraway from Dallas Baptist University. Carraway was the 51st pick in the draft and was really the first true flame-throwing lefty off the board. Sure, there were other pitchers who could bring the heat, but Carraway can flat out fire it up to home plate. That is kind of surprising when you look at his 6-0 173-pound frame as he is much smaller than you would expect.
A pick like this certainly silenced the critics that expected the Cubs to go pitching in the first round and now they may have a true matchup nightmare on their hands. In what was a shortened season this year, the junior was posting a 0.96 ERA in eight appearances adding five saves over a course of 9 1/3 innings of work. His 17K/6BB was also very good as he uses both command and velocity to get people out.
In 2019 during his sophomore campaign, Carraway pitched an entire season seeing action in 41 2/3 innings and holding opponents to just a 195 average against. Add in the 72 punchouts in just 28 appearances and you can see a big-time strikeout pitcher ready to break out. For his career, Carraway went 6-2 with a 3.16 ERA, but that ERA was largely inflated from a horrendous two outing performance during his freshman season. His 11 saves in 12 tries stands out as does his 89 strikeouts in just 51 1/3 innings of work.
If that still doesn't have you sold on the kid look at what draft expert Kyle Peterson said in regard to Carraway.
"I tell you what, if I'm Theo I'd start playing the piano right now," Peterson said. "You are getting a guy who could be in the major league bullpen at the end of the year if you ask me. He is going to be a bullpen guy, but it is a real upper 90's fastball and a real top to bottom curve."
That is the main reason why Peterson sees Carraway as a guy who contributes this season in the pen or next depending on the games, we play in 2020. Not only is he a lefty, but he is a hard-throwing lefty that sits at 97 MPH plus and can touch the 100 range often. Add in a curve that could be one of the best if not the best in the entire class and the Cubs could have a lockdown left-handed reliever in the mold of an Andrew Miller that could be used in a variety of roles for the Cubs.
Since the season started, Carraway was always considered one of the premier relievers in the class and this year has a chance to prove he is worthy of that title. Obviously one of his biggest strengths as a pitcher is his fastball curve combination as there is near a 20-mph difference between the two pitches. While his control is not quite where he wants it to be, he makes up for it in movement which is evident by his 16.4 strikeouts per nine innings. That would have ranked in the top 10 in NCAA Division 1.
He has seen improvements in virtually every aspect of his game which is why the cutting short of this season is disappointing knowing what he may have been able to do. Add in the closer experience and his ability to get both lefties and righties out and the Cubs may have gotten a steal here in round two.
I know some people think he could be in the pen contributing this season, but there is a lot of work that needs to get done for that to happen. For starters, Carraway has plenty of raw stuff but needs to command that stuff consistently to get big league hitters out. Relievers can often get by minor command issues with elite strikeout rates, but teams still don't want their bullpen arms walking hitters in key situations.
One thing some scouts may think he needs to do is slow down his delivery at the major league level. While that may improve some of his command, it could also take away from his velocity so there is a double-edged sword to think about with that one. There are not many relievers who throw as hard as him in this year's draft and he can be a power arm for a long time.
MLB Player comparison: I said it earlier in the article that I compare him to Andrew Miller given his fastball curve combination, but I also see some Josh Hader in him minus the command. He knows he has a big heater and isn't afraid to go after hitters with that heater. While his off-speed stuff is essential to keep hitters off-balance, he doesn't need to use all that much. I like him as a future seventh or eighth inning guy that will be tough to hit.
WATCH: Special thanks to @ConsolBaseball product Burl Carraway (@ausleycarraway) for taking time to Zoom with @KAGS_Lucas & I after he was selected by the Cubs in the 2nd Rd. of the #MLBDraft. I'll have a lot more w/ Carraway tomorrow night during @KAGSnews Aggie Sports Overtime. pic.twitter.com/l1Kx8nB60a

— Justin Woodard (@KAGS_Justin) June 12, 2020
Part II on Burl Carraway, with a Billy Wagner mention from Kyle Peterson. #Cubs pic.twitter.com/v7M6VzTs4V

— Matt Clapp (@TheBlogfines) June 11, 2020